A super easy and tasty low-fat dinner made in less than thirty minutes, using just one skillet, I am all in! That's what we made for dinner last night, One-Skillet Low-Fat Lasagne!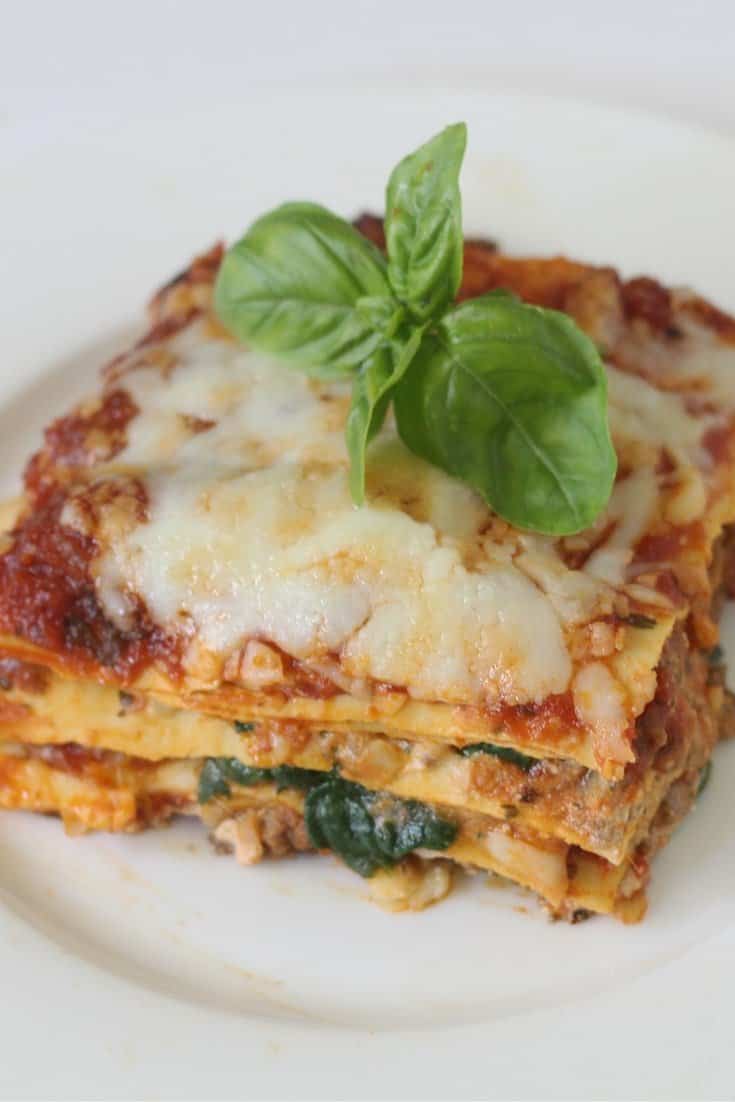 As usual. my youngest daughter and I were out-of-state at a lacrosse tournament all weekend! A four-hour drive home turned into 7 hours, because of heavy rains. They won all but one game, by the way! We came home to an empty house because everyone else was working! We were starving and I needed to make a quick dinner! So we checked out our pantry and fridge for dinner ideas! Last week while I was grocery shopping, I picked up a few jars of the new Ragu's Homestyle Thick and Hearty Traditional Sauces!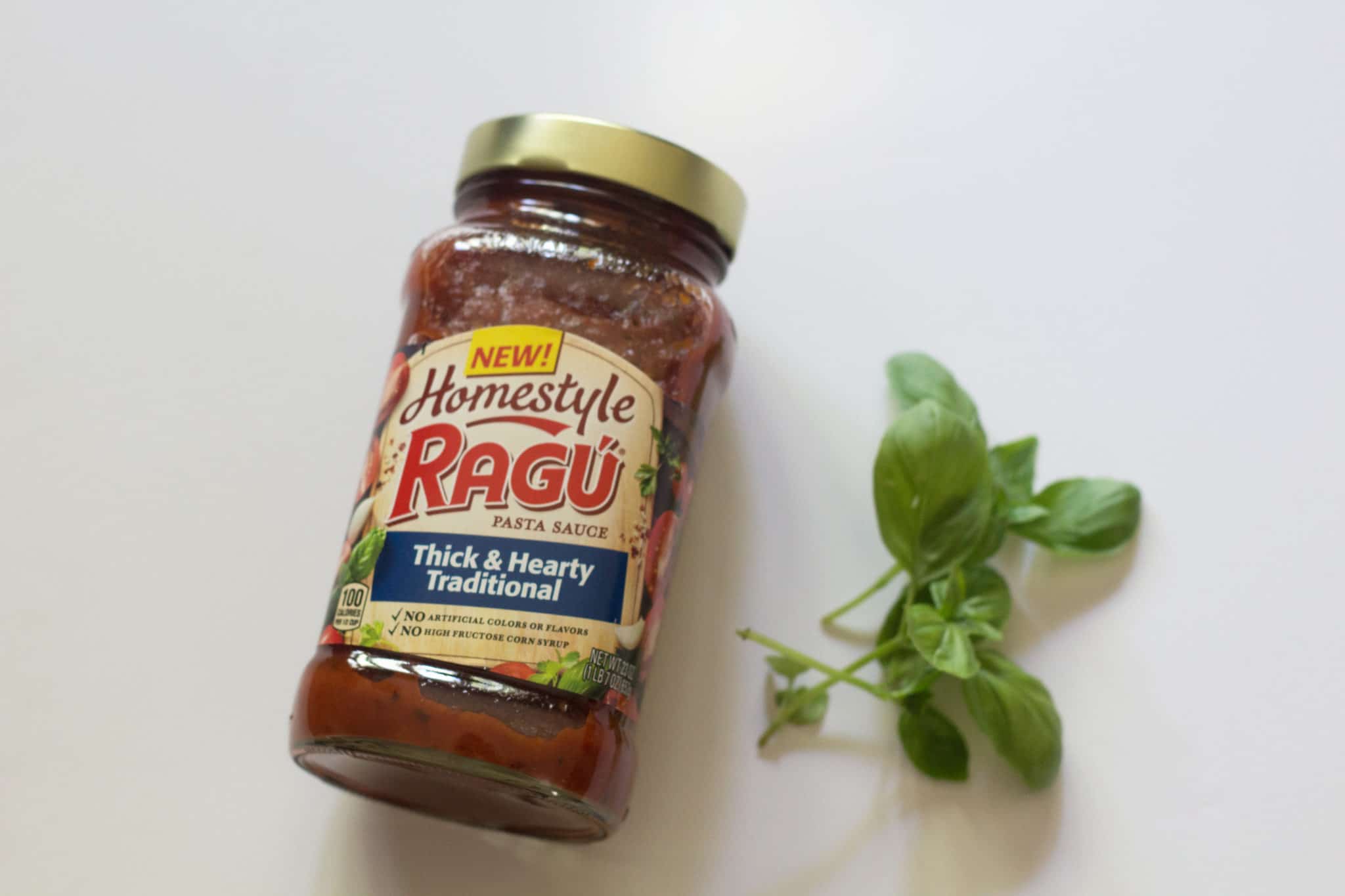 The night before we left on our trip,I made a quick pasta and sauce, using a jar of the Homestyle Ragu Pasta Sauce, and it was just delicious! I love that this pasta sauce has no artificial colors or flavors! Also, there is no high fructose corn syrup! I am getting the great flavors that I get when I make Marinara Sauce from scratch and I just have to heat and serve the Homestyle Ragu Sauce! My daughter even thought I had defrosted some of my Mama K's Marinara Sauce, that is how good Homestyle Ragu tastes! Seriously delicious!

I knew we were having something using this pasta sauce! I had some no-boil lasagne noodles and if you haven't used them before, please do! I love them because, when you are in need of a quick meal, these are super easy to use in any lasagne recipe! I always keep part-skim ricotta and mozzarella in the fridge, so it became a no-brainer to make One Skillet Low-Fat Lasagne! The most comforting, quick low-fat meal after a long busy weekend!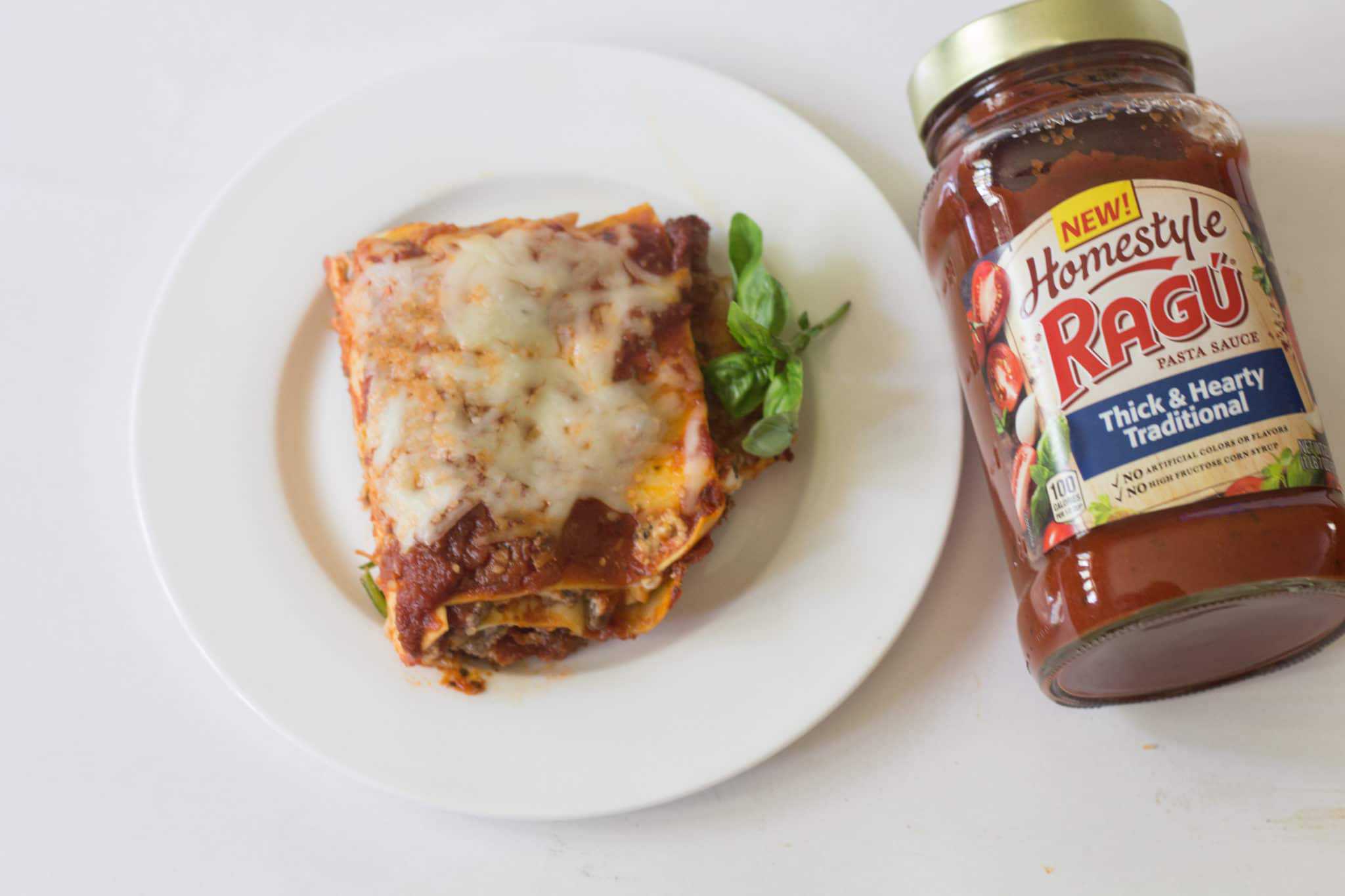 I also had some baby spinach and lean ground sirloin in the fridge, so I got busy. In less than 30 minutes, our super cheesy and delicious One Skillet Low-Fat Lasagne was ready and it was just awesome! The cheese was nice and melted and gooey! The noodles were tender and tasty and it was a quick and easy to prepare. To make this, I diced an onion and minced two garlic cloves. I sprayed a skillet with non-stick olive oil spray and heated the skillet over a medium temperature. Then added the onion, garlic, and ground sirloin, browned the meat and onions, then added the baby spinach and garlic for about a minute. This took about 6 minutes all total. I removed the meat/onion combo from the skillet and combined it with the Ragu Homestyle Sauce. While the meat was browning I combined the low-fat ricotta cheese and 1 egg white ( I use liquid egg-whites), dried parsley, ¾'s cup of the low-fat shredded mozzarella cheese, Parmesan cheese and a bit of salt and pepper. For the bottom layer, I combined the Ragu sauce with about ¼ cup of water to make sure the bottom layer of noodles don't burn. Then it was just a matter of layering everything, sauce, noodle, cheese, three times and then topped with remaining sauce and the last ¼ cup of mozzarella, cover and let simmer for 15 minutes.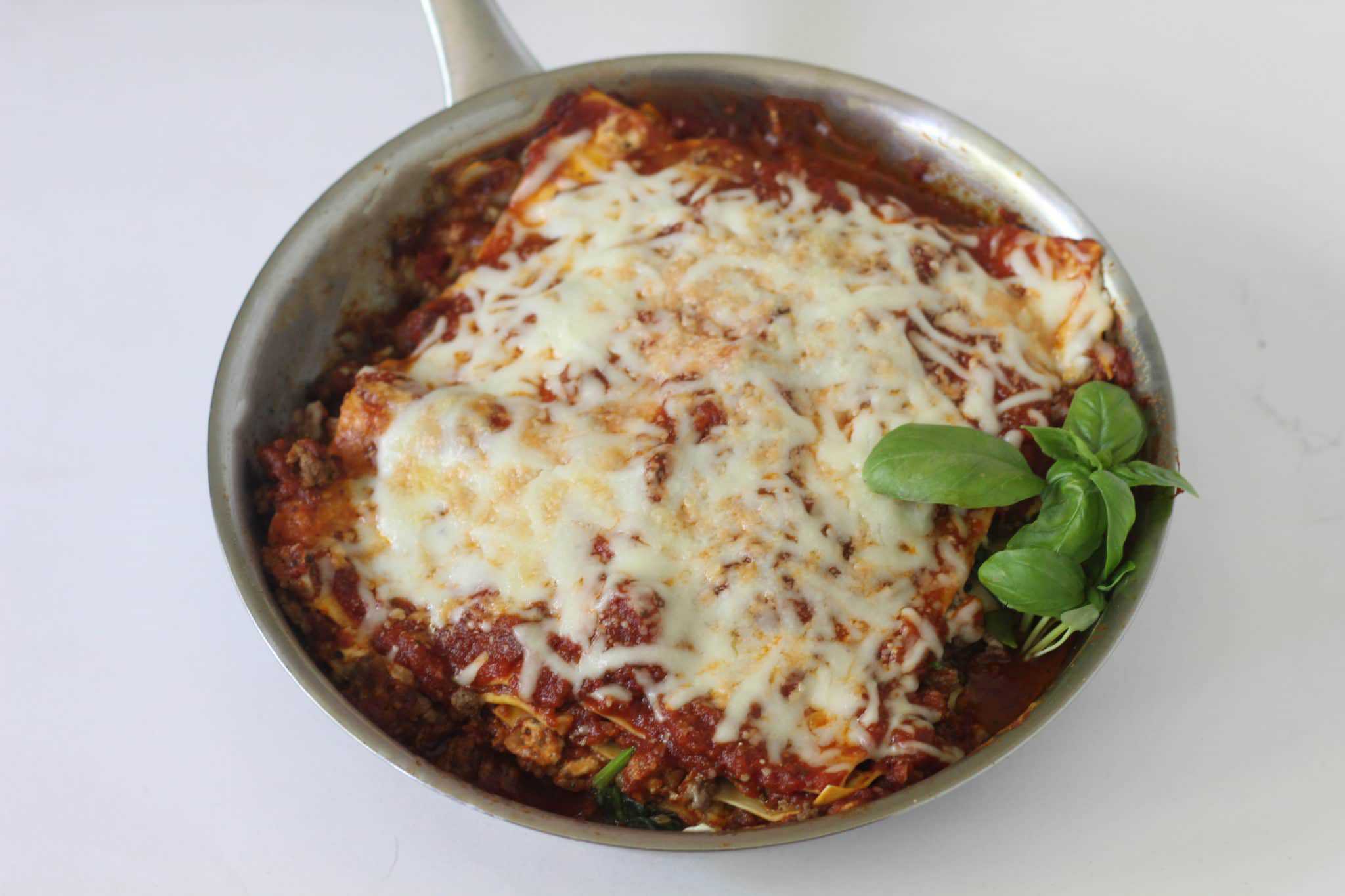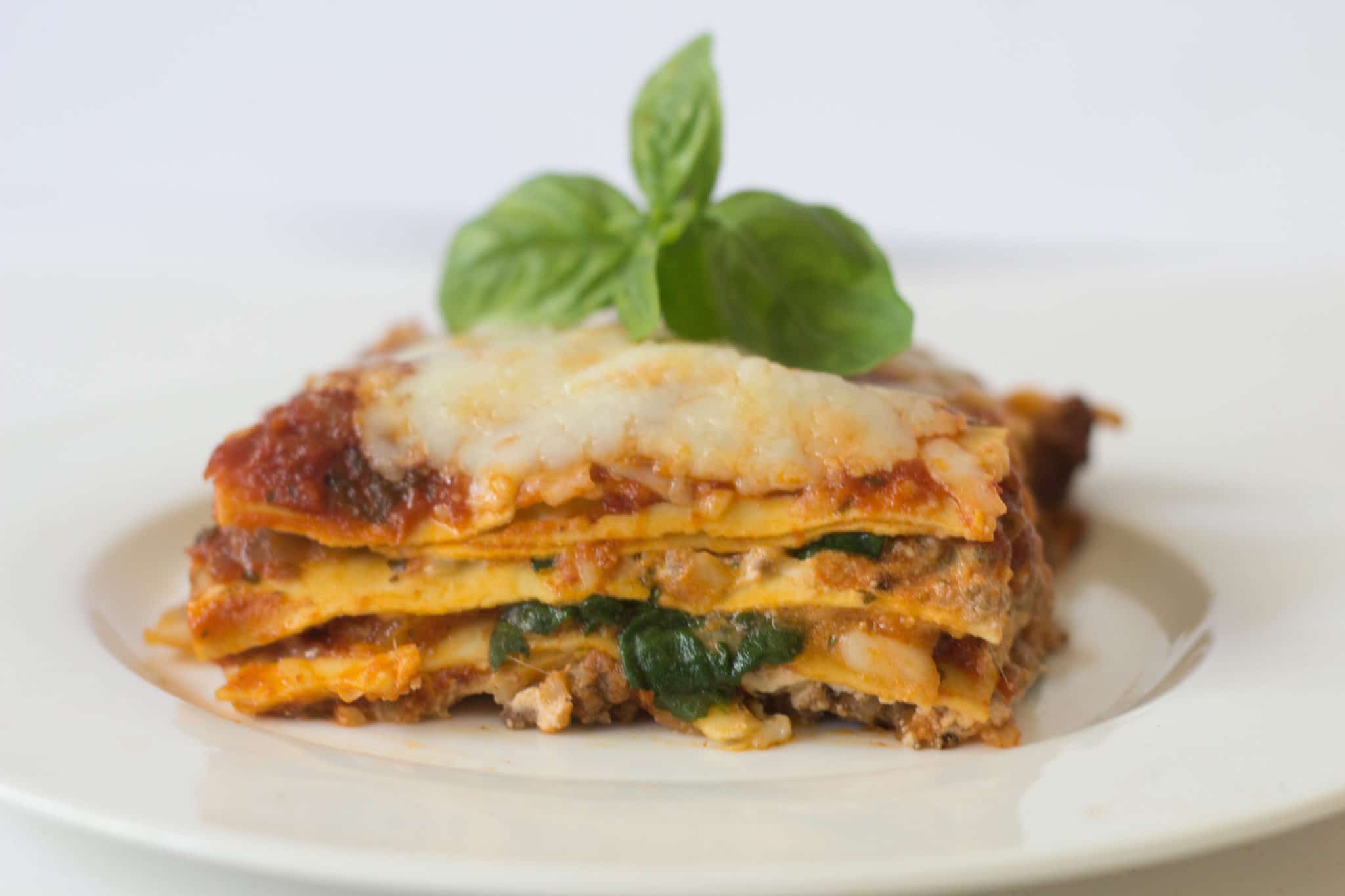 I loved using Homestyle Ragu pasta sauce because it really tastes like a homemade sauce that simmers for hours and the name is correct, it is thick and hearty! Ragu's website has great recipes ideas that you will definitely want to get some great ideas for quick and tasty family dinners !Which one is your favorite? I hope you try this recipe using the Ragu Thick and Hearty Traditional pasta sauce and try their other pasta sauces here.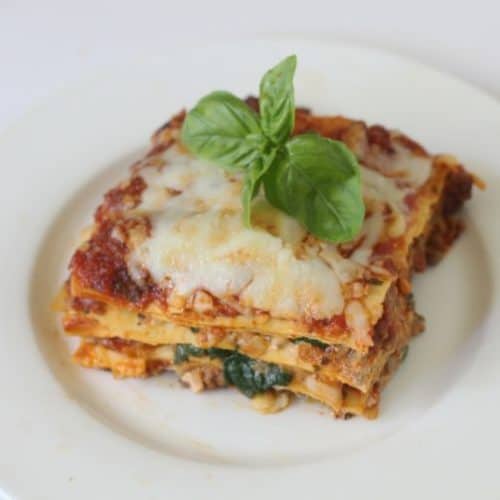 One Skillet Low-Fat Lasagne
A super easy and tasty one skillet low-fat lasagne recipe. Perfect weeknight no-fuss meal that is ready in less than 30 minutes.
Print
Rate
Equipment Needed:
Ingredients
1

onion

diced

½

pound

lean ground sirloin meat

23 ounce jar of Homestyle Ragu Thick & Hearty Pasta Sauce

2

cups

fresh baby spinach

2

cloves

garlic

minced

1

cup

part skim

low-fat ricotta cheese

1

cup

part-skim

low fat mozzarella cheese, reserve ¼ cup for top layer

3

Tablespoons

liquid egg white or 1 egg white

¼

cup

Parmesan cheese

1

teaspoon

dried parsley flakes

salt and pepper to taste

8

no-boil oven-ready flat lasagne noodles

¼

cup

water

olive oil cooking spray
Instructions
Pre-heat skillet over medium heat.

Spray the skillet with non-stick cooking spray.

To the skillet, add the lean ground sirloin and diced onions, saute until the sirloin meat has browned, about 5 minutes. Add the baby spinach and garlic. Saute for another 1 minute.

Remove the meat/onion/spinach combo from skillet and combine with Ragu Pasta sauce

While the meat/onion mixture is browning, combine the ricotta cheese, mozzarella cheese, egg white, Parmesan cheese, dried parsley, and salt/pepper to taste.

Reduce heat on the skillet to low, to the skillet begin layering the sauce,noodles and cheese mixture,

For the first layer add about 4 ounces of Ragu Sauce and ¼ cup water, this keeps the bottom layer from over-browning.

Add 2 pieces of lasagne noodles to skillet.

Add ⅓ of the cheese mixture to the skillet.

Add another 4 ounces of Ragu Sauce and repeat process two more times.

Top last layer of noodles with the remaining two lasagne noodles, remaining sauce, and the reserved ¼ cup of low-fat mozzarella.

Cover skillet and simmer on low for about 15 minutes.

Remove from heat. Enjoy!
Notes
any nutritional data I provide is an approximation and actual dietary information can vary based on ingredients and proportion sizes.
Nutrition
Serving:
0.25
serving
|
Calories:
510
kcal
|
Carbohydrates:
49
g
|
Protein:
36
g
|
Fat:
17
g
|
Saturated Fat:
9
g
|
Cholesterol:
78
mg
|
Sodium:
423
mg
|
Potassium:
549
mg
|
Fiber:
2
g
|
Sugar:
3
g
|
Vitamin A:
1825
IU
|
Vitamin C:
6.7
mg
|
Calcium:
503
mg
|
Iron:
2.8
mg