Parsnips are a favorite veggie of mine but I do not think its used. I have made this soup for family and friends and they are now believers in parsnips! Parsnip Apple and Pear Soup is full of great flavors and spice. Besides the veggies and fruit, the addition of turmeric, cumin and coriander add amazing antioxidants!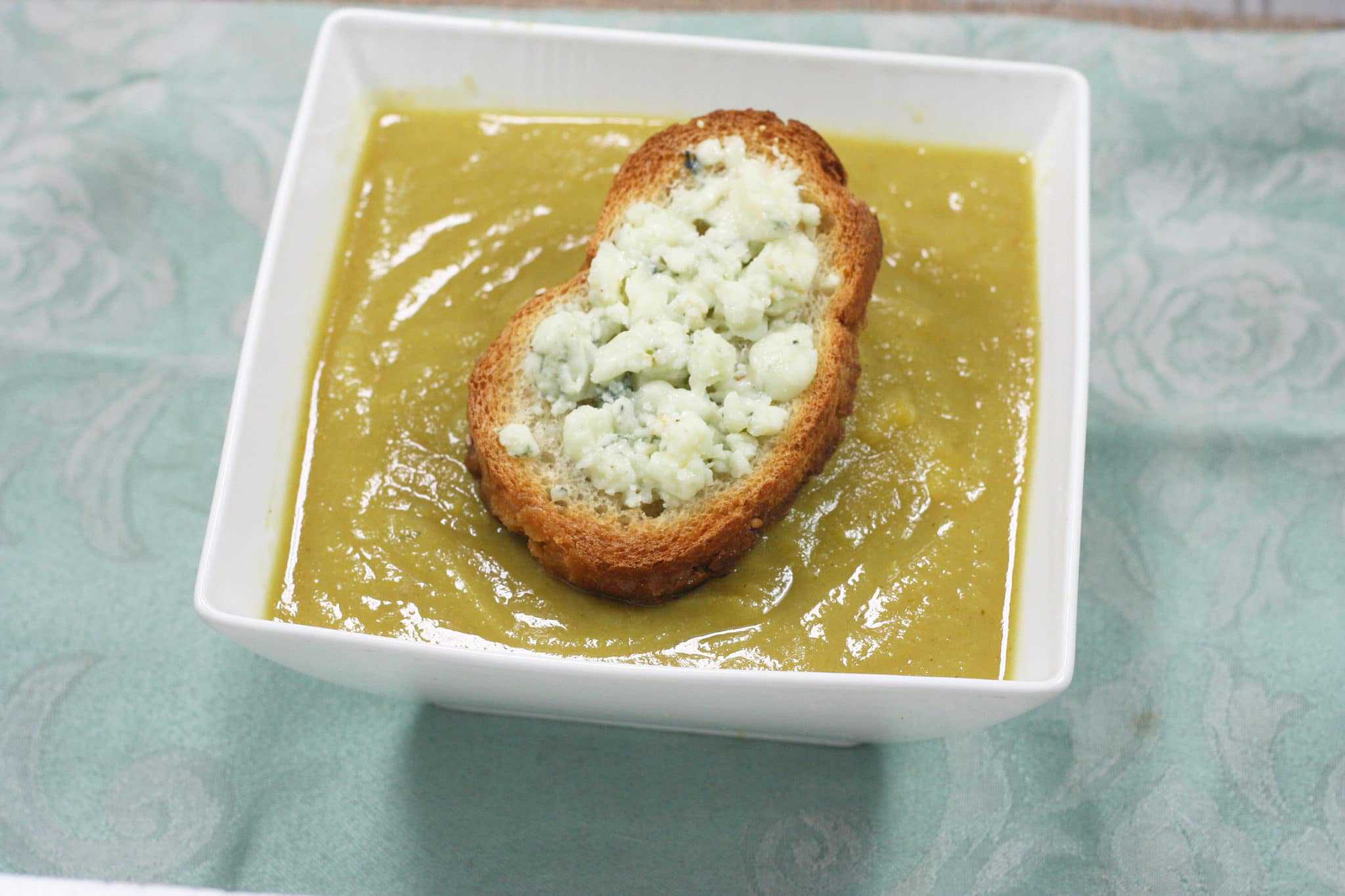 Does this look like a creamy soup that is going to ruin your New Year Resolution? Do not be afraid, you will be on track with your weight goals with this little gem! My parsnip, apple and pear soup looks so creamy and yet not a stitch of cream so you have great flavor with a healthy meal loaded with vegetables and fruit and low in calories! We are going through some crazy weather all over the United States. We had magnificent weather with temperatures into the 60's for most of December on Long Island! Now for January, the temperatures have dropped dramatically and we are really just plain cold! Soup is literally all my family wants to eat so I need to get creative and have a variety of soups to enjoy!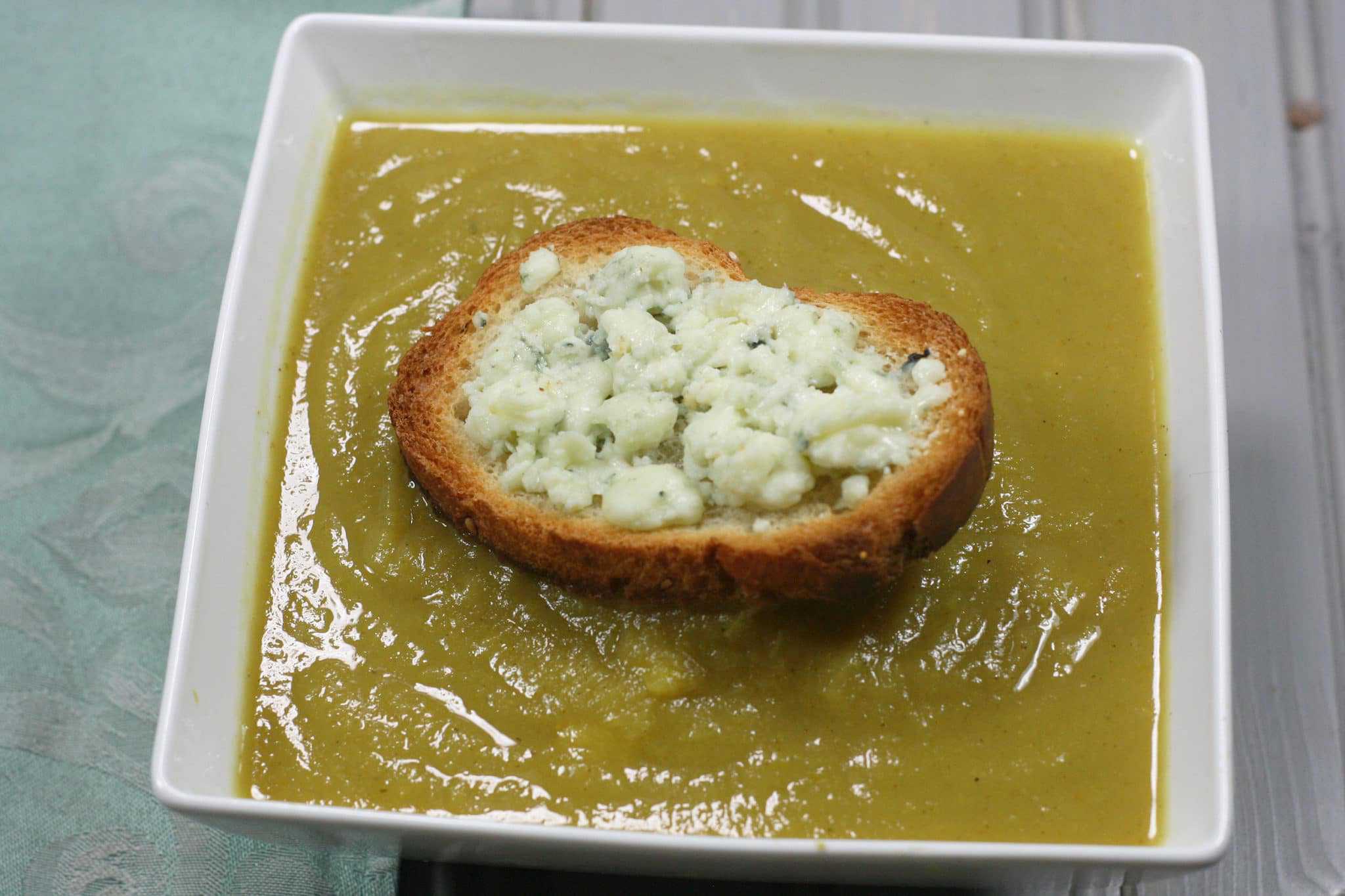 Parsnips are in the carrot family and have a high amount of dietary fiber and vitamin c so they are a wonderful addition to anyone's diet. I would describe a parsnips flavor as having a little spice as opposed to a carrot which is sweet. I happen to have an abundance of parsnips in my fridge and remembered a while ago having a delicious parsnip soup somewhere! I wish I could remember where so I can thank whoever gave me the idea for this soup. The original soup was yummy but ssshhh, full of cream and that is just not what I wanted to add to this soup. I added a turnip, just because I had some and I love turnip. I also added Honeycrisp apples and a Bosc pear because I think their sweetness really balanced the flavor of the parsnip. I believe I was right because my non-soup loving son ate at least four bowls of this soup, yaayyy!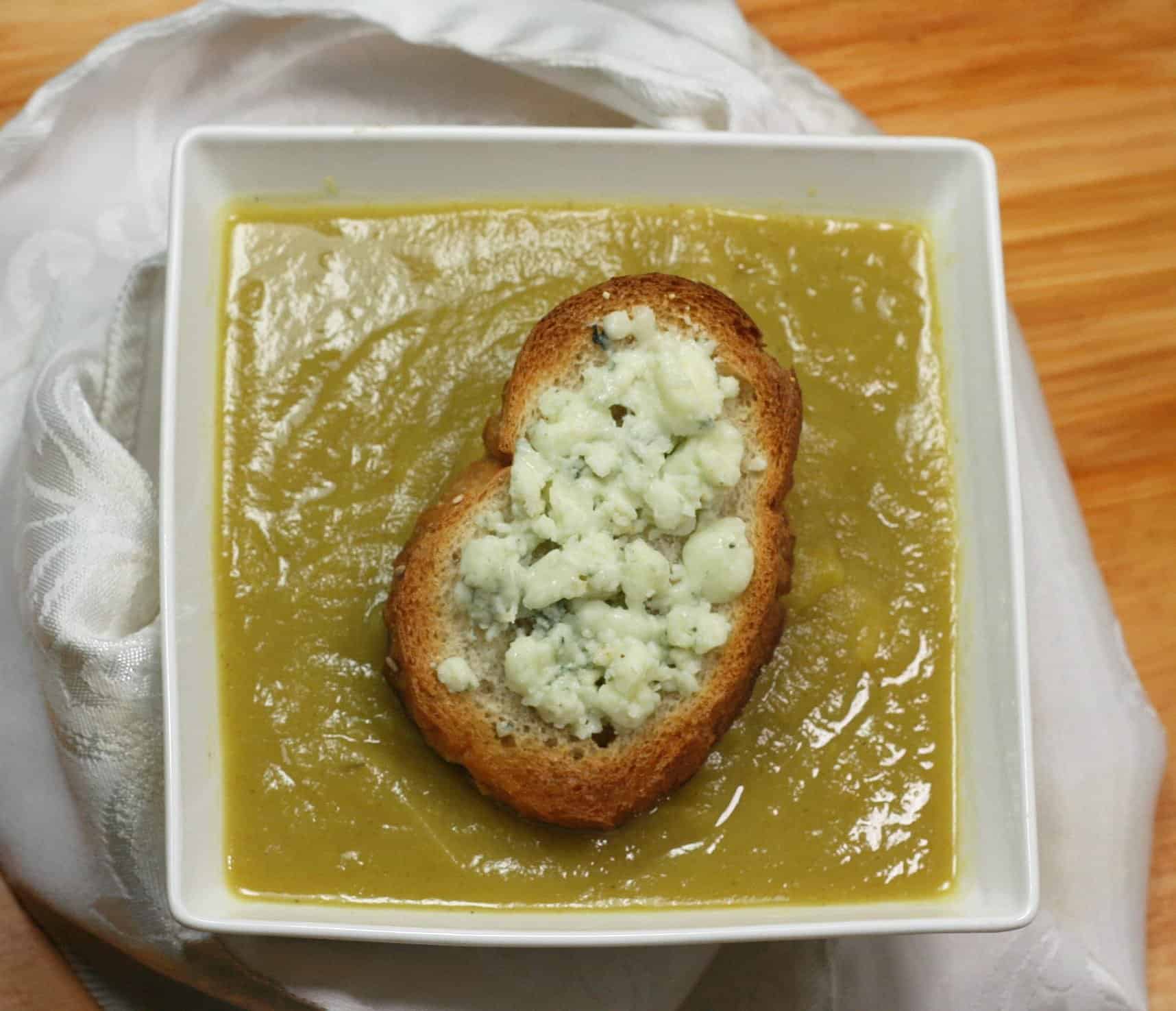 I prepared this soup using low-sodium vegetable stock and I topped it with a crostini with crumbled blue cheese, because quite frankly I love cheese in anything! For the spices in the soup I added some of my favorites, cumin, coriander, and turmeric and let me tell you this is now a regular on our family menu! Yummy! As I mentioned in my last post, the family has not been feeling well and this was just what the doctor ordered, warmed all of us right up!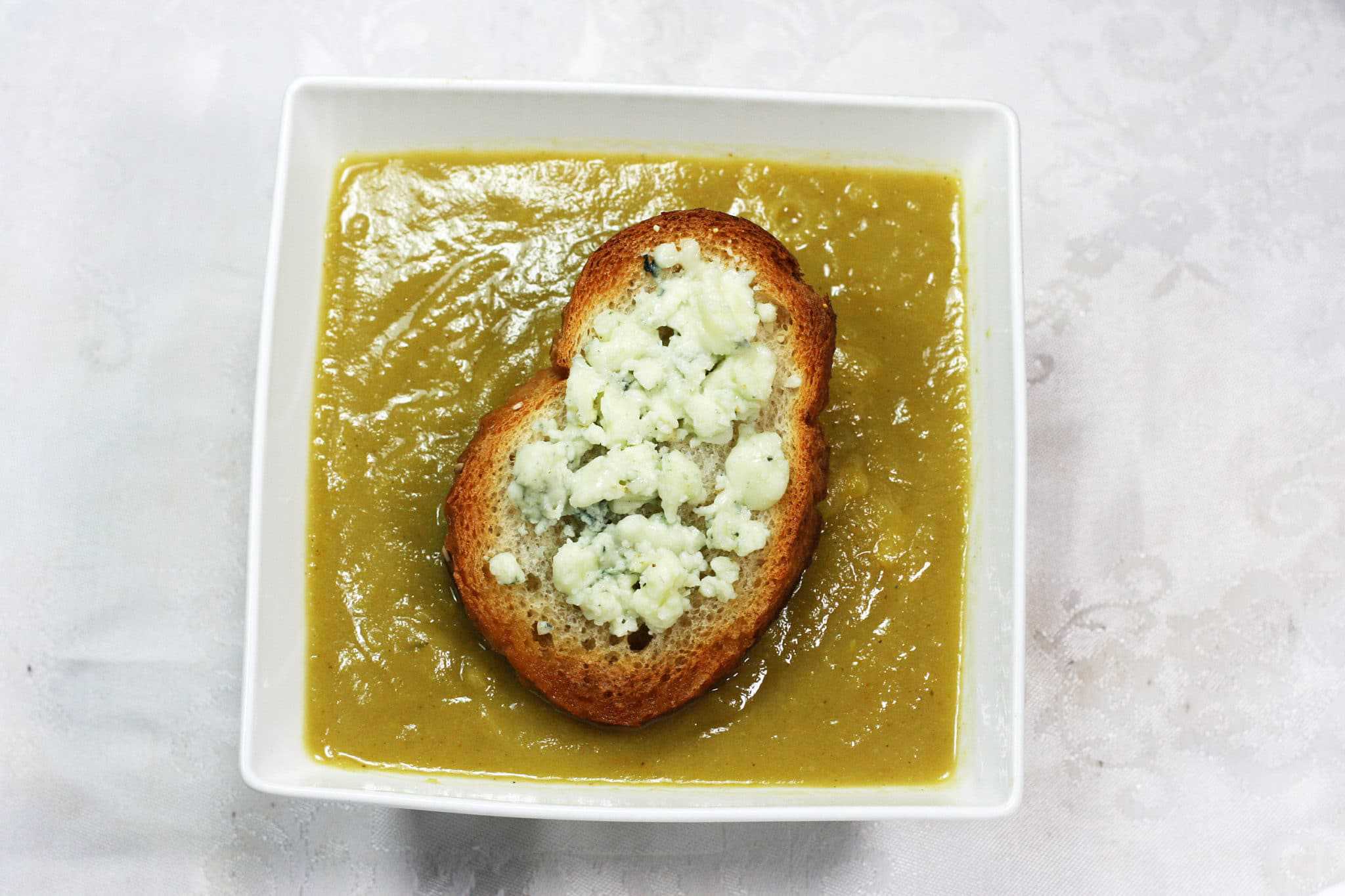 I hope you like this recipe as much as my family, and if so, please share the love on Facebook, Pinterest, or your favorite way of relating to your friends and family, and please continue connecting with me on Instagram, Pinterest, Twitter, Bloglovin, Google Plus ! Feel free to subscribe to my newsletter to never miss a recipe!
Thank you for always sharing my passion and love for food and family!
xo!
📖 Recipe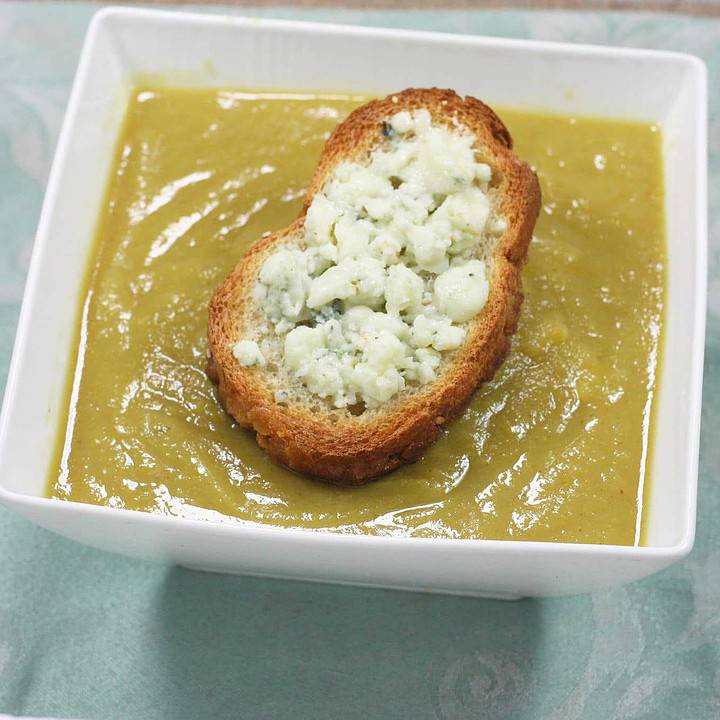 Parsnip, Apple and Pear Soup
A creamy blend of parsnip, apple, and pear without adding any cream. The puree of the vegetables and fruit makes for a low-fat delicious soup. This soup also freezes well.
Print
Rate
Equipment Needed:
Ingredients
2

Tbls.

unsalted butter

1

clove

minced garlic

1

medium

onion, diced

5

parsnips, peeled and chopped

1

turnip, peeled and chopped

2

honeycrisp apples, peeled and chopped

1

bosc pear, peeled and chopped

6

cups

low-sodium vegetable stock

1

tsp.

ground cumin

1

tsp.

ground coriander

½

tsp.

ground turmeric

2

sprigs of tarragon

salt and pepper to taste

crostini, to garnish optional
Instructions
In a large stockpot,over medium heat, melt the unsalted butter. Add the minced garlic and onion, until soft but not brown, stir occasionally for about 5 minutes.

Add in the parsnips, turnip, apples, and pear and stir well to blend all. Let cook for about 10 minutes to blend the flavors and the fruit will begin to break up.

Add in the vegetable stock, cumin, coriander, turmeric, sprigs of tarragon. and salt and pepper to taste. Bring to a boil, then reduce heat and cover, simmer over low heat for about 35-40 minutes or until vegetables are tender. Remove the 2 sprigs of tarragon from soup and discard.

Remove the pot from the heat and using an emulsion blender, blend soup until smooth. Adjust seasonings if needed. Can be served with a crostini, if desired.