Phyllo wrapped brie cheese with a glaze of fig jam and crushed pecans is a totally delicious appetizer that is super quick to prepare and bakes in 20 minutes! The brie is baked and the cheese is gooey and super flavorful Served with fruits and crackers! You will be the hit of the party!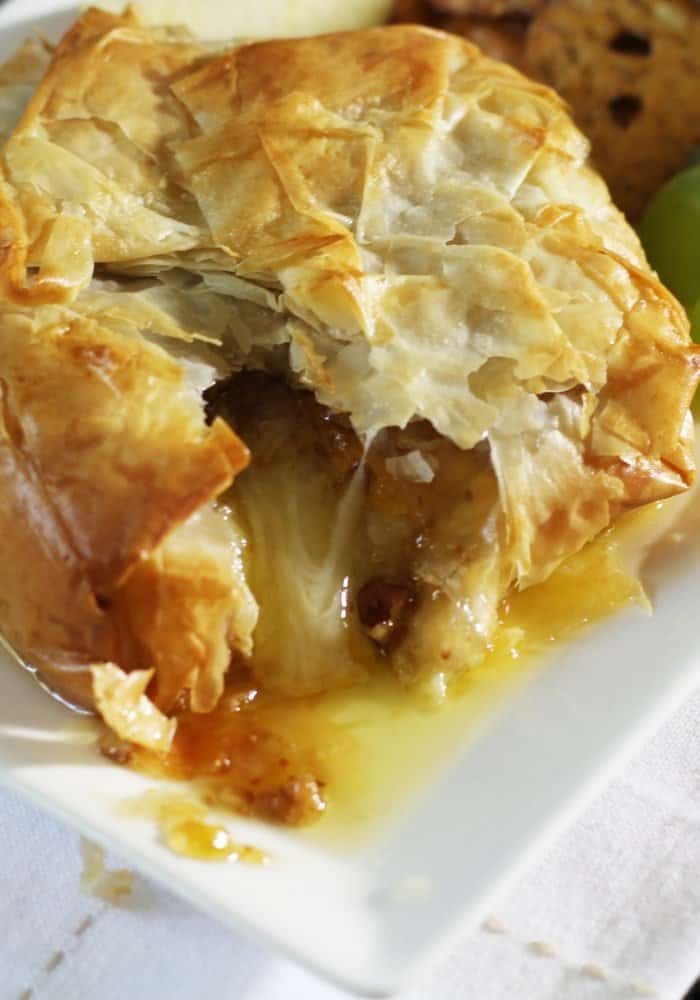 I don't think it is a secret that I am super passionate about the food I cook and the recipes I create! To be able to make food that my friends and family find tasty makes me quite happy! It's also no big secret that I love not only great food but a great glass of wine, okay maybe two glasses! Over the years I have developed a passion for pairing food and wine. One of my favorites is Wente Vineyard Wines! They have a wonderful selection of great tasting wines.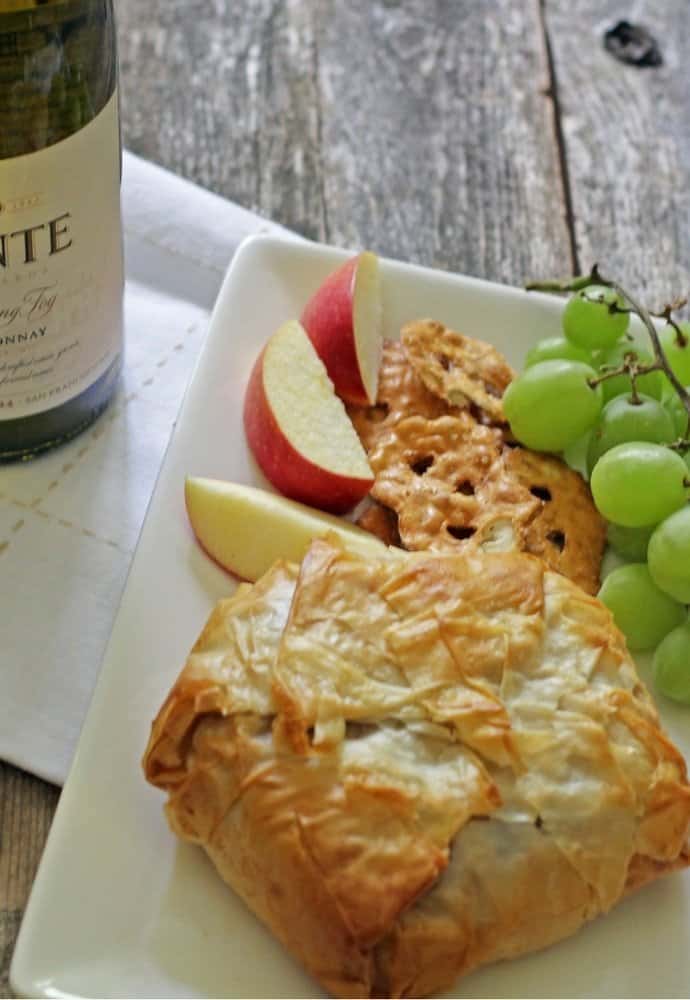 The hubs travels a lot for work. When he returns home, we really enjoy spending time together enjoying good food and a great glass of wine! One of his most requested snacks for our quality time is this phyllo baked brie with fig jam and pecans, to enjoy with a nice cold bottle of Wente Vineyard's Morning Fog Chardonnay! This appetizer is a crowd pleaser and so easy to prepare. The brie bakes quickly and you have a gooey cheesy appetizer topped with fig jam and pecans. We love it with fresh fruits and crackers!
Wente Vineyards is a fifth generation, family run, California-based winery. Their Morning Fog Chardonnay is an absolutely lovely wine that has wonderful flavors coming from green apples, tropical fruits, vanilla, and a touch of toasty oak! They have other wines as well, including Riva Ranch Pinot Noir which is another favorite of mine!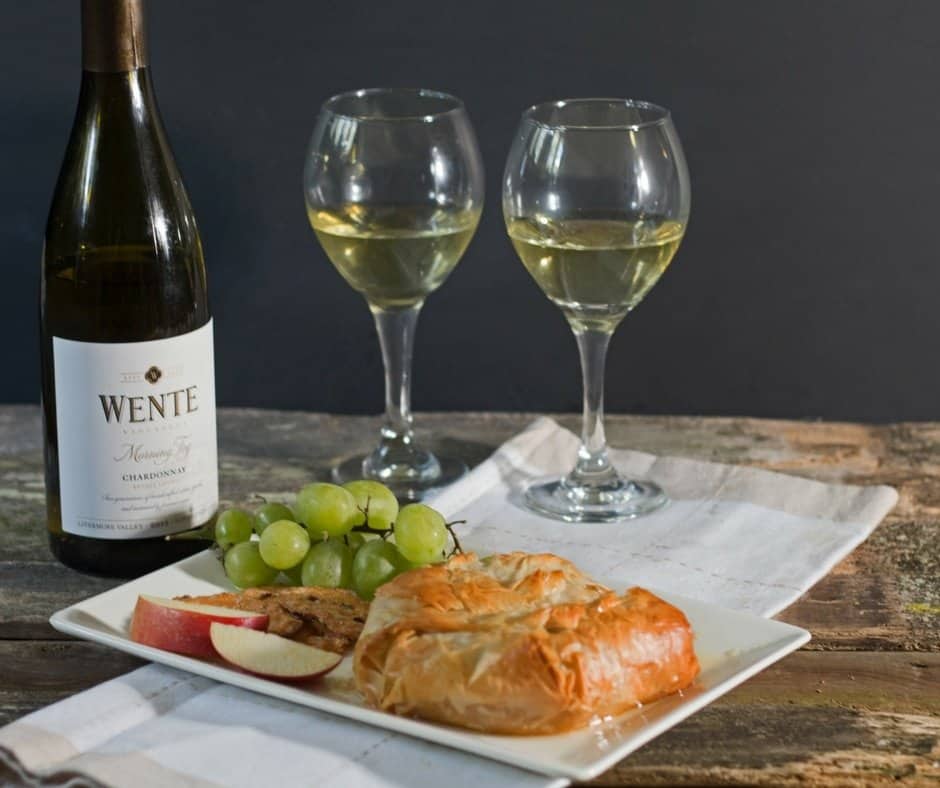 It has been so much fun for me to learn to pair food with wine and share that passion with my husband and friends! It makes me happy to prepare a recipe and pair the meal with different wines from the Wente Vineyard Collection! To find out where Wente Wines are sold you can check out their website. For a limited time, you may use this free shipping code JRNYSHIP1 for your online orders or wine!

I hope you also check out this great video of Fifth Generation Winegrower Karl Wente. He shares his passion for music and wine and his journey with his band Wolf Hamlin and the Front Porch Drifters! I had a blast working with Wente Vineyards and I loved sharing my #LoveOfTheJourney with everyone today!
Also, please share the love on Facebook, Pinterest, or your favorite way of relating to your friends and family, and please continue connecting with me on Instagram, Twitter, Bloglovin, Google Plus!
Thank you for always sharing my passion and love for food and family!
xo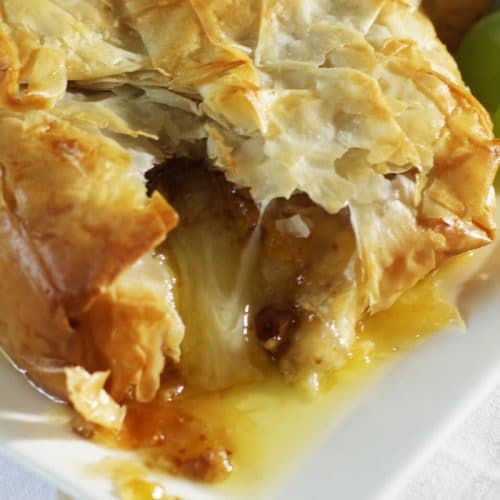 Phyllo Baked Brie with Fig Jam and Crushed Pecans
Creamy baked brie is topped with fig jam and crushed pecans. The brie is then wrapped in phyllo dough with melted butter. The brie is then baked. The creamy brie melts and blends with the jam and pecans. Crackers, crostini, fruit pair well with the baked brie.
Print
Rate
Equipment Needed:
Ingredients
5

sheet frozen Phyllo dough

defrosted

¼

light butter

1

round Brie

¼

cup

fig jam

¼

cup

crushed pecans
Instructions
Pre-heat oven to 400 degrees

Lay out the defrosted Phyllo dough and keep unused pieced under a sheet of plastic wrap.

In a small saucepan, melt the butter and set aside.

Line a baking pan with parchment paper.

Lay the 1st sheet of Phyllo dough on the parchment lined baking sheet.

Lightly brush with the melted butter.

Lay second sheet of Phyllo dough on top of the first.

Brush with melted butter.

Place third sheet crosswise and brush with melted butter.

Do the same to the fourth piece of Phyllo.

Place the fifth piece crosswise again, brush with melted butter.

Place the brie in center of the Phyllo dough.

Top with the fig jam.

Sprinkle the crushed pecans on top of the fig jam.

Fold the Phyllo dough towards the center of the brie

Brush remaining melted butter onto the Phyllo dough

Place Phyllo wrapped brie prepared baking sheet.

Cook for about 15 minutes to 20 minutes.

The outside will be light brown and crispy.

Let Brie sit for about 10 minutes before serving.

Serve with dried fruits, fresh fruits, crackers, and Italian meats
Notes
Any nutritional value used is an estimate. These figures can change based on ingredients and portion size
Nutrition
Serving:
15
servings
|
Calories:
355
kcal
|
Carbohydrates:
52
g
|
Protein:
10
g
|
Fat:
11
g
|
Saturated Fat:
4
g
|
Cholesterol:
15
mg
|
Sodium:
551
mg
|
Potassium:
103
mg
|
Fiber:
2
g
|
Sugar:
2
g
|
Vitamin A:
90
IU
|
Vitamin C:
0.3
mg
|
Calcium:
40
mg
|
Iron:
3.2
mg