Cheeseburger Stuffed Twice Baked Potatoes - who doesn't love them and when combined, an even better treat! Your family will love these Cheeseburger Stuffed Twice Baked Potatoes. These are packed with ground sirloin, veggies and flavor and remain low in calories.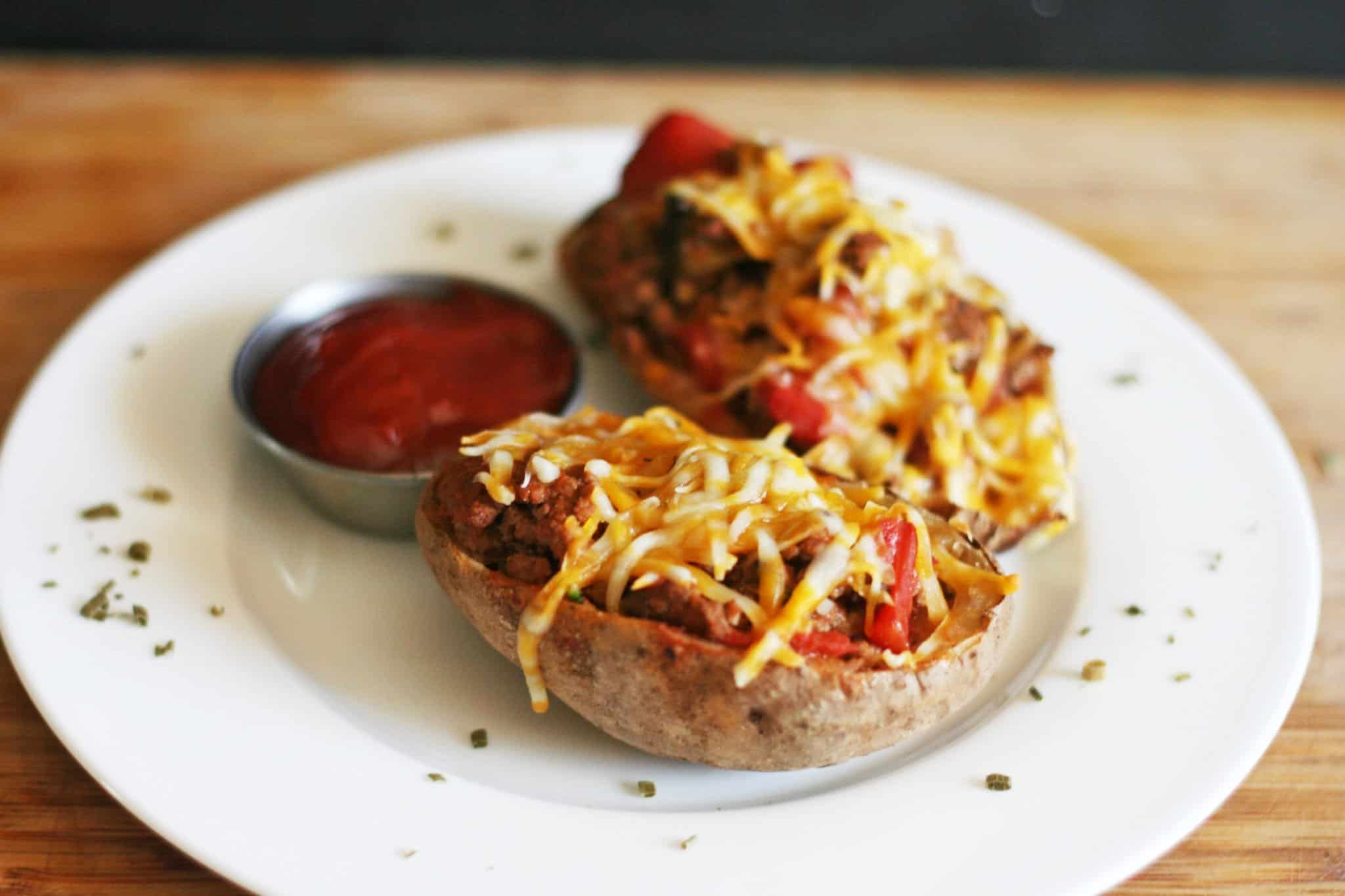 I can only think to feed me now. Guess what, it's happening, right now. This is an amazing combination and filled with added veggies so the family is getting a delicious meal. Another treat from the wonderful, Ellie Krieger and her cookbook, You Had It Made.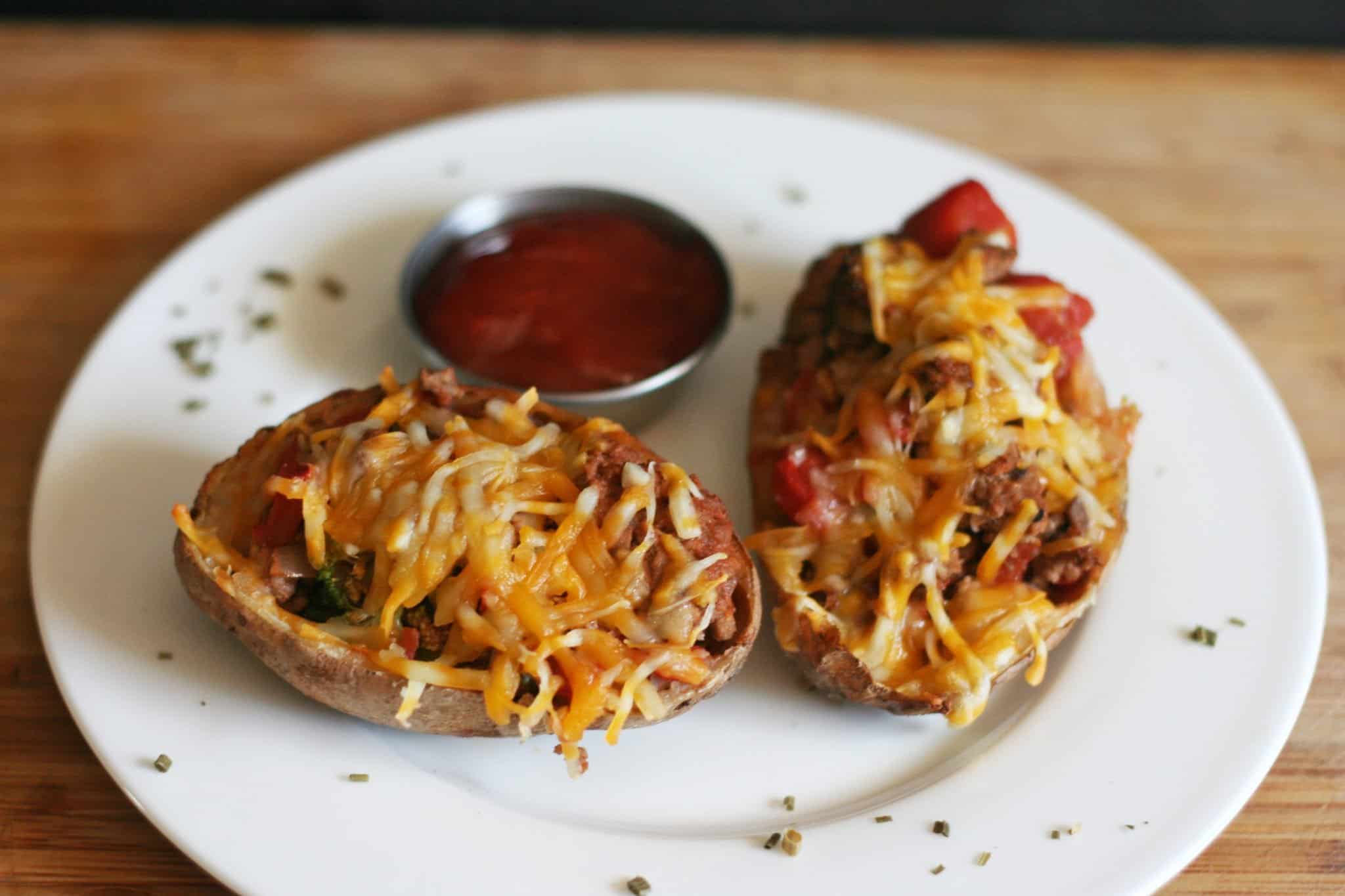 I love to prepare these Cheeseburger-Stuffed Twice Baked Potatoes for many reasons. They are super easy to prepare, absolutely delicious, freeze really well, and so super easy to reheat! So my family always has these babies ready to be eaten, either in the fridge or freezer.  Being homemade, we control the ingredients.  I use lean ground meat, usually 90 to 95 percent fat-free. Everyday tip: Buy your meat in bulk when it is on sale and divide it up in pounds, place in freezer bags, and label the bags for future use. Once the potatoes are baked, they are hollowed out and I use the potato flesh in another dish, like home fries or  Low-fat Potato Leek Soup. Then there is the added bonus of mushrooms and broccoli which brings additional veggies and fiber. The recipe indicates that having 2 halves equals only 450 calories! Woohoo!!  My kind of twice baked potato.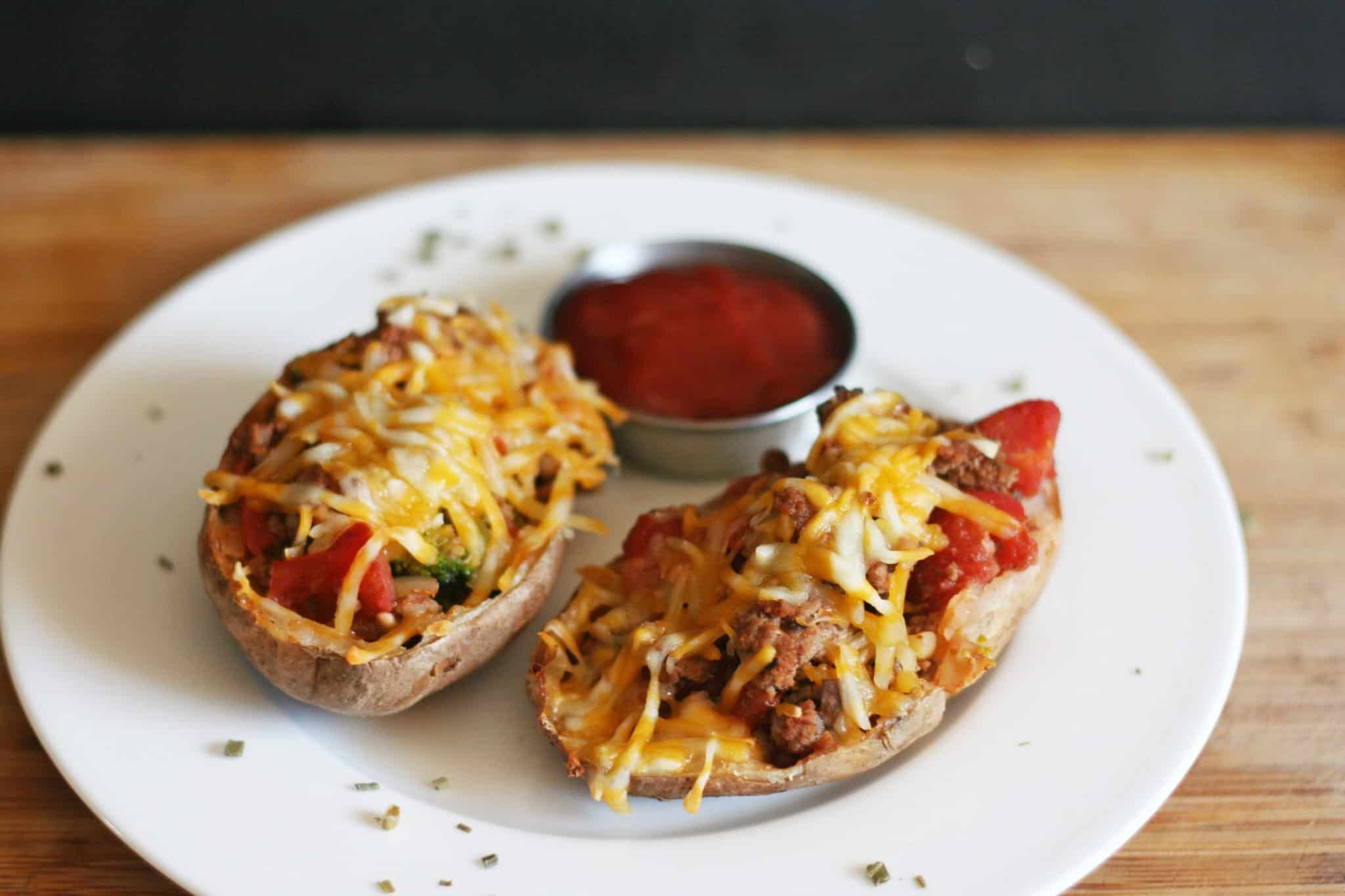 The possibilities are endless as well with these Cheeseburger-Stuffed Twice Baked Potatoes. If you don't care for broccoli, swap it out with another of your favorites veggies.  What flavors would you like in your Cheeseburger-Stuffed Twice Baked Potatoes?
I hope you enjoy making this recipe!
I really hope you make and enjoy this recipe, and if so, please share the love on Facebook, Pinterest, or your favorite way of relating to your friends and family, and please continue connecting with me on Instagram, Pinterest, Twitter
Thank you for always sharing my passion and love for food and family!
xo!
Disclaimer: I was provided with these cookbooks to review. All opinions are my own and are not influenced by the sponsor of these books
Cheeseburger Stuffed Twice Baked Potatoes
A delicious way to prepare a twice baked potato that is filled with lean ground beef and loaded with vegetables. A pure comfort food recipe.
Print
Pin
Rate
Equipment Needed:
Ingredients
8

large russet potatoes

1

Tablespoon

olive oil

1

teaspoon

salt, divided

½

teaspoon

ground pepper, divided

2

pounds

ground lean beef

1

large

onion, chopped

3

cloves

minced garlic

1

teaspoon

onion powder

½

teaspoon

paprika

1

pound

button mushrooms, chopped

15

ounce

can no-salt-added tomato sauce

14.5

ounce

can no-salt-added diced tomatoes

2

cups

broccoli florets , chopped into ½ inch pieces

1

cup

low-fat grated cheese

low-salt ketchup

optional for serving
Instructions
Preheat oven to 400 degrees.

Bake the potatoes for approximately 60 minutes, until tender. Allow to cool to room temperature. Cut each potato in half, lengthwise, and scoop out most of the flesh from each half. Save the potato flesh for another dish such as home fries or low-fat potato leek soup.

Brush the scooped out potato skins lightly with the olive oil and sprinkle the ¾ teaspoon of the salt salt and ¼ teaspoon of the pepper. Place on a baking tray, cut-side up, return tray to the oven. Bake until crisp, about 15-20 minutes.

Meanwhile, heat a large skillet over medium heat. Add the lean ground meat and cook, breaking up the meat until brown, about 5-6 minutes. Transfer meat to a plate, using a slotted spoon, leave liquid in pan.

To the skillet, add the onions, cook, stirring until soft, 6-7 minutes. Add the garlic, onion powder, and paprika, cook, stirring, another 1 minute.

Add the cut broccoli florets, stirring until they are tender, another 3-4 minutes

Add the mushrooms, cook, stirring, until mushrooms release their liquid, about 5 minutes.

Add the tomato sauce, diced tomatoes and their juices, remaining ¾ teaspoon of salt and remaining ¼ teaspoon pepper to taste, stir occasionally until the mixture thickens, should still be very moist, about 3-4 minutes

Add the cut broccoli florets, stirring until they are tender, another 3-4 minutes

Mix back in the browned meat to the veggie mix.

Place potato half on a plate and fill with ½cup of the meat/veggie filling each. The stuffed potato can be refrigerated or frozen, at this point.

To continue, preheat broiler to high. Place the stuffed potatoes on a baking tray, sprinkle with 1 Tablespoon of the low-fat cheddar cheese, and broil until cheese is melted, about 1 minute. A low-salt ketchup on the side is great.
Notes
Adapted from

You Have it Made

by Ellie Krieger
Refrigerate - keeps in an airtight container for up to 4 days. To reheat, bring to room temperature and preheat oven to 350 degrees. Place stuffed potatoes on a baking tray and bake for 15 minutes. Then follow the last step to broil top and melt cheese.
 To Freeze- Place the stuffed potatoes in the refrigerator for 30 minutes, then wrap individual portions in foil or plastic wrap and place in sealable freezer bags. Can stay in freezer for 3 months.  Can be cooked frozen. Remove foil or plastic wrap and place on baking tray and cook in oven at a temperature of 350 degrees, for 30 minutes, until potatoes are warmed through. Then follow last step to broil top to melt cheese
Nutrition
Serving:
1
potato half
|
Calories:
411
kcal
|
Carbohydrates:
50
g
|
Protein:
36
g
|
Fat:
8
g
|
Saturated Fat:
3
g
|
Cholesterol:
71
mg
|
Sodium:
786
mg
|
Potassium:
1861
mg
|
Fiber:
5
g
|
Sugar:
7
g
|
Vitamin A:
505
IU
|
Vitamin C:
43.9
mg
|
Calcium:
97
mg
|
Iron:
6.1
mg