Red Lentil Salad is a favorite of mine! Why? Preparing lentils is easier than you think and they are full of amazing flavor. This healthy lentil salad recipe is ready in no time. A perfect make-ahead salad that can be enjoyed all week!
A salad filled with veggies and an easy lemon vinaigrette puts this into my families meal rotation often!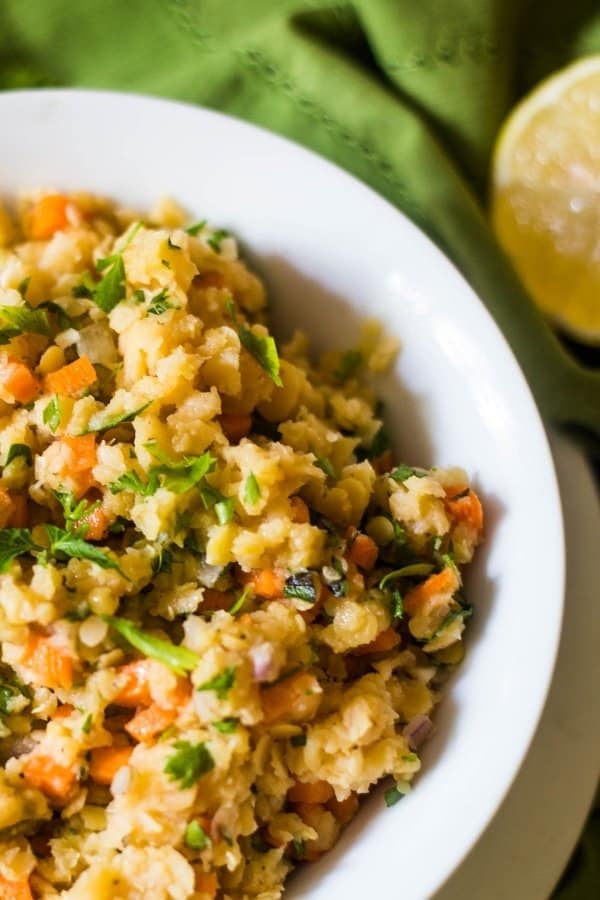 Red Lentil Salad is packed with veggies and full of flavor and nutrition!
My family is all big fans of any lentil salad recipe! Besides being amazingly delicious, lentils are full of nutrition!
Lentils are very inexpensive and they pack a boatload of flavor to any recipe! Are you cooking with lentils? My friends, whether you are a seasoned lentil users or first-time fans, this is a recipe you must put into rotation!
Lentil Salad Recipe:
I'm pretty sure most of you are super busy with life! Whether it is work, kids, the need to get in a workout...I can keep going, but why? Busy is Busy, regardless of what makes us busy!
So being busy, we all need to eat and for me, I need my meals to be ready, delicious and if I can make anything ahead of time - cha-ching a win all around. Thus we have this most amazing Red Lentil Salad!
I LOVE making this lentil recipe and I make this as part of my meal preps for the week. Quick and easy! So delicious and versatile and I can adjust the veggies I use as well.
Red lentils are a favorite ingredient of mine. They are so easy to cook and extremely versatile. Growing up, we pretty much-made lentils only in soup! Meat/potatoes=Irish Girl! That's me, but once I found them, amazing! My kids love them! Dressing up lentils with veggies and vinaigrette always makes a great salad!
I discovered lentils as I started experimenting with cooking in high school. Lentils are a staple in my recipe rotation. I promise, I will be sharing a lot more recipes using lentils coming!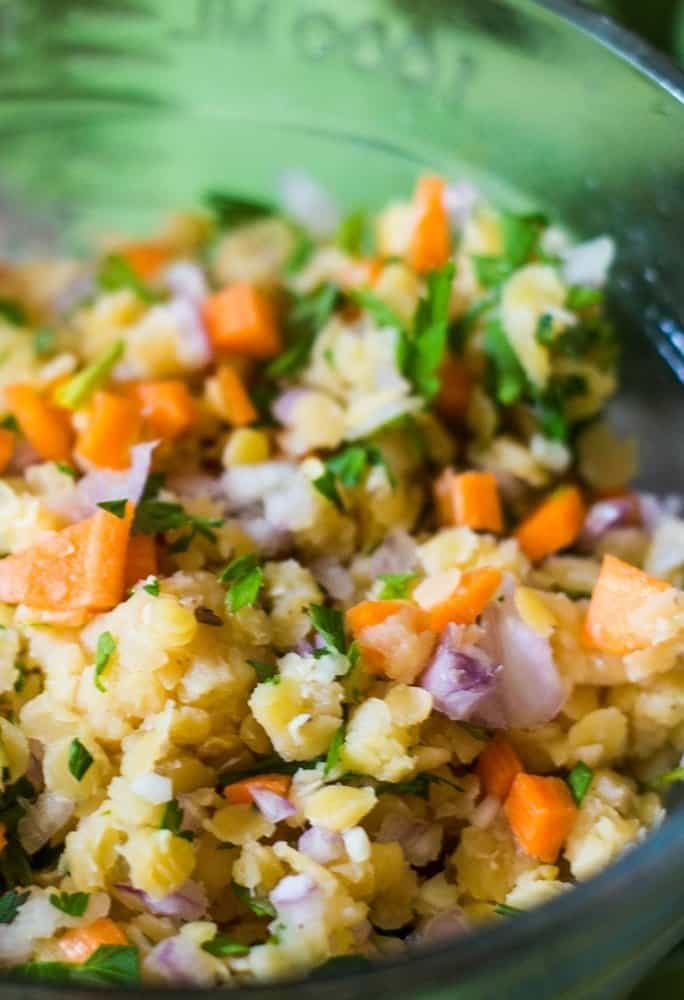 Are red lentils healthy?
Lentils are low in calories and are high in fiber which is important to maintain a healthy heart. Lentils are also a great source of fiber!
How long does it take to cook red lentils?
Surprisingly, lentils cook quickly! In around 15-20 minutes, red lentils are ready!
Do lentils need to be soaked before being cooked?
Lentils do not need to be soaked prior to cooking. However, I do rinse the lentils off right before cooking them. This ensures the lentils are clean.
What do lentils taste like?
My kids eat a lot of lentils. Their friends always ask this question. Lentils are a small legume that is not heavy. Lentils pair will with other veggies. They hold up well in soups and stews.
How long can Red Lentil Salad be kept in the fridge?
The salad is fine kept in the fridge well covered for about 3 days. If you want to make a double batch of lentils.
FAQs about Red Lentils:
Lentils are a great source of protein
Add lentils into your heart-healthy diet.
Lentils are a low-calorie legume.
A good source of complex-carbs which is great for energy.
I love to make this salad on its own as a light lunch! Red Lentil Salad also pairs well with:
Tequila Lime Marinated Hangar Steak
Baked Crispy Chicken Drumsticks
Other recipes that go nicely with this lentil salad are soup are a few from my favorites food blogger friends:
Slow Cooker Curried Tomato Soup
This post contains some affiliate links for your convenience (which means if you make a purchase after clicking a link I will earn a small commission which helps keep my blog up and running but it won't cost you a penny more!) Click here to read my full disclosure policy.
Thank you so very much for being apart of Everyday Eileen!
Tools to may need to make Red Lentil Salad:
How to Make Red Lentil Salad:
Place a medium saucepan over medium heat filled with water.
Add to the saucepan lentils, garlic, bay leaf, thyme, oregano, salt, pepper.
Bring to a boil. Reduce heat. Cover with lid. You do not want the lentils to be mushy they should look like these lentils.
Let simmer, 20 minutes.
Discard bay leaf. Set lentils aside.
Make vinaigrette dressing.
Drizzle the vinaigrette onto the salad. Chill the red lentil salad for at least an hour. Overnight is even better and enjoy!
I love any comments or questions, please feel free to leave them below!
I HOPE YOU CONTINUE CONNECTING WITH ME
FACEBOOK INSTAGRAM, PINTEREST, TWITTER
Love this recipe, it would be awesome if you give it a 5-star rating and share your comments below!
📖 Recipe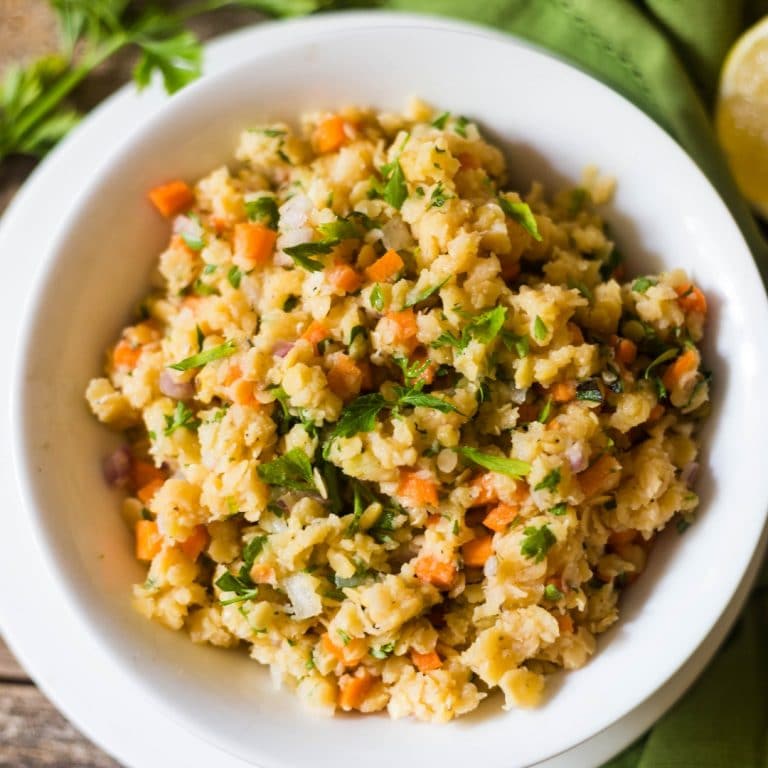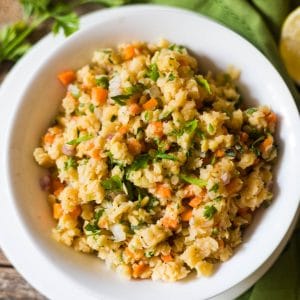 Red Lentil Salad Recipe
Red Lentil Salad is delicious and easy to prepare! This salad makes a great light lunch! Perfect for dinner with a bowl of soup or a salad! Make this ahead of time, overnight and it tastes even better! Bring along to any potluck!
Print
Pin
Rate
Equipment Needed:
Ingredients
To Make the Lentils and Veggies
Lemon Vinaigrette
4

Tablespoons

fresh lemon juice

zest of the lemon

1

clove

garlic, peeled and minced

½

teaspoon

Dijon mustard

6

Tablespoons

olive oil

2

Tablespoons

fresh parsley, chopped

1

teaspoon

fresh thyme, chopped

salt, to taste
How to Assemble the Red Lentil Salad
½

cup

shallots, peeled and diced

½

cup

carrots, peeled and chopped

⅓

cup

chopped celery

4

Tablespoons

chopped fresh parsley

1

teaspoon

fresh thyme

salt and pepper, to taste

if needed
Instructions
How to Make the Lentils
Rinse and drain red lentils with water.

In a 4 quart saucepan over medium/high heat add 1 quart of water, the rinsed red lentils, lemon peel, garlic, bay leaf, and thyme.

Bring lentils to an almost boil,(note 1) reduce heat to low, simmer red lentils for about 15 minutes, uncovered.

Once lentils are cooked, remove and discard lemon peel, bay leaf, and thyme.

Drain the lentils. Place them in a bowl.
Make the Lemon Vinaigrette
In a mason jar or bowl with a lid, add lemon juice, lemon zest, minced garlic, Dijon mustard, olive oil, fresh parsley, and fresh thyme. Season with salt and pepper. Check the seasoning on the vinaigrette. Reseason if needed. (Note 3) Set aside to assemble the red lentil salad

Place the lid on mason jar or place the lid on the bowl. Shake the salad dressing well to mix.
Assemble the Red Lentil Salad
Combine with the cooked red lentils, diced shallots, carrots, celery, chopped parsley, and thyme.

Top with the Lemon Vinaigrette. Toss well.

Taste the salad. Reseason with salt and pepper if needed. Adjust herbs if needed.

This salad is best refrigerated for a bit before serving. I make this the evening before.
Notes
Note 1: An almost boil is one or two bubbles in the water. Then turn heat to low simmer.
Note 2: I have done a lot of experimenting with lentils. I have found salting after they cook is best for flavor.
Note 3: This salad dressing is fabulous, you can make this alone and serve with any kind of salad too! Feel free to make extra and serve over salad greens with this salad. Also can marinate chicken pieces in the extra salad for a protein with the red lentil salad!
Note 4: This is a salad that I love to make ahead and eat all week. The salad keeps very well in the fridge well covered.
I am not a registered dietician, I do my best to provide the most accurate nutritional values. Any nutritional data I provide is an approximation. Actual dietary information can vary based on ingredients and portion sizes
Nutrition
Serving:
1
serving
|
Calories:
169
kcal
|
Carbohydrates:
8
g
|
Protein:
3
g
|
Fat:
14
g
|
Saturated Fat:
2
g
|
Polyunsaturated Fat:
2
g
|
Monounsaturated Fat:
10
g
|
Sodium:
220
mg
|
Potassium:
185
mg
|
Fiber:
3
g
|
Sugar:
1
g
|
Vitamin A:
1948
IU
|
Vitamin C:
9
mg
|
Calcium:
24
mg
|
Iron:
1
mg
Pin this tasty Red Lentil Salad to make any time here: