"Discover the delicious and convent way to eat meat-free. Gardein's Mini Crispy Crabless Cakes are better for your body and better for the planet" #OMGardein #vegetarian #vegan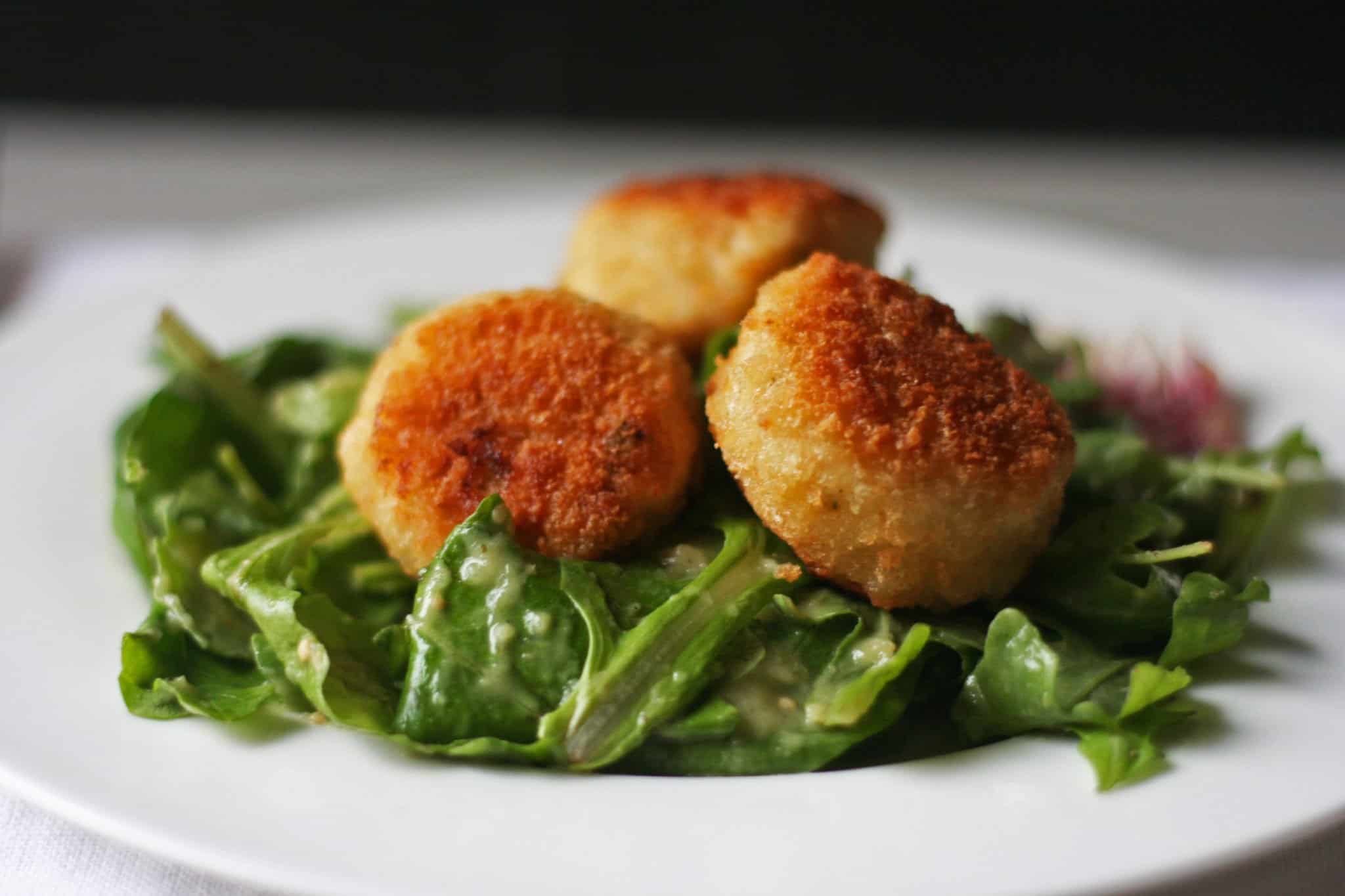 I had a crazy busy weekend as usual! Who doesn't these days!  Sunday's have become super busy for my family and between attending games, carpooling to practice, catching up on laundry….I could keep going… but what keeps getting pushed back is dinner. This Sunday was just like the last few, 5 pm, finally home and I do not have any meal prepared for dinner!  I always have various types of lettuce and salad makings in the fridge! I had gotten some Gardein Mini Crispy Cakes at the grocery store on Friday and I thought, Bingo, I know exactly what I am going to make, Crispy Crabless Cakes Salad with a Roasted Tomatillo-Avocado Dressing!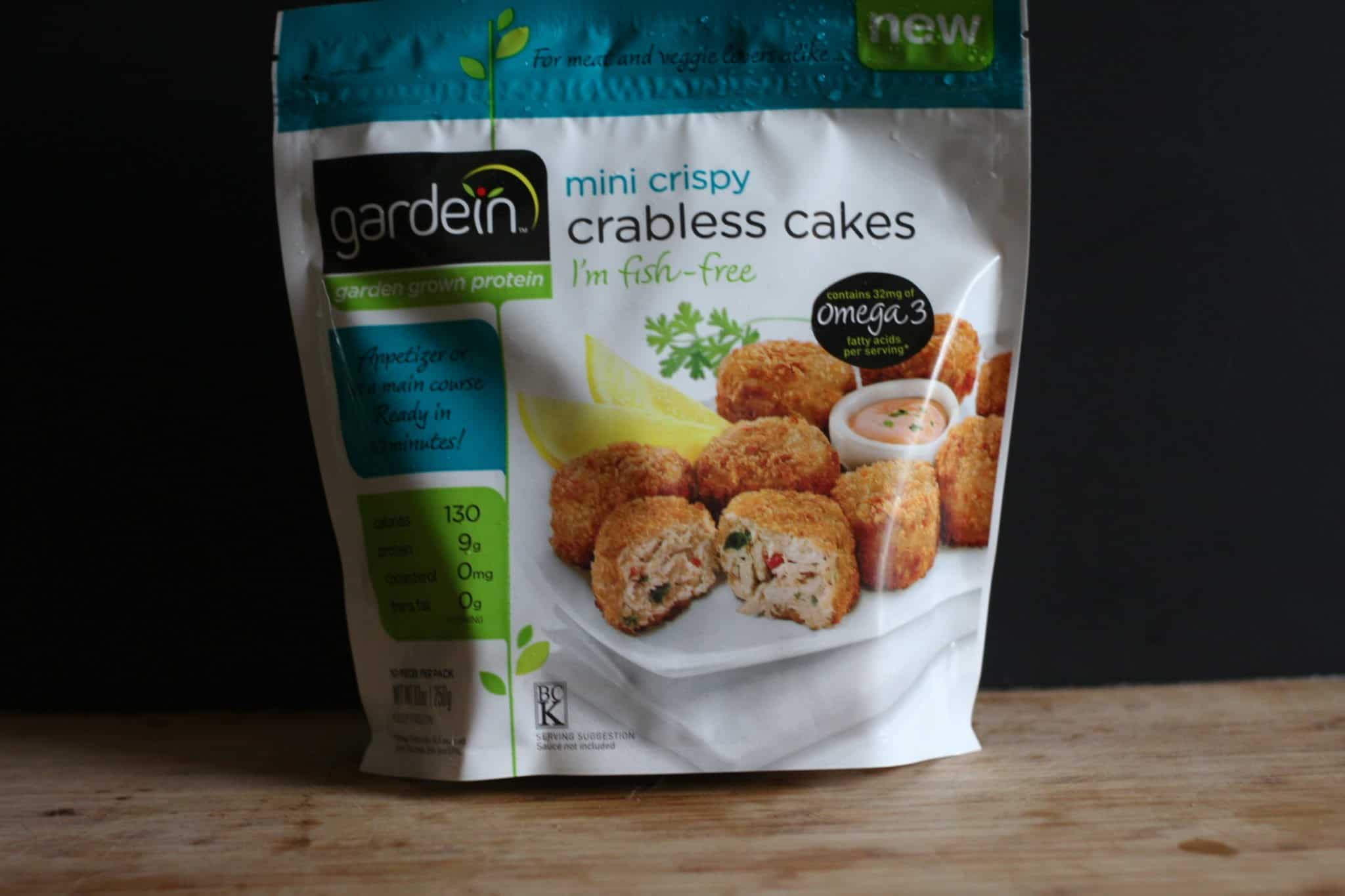 I absolutely love the products Gardein produces and here are just a few of my many reasons:
For our health:
They are a Vegan product that are made with non-GMO soy, wheat, ancient grains and veggies.
Gardein products give the taste, texture and protein content of meat with less fat, fewer calories and no cholesterol.
Just removing one meal made with meat to a meatless meal a week will help improve your overall health
For our Earth:
 Meatless Mondays are a great way to help the Earth. If every American ate meatless just 1 day/ week all year it would be the equivalent of taking ½ million cars off the road.
It takes the same amount of water to produce a burger as it does to shower for 6 months! 1,799 gallons of water are needed to produce just 1 lb of beef. Conversely, it only takes 52.8 gallons to produce 1 lb of Gardein. (source: Water Foot Print Research Methodology for beef usage)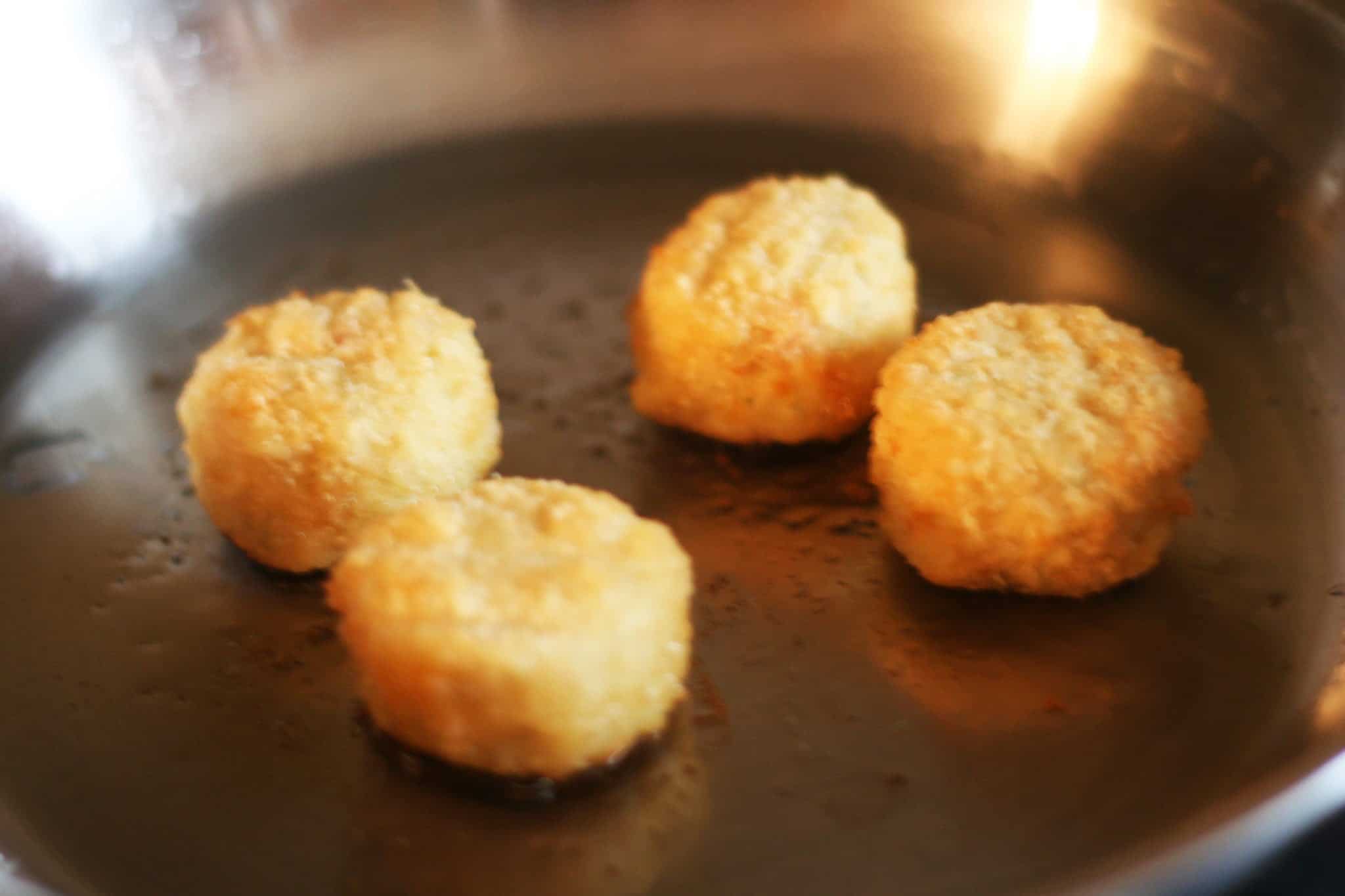 This meal was super tasty and took me less than 30 minutes to prepare for my family! While I was sauteing the Gardein Crabless Cakes, which took me 6 minutes a side, the packaging states 7-9 minutes, I roasted my tomatillos,  onions, and jalapeno in the broiler for about 10 minutes.  Half way through roasting, I flipped the veggies and added the garlic cloves.  The garlic roasts quickly and this prevents it from getting bitter!  Now don't forget to check on your Crabless Cakes that are sauteing! Once the veggies are roasted, I add the mixture to my blender, add cilantro and the pitted avocado and a few pulses in the blender! Voila!!  Yumness!  Then it is a matter of either washing some lettuce or do what I did, had a few pre-washed bags ready and dinner is served!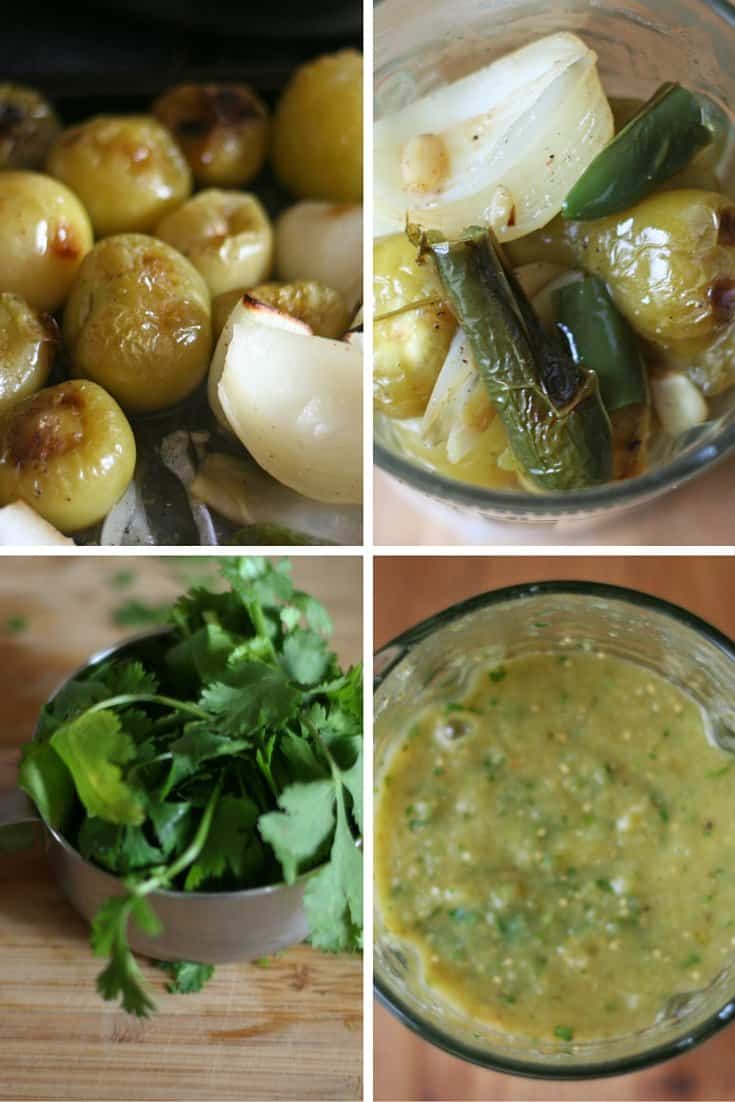 We absolutely loved the meal I prepared and all thanks to  Gardein!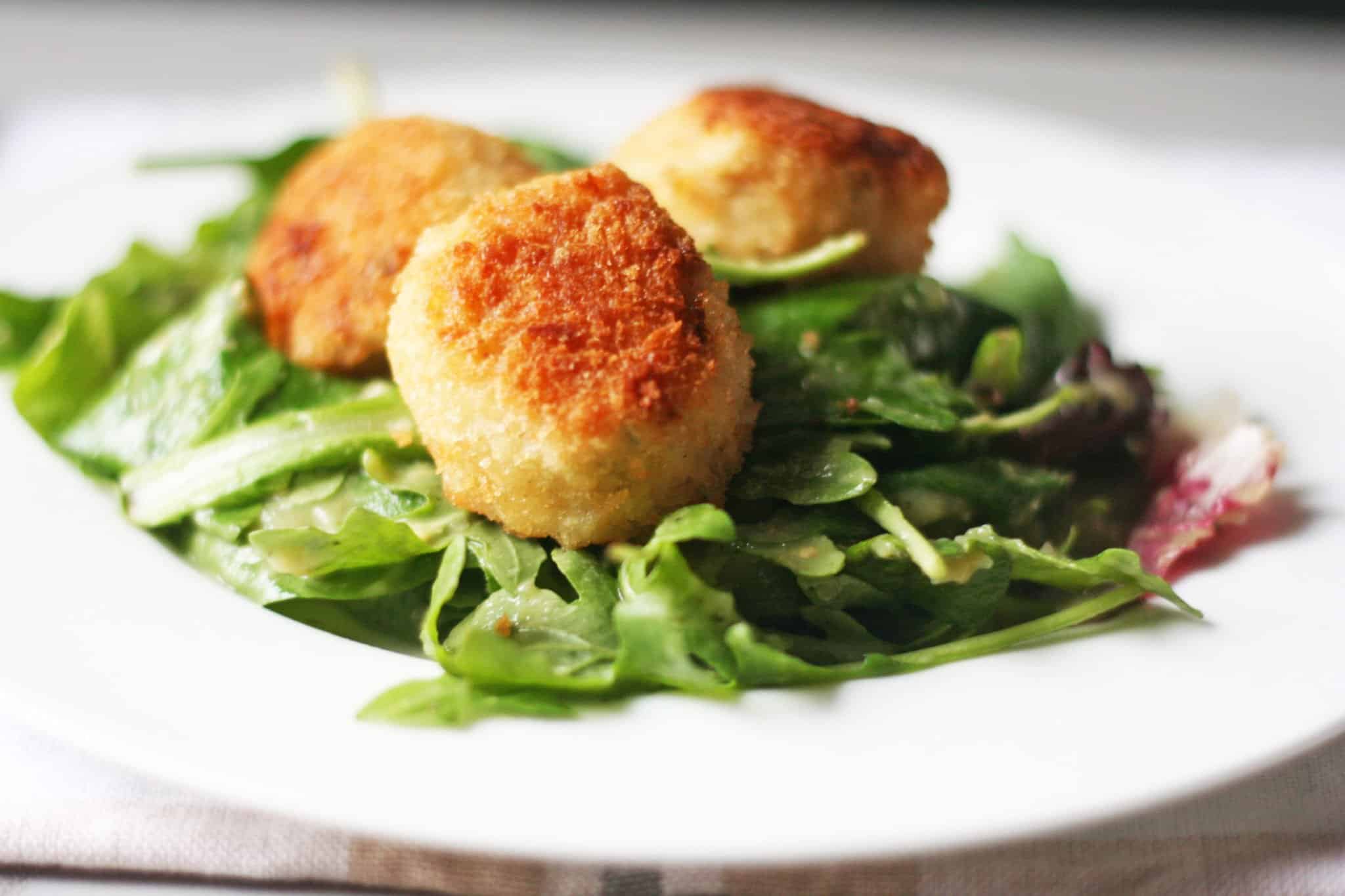 This was one of the easiest and tasty meals I have ever prepared. I will be  stocking up on their other products!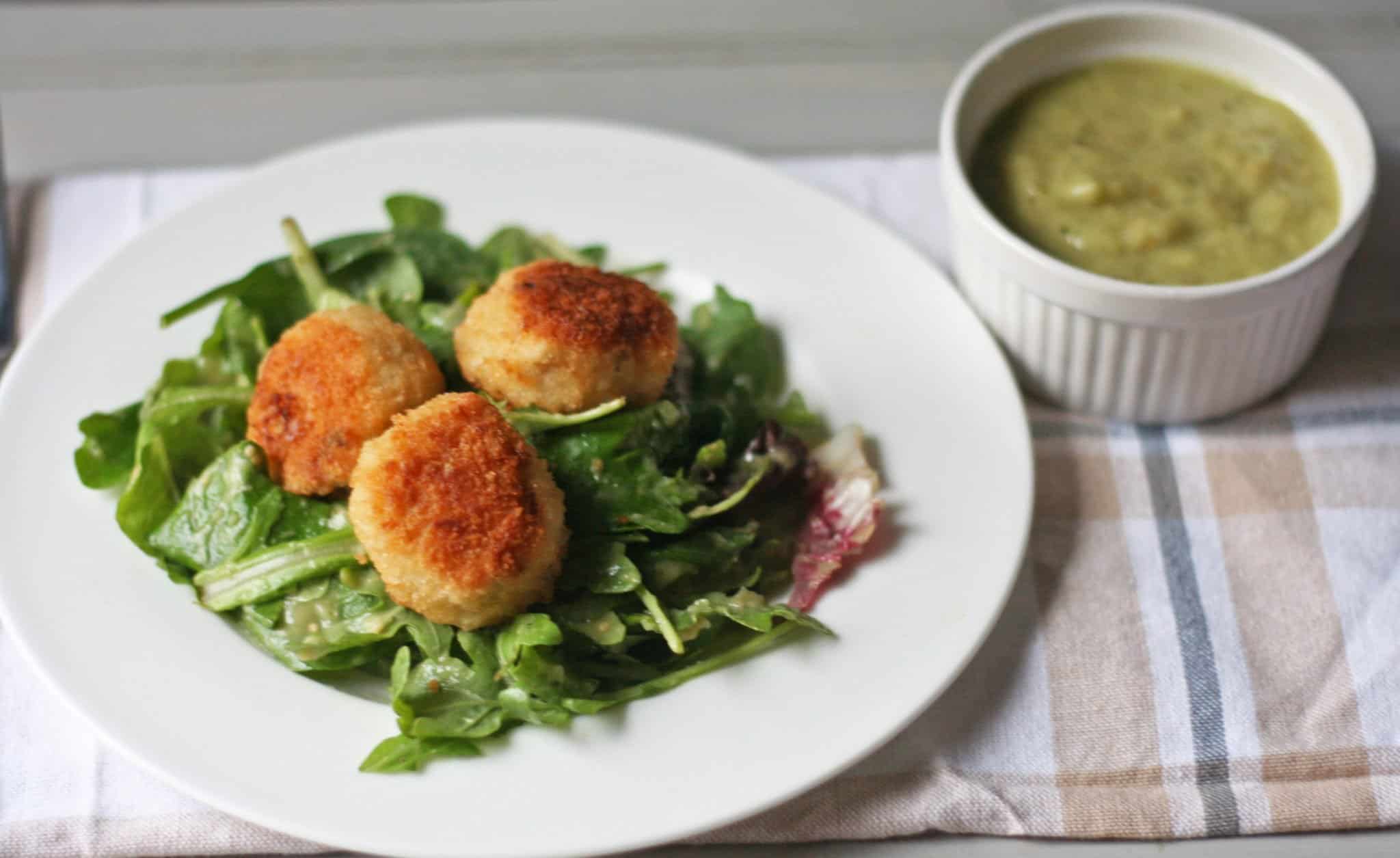 There are a few on-the-go items that are really tasty. This was today's lunch for me, the Gardein Pulled Porkless Pocket Meal and a salad! I baked mine in the oven for 25 minutes. My daughter had classes today and she brought one to school with a salad and microwaved it and she really enjoyed.  This is a great way to eat healthily and on-the-go!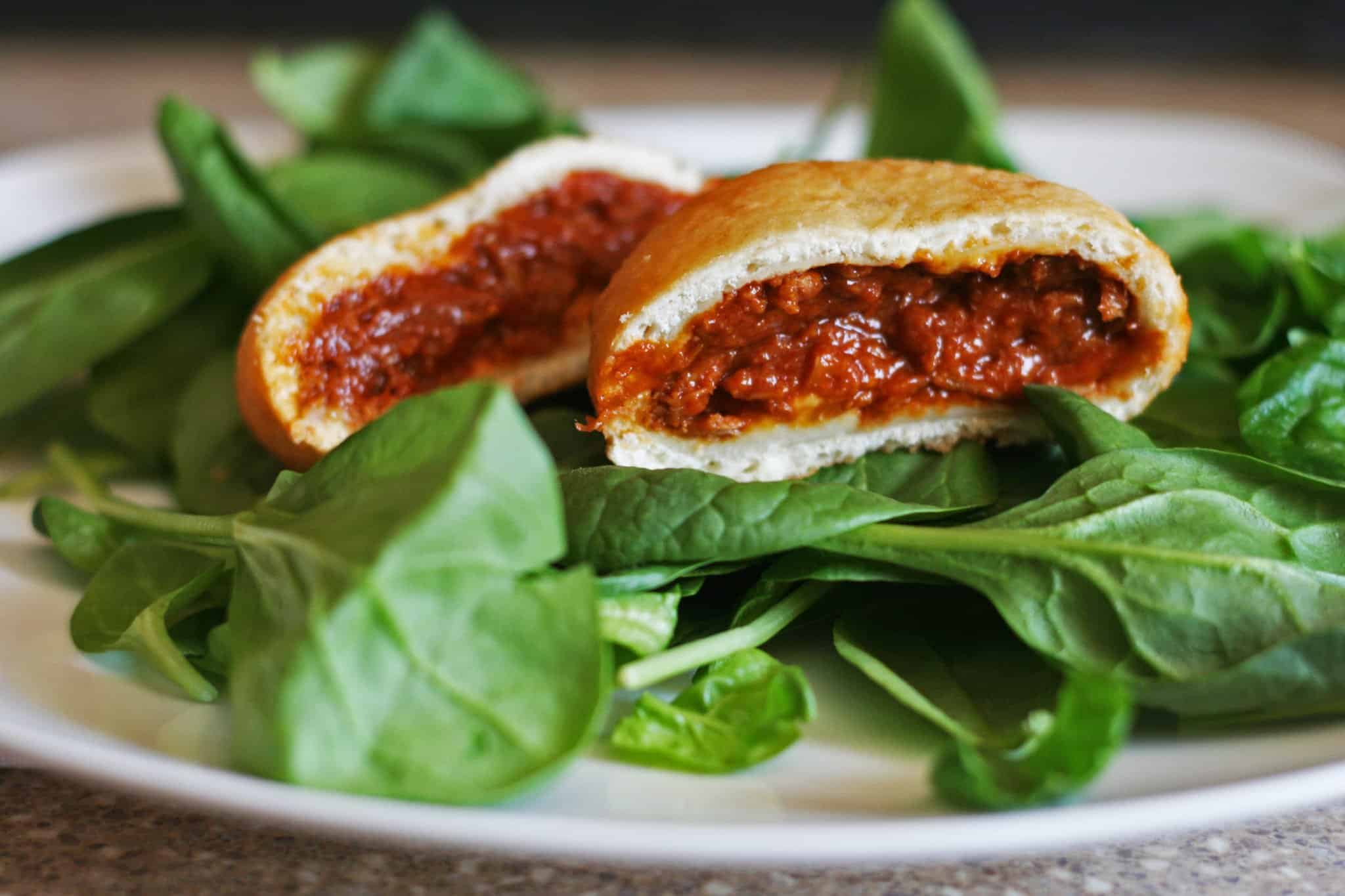 What Gardein is doing right now is fantastic! You can download a 1$ off coupon until May 31st, so you can try all of the wonderful meatless options from Gardien! Here is a sampling:
– Gardein Meatless Pepperoni Pizza Pocket
– Gardein BBQ Pulled Porkless Pocket Meal
– Gardein Sweet & Sour Porkless Bites
– Gardein Mini Crispy Crabless Cakes
– Gardein Chipotle Black Bean Burger
 I hope you try this Gardein Crispy Crabless Salad with Tomatillo-Avocado Dressing and experiment with all of Gardein's wonderful products!
I really hope you make and enjoy this recipe, and if so, please share the love on Facebook, Pinterest, or your favorite way of relating to your friends and family, and please continue connecting with me on Instagram, Pinterest, Twitter, Bloglovin, Google Plus
When you prepare one of these Gardein products, be sure to #OMGardein and my #everydayeileen on Instagram! I would love to see your clever ideas!
Thank you for always sharing my passion and love for food and family!
xoxo Eileen
Gardein Crispy Crabless Cakes with Roasted Tomatillo-Avocado Dressing
A meal prepared in less than 30 minutes by using Gardein Crispy Crabless Cakes! Served over a bed of lettuce with a roasted tomatillo-avocado dressing. A delicious vegan meal that tastes so good!
Print
Pin
Rate
Equipment Needed:
Ingredients
2

bags

8.8 oz Gardein Mini Crispy Crabless Cakes

2

pounds

tomatillos, peeled and washed

1

small

onion, peeled and quartered

1

jalepeno

3

cloves

garlic, peeled

1

avocado, peeled and pitted

½

cup

cilantro

1

Tablespoon

olive oil

½

lime, juiced

8

cups

mixed baby salad greens

½

pint

grape tomatoes, halved

1

medium

cucumber diced
Instructions
Preheat broiler on high. Place top rack close to broiler flame.

Prepare the Gardein Mini Crispy Crabless Cakes according to your preferred method on the packaging.

In a large bowl, combine the peeled and washed tomatillos, the quartered onion, and the jalapeno. Season to taste with salt and pepper. Add to the veggies, 1 Tablespoon of olive oil. Combine till well blended. Place the veggies on a baking tray and place into the preheated broiler. After 5 minutes, add the garlic cloves

After 5 minutes, add the garlic cloves and turn all the veggies. Roast another 5 minutes. The skins should be charred and blistered.

Remove baking tray from the oven. Let cool for about 5 minutes to cool.

While mixture cools, in a large bowl, combine mixed baby salad greens, grape tomatoes, and cucumbers. Divide and place the salad on 6 plates. Add the cooked Crispy Crabless Cakes.

Once veggies are cool, remove the stem and seeds from the jalapeno. Add all the veggies to a blender. Add the avocado, cilantro, and lime juice. Pulse 5 or 6 times to puree the veggies. Check seasoning and adjust salt and pepper if necessary.

Dress the prepared plated Crabless Salad with the Roasted Tomatillo-Avocado Dressing. Eat immediately!