Low-fat potato leek soup is full of flavor and low in calories! A hearty soup to warm up with and full of veggies!  This is a great soup for any night and also great for a Holiday meal!  Creamy potato soup without any cream and extra calories! A vegetarian/vegan soup which is also gluten-free to keep your diet in check!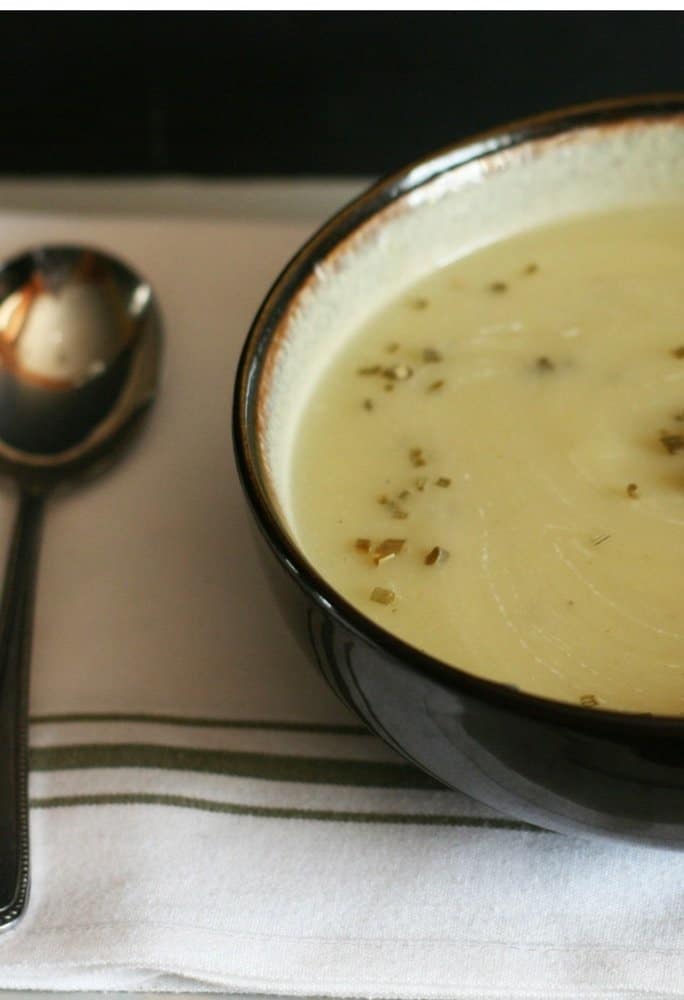 One of my favorite soups is potato leek soup!  I know you are thinking cream, which leads to lots of fat! Well, don't you worry, this soup does not have any cream.  This is a low-fat potato leek soup! The soup gets its creaminess from pureeing the soup once all the veggies are tender.  Super yum and you get to eat a low-fat soup that is ever so tasty! You will seriously not miss the cream and quite frankly, I rarely use cream and no one is complaining!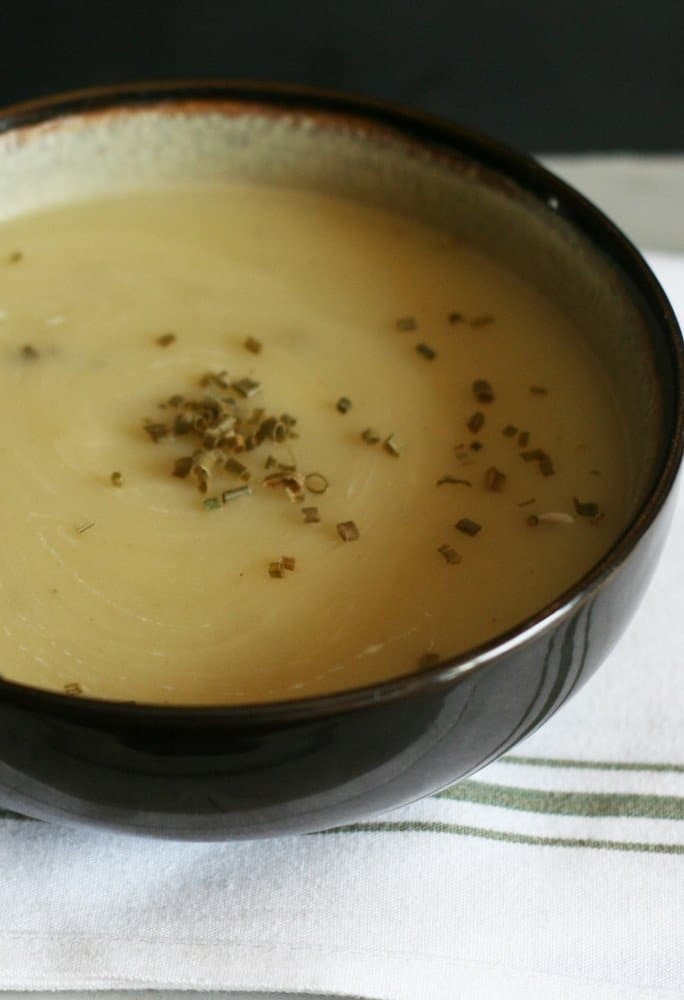 I have been fighting the flu for quite a while now! I think I need to give in and see my doctor! Between the snow and cold temperatures, I just cannot shake being cold. One thing I can say about this time of year is, you guessed it, soup! I crave it all winter! I love any kind of soup, creamy, clear, veggie, or meaty, not sure if meaty is a word, but you know what I mean! At least I think you do! I believe my cold medicine is kicking in!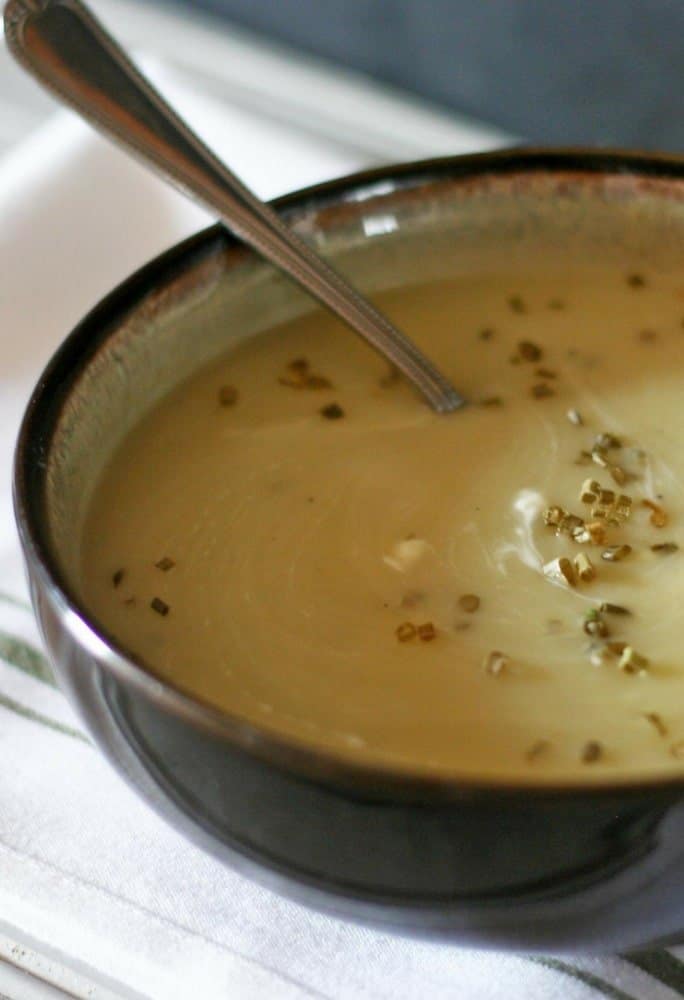 Tips to make Low-fat Potato Leek Soup
 The potatoes, I love to use Idaho potatoes for this soup, but if you prefer red or Yukon potatoes, enjoy! I won't hold it against you!
Lumpy or smooth you ask, I am talking about soup in case there is any confusion! I prefer a smooth soup, that is just my personal preference! We will still be friends if you like a few larger pieces of potato in the soup.  Just puree half of the soup! It is all delicious!
Leeks, please make sure when you prepare your leeks, you wash them very well.  If they have a lot of, well there is no other way to say it, dirt, in the stems soak the leeks in a bowl of water to get rid of excess dirt!
This soup freezes really well, so why not make a double batch. For smaller amounts, put in individual freezer containers!
I hope you add this healthy potato soup to your HEALTHY SOUPS/HOLIDAY SOUPS PINTEREST BOARDS! I'd love for you to follow me on PINTEREST! I'm always pinning from talented and amazing bloggers!
I'd love for everyone to make this tasty creamy Potato Leek Soup! I'd love to hear how you enjoyed the recipe!  It's always great when you share your recipe on Instagram! Use #everydayeileen, so I can see and share your recipes!
Please share the love on Facebook or your favorite way of relating to your friends and family! Please continue connecting with me on other social media,  Twitter, Bloglovin, Google Plus !
Feel free to subscribe to my newsletter to never miss a recipe!
Thank you for the continued support! I am forever grateful to you all!
xo
*This recipe was originally published in early 2016, photos and some text has been updated.  The recipe has not been changed


Low-fat Potato Leek Soup
A low-fat Potato and Leek soup. The soup gets its creaminess from pureeing the soup when the vegetables are tender. Tasty and low-calorie. Soup freezes well!
Print
Rate
Equipment Needed:
Ingredients
2

teaspoon

unsalted butter

*see note

2

leeks, washed and sliced

1

large

onion, diced

6

large

potatoes, peeled and cut into medium pieces

8

cups

low-sodium vegetable stock

salt and pepper to taste

dried chopped chives, optional garnish

fat-free sour cream, optional garnish

leave out if vegan
Instructions
In a large dutch oven or stockpot, over medium heat, melt the unsalted butter. Add the leeks and onion. Saute for about 5 minutes to soften the vegetables.

Add the potatoes and the vegetable stock. Cover, let simmer, for about 30 - 35 minutes. Check potatoes for tenderness.

Use an immersion blender to puree the soup to desired smoothness. Add salt and pepper to taste. If desired, serve with chopped chives and a dollop of fat-free sour cream as a garnish
Notes
Replace unsalted butter with either vegan butter or butter flavored coconut oil if vegan
Please note that nutritional information can vary depending on individual ingredients used when preparing the recipe
Nutrition
Calories:
107
kcal
|
Carbohydrates:
23
g
|
Protein:
2
g
|
Fat:
1
g
|
Saturated Fat:
1
g
|
Cholesterol:
3
mg
|
Sodium:
185
mg
|
Potassium:
467
mg
|
Fiber:
3
g
|
Sugar:
3
g
|
Vitamin A:
50
IU
|
Vitamin C:
28.1
mg
|
Calcium:
220
mg
|
Iron:
1.3
mg