Homemade Baked Mac and Cheese Recipe, a win-win for the family! Lighter in calories but still filled with cheesy goodness! No one will miss the extra calories because they will be enjoying a cheesy mac and cheese!
Use high fiber pasta, low-fat cheese, low-fat milk and you have a game-changing lower calorie and lower fat mac and cheese that will blow your socks off!
My Baked Macaroni and Cheese is loved by kids and adults, a great party pleaser. No one knows I am using lighter ingredients because the flavor is fantastic!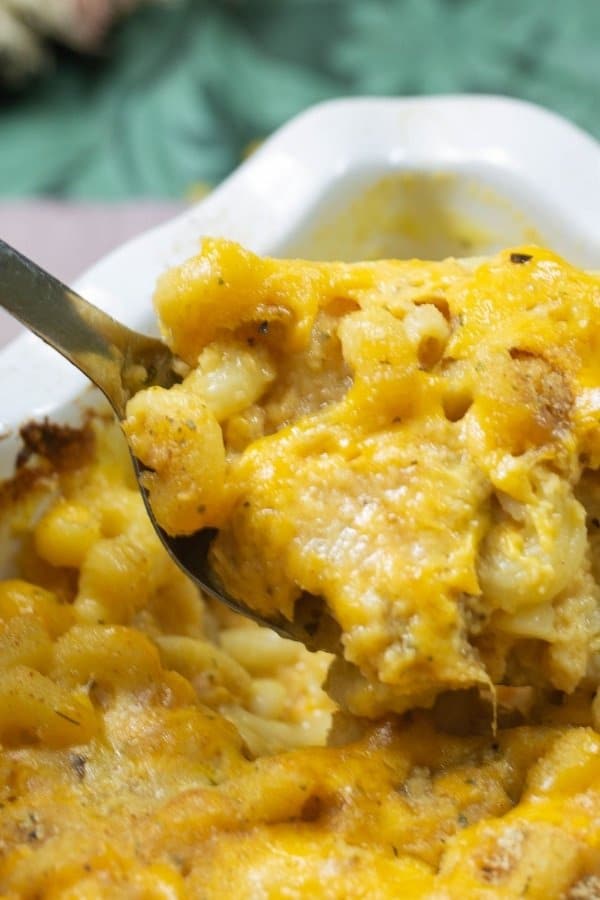 Everyone needs a big bowl of comfort food now and again! This cheesy deliciousness is our favorite mac and cheese! So full of flavor from the cheese. The smoked paprika and Dijon mustard add the perfect kick to make an amazing lower fat mac and cheese.
Baked Homemade Mac and Cheese, swept through the neighborhood!
Who doesn't love homemade mac and cheese! When my older kids were younger, I loved when their friends came over and I offered them mac and cheese. The kids always had boxed mac and cheese. The had not had homemade mac and cheese.
The kids go home and then I got the calls from their Moms, why did I ruin it for them, mac and cheese not out of a box, why! I made a lot of mac and cheese for my friends and their families during those years.
They were half kidding, but not really! I had to let them know how easy it is to make your own.
So it began, after getting a mac and cheese call, I'd make a batch of my low-fat mac and cheese for that family and attached the recipe!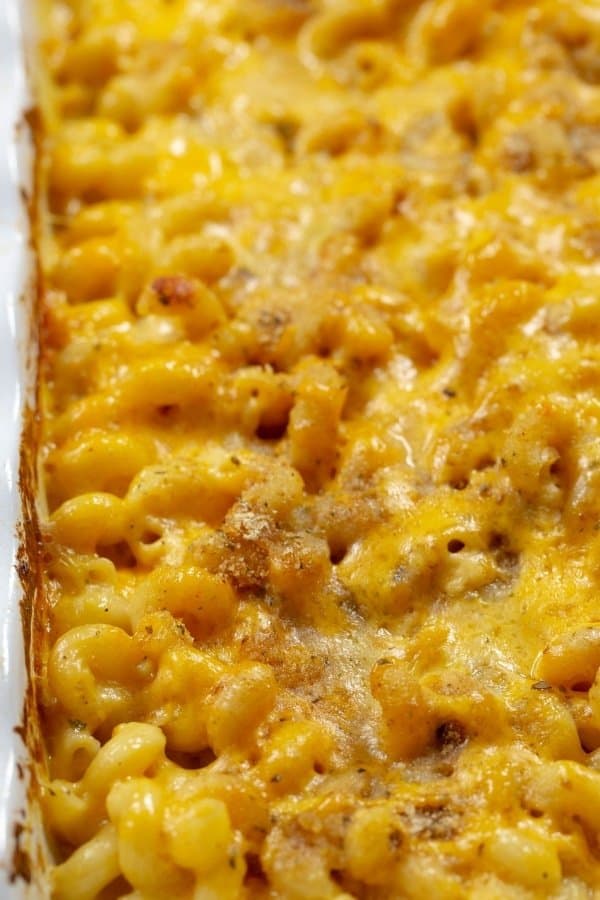 Cheesy goodness of baked mac and cheese ready to be eaten!
My Friends New Love of Baked Macaroni and Cheese!
The results, a reduction in the sales of boxed mac and cheese in my neighborhood! teehee.
An increase in my the making of my low-fat Homemade Mac and Cheese Recipes! Trust me, this is an easy recipe and you won't buy a box of mac and cheese ever again!
My one girlfriend who finds cooking the enemy makes this recipe all the time. Granted this is the only recipe she likes to make! hey, at least she can make mac and cheese! She is lucky her hubs can grill and her kids follow my blog and cook!
What ingredients can I use to lighten up Homemade Mac and Cheese?
Using high fiber pasta will always be a benefit to any recipe.
low-fat milk, skim milk, fat-free half-half can also be used.
low-fat cheese. Sargento makes a good low-fat cheese and it melts well in this recipe.
whole wheat flour or almond flour can be used to make the roux.
What are the origins of Macaroni and Cheese?
Kraft Macaroni in the box came about in 1937. It is thought that the origins of Mac and Cheese came from an Italian dish but the specifics are not clear. I found history notes that Thomas Jefferson's daughter served a parmesan and macaroni dish that later changed to a macaroni and cheddar cheese recipe.
Can Baked Macaroni and Cheese be frozen?
Absolutely, I generally make two batches. One to eat and one to freeze!
Place a layer of parchment paper sprayed with non-stick cooking spray, prevents cheese from sticking) over the tray.
Wrap the pan very well with plastic wrap and then a layer of aluminum foil.
if you have a food saver, use that to ensure no freezer burn.
When ready to cook, if cooking frozen, at least an hour at 350 degrees.
I usually defrost the mac and cheese overnight and follow the recipe below.
What types of pasta can I use to make this mac and cheese recipe?
Any small sized pasta will work with Baked Mac and Cheese. Here are a few I use regularly to make this recipe.
penne
shells, large or small
elbows
rigatoni
bow ties
Can I make this healthier with veggies?
Yes, yes, yes! Feel free to add into the pasta water either fresh or frozen veggies for the last 4 minutes or so. A great way to sneak in veggies. I add any of these to the pasta water for the last few minutes.
What types of cheese can be varied to make Baked Macaroni and Cheese?
Vary our cheese and you like and see what flavors are best for your family. I tend to use low-fat cheeses. A mix of low-fat and regular cheese works well also. Try a combo of any of these cheeses:
cheddar
mozzarella
smoked gouda
fontina
gruyere
Swiss
What can be served along with Homemade Baked Macaroni and Cheese?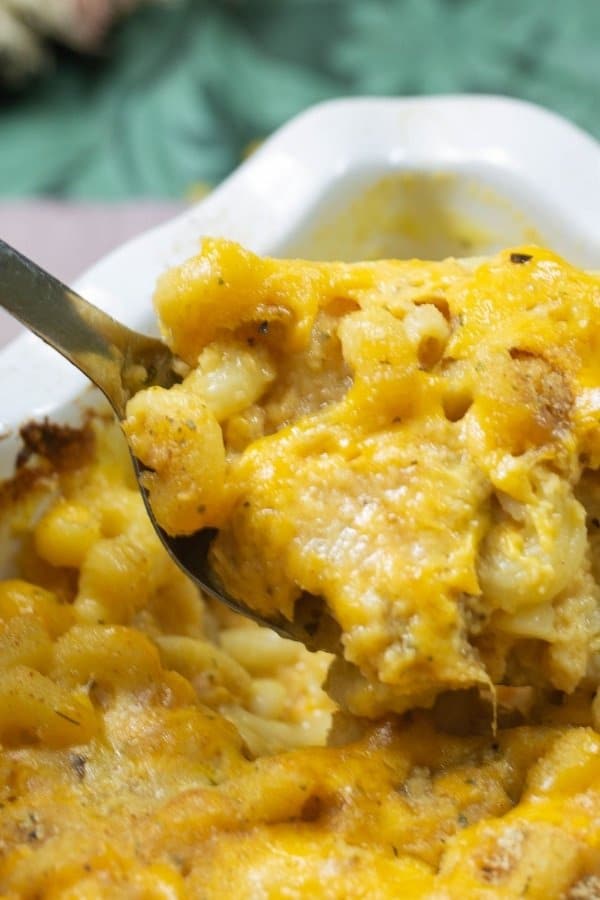 Baked cheesy mac and cheese ready to be served up for some comforting good food!
Tips to make an amazing Mac and Cheese:
Use block cheese and shred yourself. Shredded cheese tends to not melt as well as blocked cheese.
When cooking the pasta, undercook it by about 4 minutes. The pasta will finish cooking in the oven.
Bake the mac and cheese at 375, covered with foil for 20 minutes. Remove foil, bake another 5-8 minutes to melt cheese.
When making the roux, a combo of butter and flour, continue to whisk in the pot so the Roux does not burn.
The Roux should be stirred constantly over a medium/high heat until thick enough to coat a spoon. Then add the cheese.
Enjoy your mac and cheese! The key is portion control and moderation!
The following are affiliate links. We are a participant in the Amazon Services LLC Associates Program, an affiliate advertising program designed to provide a means for us to earn fees by linking to Amazon.com and affiliated sites.
Don't forget to shop the Everyday Eileen store on Amazon!
Thank you so very much for being apart of Everyday Eileen!
How to make Homemade Baked Mac and Cheese:
Cook pasta according to package, minus 4 minutes of cooking time.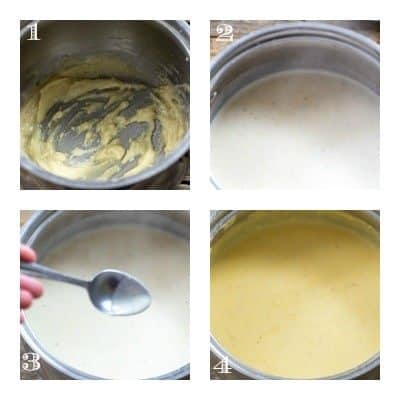 Photos of the Roux to begin the cheese sauce for Mac and Cheese!
Make a Roux with flour and butter.
Add in milk and spices. Whisk till thick and bubbly.
The roux will coat a spoon.
Stir in cheese.
Combine pasta and cheese in a prepared casserole. Bake!
Serve, and enjoy!
Balance and enjoy healthy food with the occasional indulgence!
Originally published in Sept, 2016, updated text and photos.
Tag me on Instagram with @everyday_eileen or #everydayeileen.
I love any comments or questions, please leave below!
I HOPE YOU CONTINUE CONNECTING WITH ME!
Stay up to date on all recipes! Follow me on:
Love this tasty mac and cheese, I would very much appreciate it if you give it a 5-star rating and share any comments or questions below!
Homemade Baked Mac and Cheese
Homemade Baked Macaroni and Cheese, using low-calorie ingredients reduces fat but the cheesy flavor is still amazing! A favorite one pan comfort dish for kids and adults.
Print
Pin
Rate
Ingredients
1

pound

high fiber pasta shells

Note 1

4

teaspoons

unsalted butter

4

teaspoons

all-purpose flour

Note 2

4

cups

2% milk

Note 3

2

cups

low-fat cheddar cheese

1/3

cup

Parmesan cheese

1/2

cup

Colby Cheese

½

teaspoon

Dijon mustard

½

teaspoon

smoked paprika

salt and pepper, to taste

⅓

cup

Panko bread crumbs
Instructions
Pre-heat oven to 375 degrees.

Spray a 9 x 13-inch baking dish with cooking spray, set aside.

Cook pasta according to package, reduce cooking time by 4 minutes.

In a medium pot, over medium heat, melt butter. Add in the flour and whisk for about 2-3 minutes.

Increase heat to medium-high, add the milk, continue to whisk until mixture becomes thick and bubbly. The mixture should be able to coat a spoon when thick enough.

Add the cheddar cheese, Colby cheese, Parmesan cheese, Dijon mustard, smoked paprika, and season with salt and pepper to taste. Combine until smooth.

In the baking dish, combine the cooked pasta and the cheese mixture.

Sprinkle the top with the Panko breadcrumbs.

Cover with aluminum foil and bake for 15 - 20 minutes. Remove aluminum foil and continue to bake about 5-10 minutes. Ready to serve.
Notes
Note 1: Use your pasta of choice, gluten-free pasta works well also. Note 2: Can use whole wheat flour or almond flour. Note 3: Dairy issues, use almond milk.   
Nutrition
Serving:
1
serving
|
Calories:
366
kcal
|
Carbohydrates:
51
g
|
Protein:
20
g
|
Fat:
8
g
|
Saturated Fat:
4
g
|
Cholesterol:
23
mg
|
Sodium:
320
mg
|
Potassium:
315
mg
|
Fiber:
1
g
|
Sugar:
7
g
|
Vitamin A:
6.7
%
|
Vitamin C:
0.3
%
|
Calcium:
32.5
%
|
Iron:
6.2
%