Pumpkin Mac and Cheese is my ode to fall weather and flavors. This is a creamy mac and cheese with a nice blend of pumpkin and gouda cheese. Add a simple blend of seasonings for one tasty pasta dish. Make it ahead of time and pop it in the oven 30 minutes before you are ready to eat for a fantastic dinner.
This post is in conjunction with #PumpkinWeek. I received product samples from sponsor companies to aid in the creation of the Pumpkin Week recipes. All opinions are mine alone.
First Published: September 19,2018... Last Updated: September 16, 2019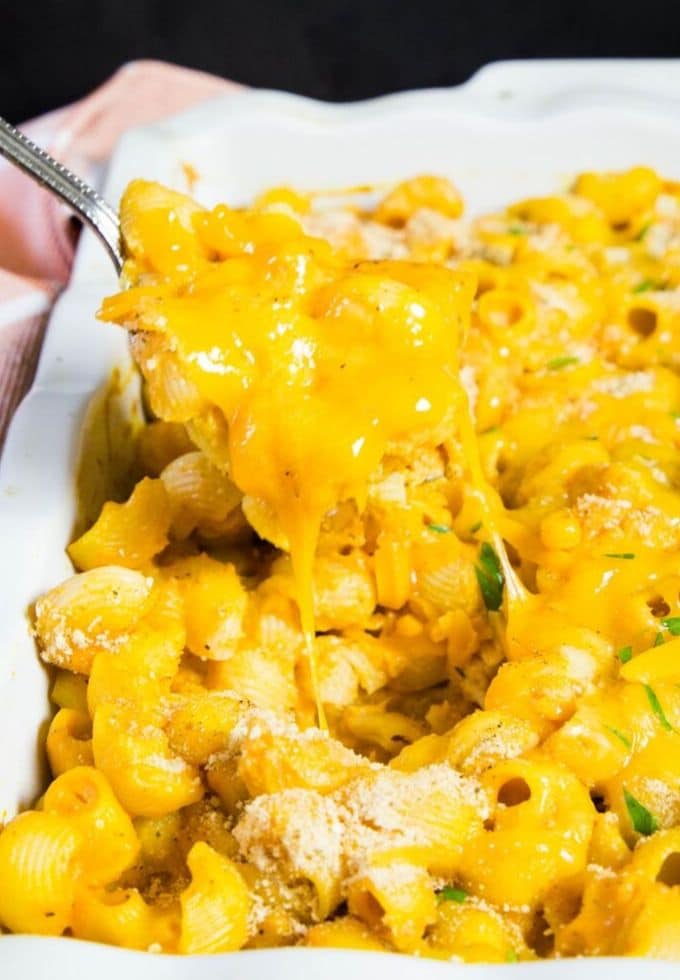 It is Fall my friends and we are celebrating #PumpkinWeek, so enjoy the unique flavors of this Pumpkin pasta dinner! This is an easy pumpkin recipe! The pumpkin puree adds a great layer of flavor and its also full of nutrients!
The pumpkin puree adds a fantastic creaminess to the mac and cheese! Also adding some savory spices makes an amazing cheese sauce to make a delicious pumpkin mac and cheese!
Pumpkin Mac and Cheese
Pumpkin mac and cheese screams fall flavors! This is a great twist on the classic mac and cheese recipe.

Pumpkin Mac and Cheese Ingredients
low-fat milk: Makes a creamy sauce for the mac and cheese. Whole fat milk can be used.
unsalted butter: butter and flour make a thickener for the pumpkin cheese sauce.
flour: the recipe needs the flour to make the sauce thicker.
pumpkin puree: Adds a nice sweetness to the mac and cheese.
smoked gouda: Gives a nice depth of flavor that is a bit woody that teams nicely with the pumpkin.
smoked Paprika: Compliments the cheese and pumpkin.
dijon mustard: gives a kick to the sauce.
nutmeg: compliments the pumpkin in the sauce.
salt and pepper: flavor, always need some seasoning or food will be bland.
Pumpkin Mac and Cheese FAQs
Can I use fresh pumpkin puree to make pumpkin pasta recipes?
Absolutely! We are only beginning to get fresh pumpkins at the farms where I live. I love making homemade pumpkin puree. Either canned or fresh pumpkin can be used.
What is the difference between pumpkin puree and pumpkin pie filling?
This recipe calls for pumpkin puree which is cooked pumpkin that has been pureed. Pumpkin Pie filling has spices and sweetener added to it. Some use it for a quick pumpkin pie * use pumpkin puree. PLEASE!
How long can you keep Pumpkin Mac and Cheese in the fridge or freezer?
Keep the pumpkin pasta in the fridge for up to 2 days, well covered. You can freeze the leftovers in a well-sealed freezer safe container.
Can other winter veggies be used to make Mac and Cheese?
Butternut squash and acorn squash are both great substitutes in this recipe. I use the same amounts of either squash to make this mac and cheese.
Pro tips to make the best pumpkin mac and cheese:
Always cook the pasta 3 minutes less than manufacturer suggests since the pasta will be baked.
Season the pasta water with salt. That will add a layer of flavor to the pasta.
Use pumpkin puree - not pumpkin pie filling. They are different.
Feel free to change your cheese for the recipe. Be sure to use a good melting cheese.
You can make the recipe ahead and heat in the oven when ready to eat, up to 2 days.

SHOP THIS RECIPE:
This post contains affiliate links for your convenience. As an Amazon Associate I earn from qualifying purchases.
pumpkin puree: I love keeping pumpkin puree on hand for baking and savory recipes.
silicone whisks: the best whisks ever. You can use these in any pot.
Checkout my store, Everyday Eileen I share all my favorite finds!
You may enjoy these pumpkin recipes:
Pumpkin Soup: A flavorful soup that is so delicious!
Turkey Pumpkin Chili: warm flavors with a great blend of sweet and savory.
How to Make Pumpkin Mac and Cheese:
Make pasta according to manufacturer's directions, decrease cook time by 2 minutes because this goes in the oven.
Heat butter in large pot, add flour to make a rue. Whisk to smooth and the color becomes gold, this gets the raw flour taste out.
Add in the milk and whisk until the rue is bubbling.
The thickness of the rue should be able to coat a spoon.
Add in the pumpkin puree, cheese, and spices Mix well.
Combine the pumpkin mix and pasta in a casserole. Sprinkle with Panko Breadcrumbs.
Cover with foil. Bake at 350 for 30 minutes. Eat and enjoy!
Give us a like on FACEBOOK
For great recipes and tips, follow along on Pinterest
Thank you for always sharing my passion and love for food and family!
xo! Eileen
Are you loving this recipe, giving it a 5-star rating and any comments are super helpful for me and very much appreciated
Pumpkin Mac and Cheese
A creamy fall favorite is Pumpkin Mac and Cheese. The pumpkin puree adds creaminess to the cheese mixture making this a fall/winter favorite casserole.
Print
Rate
Equipment Needed:
Instructions
Preheat oven to 350 degrees.
Cook Pasta
Spray a 13 by 9 casserole pan, spray with non-stick spray. Set aside until ready to use.

Make pasta according to manufacturer's instructions, minus 3 minutes of cooking the pasta (note 1).

Place the pasta in the seasoned casserole dish. Set aside.
How to Make Pumpkin Cheese Sauce
Over medium heat, add butter to the pasta pot, let melt. Add in flour, whisk together to form a rue.

Whisk in the milk. Continue to whisk until the mix becomes thick and bubbly. The sauce can coat the back of a spoon.

Mix in the pumpkin puree, Gouda cheese Dijon mustard, black pepper, Kosher salt, smoked paprika, and nutmeg.

Taste the pumpkin cheese sauce, adjust any seasoning if needed.

Add the pumpkin cheese sauce to the pasta. Mix well

Top with Panko breadcrumbs. Cover casserole with foil. Bake at 350 degrees for 30 minutes. Serve, enjoy.
Notes
Note 1: Cook the pasta 3 minutes less than suggested by manufacturer. The pasta bakes in the oven. You don't want mushy pasty.
Note 2: For this recipe I used cellentani. Any tube pasta works well..
Note 3: Please use pumpkin puree, not pumpkin pie filling. They are very different.
Note 4: I use less salt, health reasons. Start with the least amount and adjust salt flavor to your needs
Nutrition
Serving:
6
ounces
|
Calories:
520
kcal
|
Carbohydrates:
70
g
|
Protein:
23
g
|
Fat:
15
g
|
Saturated Fat:
9
g
|
Cholesterol:
45
mg
|
Sodium:
130
mg
|
Potassium:
429
mg
|
Fiber:
4
g
|
Sugar:
7
g
|
Vitamin A:
6815
IU
|
Vitamin C:
1.9
mg
|
Calcium:
403
mg
|
Iron:
2.3
mg
#PumpkinWeek Recipes:
Beverages:
Pumpkin Juice- Harry Potter Style from Jonesin' For Taste
Pumpkin Pie Bourbon Cocktail from Love and Confections
Savory:
Creamy Pumpkin Fiesta Chicken Soup from Amy's Cooking Adventures
One Pot Creamy Pumpkin Bacon Pasta from 4 Sons 'R' Us
Pumpkin Chili from It Bakes Me Happy
Pumpkin Chorizo Tamales with Pumpkin Mole from A Kitchen Hoor's Adventures
Pumpkin Grilled Cheese Paninis from Eat Move Make
Pumpkin Hummus from Sweet Beginnings
Pumpkin Mac and Cheese from Everyday Eileen
Pumpkin Pizza from Platter Talk
Savory Loaded Pumpkin Cornbread from Who Needs A Cape?
Savory Pumpkin & Pepper Goat Cheese Tart from Hardly A Goddess
Baked Goods & Desserts:
Chocolate Chip Pumpkin Bread from House of Nash Eats
Fluffy Pumpkin Buttermilk Pancakes from The Redhead Baker
Fluffy Pumpkin Pie Dip from The Beard and The Baker
Mom's Classic Pumpkin Pie with Vanilla Whipped Cream from Family Around the Table
No Bake Pumpkin Cheesecake from Cooking with Carlee
Pumpkin Banana Bread from A Day in the Life on the Farm
Pumpkin Cake Roll from Strawberry Blondie Kitchen
Pumpkin Cheddar Skillet Corn Bread from Tip Garden
Pumpkin Creme Brulee from Cookaholic Wife
Pumpkin Ginger Donuts from Daily Dish Recipes
Pumpkin Kolaches from The Spiffy Cookie
Pumpkin Maple Bark from Seduction In The Kitchen
Pumpkin Oatmeal Muffins from The Bitter Side of Sweet
Pumpkin Pecan Pancakes with Caramel Syrup from The Chef Next Door
Pumpkin Pie Crescents from Hezzi-D's Books and Cooks
Pumpkin Pie with Marshmallow Meringue from The Crumby Kitchen
Pumpkin Snickerdoodles from Culinary Adventures with Camilla
Pumpkin Souffle from Caroline's Cooking
Pumpkin Spice Cake Roll with Maple Bourbon Cream from Grumpy's Honeybunch
Pumpkin Spice Dessert Hummus from For the Love of Food
Pumpkin Spiced Cookies from April Golightly