Everyone loves a cake pop treat and they are super easy to make yourself! Today I share my beautiful daughter Deirdre's cake pop recipe! This is a versatile recipe that works for every Holiday, birthday, any day really! Use boxed cake mix and you can have gorgeous cake pops to celebrate any occasion!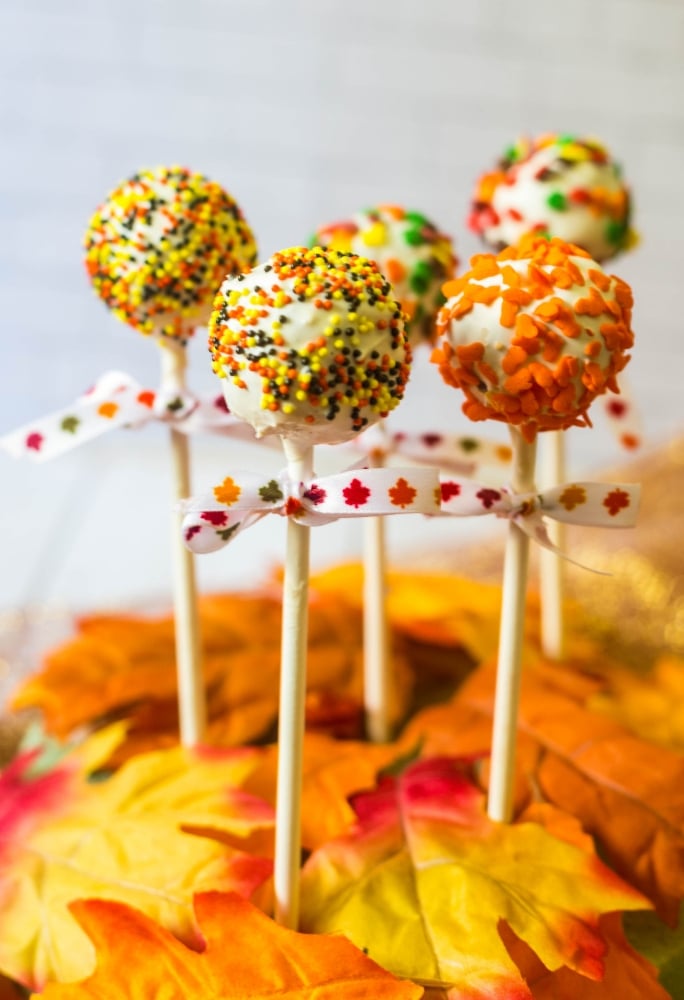 As #Choctoberfest2018 closes, I am happy to share my daughters fall cake pops that have been decorated with Sprinkle Pops Decorations!
 All my regular friends here know I am a "cook" and baking is more laborious for me! My youngest bakes cookies with me and loves to create new recipes! Today's easy cake pops use simple ingredients and the decorating is up to you! The more creative, the better!
FAQs About Making Cake Pops:
What ingredients make easy cake pops?
a baked cake, whatever flavor you prefer.
Make life easy and use a boxed cake mix to make cake pops.
lite cream cheese or Neufchatel ( low-fat cream cheese)
candy melts
vegetable or coconut oil.
sprinkles, be creative any decorative ideas you have.
candy melts
lollipop sticks
What is the best way to store cake pops?
Cake Pops can be made ahead and undecorated be frozen until ready to use. I keep the cake pops in the freezer about 1 month in freezer bags. They can be kept after decorating about 3 days.
How to prevent the cake Pops from breaking off the lollipop stick? 
Make the cake and use a food processor to turn the cake into crumbs. Add in the cream cheese, about 2 ounces at a time. The cake crumbs should stick together when you have the right consistency. Also placing the cake pops in the fridge or freezer for about ½ hour before decorating ensures the pops won't break up while decorating.
Do cake pops need to be kept in the refrigerator after they are decorated?
If you follow this recipe and use candy melts, these cake pops do not need to be refrigerated until they are served
It's always awesome seeing your recreations of my recipes! When you make any of my recipes, #everydayeileen or @everyday_eileen
I love any comments or questions, please leave below!                               
                             I HOPE YOU CONTINUE CONNECTING WITH ME
                  FACEBOOK  INSTAGRAM, PINTEREST, TWITTER, BLOGLOVIN, GOOGLE 
Love these cake pops, it would be awesome if you would give it a 5-star rating and share any comments or feedback below!
How to Make Cake Pops:
How to Make Cake Pops
Cake Pops are a fantastic treat for any party, Holiday, or event! Using a boxed cake mix makes cake pops easy to make and assemble. Decorate your cake pops with Sprinkles to celebrate your Holiday or event!
Print
Rate
Equipment Needed:
Ingredients
1

boxed cake mix

Note 1

4-6

ounces

lite cream cheese

Note 2

12

ounces

candy melts, white

2

teaspoons

coconut oil or vegetable oil

36

cake pop sticks

sprinkles to decorate cake pops

Note 3
Instructions
Make the cake according to manufacturers instructions. Let cake cool completely. Use a food processor to crumble the cake or use your hands to crumble the cake into fine crumbles.

Combine the cake with about 4 ounces of the cream cheese. Mix well. The cake/cream cheese combo should hold together in your hand. Add more cream cheese an ounce at a time until you have the correct consistency and the cake mixture holds together.

Form the cake into balls around 2 inches wide. Roll with the palm of your hands to smooth the outside of cake pop. Set on a baking sheet. Once cake pops have been formed, place them in the freezer while you melt the chocolate.

Use a microwave to melt ¼ of the candy melts in a double boiler over water, or use a small vessel slow cooker (1.5-quart slow cooker). The consistency of the candy should be smooth. (These candy melts will be used to keep the stick in the cake pop)

Take a few cake balls out of the freezer at a time. Dip the end of the lollipop stick into the melted candy. Then place the candy-coated end into the cake ball, about halfway into the cake ball. Place the cake balls back in the freezer. Continue this process until all the cake pops have a stick.

Best practice is to allow the cake pops to get very cold about 1 hour in the freezer. The cake pops can be made to this point and kept in the fridge overnight. Decorate the next day.

Melt the remainder of the candy melts with 1 Tablespoon coconut oil. The consistency of the candy melts must be smooth. Dip the cake pops into the candy melts. Gently tap the wrist of the hand that is holding the candy pop to drop off excess candy.

Decorate with sprinkles. Then place decorated cake pop into a styrofoam block so the candy coating sets. Once cool, the cake pops can be individually wrapped in plastic bags.
Notes
Note 1: Start with 4 ounces of cream cheese. The cake/cream cheese mixture should hold together.  Rarely do I use the entire block of cream cheese.
Note 2: Use seasonal sprinkles. Sprinkle Pop has amazing sprinkles and I use their sprinkles for all my cake pops as well as cake and cupcake decorating!
Note 3: The candy melts can be colored with food coloring to match a Holiday celebration. 
I am not a registered dietician, I do my best to provide the most accurate nutritional values. Any nutritional data I provide is an approximation. Actual dietary information can vary based on ingredients and portion sizes
Nutrition
Serving:
0
g
|
Carbohydrates:
0
g
|
Protein:
0
g
|
Fat:
0
g
|
Saturated Fat:
0
g
|
Polyunsaturated Fat:
0
g
|
Monounsaturated Fat:
0
g
|
Trans Fat:
0
g
|
Cholesterol:
0
mg
|
Sodium:
0
mg
|
Potassium:
0
mg
|
Fiber:
0
g
|
Sugar:
0
g
|
Vitamin A:
0
IU
|
Vitamin C:
0
mg
|
Calcium:
0
mg
|
Iron:
0
mg
#Choctoberfest2018 recipes for today:
"

"