A delicious homemade recipe for Italian meatballs and spaghetti in a marinara sauce recipe! A family favorite that is easy to prepare and I always make extra to freeze meatballs for another meal! Authentic Italian meatball and spaghetti dinner, you won't be disappointed, these are delicious!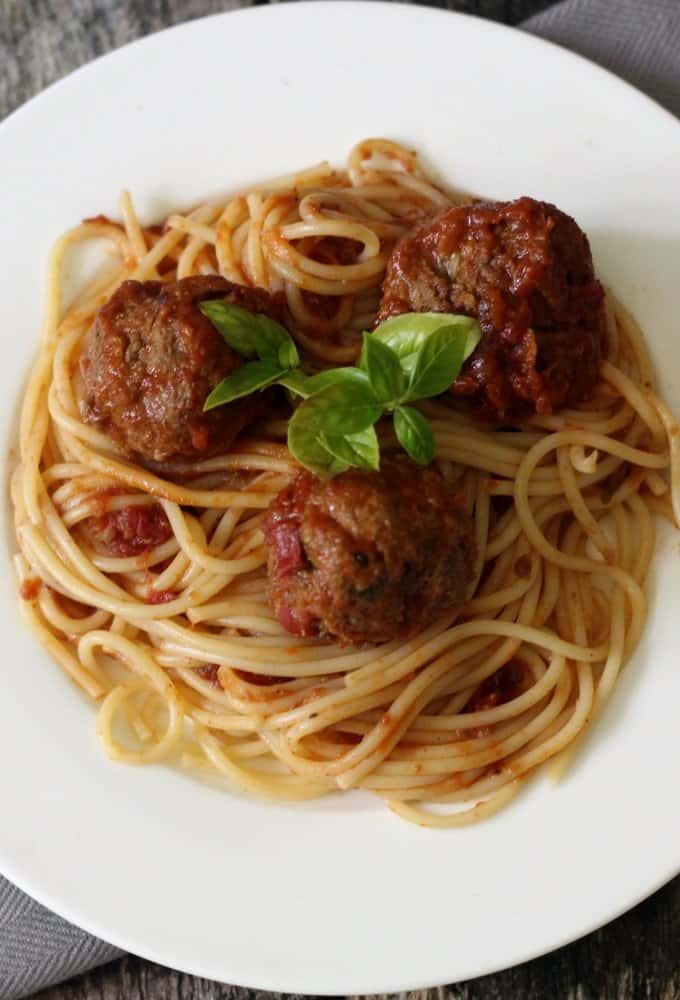 Italian meatballs always remind me of my Mom! Why would Italian meatballs remind me of an Irish-American Mother, because my Mom taught me how to make these when I was a little girl. My Mom is a self-taught cook who has always made great food but her Mama Murphy meatballs are always amazing. Mom got her original recipe idea from a neighbor on our block who was a great Italian cook. No measuring was really every done but they were always incredibly tasty and a family favorite! I have changed my recipe slightly over the years and I have different versions of my Italian meatballs. I go back and forth with the ingredients because I am extremely conscientious of my family's cholesterol intake so I am always changing the egg combination and type of breadcrumb that I use to make these. This particular recipe is using 90% lean ground meat! I use an eggs, low-fat milk, and seasoned Italian breadcrumbs.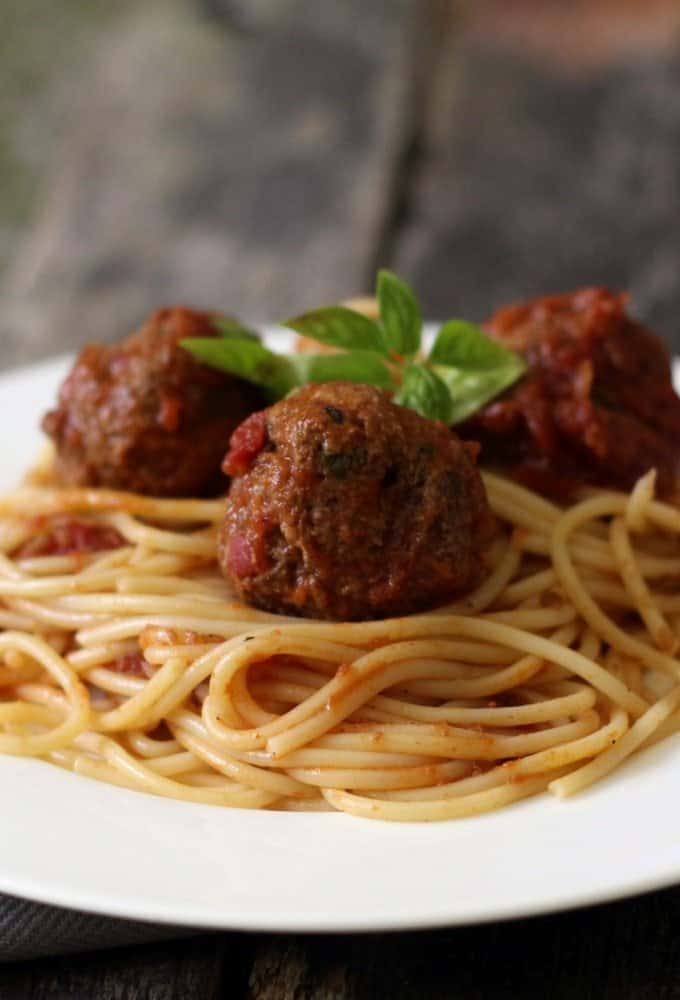 Everyday tip - I always make extra meatballs to freeze a batch for another meal! These are perfect in the slow-cooker! When I am making extra meatballs to be frozen, I spray a cookie sheet with non-stick spray, I place the extra meatball on the cookie sheet, and bake at 350 for about a half hour and let them cool and place into freezer bags for future meals!!

I know many who like to fry their meatballs. I confess, I do not like my meatballs fried. I like to make a marinara sauce and add in my meatballs and let them simmer over low heat for about 15 minutes. Then I gently stir occasionally until the meatballs are cooked, 45-60 minutes, major deliciousness!! The key to a tender meatball is to not overwork the meat mixture as you form the meatballs!!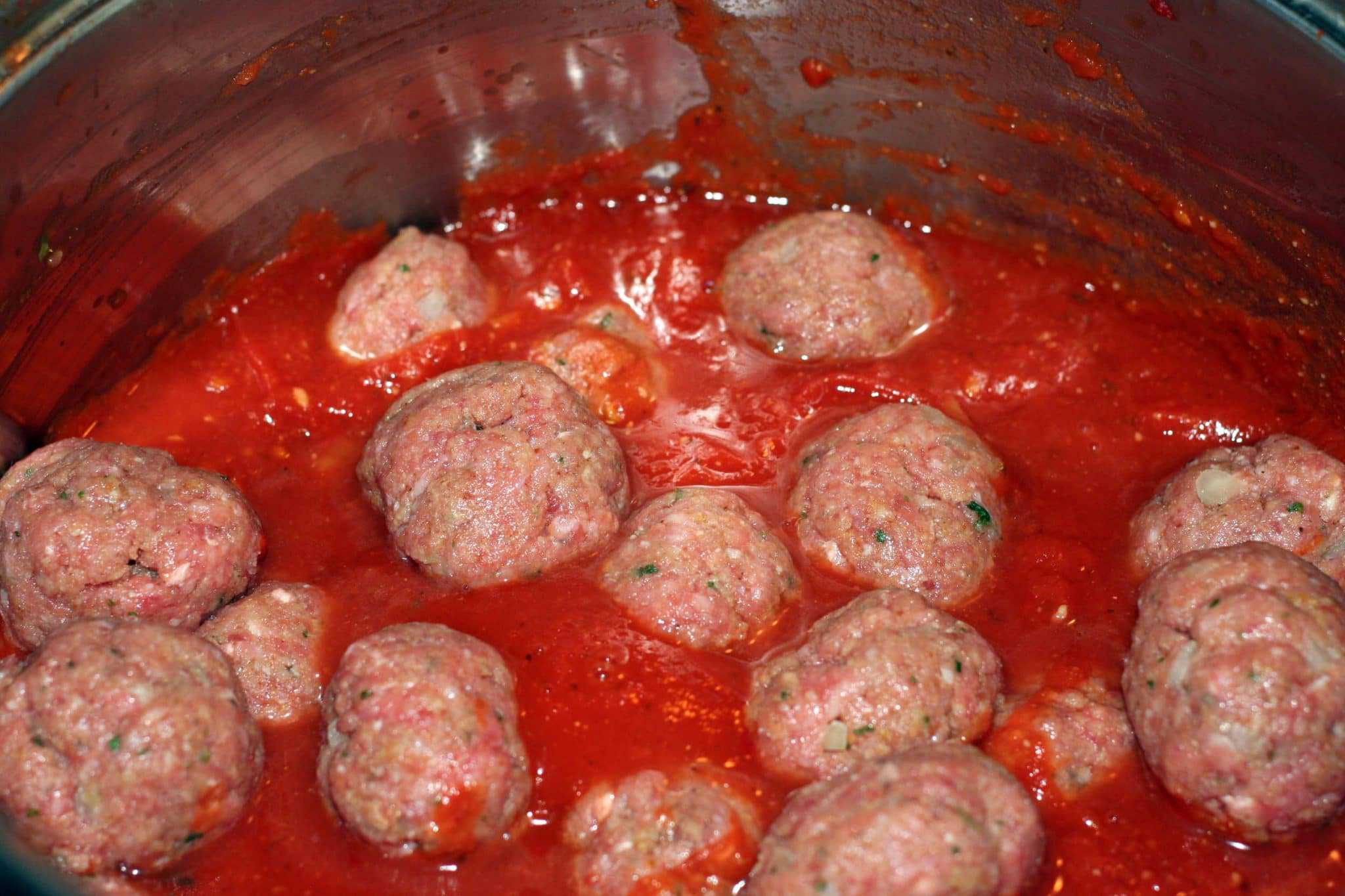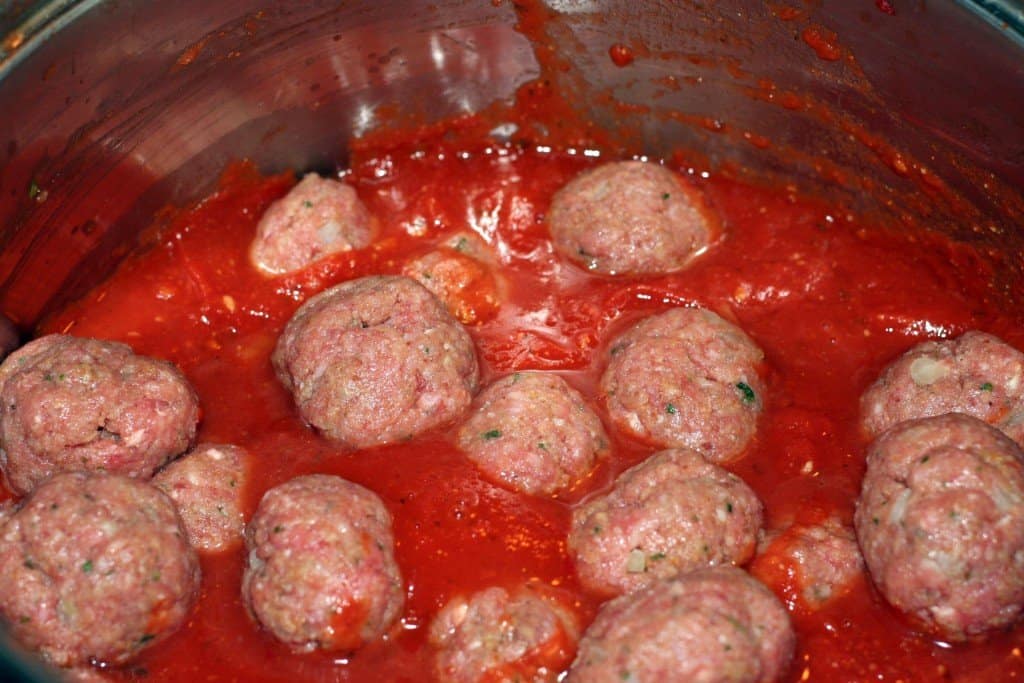 These can be made the night before you would like to serve them. I personally feel they taste even better the second day. Serve these Italian meatballs with a pound of whole wheat or fiber-enriched spaghetti and a side salad like Weight Watchers Caesar Salad with Poblano Dressing!! I made these at the end of last week and I think I am going to take a few frozen meatballs out of the freezer for dinner tomorrow! These pictures are making me hungry!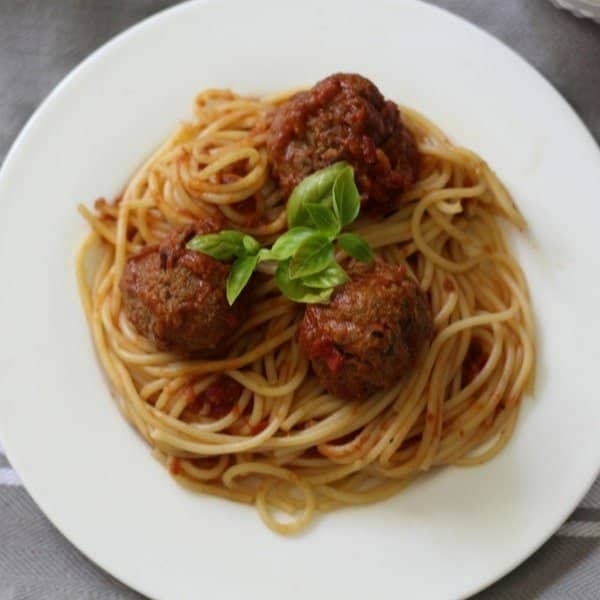 I would love to hear how you make your meatballs! What type of meat do you use? What's your cooking method? I hope you try mine and enjoy!
When you make one of my recipes, tag me with #everydayeileen so I can see what you are making I will share it too!
I hope you like this recipe, and if so, please share the love on Facebook, Pinterest, or your favorite way of relating to your friends and family, and please continue connecting with me on Instagram, Pinterest, Twitter, Bloglovin, Google Plus !
Thank you for always sharing my passion and love for food and family!
xo! Eileen
#This recipe was originally published in September 2015, I have made some updates to the original recipe!
📖 Recipe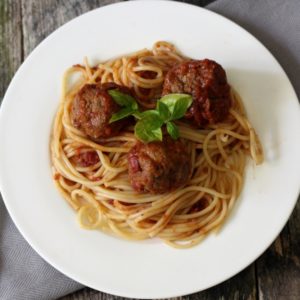 Italian Meatballs and Spaghetti
A delicious homemade recipe for Italian meatballs and spaghetti in a Marinara sauce! Super easy to prepare and a perfect recipe to make extra Italian meatballs to freeze for later! A tasty old family recipe!
Print
Rate
Equipment Needed:
Ingredients
Marinara Sauce:

1

teaspoon

olive oil

1

medium onion

chopped

2

cloves

garlic

minced

¼

cup

dry red wine

2 28

ounce

cans crushed tomatoes

1 1

ounce

can diced tomatoes

liquid drained

1 6

oz

can tomato paste

1 6

oz

can water

use the tomato paste can

1

bay leaf

½

teaspoon

ground fennel seeds

1

teaspoon

fresh basil

1

teaspoon

fresh oregano

1

teaspoon

parsley

salt and pepper to taste

Italian Meatballs:

2 ½

pounds

lean sirloin

2

cups

seasoned Italian bread crumbs

1

cup

low-fat milk

1

cup

Parmesan cheese

1

pound

spaghetti

cooked according to package

½

teaspoons

fresh parsley

finely chopped

2

eggs

lightly beaten

2

cloves

garlic

finely minced

1

small onion

diced finely

salt and pepper to taste
Instructions
In a large pan, over medium heat, add olive oil. Add the onions until translucent, about 5 minutes. Add the minced garlic and stir about another minute.

Add the red wine and stir for 1-2 minutes.

Add in the crushed tomatoes, diced tomatoes, tomato paste, water, bay leaf, ground fennel seeds, basil, oregano, parsley, salt, and pepper.

Let simmer over low heat while preparing the Italian meatballs.

Italian Meatballs

In a large bowl, combine the ground beef, Italian seasoned breadcrumbs, milk, Parmesan cheese, beaten eggs, finely minced garlic, finely minced onion, salt, and pepper.

Use your hands to form meatballs, around 2 inches each.

Add the formed meatball to the Marinara Sauce, cover pot and allow to simmer around 15 minutes.

Gently stir the meatballs, being careful not to break any of the meatballs.Continue to simmer, stirring occasionally for another 44-60 minutes, until meatballs are cooked through.

Remove bay leaf. Check seasoning.

Serve over spaghetti.
Notes
I prefer to use my mini food processor to finely chop the garlic and onion for the meatballs
Nutrition
Serving:
1
serving
|
Calories:
546
kcal
|
Carbohydrates:
55
g
|
Protein:
47
g
|
Fat:
14
g
|
Saturated Fat:
6
g
|
Cholesterol:
139
mg
|
Sodium:
1075
mg
|
Potassium:
1283
mg
|
Fiber:
8
g
|
Sugar:
12
g
|
Vitamin A:
860
IU
|
Vitamin C:
18.5
mg
|
Calcium:
322
mg
|
Iron:
8.2
mg