This shop has been compensated by Collective Bias, Inc. and its advertiser. All opinions are mine alone. #HogWildThrowdown #CollectiveBias
My love of cooking does not stop in the kitchen! I love to grill and I take it very seriously! I love to grill any time of year and on any type of grill. I love cooking on my gas grill, smoker, and my charcoal grill is a big favorite of mine, especially when I make ribs. I have taught my kids how to grill and the hubs has mastered his rib making as well! The hubs and I have a little non-competitive Memorial Day BBQ cook-off of our pork ribs! I always win but our kids are a part of the judges panel and since I do 99% of the cooking, I think they vote for me to secure their food supply for the year! My family loves BBQ Pork Ribs and we love spicy food so I experimented quite a bit and developed a yummy recipe for a spicy dry rub. This is now my absolute favorite BBQ Pork Ribs with a Spicy Dry Rub and I know I have our BBQ cook-off contest won with this recipe!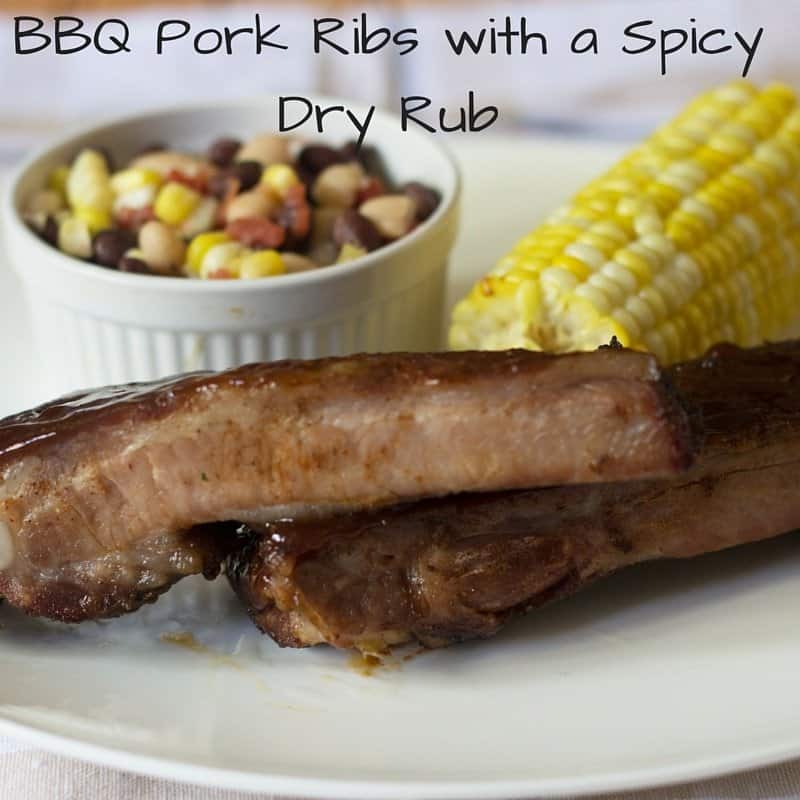 I was shopping in the meat department at Walmart last week and I found my families favorite brand of ribs, Smithfield®. I love cooking Smithfield Extra Tender St, Louis Ribs because they are hand-trimmed, extra tender and juicy. They have no added hormones or steroids. This is the big one, because I have so many friends that have found grilling ribs intimidating, I always suggest they buy Smithfield Ribs because they are juicy and easy to cook, they are my secret weapon to always making great ribs. You will have delicious ribs every time! Pair Smithfield ribs with my method of grilling ribs and you will easily be making a lot of tasty ribs! While I was at Walmart, I also picked up the rest of my ingredients including Kingsford Charcoal, my favorite charcoal to grill, along with KC Masterpiece Barbecue Sauce, another family favorite!
The spicy dry rub that I make for my Smithfield ribs is put on the ribs, then wrap the ribs in plastic wrap and I let them marinate for 3 to 24 hours, I prefer 24 hours.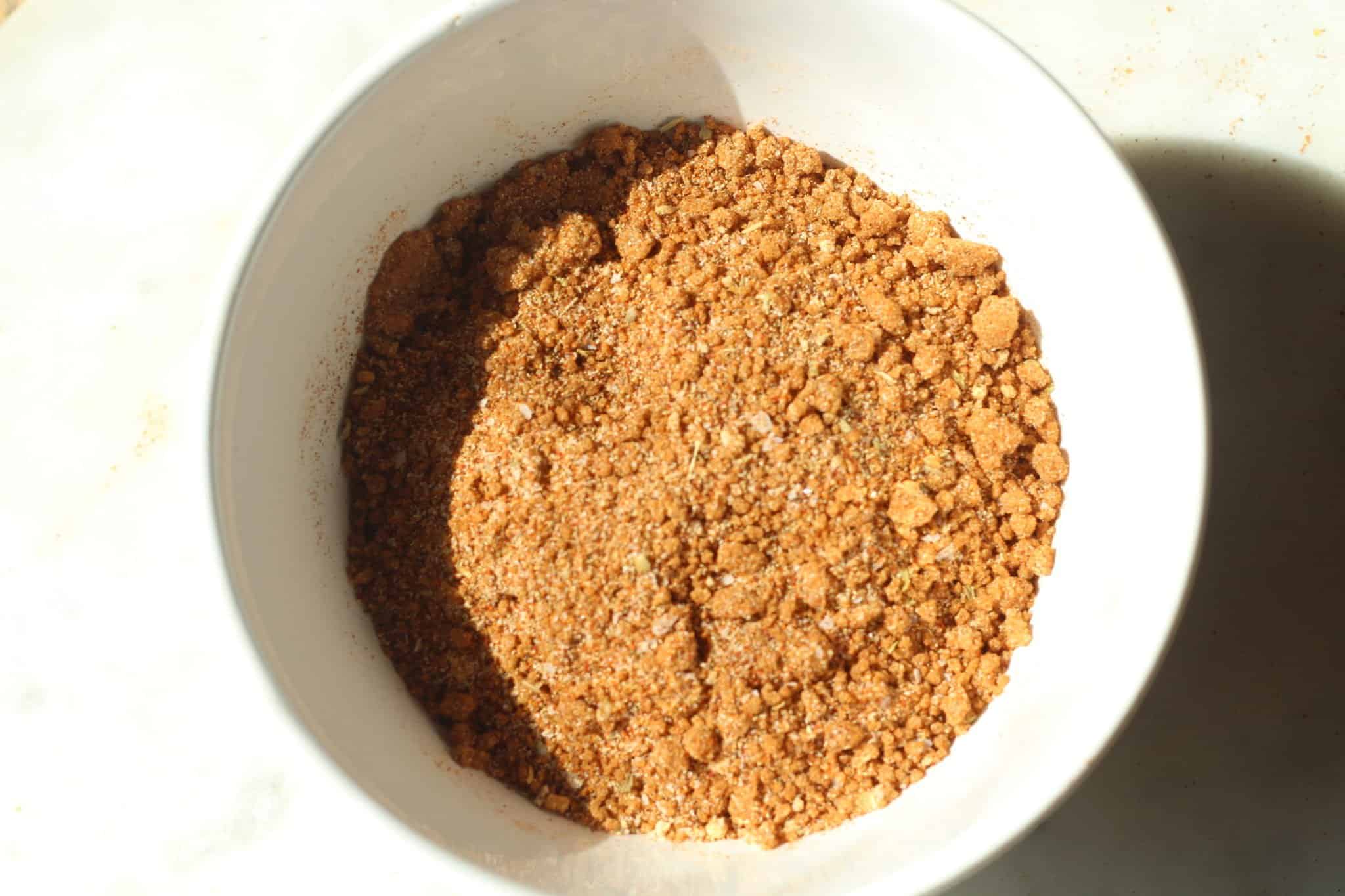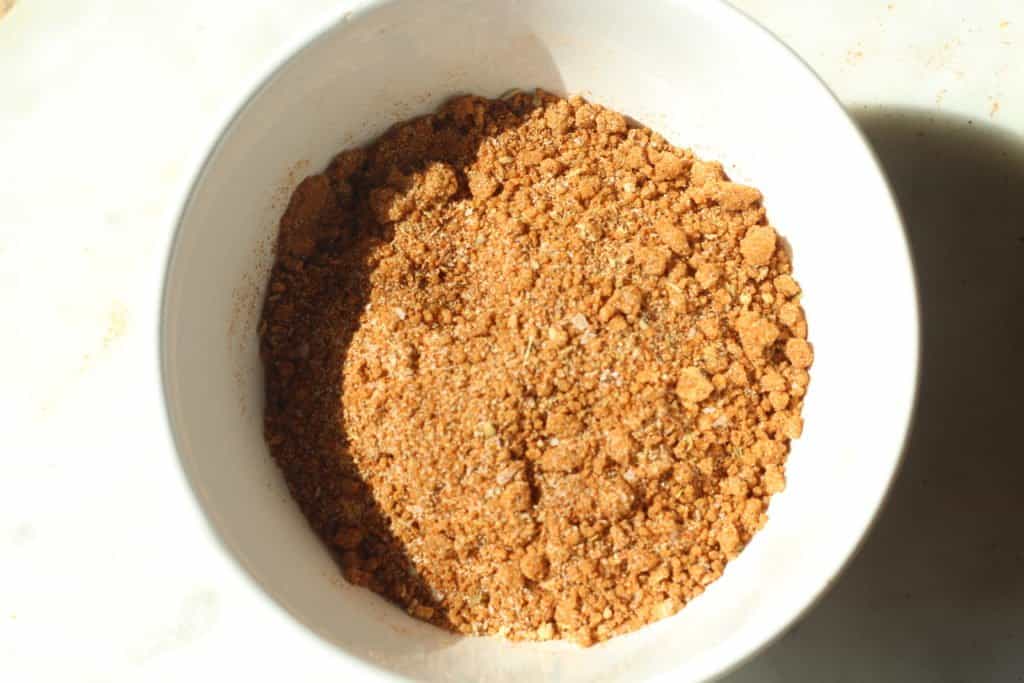 HOW I SET UP MY GRILL FOR RIBS:
When I grill, I always use Kingsford Charcoal.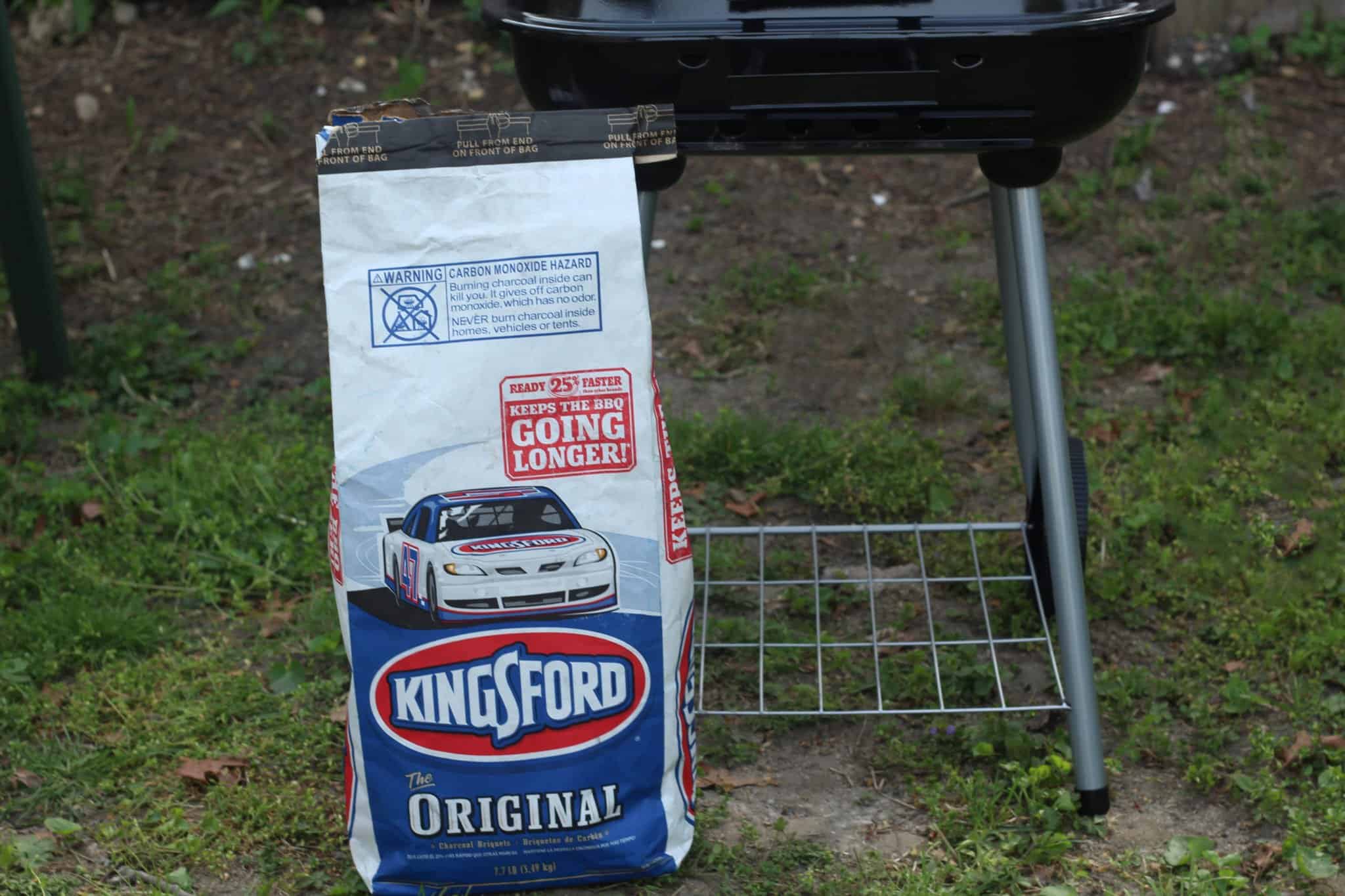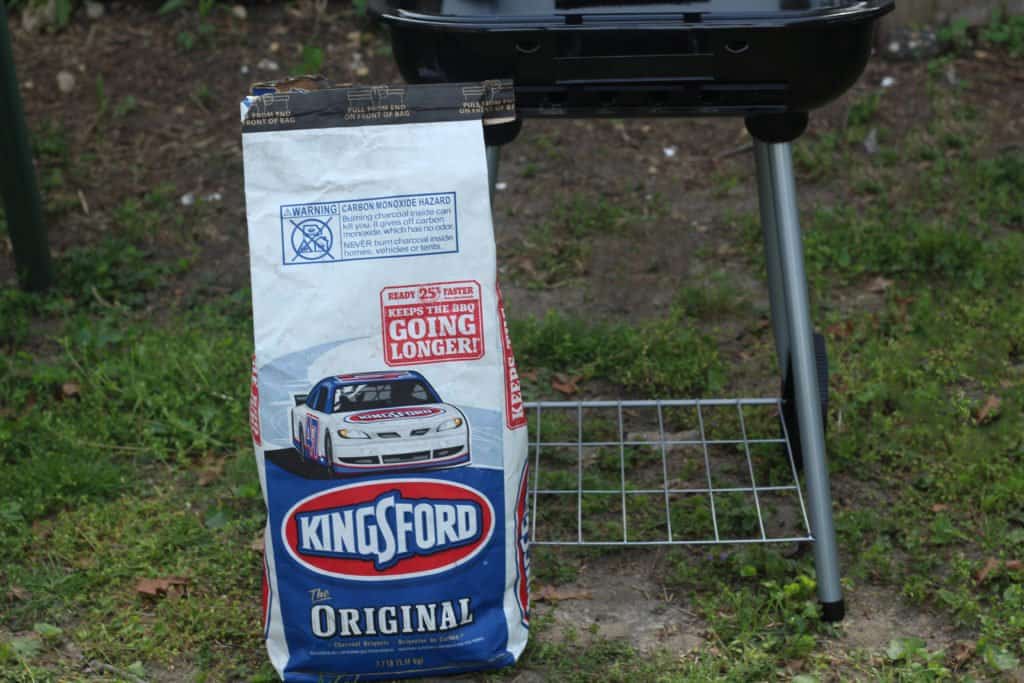 I set an aluminum pan in the center of the grill and I fill it with water. The water in the pan catches any drippings from the ribs so there are no flare ups and the ribs don't burn. I put the charcoal on either side of the pan and light the charcoal.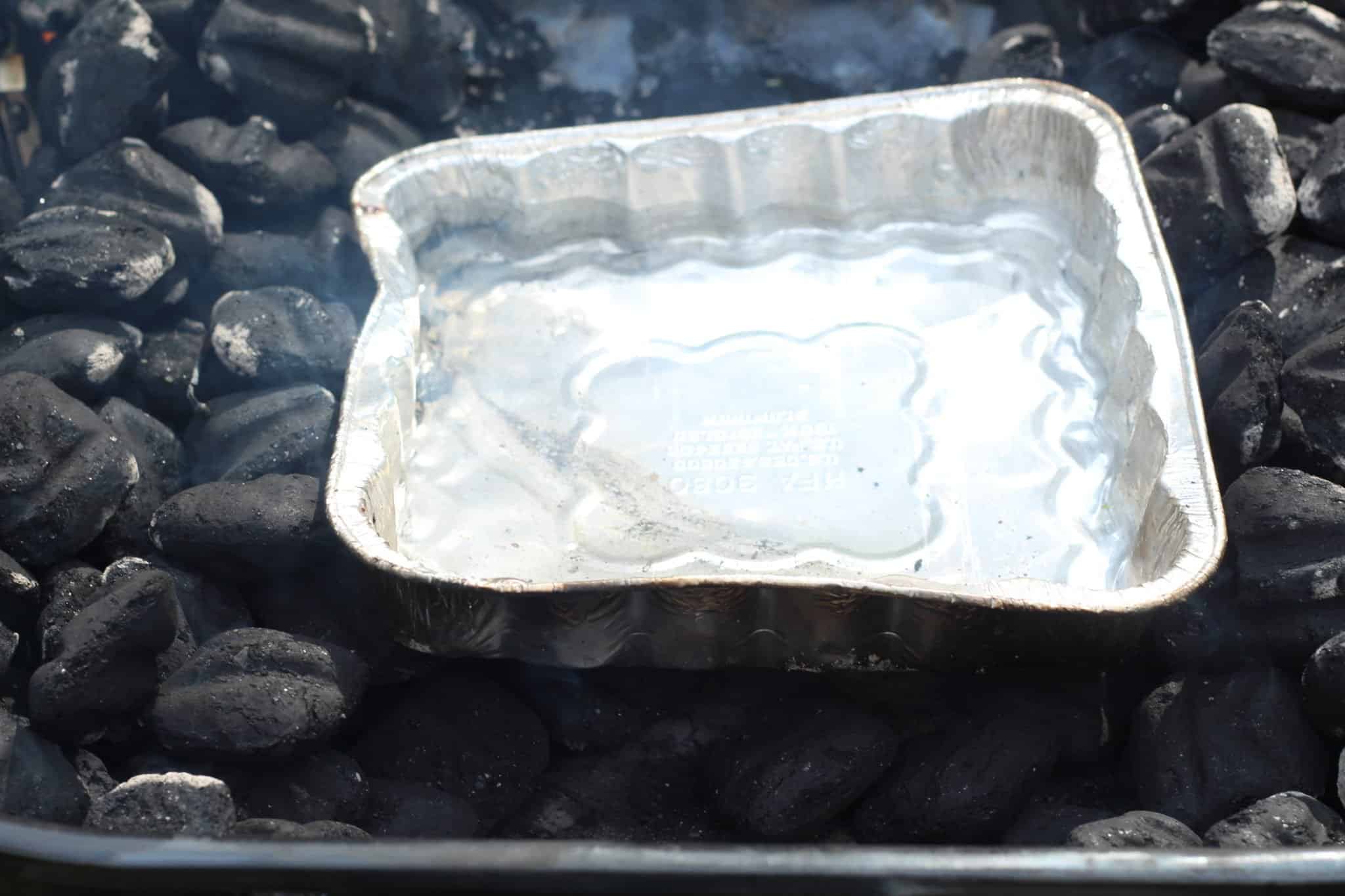 In about 15 minutes, the charcoal turns a grayish color and you are all ready to grill! Super easy! I place the Smithfield Ribs in the center of the grill grate and place the cover on the grill. I check the ribs and flip them every half hour and in 2 - 2 ½ hours you will have delicious ribs. The finished temperature of the ribs should be 180 degrees. I use a meat thermometer to check the temperature. Tip: If you do not have a meat thermometer, stick a toothpick into the meatiest part of the ribs and it should go through quite easily, when meat is done cooking.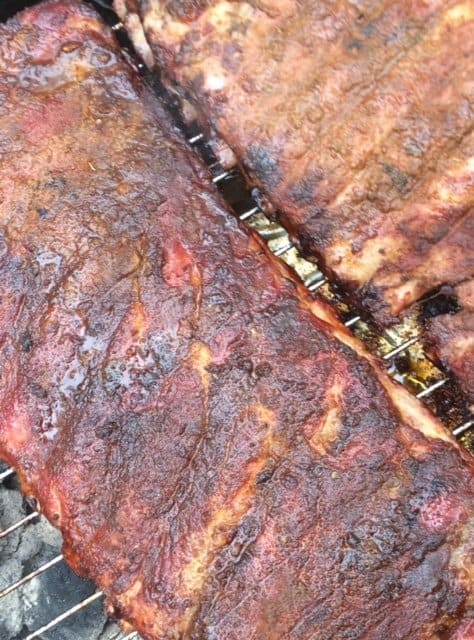 That is just how easy it is to cook delicious and juicy BBQ Pork with Spicy Dry Rub.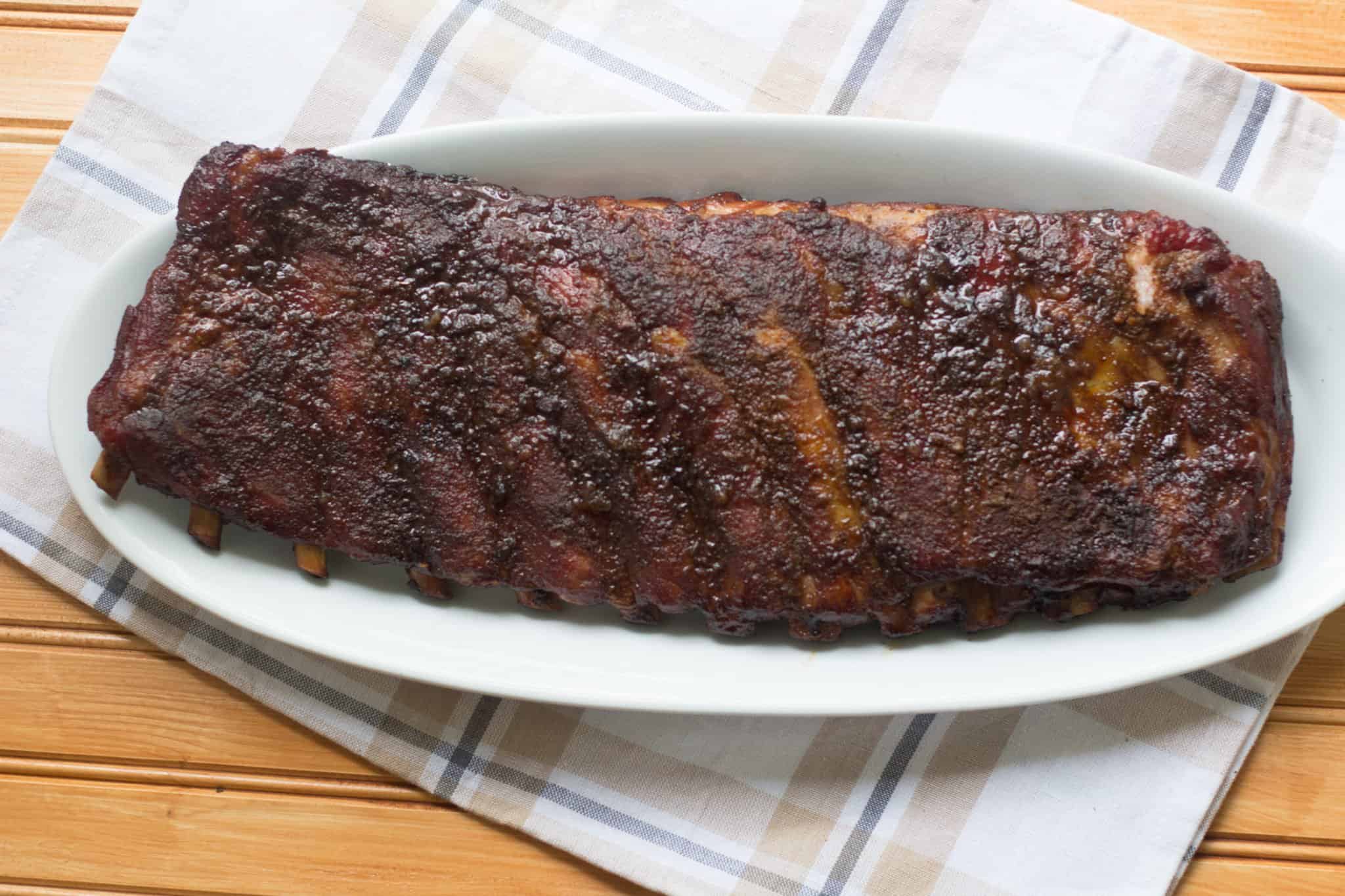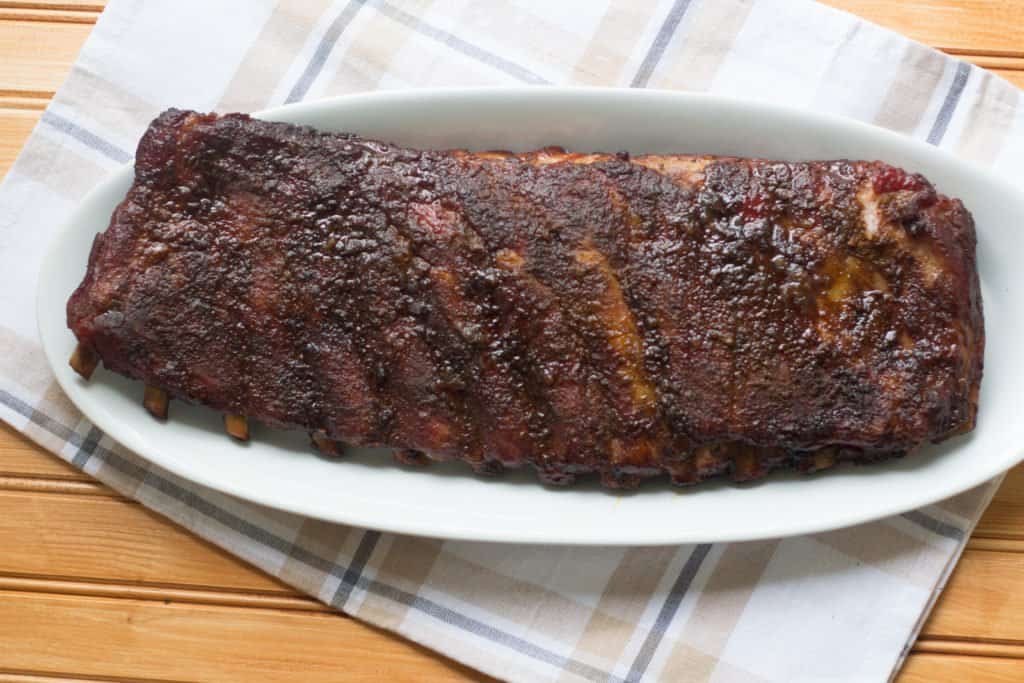 The hubs likes his ribs with a side of baked beans and corn on the cob. He loves to put KC Masterpiece sauce on his ribs.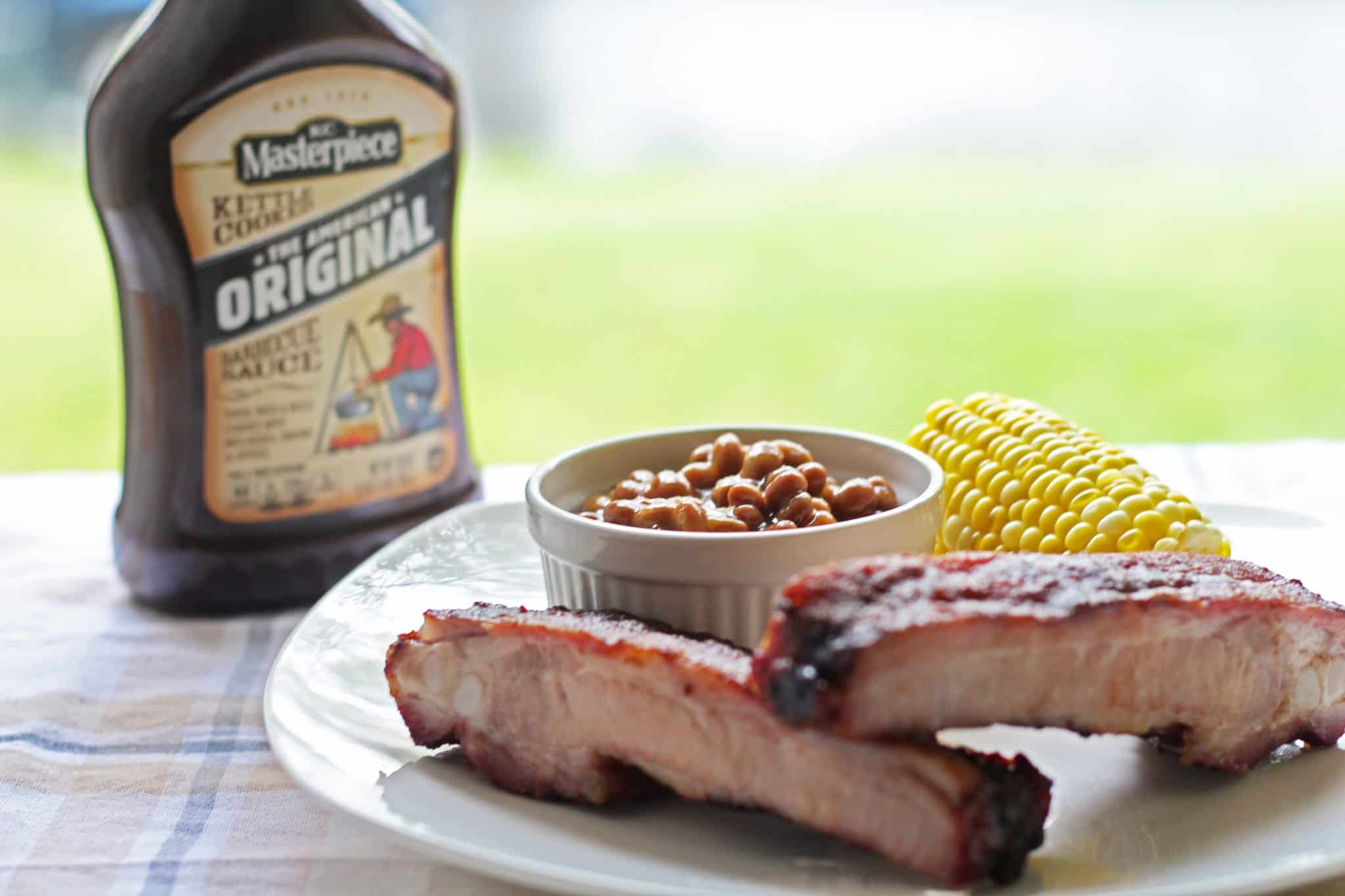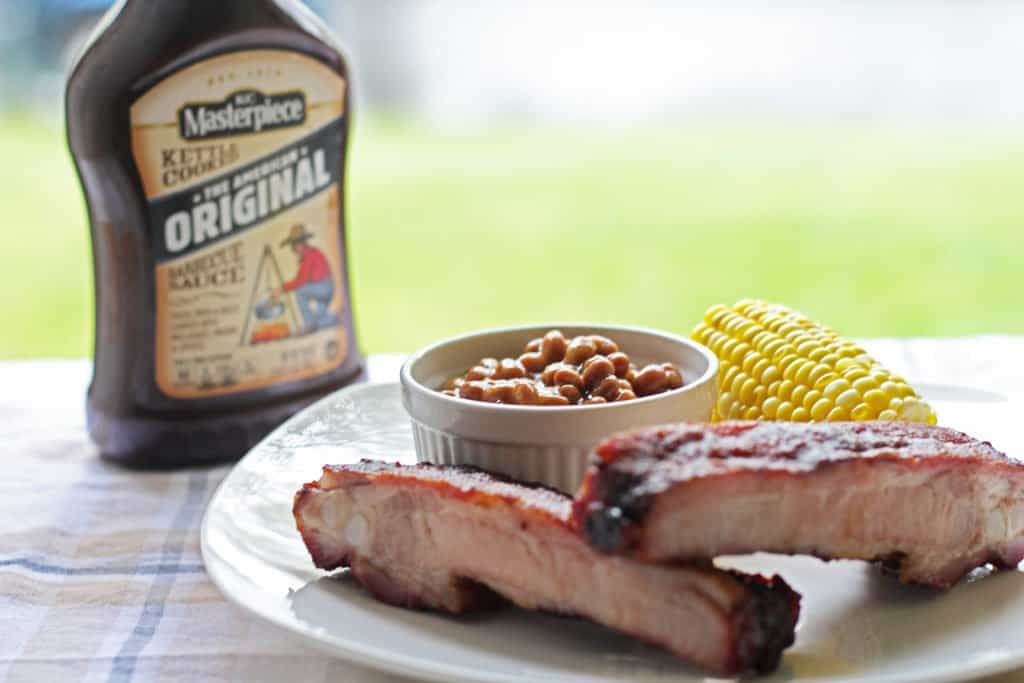 I love my ribs with a bean salad and corn on the cob.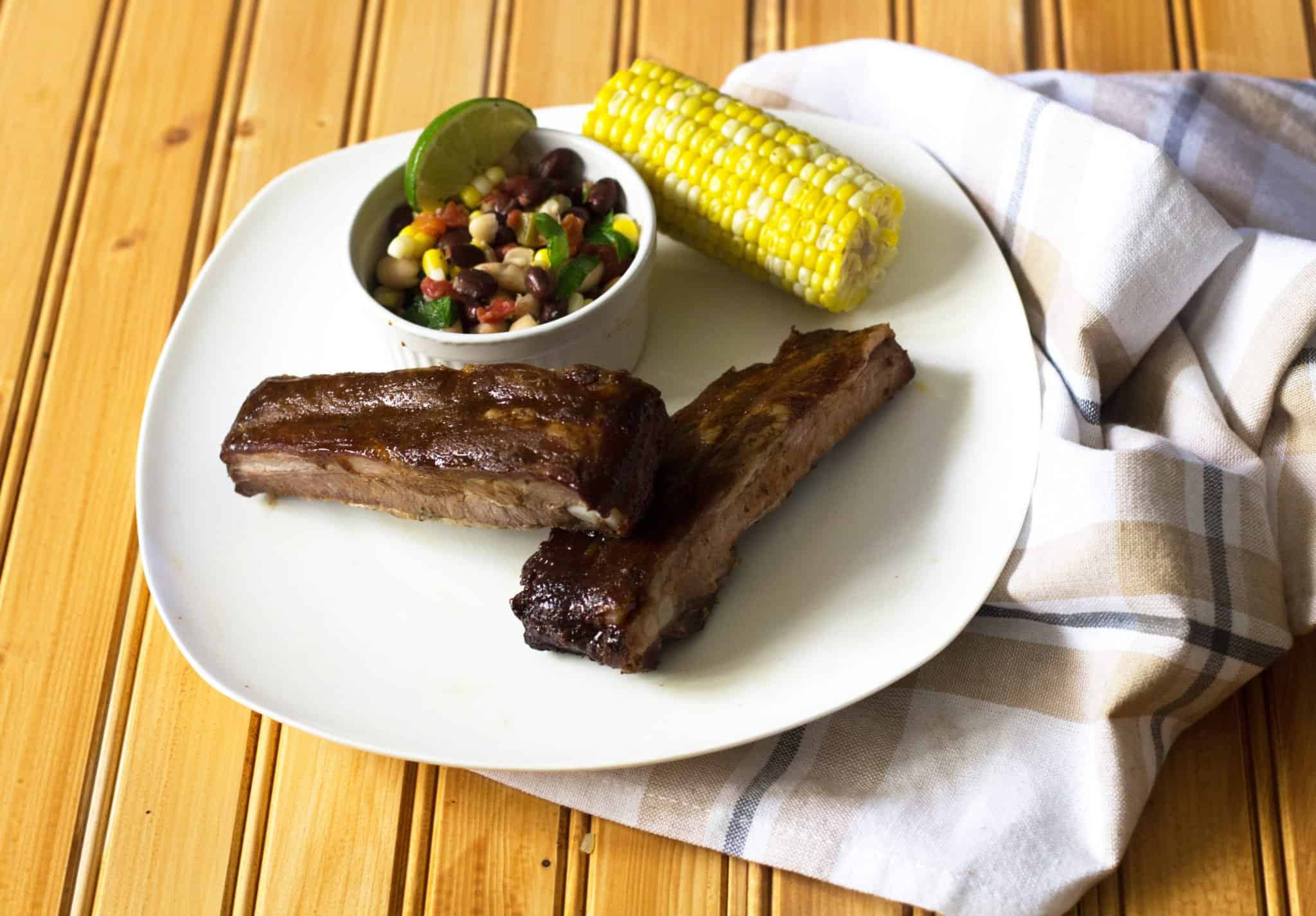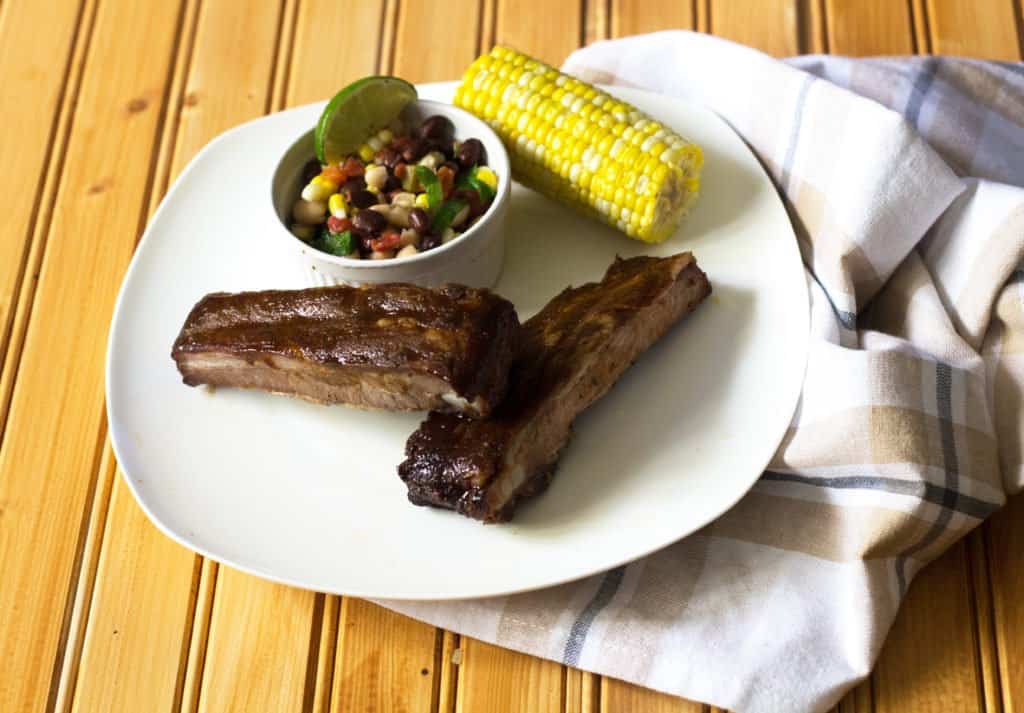 I told you this was going to be a simple way to make great ribs! Your family and friends are going to be so impressed and they will have a delicious meal! Here is my recipe:
📖 Recipe
Spice Rubbed BBQ Pork Ribs
An easy grilling recipe for BBQ Pork Rib with a pork dry rub. Easy instructions to have juicy and tender baby back ribs every time.
Print
Rate
Equipment Needed:
Instructions
In a small bowl combine paprika, granulated garlic, onion powder, ground black pepper, chili powder, ground cumin, dry mustard, celery salt, cayenne pepper, and salt.

Rub the Smithfield Ribs with the dry rub on both sides. Any leftover dry rub can be stored in a covered jar for up to 2 weeks.

Cover ribs with plastic wrap for 3 - 24 hours. I prefer to let them marinate for 24 hours.

Place an aluminum pan in the center of grill filled with water and the charcoal on either side.

<span class="mceItemHidden" data-mce-bogus="1"><span></span>Place the Smithfield Ribs in the center of the grate over the pan of water.</span>

Check the Smithfield Ribs every half hour and flip.

After 2 hours, the temperature of the ribs should be 180 degrees
To be fair to the hubs, I will share with you his dry rub recipe. Don't tell him, but they are also delicious! He also only uses Smithfield ribs and cooks his ribs the same why that I make mine because its a wonderful method and I taught him everything he knows!
📖 Recipe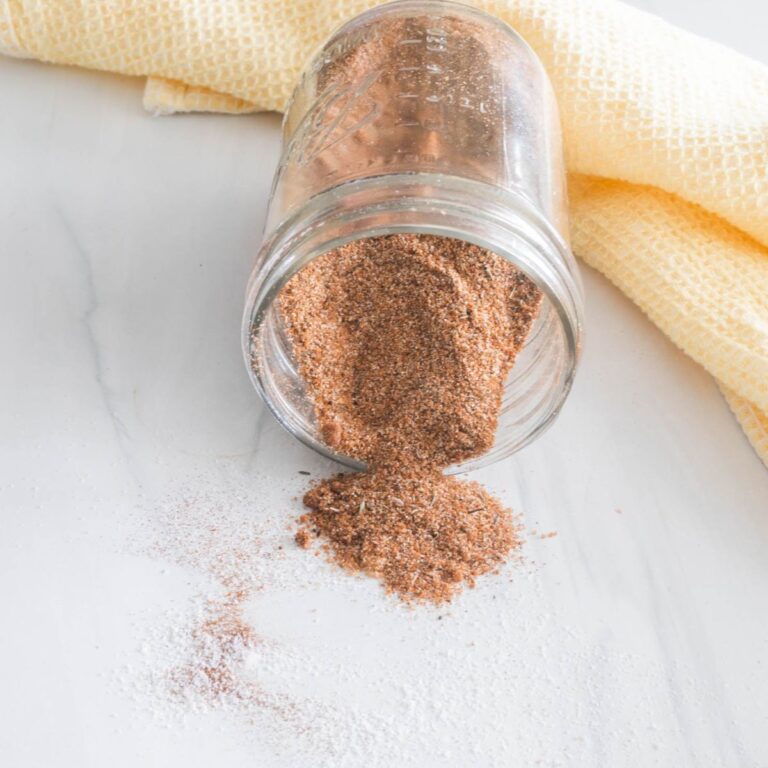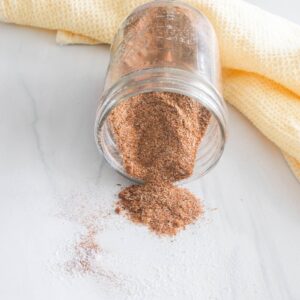 Sweet and Smoky Pork Dry Rub
A delicious dry rub that is easy to prepare and perfect on pork ribs. The smoky paprika combines with the other flavors makes a delicious rub. These make great gifts too!
Print
Rate
Equipment Needed:
As an Amazon Associate I earn from qualifying purchases
Instructions
In a small mason jar combine the brown sugar, granulated garlic, onion powder, ground smoked paprika, chili powder, ground cumin, ground black pepper, Kosher salt, ground dry mustard, ground cinnamon.

Place top on jar and shake.

Keep in a cool dry place for up to 6 months.

Use generously on pork ribs or any cut of pork as a dry rub.

Place dry rub on meat at least 30 minutes to overnight before grilling or roasting.
Notes
Be sure to check Expert Tips and FAQs above with important tips and questions that can help make a delicious recipe.
Storage: The dry rub should be kept in a covered airtight container for up to 7 months.
Any nutritional data I provide is an approximation. Actual dietary information can vary based on ingredients and portion sizes.
Nutrition
Serving:
1
Tablespoon
|
Calories:
31
kcal
|
Carbohydrates:
8
g
|
Protein:
1
g
|
Fat:
1
g
|
Saturated Fat:
1
g
|
Sodium:
150
mg
|
Potassium:
30
mg
|
Fiber:
1
g
|
Sugar:
7
g
|
Vitamin A:
160
IU
|
Vitamin C:
0.1
mg
|
Calcium:
10
mg
|
Iron:
0.3
mg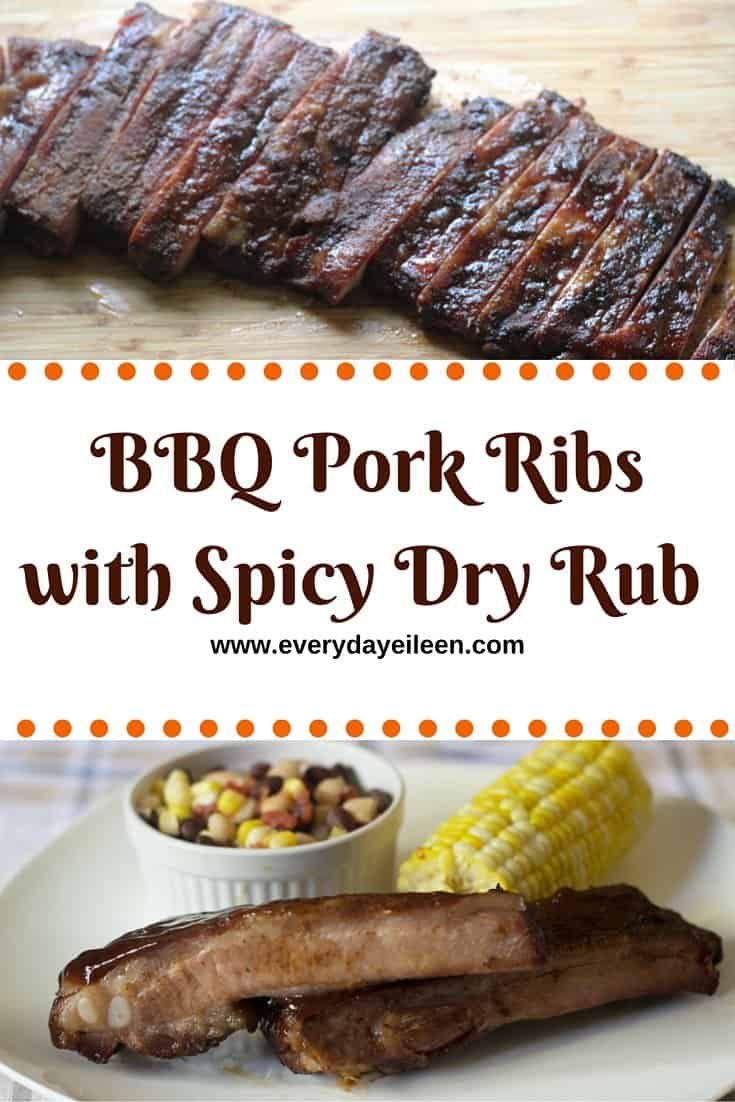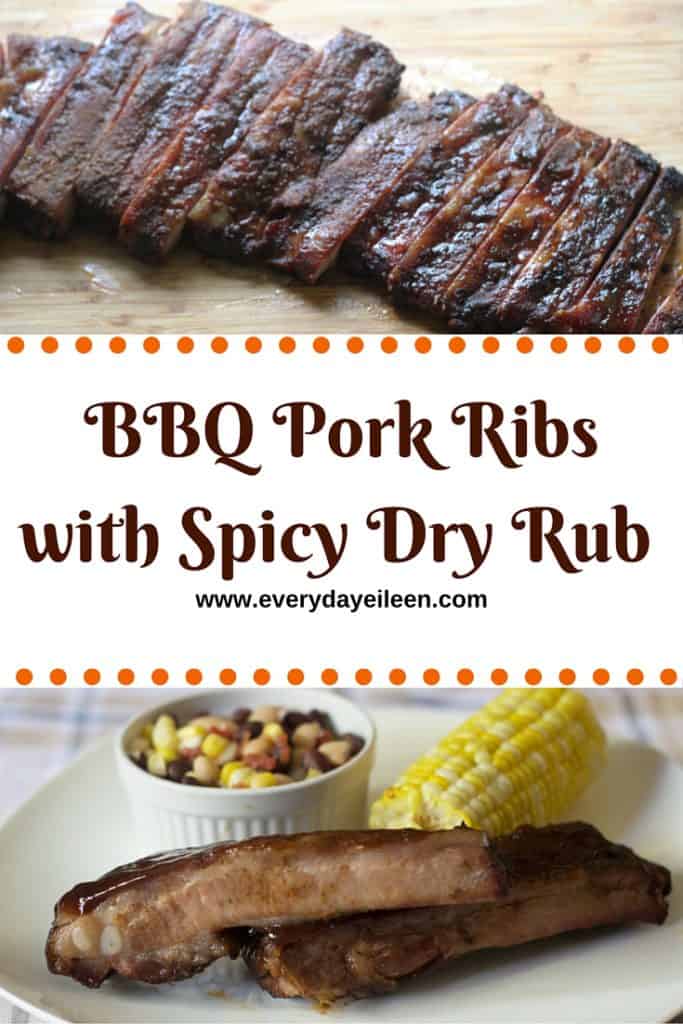 Now that you are all experts at making ribs, Smithfield® is hosting the Hog Wild Smithfield Throwdown Contest. A great opportunity to grill, vote, and play for a chance to win one of two Ford F-150's. This is a great contest for both amateur and professional grillers. Smithfield® has teamed up with celebrity grill masters Moe Cason and Tuffy Stone who have been brand ambassadors for the Hog Wild Smithfield Throwdown for the past two years!
Check out this Smithfield Smoked Sweet & Spicy Back Ribs Recipe from pro-griller Moe Cason. #ad #HogWildThrowdown
I hope you get your grill out, head to Walmart and get some Smithfield ribs to enjoy and don't for get to do any or all of grill, play, or vote in the Hog Wild Smithfield Throwdown !
You can also like Smithfield® on Facebook ,Twitter, Pinterest,Instagram. and go to their website for more great recipes and product information.
Who is grilling today and what is your favorite way to grill your ribs?
As always, thank you for sharing my love of food, family and life in general!
xoxo Eileen!