Rejuvenate with a detox juice! Filled with vitamins and antioxidants, it's the greatest way to start the day! Use your juicer to blend the flavors of kale, apples, orange, lemon, and watermelon for the best detox juice!
Save that money you would be spending at the juice shop and make your juice at home! You will be filled with energy!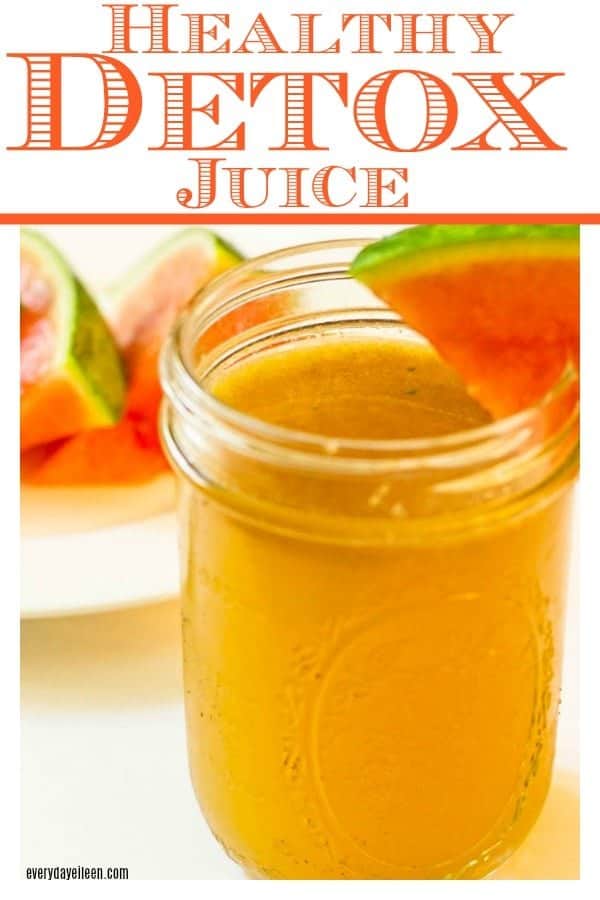 It is a new year and what better way to start the yeat than a great detox juice! I have had my share of treats, candies, and cocktails this Holiday season! It is time to buckle down and get back to moderation!
This is the perfect time to break out the juicer or use your gift cards and buy one because a great cleansing detox juice is an awesome way to start the day!
I feel like I have unintentionally been keeping a secret from all of you and I am truly sorry! I feel really bad because it is something that has brought me so much joy!
Quite frankly, it has brought me energy and I feel better every day because of it! Juicing! Yup, that's right, I love to juice my veggies and fruit!
For those of you following along with me, know that I have a lot of health issues and healthy eating is super important to me. I am always looking to make delicious food, healthier.
What we drink is also super important to our bodies! The hubs and I drink my Detox Lemon Ginger Green Tea every day! I think many others do as well because it has been pinned on Pinterest thousands of times!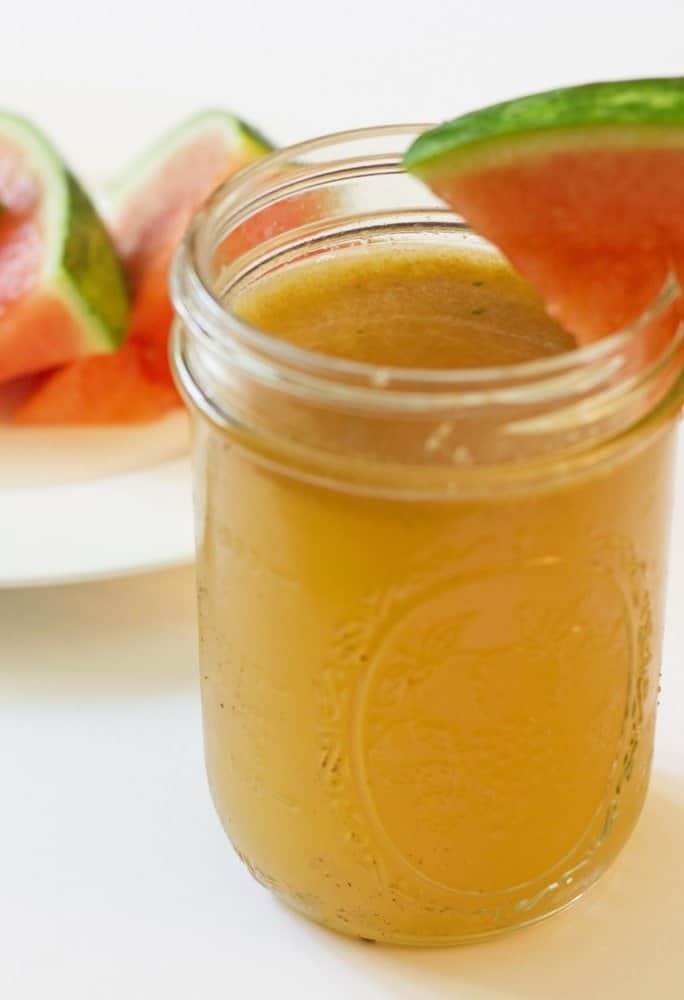 What if I do not have a juicer, can I make detox juice in a blender?
I do recommend and rave over my juicer but if you do not have a juicer feel free to make this in a blender. The nutritional count may be different. Also, I would peel the orange and lemon before adding to the blender. Also slice the apple and do not add the core to the blender.
Should this detox juice be a food replacement?
No! This is a great detox juice with lots of vitamins. I am not a nutritionist, consult a doctor if you want to do any dieting. This is a nutritional drink filled with vitamins. I recommend after a great walk or workout.
Can I make a large batch and use later?
The juice is quick and easy to prepare. The liquid separates after sitting and would need to be blended again. For this recipe, I recommend making the juice as needed for best results.
This post contains affiliate links for your convenience (which means if you make a purchase after clicking a link I will earn a small commission which helps keep my blog up and running but it won't cost you a penny more!) Click here to read my full disclosure policy.
Thank you so very much for being apart of Everyday Eileen!
[dropshadowbox align="center" effect="lifted-both" width="auto" height="" background_color="#4cc6db" border_width="1" border_color="#dddddd" ]
Tools You Need to Make Detox Juice:
Breville Juicer

:

I cannot say enough how much I love this juicer. Quiet and does a great job at juicing.
Mason Jars: Highly recommend these jars for any drinks, smoothies, and sauces and overnight oats.[/dropshadowbox]
This juice is filled with all sorts of vitamins to make your body feel better! They are filled with nutrients, dietary fiber, and antioxidants as well as being low-calorie and low-fat!
Health Benefits of Detox Juice Ingredients:
watermelon: helps reduce high blood pressure and heart disease.
kale: works to reduce high blood pressure, helps digestion, I have read it helps your eyesight, not mine, but hopefully yours! 🙂
apples: great for the cardiovascular system and help to reduce high blood pressure.
oranges: excellent for the immune system.
lemon: also helps with digestion, a great detox for the body.
How can you go wrong with these yummy ingredients! This is also a great starter for those just beginning to juice because of the natural sweetness of the fruits.
From here, the possibilities are endless.
You will be enjoying beet and Swiss chard juice before you know it!
Tips to Make Detox Juice:
Use fresh ingredients, organic if possible.
Depending on the fruit, the skin can be kept on to juice.
This recipe for detox juice is a great beginning for juicing.
A great recipe for is a good blend of fruit and veggies. Add more veggies as you adjust to juicing to lower the natural sugars in the juice. Then increase the greens for more vitamins.
When you make this healthy detox juice or any other recipe, take a pic and tag me on
Instagram @everyday_eileen or #everydayeileen
I love any comments or questions below!
I HOPE YOU CONTINUE CONNECTING WITH ME:
FACEBOOK INSTAGRAM, PINTEREST, TWITTER
Thank you for always sharing my passion and love for food and family!
xo!
Are you loving this juice, giving it a 5-star rating and any comments are super helpful for me and very much appreciated!
Originally published in October 2016, faqs updated with nutritional information.
Healthy Morning Detox Juice
Starting the day with a juice filled with vitamins and antioxidants is the greatest way to start the day! Use your juicer to blend the flavors of kale, apples, orange, lemon, and watermelon! Save that money you would be spending at the juice shop and make your juice at home!
Print
Rate
Equipment Needed:
Ingredients
7

leaves

kale

cleaned

1

cup

watermelon

cubed and rind removed

2

whole apples

1

whole orange

1

whole lemon
Instructions
Process the kale, watermelon, apples, orange, and watermelon through your juicer, following manufacturers instructions.

Ready to drink, can serve over ice.

If you have leftovers, shake up and serve later that day.
Notes
No need to peel the apples, orange, and lemon.
Any nutritional data I provide is an approximation. Actual dietary information can vary based on ingredients and portion sizes.
Nutrition
Serving:
1
g
|
Calories:
285
kcal
|
Carbohydrates:
80
g
|
Protein:
3
g
|
Fat:
1
g
|
Saturated Fat:
0
g
|
Polyunsaturated Fat:
0
g
|
Trans Fat:
0
g
|
Cholesterol:
0
mg
|
Sodium:
6
mg
|
Fiber:
14
g
|
Sugar:
45
g
Eileen