Homemade Energy Bars are a perfect snack for the entire family! Quick and easy to prepare! They stay fresh for days! Filled with oats, nuts, and spices. Ready in less than 30 minutes! Perfect for a healthy snack, lunch box, after a work-out healthy snack! Freeze well!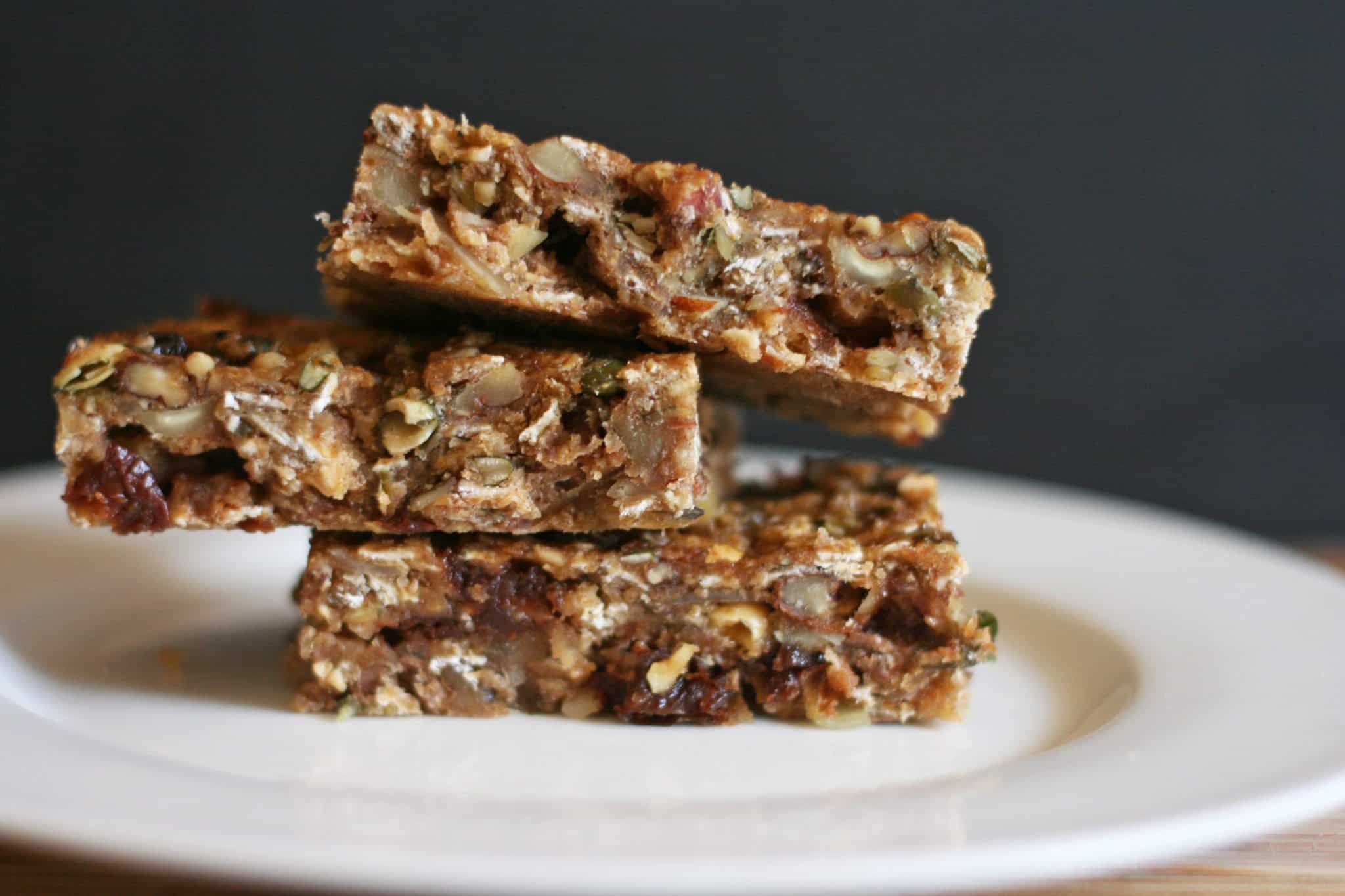 Happy Monday! I don't know about you, but I need a day off after this weekend! Between lacrosse, soccer, music lessons, I need a rest day but I know I won't get one! One these crazy days, I always make sure I have healthy snacks with me so I stay away from a fast food fix. These healthy energy bars are the perfect snack to keep in my bag. They are delicious and healthy and fill me up when I need a snack or a bit of energy!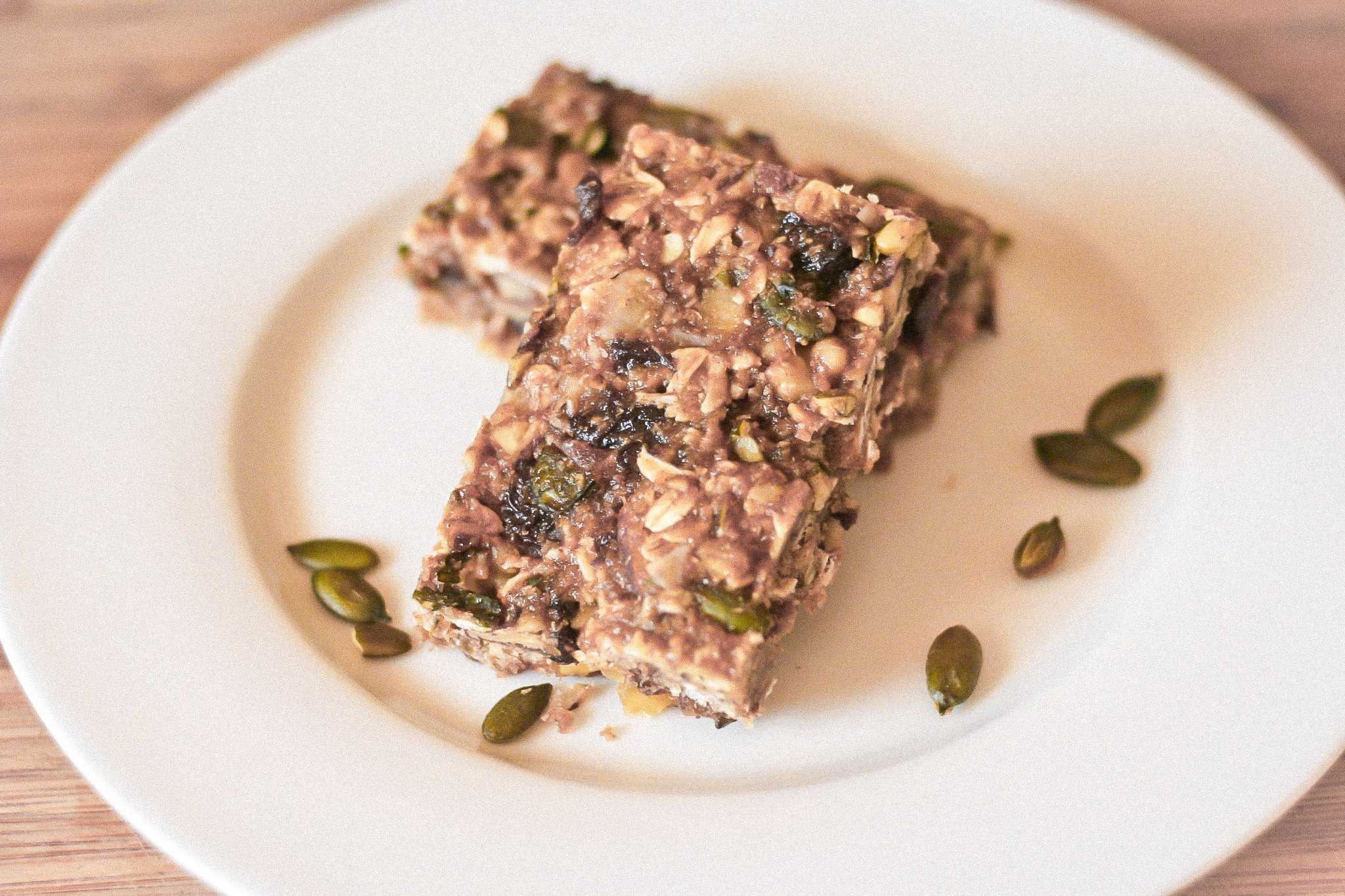 Who isn't on-the-go all the time? I try to keep myself prepared for the day. Plenty of water and fruit and I need a go-to snack! These homemade energy bars are just the ticket! So easy to prepare and they bake in about 25 minutes.
Can these homemade energy bars be frozen?
It's your lucky day! These healthy bars freeze really well. I make the recipe and slice them. I place wax paper in between the pieces and freeze to eat later. They defrost in the fridge.
How long to these healthy energy bars keep in the fridge?
Well covered and wrapped, these bars keep in the fridge for about 2 weeks.
Can energy bars replace meals?
While I am not a doctor or nutritionist, please never use an energy bar to replace a meal. These are a healthy snack in addition to a well-balanced diet. Speak with your doctors for very specific calorie intake.
Tips to Make Homemade Energy Bars:
The variations in energybars are endless. What is most important is to use clean ingredients like coconut oil
.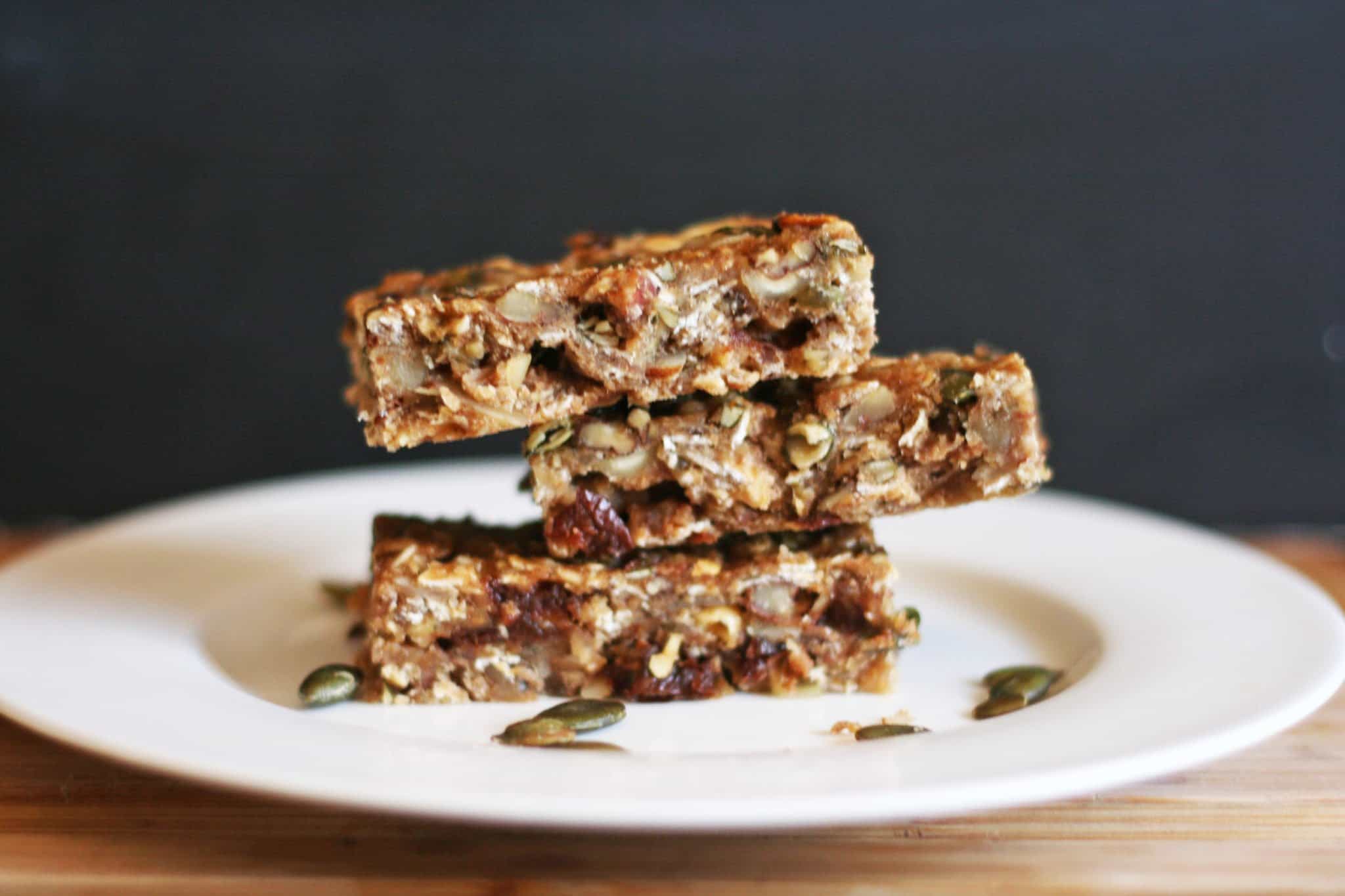 I now double and sometimes triple these homemade energy bars because why not, they are delicious! The ability to keep them in the fridge/freezer makes me so happy because store-bought bars don't do a lot for me! The number of preservatives and ingredients I cannot pronounce are out of control.These bars are just so tasty and moist. Also, the most versatile recipe. After making a few times, I swapped out some of the nuts. I had an abundance of pecans, I know, lucky me..super delicious! This is freezer friendly, 30 minutes or less and delicious!
Follow along on Pinterest! I am always pinning awesome recipes and DIY's from amazing bloggers!
I really hope you make and enjoy this recipe, and if so, please share the love on Facebook, Pinterest, or your favorite way of relating to your friends and family! Please continue connecting with me on Instagram, Pinterest, Twitter, Bloglovin, Google Plus !
Sign up for my newsletter, I do not send many:) and you won't miss a recipe !
Thank you for always sharing my passion and love for food and family!
xo!
Eileen
Disclaimer : I was provided with these cookbooks to review. All opinions are my own and are not influenced by the sponsor of these books!
📖 Recipe
Honey-Nut Energy Bars
You won't want to purchase a granola bar after having one of these gems! These are made with wonderful ingredients to make delicious and healthy energy bars. Perfect for on the go snack, after a workout. These are great to refrigerate for up to 2 weeks and freezer friendly!
Print
Rate
Equipment Needed:
Ingredients
1

cup

rolled oats

¾

cups

whole wheat flour

1

teaspoon

ground cinnamon

¼

teaspoon

salt

½

cup

raw honey

⅓

cup

unsweetened applesauce

¼

cup

olive oil

1

egg, lightly beaten

½

cup

walnuts, chopped

½

cup

pistachios, chopped

½

cup

pumpkin or pepita seeds
Instructions
Preheat over to 325 degrees/

In a small bowl, add and whisk together the rolled oats, whole-wheat flour, cinnamon, and salt

In a large bowl, whisk the honey, unsweetened applesauce, olive oil, and beaten egg to combine all ingredients.

Stir in the oat mixture to combine.

Add and stir in the dried cherries, chopped walnuts, chopped almonds, chopped pistachios, and pumpkin seeds.

Coat an 8 - inch square Pyrex with the cooking spray.

Spread the prepared oat-nut mixture into the prepared pan and bake for approximately 25-30 minutes. A toothpick inserted int center should come out clean. 25 minutes usually works for me.

Place on a cooling rack and slice into squares
Notes
Recipe adapted from

You Had It Made

by Ellie Krieger Storing: ROOM TEMPERATURE: airtight container for 3 days REFRIGERATE: airtight container in fridge for 2 weeks FREEZER: Individually wrap in plastic and place in freezer bags, up to 3 months. Thaw at room temperature for 2 hours. Re-heat at 350 degrees for approximately 10 minutes. MICROWAVE: wrap a bar in a paper towel and microwave on high for 20 to 30 seconds.
Any nutritional data I provide is an approximation and actually dietary information can vary based on ingredients and proportion sizes
Nutrition
Serving:
15
servings
|
Calories:
207
kcal
|
Carbohydrates:
21
g
|
Protein:
9
g
|
Fat:
12
g
|
Saturated Fat:
2
g
|
Polyunsaturated Fat:
3
g
|
Monounsaturated Fat:
4
g
|
Cholesterol:
12
mg
|
Sodium:
46
mg
|
Potassium:
118
mg
|
Fiber:
3
g
|
Sugar:
10
g
|
Vitamin A:
50
IU
|
Vitamin C:
0.8
mg
|
Calcium:
150
mg
|
Iron:
5.9
mg