Do you ever find yourself in the position of needing to make a cake but not having any cake flour on hand? Never fear, there is a substitute! All-purpose flour can be used as a 1:1 substitution for cake flour in most recipes. You will never need to run out to the grocery store again with this cake flour substitute.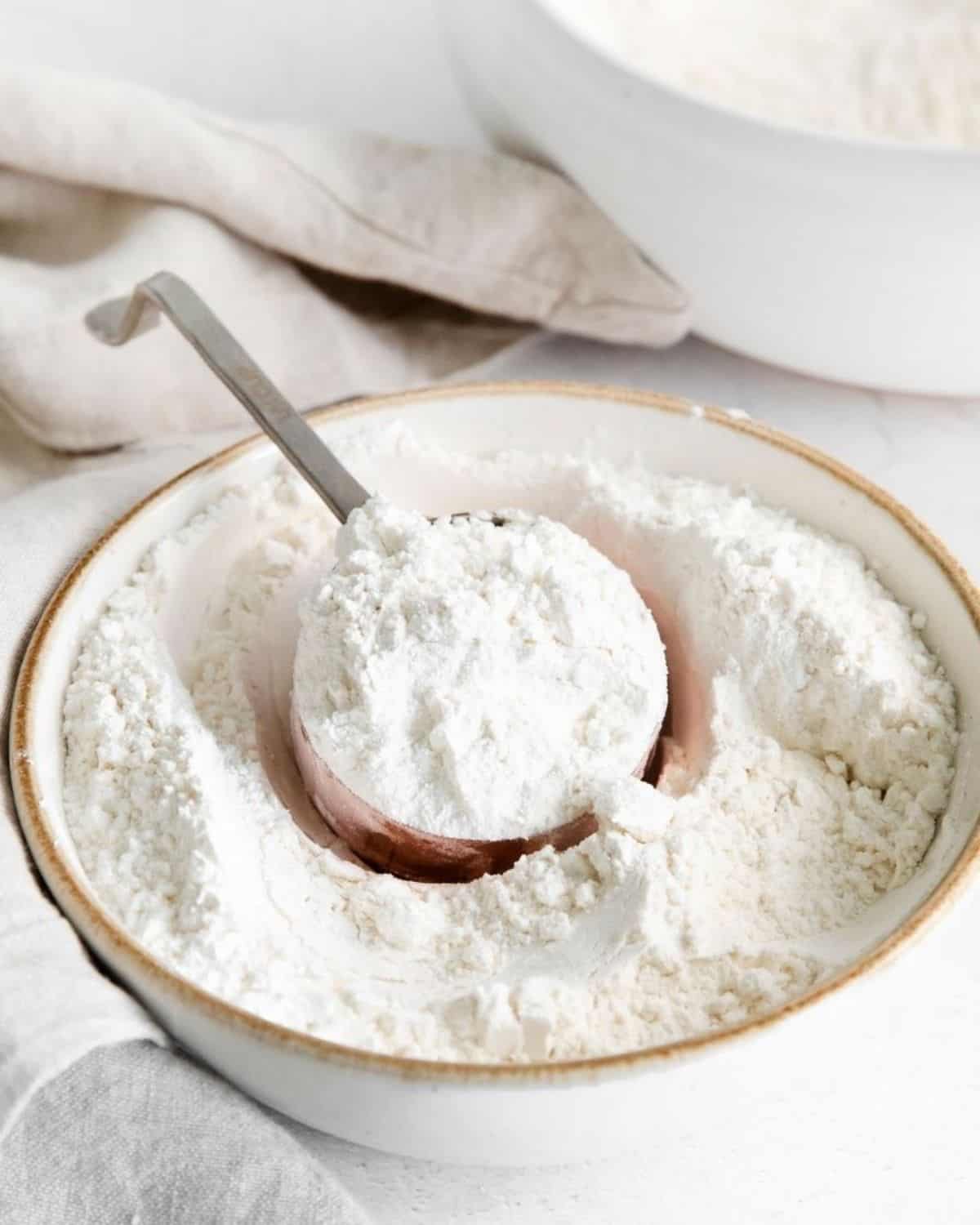 Jump to:
❤️ Why you'll love this recipe
Quick and easy and made with ingredients that you have on hand.
This is a 1:1 substitution so there is no need to worry about different measurements when you use this cake flour substitute with all-purpose flour.
Can be used in recipes that call for cake flour. Or even when you are baking cakes to give them an extra lift in baking.
Ingredients
As an Amazon Associate, I earn from qualifying purchases.
Equipment
Instructions
This is an overview of the recipe. The full instructions are below in the recipe card.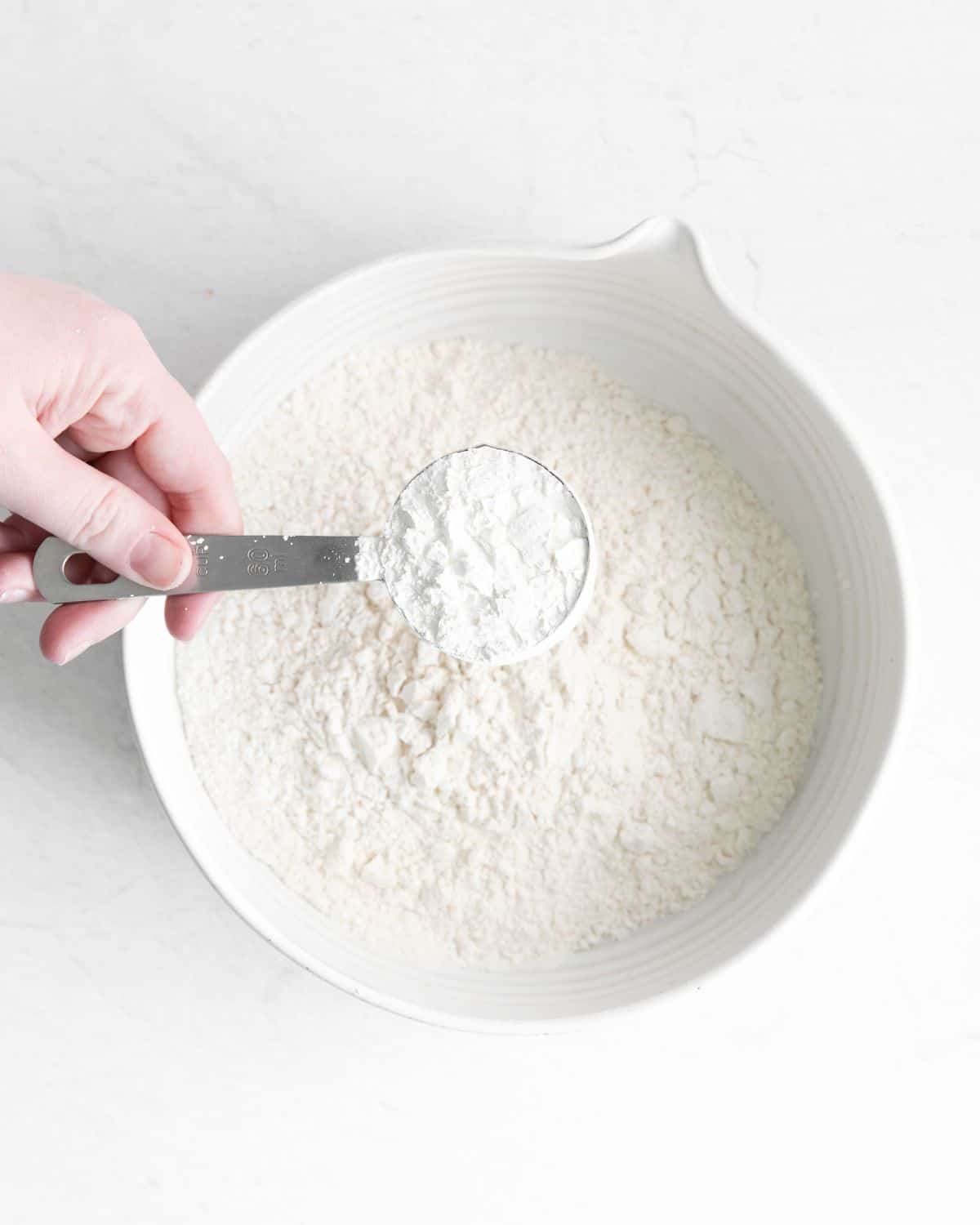 Hold a sifter over a large mixing bowl, and sift together the flour and cornstarch.
Store the mixture in an airtight covered container at room temperature until ready to use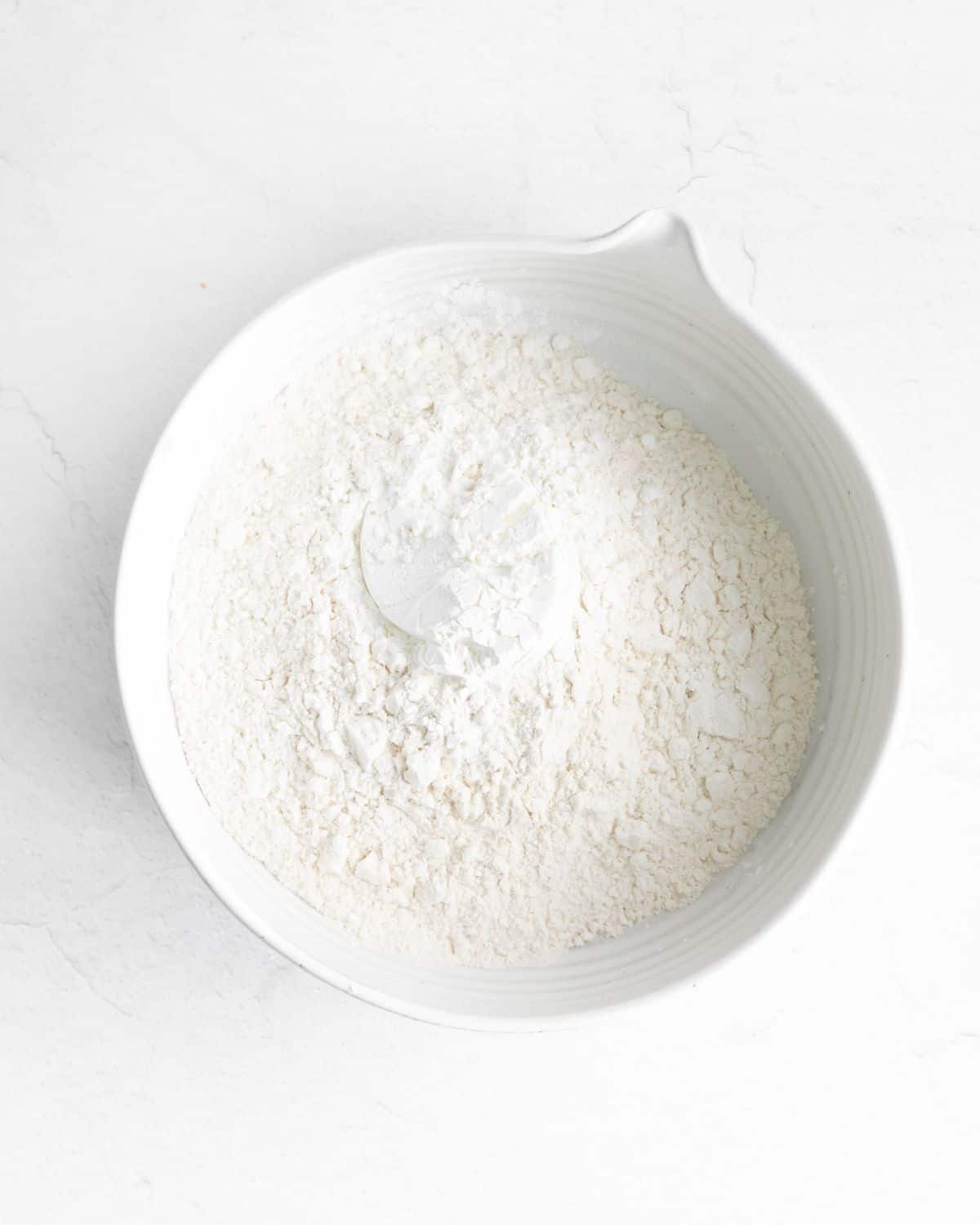 Storage
This cake flour substitute can be stored at room temperature in an airtight covered container for up to 6 months.
Expert Tips
Expert Tip: To get an accurate measurement when measuring the cornstarch, use a spoon to lightly scoop it into the measuring cup and level it off with the back of a knife.
Frequently Asked Questions
Is cake flour the same as plain flour?
No. Plain flour is a type of all-purpose flour. Cake flour also has a lower protein content, which is why it is often used in cakes and other baked goods where a tender crumb is desired.
Does cake flour need baking powder?
Cake flour does not generally have leavening agents such as baking powder or baking soda added to it.
Should I change the measurements for this substitute for cake flour?
Nope! This substitution can be used in a 1:1 ratio, so if your recipe calls for 1 cup of cake flour, you can use 1 cup of this all-purpose flour and cornstarch mixture.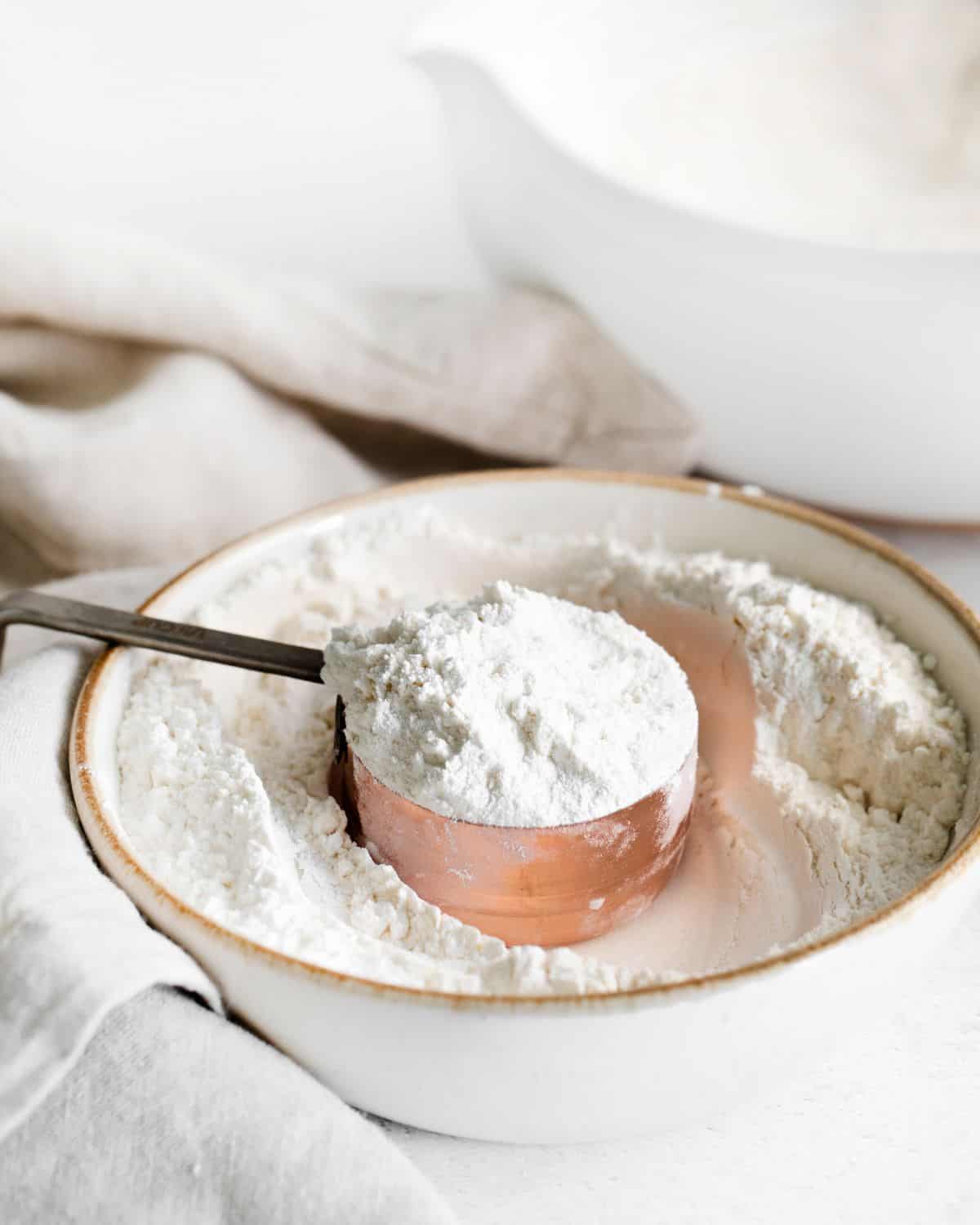 Serving Suggestions
If you love cake as much as I do, then give this Easy Tres Leches cake recipe a try. Not only does this cake travel well, but it's also super moist.
You can never go wrong with chocolate dessert recipes. But, mix together chocolate cake and apples in this Gooey Chocolate and Apple Cake recipe, and you have an amazing dessert that you can't turn.
Do you love festive desserts but need a new idea for what to serve? This Red, White, and Blue Cake is perfect for your next summer party.
Similar recipes
Are you craving a simple old-fashioned dessert that tastes just like Grandma used to make? Look no further than this Apple Cherry Fritters recipe. You won't be disappointed.
Craving some creamy and chocolaty ice cream? This Nutty Buddy Ice Cream recipe is the perfect mixture of chocolate, peanut butter, and ice cream.
Tired of paying price for store-bought cookies? Make your own soft cookies at home with this Copycat Crumbl Heath Cake Cookie recipe.
The form you have selected does not exist.
I love any comments or questions, please feel free to leave them below.
Keep up to date with recipes by following me on:
FACEBOOK INSTAGRAM, PINTEREST, TWITTER
Thank you for your continued support. I am forever grateful.
Eileen xo
If you click on the number of servings in the recipe card you can adjust the measurements up or down for the exact number of servings you need.
If you love this recipe please give it 5 stars! ⭐️⭐️⭐️⭐️⭐️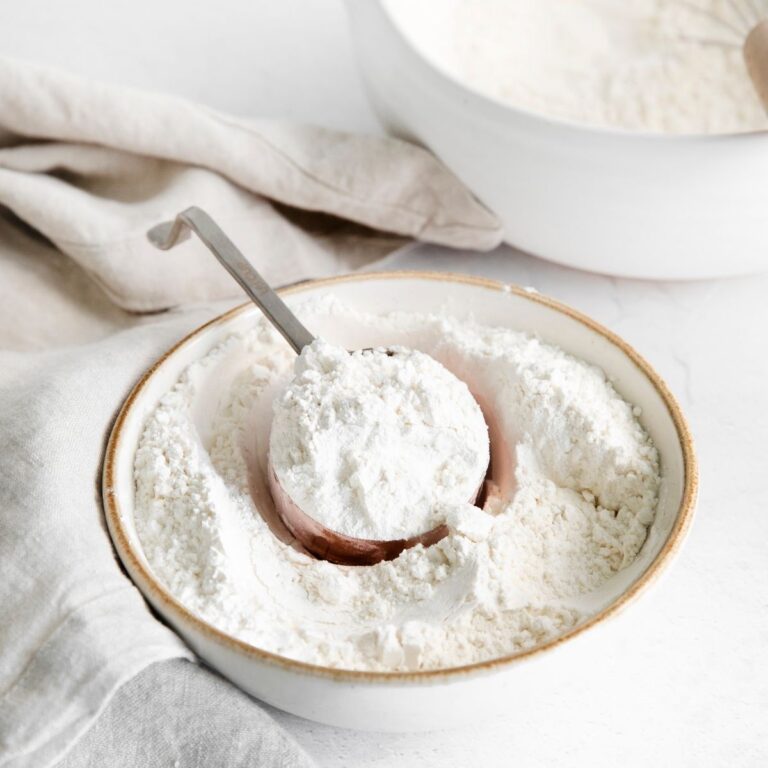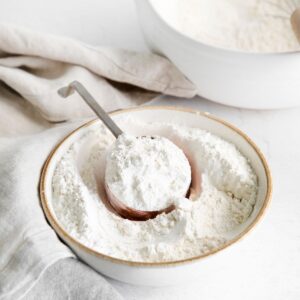 How to make Homemade Cake Flour Substitute
Making a cake and need cake flour only to find your pantry is missing cake flour? Let the baking continue! We've got an easy homemade substitute to make cake flour at home. Cake flour make light and fluffy baked goods.
Print
Rate
Equipment Needed:
As an Amazon Associate I earn from qualifying purchases
Instructions
Hold a sifter over a large mixing bowl, sift together the flour and cornstarch.

Store the mixture in an airtight covered container at room temperature until ready to use.
Notes
Be sure to check Expert Tips and FAQs above with important tips and questions that can help make a delicious recipe.
Any nutritional data I provide is an approximation and actual dietary information can vary based on ingredients and proportion sizes.
Don't forget to shop at the Everyday Eileen store on Amazon