Enjoy a delicious Cherry Chocolate Smoothie. A 3-ingredient drink that takes just a few spins in the blender to create a most refreshing beverage. A great snack to enjoy in the morning, after a work-out, or a mid-day bump. Don't forget to make one for the kids too. Trust me, it's always a hit.
A perfect morning smoothie that tastes like a tasty Black Forest Cake without all those calories. Perfect after a work-out snack or a great mid-day snack! Super kid-friendly too.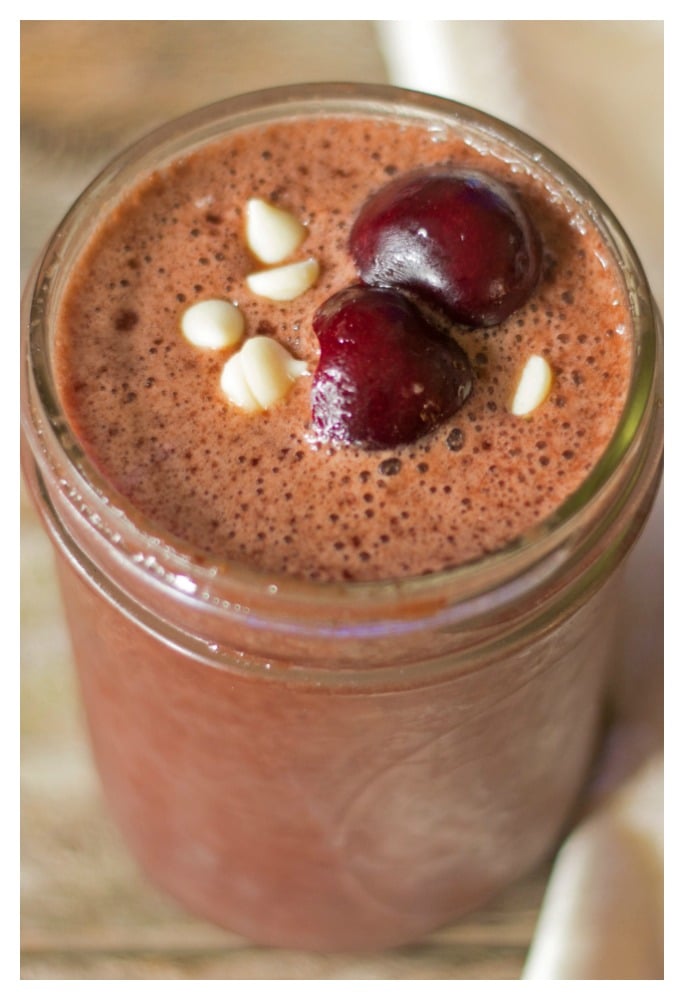 Cherry Chocolate Smoothie
We are in one of my favorite times of the year, cherry season. The grocery stores are full of cherries and it is the time to jump in and buy cherries and make some amazing recipes.
While you are at it, freeze a few batches cherries to use throughout the fall and winter. You will want to make this smoothie throughout the year!
Ingredients
Cherries: Use fresh or frozen. add great flavor and natural sweeteners. Please do not use cherry pie filling which has a lot of sugar and shouldn't be used in a smoothie.
Coconut Water: One of my favorites finds about 8 years ago. You will love it in smoothies and a tasty cucumber splash.
Unsweetened Cocoa Powder: The cocoa adds chocolate goodness without adding unneeded sugar.
Variations:
We love this recipe as written. Looking to boost up your intake of veggies? Feel free to add 1 cup of either spinach or kale. This is a great way to sneak in extra veggies.
Sssshhh, we won't tell them either. It's a mouthwatering cherry chocolate shake.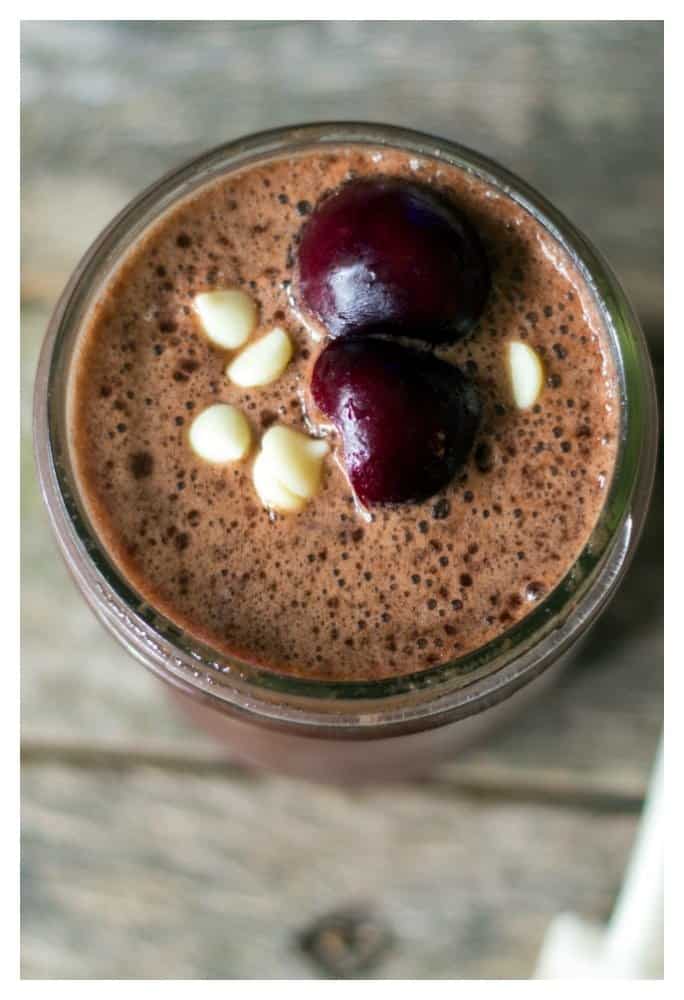 Tips and FAQs
I have been experimenting with these amazing cherries and for this smoothie, either fresh or frozen cherries will work. Also for the chocolate, use either unsweetened cocoa powder or for those looking for more protein into your diet, use chocolate protein powder.
Don't forget to try this with a healthy cherry chocolate smoothie with some greens ave added greens for added antioxidants and vitamins. This Healthy Black Forest Cherry Chocolate Smoothie is seriously so full of great cherry/chocolate flavors and its so darn delicious!
Cherries provide many health benefits
As per Healthline.com, here are a few highlights
a great source of potassium that aids in reducing the possibility of strokes.
cherries contain melatonin which helps with sleep habits.
assist in the reduction of gout and has a powerhouse of antioxidants for a healthy life.
arthritis relief.
bloating relief.
100% unsweetened cocoa powder is also full of greatness. The cocoa powder contains flavonoids which aid in blood flow and prevent inflammation. I have read and my Doctor agreed that cocoa powder can be a natural anti-depressant. Yipee! Chocolate and happy = everyone is happy. There is some caffeine in cocoa powder, I will take this smoothie over a soda filled with caffeine any day.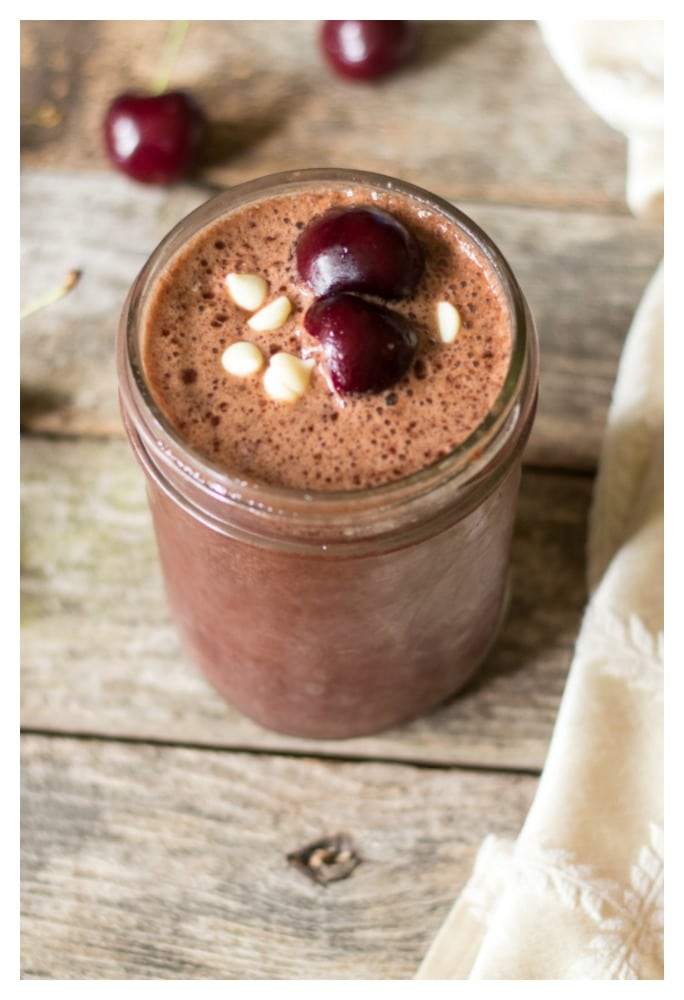 This post contains affiliate links for your convenience We are a participant in the Amazon Services LLC Associates Program, an affiliate advertising program designed to provide a means for us to earn fees by linking to Amazon.com
SHOP THIS RECIPE:
Check out my store. I am always updating great finds for not just cooking, I hope you check it out here, Everyday Eileen update it regularly!
How to freeze cherries:
Cherries can be frozen with pits and stems attached, if doing so, rinse and dry cherries, leave the stem on as it retains oxygen in the cherries so they keep their color and will not break down.
Lay cherries on a cookie sheet, make sure they are not touching and place in freezer for about an hour.
Remove from the freezer and place them in a freezer bag. I generally separate into labeled and dated 1 cup, 1-quart bags for future cooking, and smoothies.
My preferred method is freezing pitted cherries. I use a cherry pitter, well worth a small investment. Rinse and dry cherries, remove stem and pit the cherries, then continue with step 2 and 3.
I have been in a rush and froze the cherries without first placing on the cookie sheet. Some stick together, but the end results were fine!
Take a little time to freeze cherries so you can enjoy cherry salsa any time. It's delicious as a topping for grilled or baked chicken.
For a tasty sugar-free dessert, you will love these Cherry Lime Ice Pops
When you make this recipe, take a pic and tag me on Instagram with @everyday_eileen or #everydayeileen
I love any comments or questions, please feel free to leave them below.
Keep up to date with recipes by following me on:
FACEBOOK INSTAGRAM, PINTEREST, TWITTER
📖 Recipe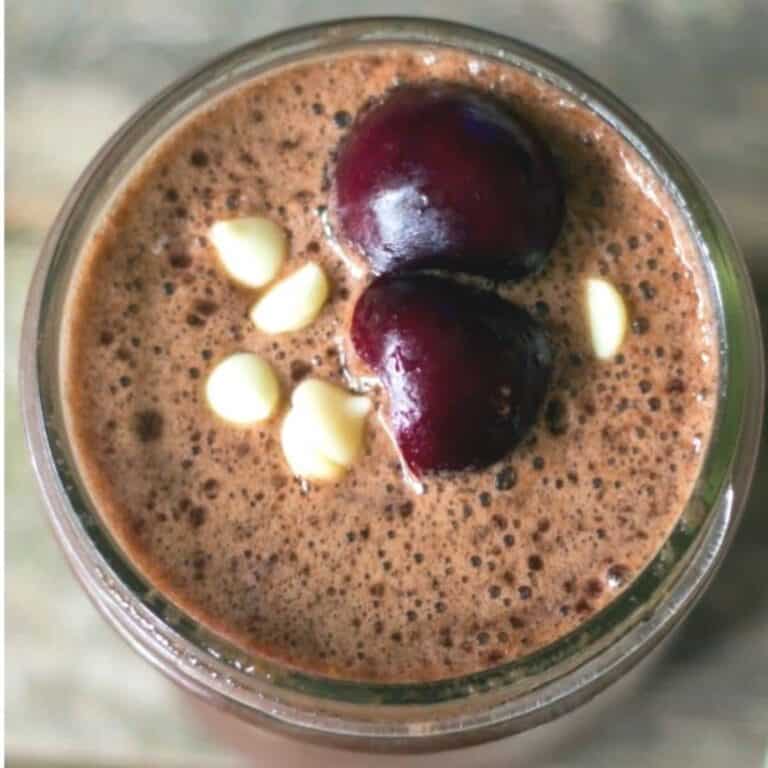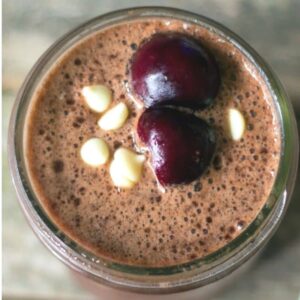 Cherry Chocolate Smoothie
A healthy and delicious cherry chocolate smoothie that tastes like a Black Forest Cake without all the calories. Plus it has just 3 ingredients. Easy and tasty, the kids love it too. Perfect pick me up mid-day snack, morning smoothie, or an after school snack.
Print
Pin
Rate
Equipment Needed:
Instructions
In a blender combine cherries, coconut water, ice, and unsweetened cocoa powder. Crush/blend to combine all ingredients for about 1 minute. Serve immediately.

Top with diced fresh cherries for an optional garnish.
Notes
Note 1: Be sure to use pure unsweetened cocoa powder. Do not use a hot cocoa mix.
Note 2: If you need a veggie boost, add 1 cup of either spinach or kale.
Any nutritional data I provide is an approximation and actual dietary information can vary based on ingredients and proportion sizes.
Nutrition
Serving:
3
serving
|
Calories:
80
kcal
|
Carbohydrates:
19
g
|
Protein:
2
g
|
Fat:
1
g
|
Saturated Fat:
1
g
|
Sodium:
84
mg
|
Potassium:
444
mg
|
Fiber:
4
g
|
Sugar:
14
g
|
Vitamin A:
59
IU
|
Vitamin C:
8
mg
|
Calcium:
34
mg
|
Iron:
1
mg