Cranberry Orange Relish is a quick, easy, no-bake, delicious recipe! The flavors are so fresh and the relish pairs nicely with Turkey and Chicken. Want a great lunch, add this cranberry relish to any chicken, turkey, or veggie sandwich, yum! Adding this cranberry relish as a Thanksgiving side dish or Holiday menu is a must! #HolidaySideDishes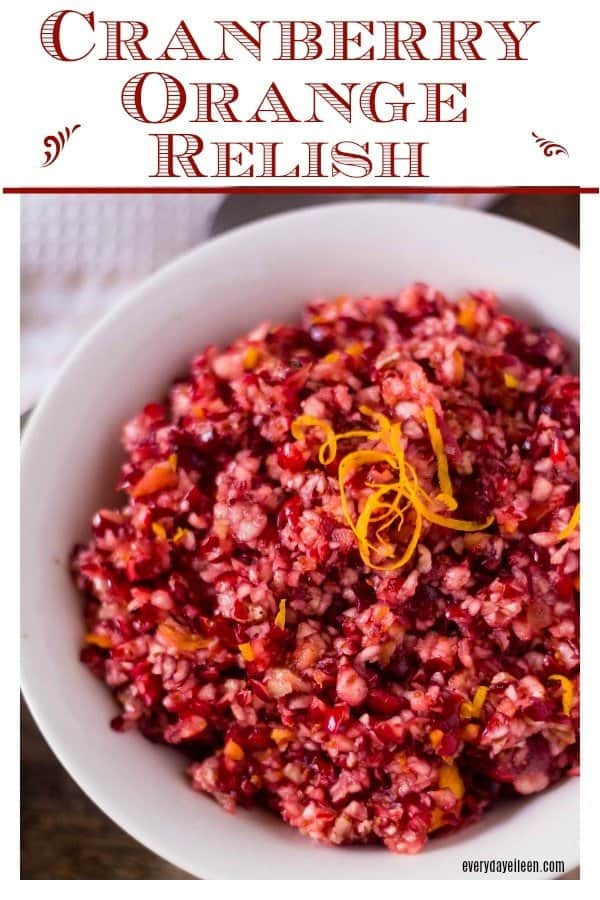 With Thanksgiving fast approaching, so many are planning their Holiday menu! I always have trouble finding a balance with cooking everything on the stove or oven! Having a non-cook recipe for a side dish that is super flavorful makes this cranberry relish a real winner!
This delicious Cranberry-Orange Relish has been part of my Thanksgiving menu for years! Its a matter of tossing a few ingredients into the food processor and done!
Easy peasy, so quick and easy Cranberry Orange Relish is one of those for everyone to make, regardless of your cooking skills. So sign up now to bring it to your family celebration. 5 minutes and 6 ingredients and you are done! SShhh, I won't tell if you won't tell how easy this is to make either!
There are a million cranberry relish recipes out there! Why make this recipe? Well, let me tell you, it's just darn delicious! With just a few ingredients, you have the best and tastiest cranberry orange relish out there!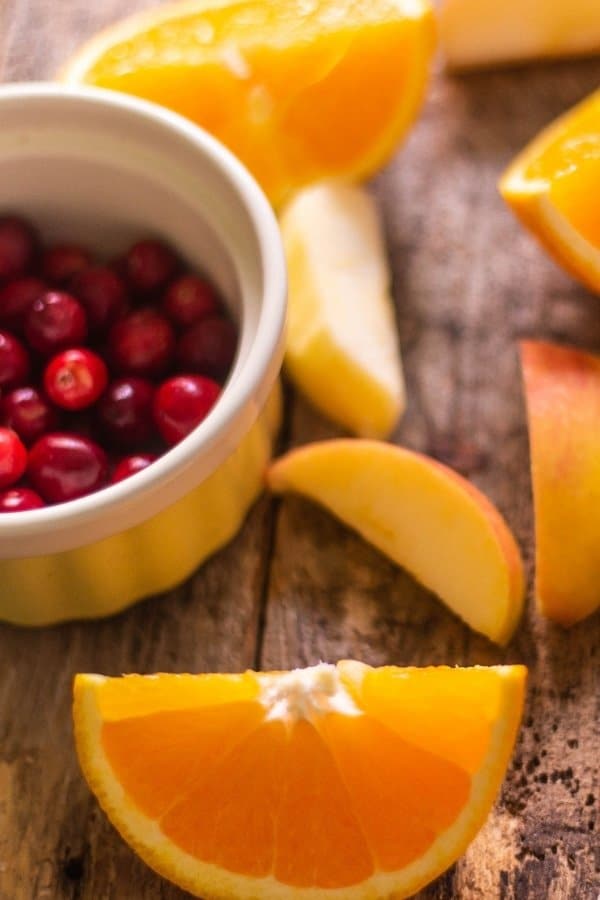 FAQs about Cranberry Orange Relish:
What are the ingredients to make cranberry orange relish?
fresh cranberries
gala apple or your personal favorite apple
an orange
pecans
crystalized ginger, optional but please add, you won't be disappointed
sugar
Can Cranberry Orange Relish be made ahead of time?
Yup! Using fresh cranberries, feel free to make cranberry relish 2 days ahead of time. The flavors are best made ahead at least overnight for this relish.
What other recipes can you use cranberry orange for?
Make a sandwich or panini and add the relish.
Add into yogurt for breakfast
Top oatmeal

Cranberry Smoothie

: swap out the leftover relish for whole cranberries to make the smoothie
Suggested dishes to serve cranberry orange relish with:
Turkey Burger topping
Roasted Chicken
Roasted Pork
What is the difference between cranberry sauce and cranberry relish?
Cranberry sauce is usually cooked with similar ingredients on the stovetop. Cranberry relish uses fresh cranberries and is not cooked!
Can Cranberry Relish be frozen?
Using fresh cranberries makes it possible to freeze this relish. I use ice cube trays to put a couple of teaspoons into each cube so I can use the relish at a later date.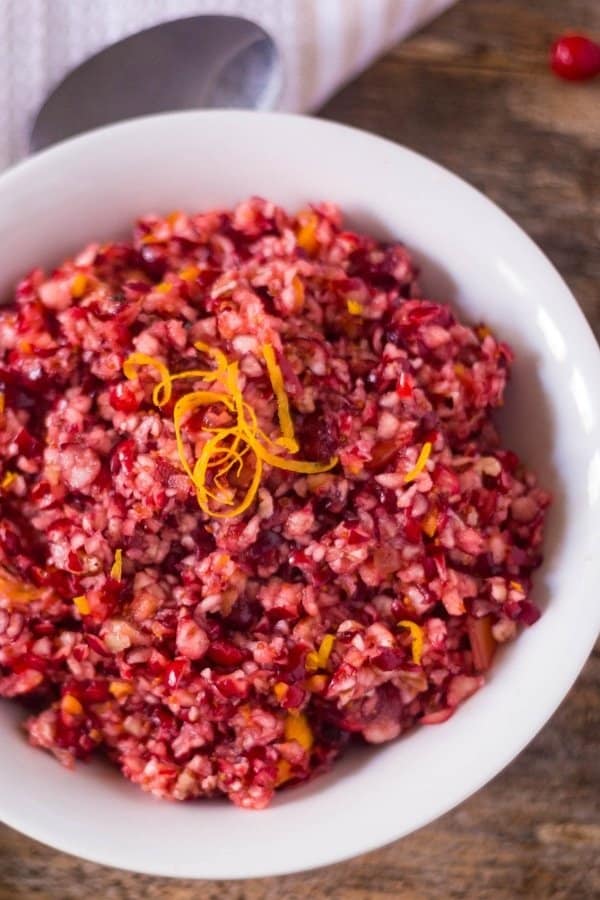 This post contains affiliate links for your convenience (which means if you make a purchase after clicking a link I will earn a small commission which helps keep my blog up and running but it won't cost you a penny more!) We are a participant in the Amazon Services LLC Associates Program, an affiliate advertising program designed to provide a means for us to earn fees by linking to Amazon.com
I also have a store where I am always updating great finds for not just cooking, I hope you check it out here, Everyday Eileen I will continue to update it regularly! Click here to read my full disclosure policy.
Thank you so very much for being apart of Everyday Eileen!
Tools You May Need to Make Cranberry Relish:
How to Make Cranberry Orange Relish:
Into a food processor add fresh cranberries, an orange cut up, skin on, an apple that has been peeled and cored, pecans, and crystallized ginger.
Pulse until chopped well chopped.
Add sugar and mix well.
Store in the fridge overnight, well covered to allow flavors to blend.
📖 Recipe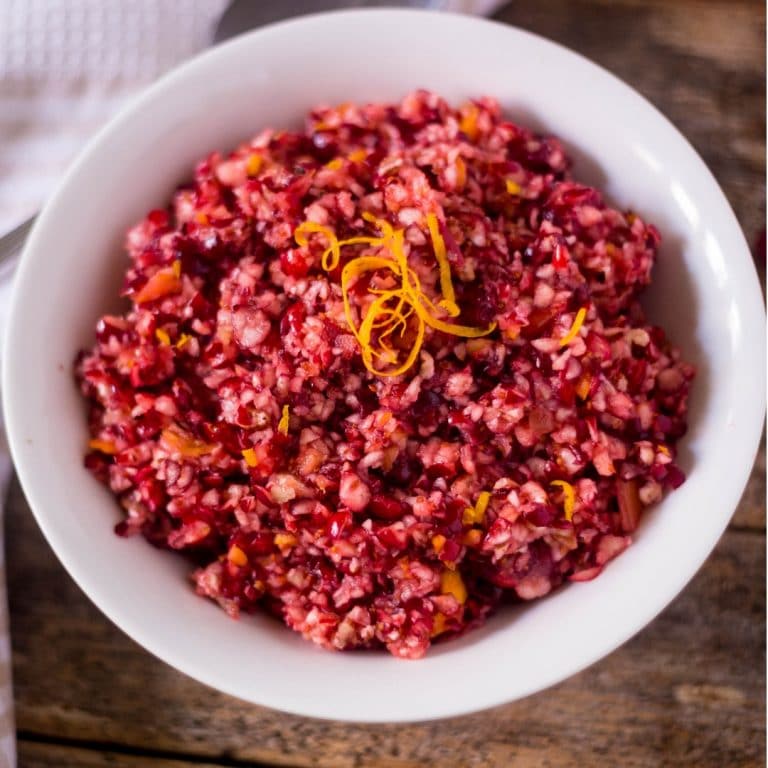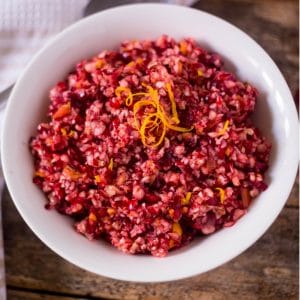 Cranberry Orange Relish
A fresh cranberry relish is a no-bake side dish! Add this to your Thanksgiving or Holiday menu for a crowd-pleasing dish! The leftovers make a great addition to sandwiches and smoothies. Use your imagination!
Print
Rate
Equipment Needed:
Ingredients
12

ounces

fresh cranberries

1

medium

orange, zested then sliced in 8 pieces, divide zest

leave skin on Note 1

1

medium

gala apple, or apple of choice, peeled, cored and sliced

¼

cup

whole pecans

2

teaspoons

crystallized ginger

optional, Note 2

⅓-1/2

cup

sugar

Note 3
Instructions
Into a food processor, add cranberries, orange pieces, the chopped orange zest, chopped apple, pecans, and crystallized ginger. Pulse the food processor a few times. It usually takes me about 10 pulses. Check the consistency of the ingredients. They should be chopped and fairly even.

Add in the sugar. Start with the ⅓ cup of sugar. Test the flavors. If sweet enough, excellent. If not, add more sugar to your preference. Transfer the cranberry relish to a covered container and store in the fridge until ready to serve.
Notes
Note 1: before slicing the orange, zest the orange. Chop half the zest up and add into the food processor. The second half of the zest will be a garnish for the completed cranberry relish.
Note 2: Crystalized ginger is optional because some find it hard to find. It can be ordered from Amazon, I have provided a link. I love the addition of the ginger to the relish!
Note 3: Add ⅓ cup of sugar and test the cranberry relish. I find the relish is usually sweet enough and no additional sugar is needed. It depends on the tartness of the fresh cranberries.
Note 4: Cranberry Relish can be made ahead about 2-3 days well covered in the fridge.
I am not a registered dietician, I do my best to provide the most accurate nutritional values. Any nutritional data I provide is an approximation. Actual dietary information can vary based on ingredients and portion sizes
This is a week of celebration of side dishes with some of my favorite food blogger friends! Thank you to Heather, who runs Hezzi-D's Books and Cooks for hosting this weeks event. These sides are happening Monday, Wednesday, Friday, and Sunday! Don't forget to check out all the recipes today and throughout the week:
Take a look at all the fabulous Holiday Dish Recipes: