Spinach Stuffed Mushrooms are bite-sized treats that pop with flavor when you give them a bite. A double whammy of cheesy goodness from smooth cream cheese and mozzarella cheese. They get an extra bonus of zing from artichokes in the stuffing.
Even better, they are low- fat and better for your choice for an appetizer.
These spinach stuffed mushrooms can be prepped ahead of time and baked right before serving.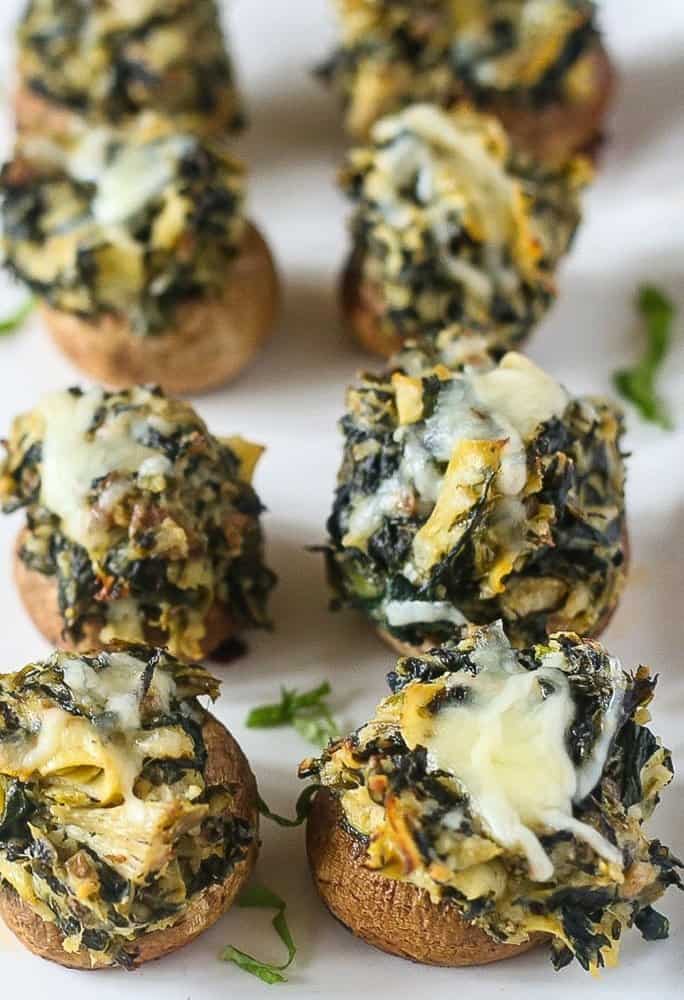 Spinach Stuffed Mushrooms
The mushrooms are perfect for Mother's Day, Christmas, tailgates, any holiday! A great way to add a vegetarian treat for your family and friends.
Best Mushrooms for Stuffing
Use small white button or Baby Bella mushrooms. Especially for parties, the small mushrooms are so easy to handle. Use the stem in the stuffing for extra flavor.
How do I clean mushrooms?
Use a paper towel or napkin to wipe the mushrooms clean and don't forget to clean the stems. I have a lot of great info about cleaning and storing mushrooms as well as the nutrients in mushrooms in my Easy Sauteed Mushrooms Recipe.
For very specific information on mushrooms, check the USDA National Agricultural Library for details.
Can I use frozen spinach in this recipe?
Frozen spinach can replace fresh spinach. For every 1 pound of fresh spinach equals 10 ounces of frozen.
If using frozen spinach, how do I prepare it for the stuffing?
Defrost the spinach in the fridge. It can take a few hours to defrost. Drain the spinach of excess liquid by either squeezing in a kitchen towel or cheesecloth.
Another option is to place the spinach in a mesh colander on top of another pan to catch the liquid. Cover the spinach with a piece of plastic wrap. Let it thaw overnight to squeeze the liquid out of spinach.
Can the stuffed mushrooms be made ahead of time?
Absolutely, make them one day ahead. Follow the instructions to bake them and serve.
How long can the stuffed mushrooms keep in the fridge after they bake?
Keep the stuffed mushrooms in an airtight container for about 3 days.
Can I freeze spinach stuffed mushrooms?
I'm not a fan. Mushrooms retain a lot of water. When we made an attempt to freeze, the texture of the mushroom can change. I do not encourage freezing these mushrooms.
Variations to use for these spinach stuffed mushrooms:
Use other leafy veggies such as kale, escarole, or swiss chard in lieu of the spinach as part of the stuffing. Also feel free to try other cheese in the recipe such as Fontina, Gruyere, cheddar, or brie.
This post contains affiliate links for your convenience. As an Amazon Associate, I earn from qualifying purchases.
Thank you so very much for being apart of Everyday Eileen!
SHOP THIS RECIPE
Baking Trays: This is a favorite to use for so many recipes. Multiple trays are always used in the kitchen.
Cheese Grater: Every kitchen needs a good one with multiple grate choices.
Enjoy our store where we share great finds for not just cooking, I hope you check it out here, Everyday Eileen.
You may enjoy these other recipes with mushrooms:
Crab Stuffed Mushrooms: Crab stuffing is amazing in mushrooms. Another easy recipe.
Grilled Portobello Mushroom Burger: A personal favorite veggie burger.
Salisbury Steaks: Rich ground beef sauteed in a brown gravy loaded with mushrooms, yum.
Oven Roasted Potatoes & Mushrooms created by Teaspoons of Goodness is another amazing recipe I hope you try.
How to make Spinach Artichoke Stuffed Mushrooms
Clean the mushrooms using a moist paper towel and remove and chop the stems and set aside to be used to add in the filling. Brush olive oil on the bottom of mushroom caps, set aside.
Over medium heat in a saute pan add the unsalted butter, garlic, chopped mushroom stems, and spinach and saute for about 5 minutes.
Turn heat off or remove from the heat source, add to the pan the sliced artichokes, low-fat cheeses, and panko breadcrumbs.
Combine the filling flavors into the cleaned mushrooms. Bake the spinach artichoke stuffed mushrooms for about 15 minutes.
The cheese will be melted and the mushroom soft. Serve immediately!
Give us a like on FACEBOOK
For great recipes and tips, follow along on Pinterest
Thank you for always sharing my passion and love for food and family!
xo! Eileen
First Published: May 02, 2018... Last Updated: December 31, 2019
We hope you enjoy the recipe. Giving it a 5-star rating and any comments are super helpful for me and very much appreciated.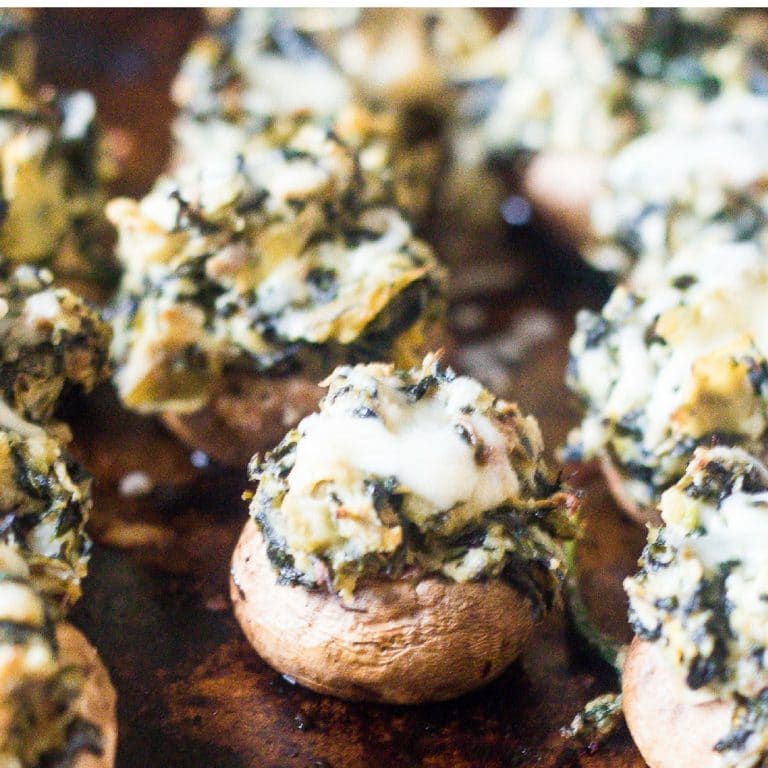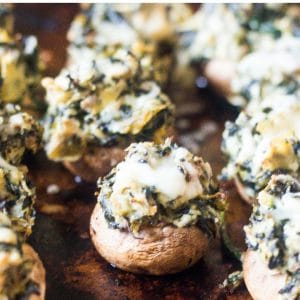 Spinach Artichoke Stuffed Mushrooms
Spinach stuffed mushrooms, flavor-packed mushrooms filled with flavor from double cheese, spinach, and artichoke. A low-fat appetizer that is great for family parties and holidays.
Print
Pin
Rate
Equipment Needed:
Ingredients
10

ounce

small white mushrooms, about 15 mushrooms

½

teaspoon

unsalted butter

1

clove

garlic, peeled and minced

3

cups

baby spinach or 10-ounce frozen spinach

see note 1

½

cup

marinated artichokes hearts, diced

drain the liquid

2

ounce

reduced-fat cream cheese

½

cup

skim milk mozzarella, shredded

3

Tablespoons

Panko breadcrumbs

1

tsp.

olive oil

salt and pepper, to taste
Instructions
Preheat oven to 400 degrees.

Clean the mushrooms, including the stem by wiping them with a paper towel.

Remove the stems from the mushrooms and dice them into small pieces and set aside.

In a skillet, over medium heat, melt the unsalted butter and add the minced garlic, diced mushroom stems, and the baby spinach. Saute for about 5 minutes to cook lightly brown the garlic and mushroom stems and to wilt the spinach.

Remove the pan from the heat. Add the diced artichokes, cream cheese, shredded mozzarella, and panko breadcrumbs. Season with salt and pepper to taste.

Place the olive oil in a small bowl, use a pastry brush to dip into the olive oil and coat the mushroom caps lightly with the olive oil. Then place the mushrooms on a cookie sheet.

Use a teaspoon to fill each mushroom cap, press filling inside the cavity of the mushroom. Usually, about 2 teaspoons of the filling will fill the mushroom.

When all mushrooms are filled, place the cookie sheet in the oven for about 15 minutes until mushrooms are golden brown and cheese is melted.
Notes
If using frozen spinach, it must be defrosted and excess fluid drained before proceeding with the recipe.
The filling can be made ahead 2 days and keep tightly covered in the fridge.
If prepping the entire stuffed mushroom, keep in an airtight container until ready to bake. No more than 2 days.
I am not a registered dietician but I try to give the most accurate nutritional information as possible. Any nutritional data I provide is an approximation and actual dietary information can vary based on ingredients and portion sizes.
Nutrition
Serving:
1
mushroom
|
Calories:
46
kcal
|
Carbohydrates:
3
g
|
Protein:
2
g
|
Fat:
2
g
|
Saturated Fat:
0
g
|
Cholesterol:
4
mg
|
Sodium:
93
mg
|
Potassium:
115
mg
|
Fiber:
0
g
|
Sugar:
0
g
|
Vitamin A:
670
IU
|
Vitamin C:
3.5
mg
|
Calcium:
48
mg
|
Iron:
0.5
mg