Coconut Oil Brownies are going to rock your world! These tasty brownies are made with Barlean's Butter Flavored Coconut Oil! They are made with butter flavored coconut oil which makes these amazing chewy brownies! Homemade brownies are a personal favorite and who doesn't love easy one bowl brownies that taste great!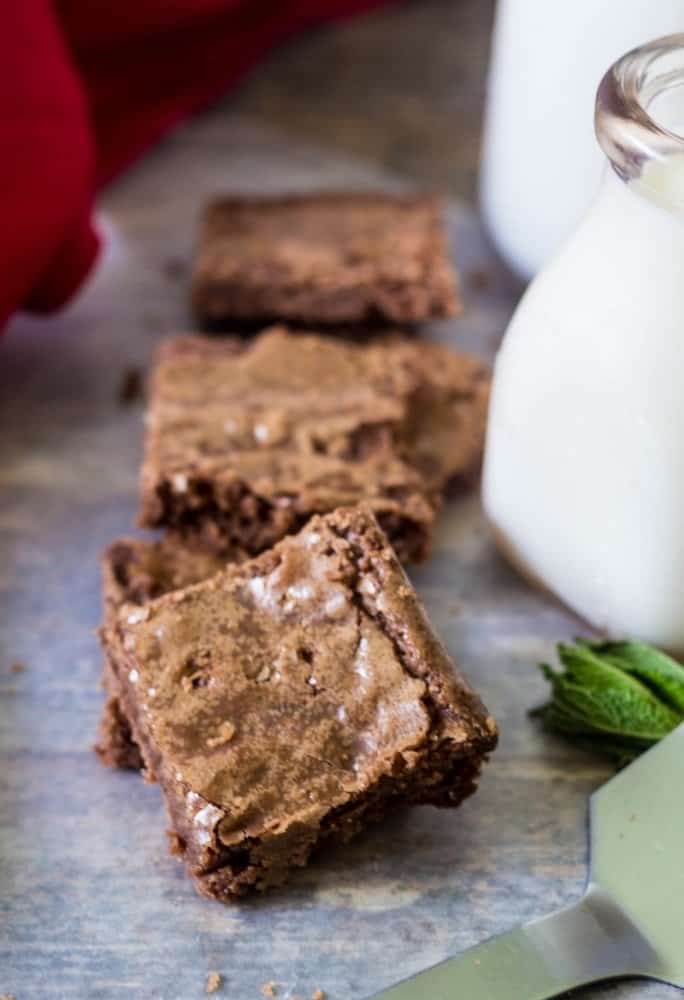 Chewy Coconut Oil Brownies, an easy peasy one bowl brownie recipe that will become a family favorite! #choctoberfet2018
Barlean's Butter Flavored Coconut Oil is a favorite baking and cooking ingredient of mine. When Barlean's announced they were one of the #Chotoberfest2018 sponsors, it made my day! It was a no-brainer, Coconut Oil Brownies must be made! Coconut Oil is a great alternative to butter in many baking recipes! These chewy brownies are a family favorite and always requested to be made!
I use Barlean's Butter Flavored Coconut Oil, these are a couple of my published recipes:
Both recipes very popular with my family and favorites of many readers! Personally, these are two of my favorite chocolate treats!
Baking brownies with my kids have always been one of my favorite things to do with them! I've been baking with them so long, we have it down to a science. It is no secret, my youngest is a master baker! Dee helped develop this recipe and she makes these for her teammates all the time.
My beautiful niece is always ready to bake with me. She loves homemade brownies! I make many varieties of brownies. Coconut Oil Brownie Recipe is fabulous, easy, and so darn good! Easy to make with your kids, grandkids, nieces or the neighbor kids.
Tips for Baking with Kids:
When I have a few kids helping me, each one gets their own bowl to work with the ingredients. The wee ones take home their brownies too. Otherwise, I may eat them all, I don't have enough hours to walk of the deliciousness, ha! I have such a blast making them with the wee ones and the conversations we have, hilarious, I can write a book!
Frequently Asked Questions on Coconut Oil Brownies:
Can coconut oil be used instead of butter in baking and cooking?
Coconut oil can be used 1:1 for butter. If a recipe calls for 1 teaspoon of butter, 1 teaspoon of coconut oil or butter flavored coconut oil can be used.
Is Barlean's Butter Flavored Coconut Oil vegan?
Yup, its vegan, dairy-free, gluten-free, paleo. A great substitute for many dietary restricted diets.
Can Coconut Oil Brownies be made ahead and frozen and eaten later?
Yes! These brownies freeze really well! I love using my Food Saver to freeze them. The Food Saver is just that, an awesome tool to keep food very well frozen. No freezer burn. Hint, make ahead of time and freeze for parties, bdays and Holidays. Time saver!
How do you make Homemade Brownies and send via the mail to family and friends?
Baked goods are one of the things I send to my son in California! Brownies are a favorite.
I do seal them using a food saver.
Then mail the homemade brownies to him in a cardboard box.
You can also use clear storage bags, ensure all the air out of the bags before sealing.
Mail to your family and wait for that phone call of thanks!
Can a combo of butter and coconut oil be used to make homemade brownies?
Absolutely. I experiment all the time when making coconut oil brownies. I get different textures of brownies with different combos of the "fat Ingredient" to bake brownies. Oil lets the chocolate flavor come through stronger. Butter aerates and caused the brownies to rise.
Why does this brownie recipe use unsweetened chocolate squares to make coconut oil brownies?
Using solid chocolate squares and melt it enables a chewier brownie while cocoa powder makes a more cake-like brownie! I want a chewier brownie with this recipe.
Homemade brownies are one of the tastiest snacks! Coconut Oil Brownies adds a flavor spin on brownies and they are so good with a cold glass of milk!
This post contains affiliate links for your convenience (which means if you make a purchase after clicking a link I will earn a small commission which helps keep my blog up and running but it won't cost you a penny more!) We are a participant in the Amazon Services LLC Associates Program, an affiliate advertising program designed to provide a means for us to earn fees by linking to Amazon.com
I also have a store where I am always updating great finds for not just cooking, I hope you check it out here, Everyday Eileen I will continue to update it regularly! Click here to read my full disclosure policy.
Thank you so very much for being apart of Everyday Eileen!
[dropshadowbox align="none" effect="lifted-both" width="auto" height="" background_color="" border_width="1″ border_color="#dddddd" ]
Tools You May Need to Make Fudgy Coconut Oil Brownies:
Brownie Pan
:
I love this brownie pan! A recent gift from a friend! It Sliced the brownies so well! Perfect portion sizes, who knew my messy self-has OCD when it comes to brownie wedges. Everyone says the brownies are better than the bakery but the slices look like they came from a bakery. SSShh, our secret! I double the recipe and send half to my son. You can freeze your second half for another time.
Food Saver:
The Food Saver has become the key to savings for me as far as freezer meals and freezing food. I love this because the Food Saver seals in the flavors and there is no freezer burn. This food saver is for everyone who freezes a lot of meat, veggies, smoothies or does freezer meals! I have had no issues with food discoloring or freezer burn!
Stainless Steel Mixing Bowls:
I collect mixing bowls, yes I know, lol! I love these because they not only have lids and a handle but the non-slip bottom are fantastic! A must have for me when mixing. [/dropshadowbox]
How to Make Fudgy Coconut Oil Brownies:
Spray baking pan with non-stick spray set aside.
Stovetop: In a large bowl over a pot of water, melt the coconut oil and chocolate squares. Melt in the microwave, Barlean's Butter flavored Coconut Oil and unsweetened chocolate squares
Remove from heat, Blend in sugar till well mixed.
Add an egg, mix well.
If adding nuts, mix in now.
Fold in flour and baking soda.
Pour into prepared pan.
Bake about 30 minutes. Let cool and slice into squares if not using brownie pan.
Makes about 18 brownies.
Note: Use the brownie pan and double the recipe and freeze half for later!
I love any comments or questions, please leave below!
I HOPE YOU CONTINUE CONNECTING WITH ME
FACEBOOK INSTAGRAM, PINTEREST, TWITTER, BLOGLOVIN, GOOGLE
Love this recipe, it would be awesome if you give it a 5-star rating and share comments below!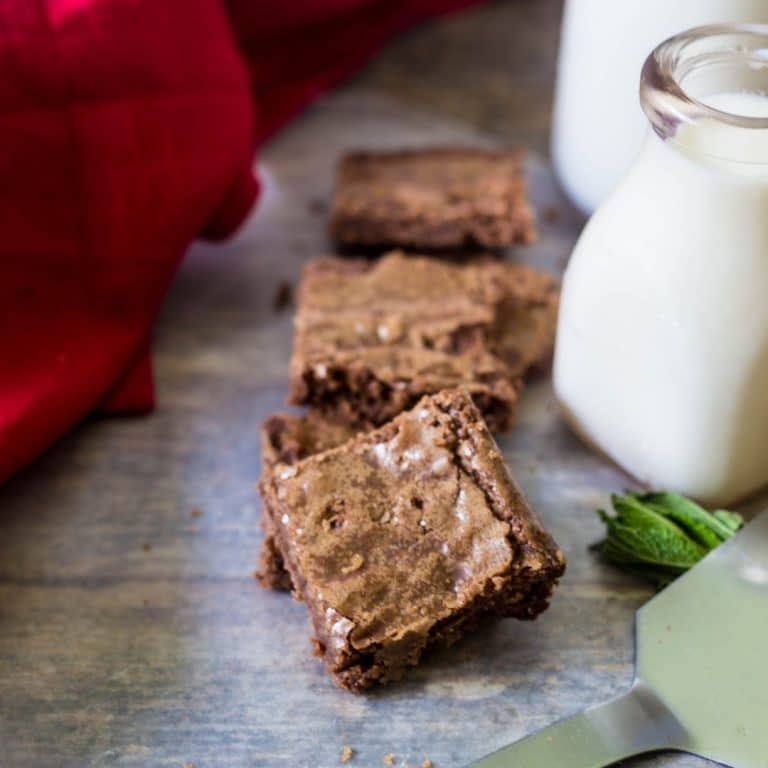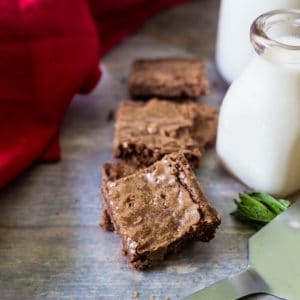 One Bowl Fudgy Coconut Oil Brownies
One bowl brownies with little prep and delicious results. Butter Flavored Coconut Oil makes these homemade brownies over the top delicious! Make a double batch. The fudgy brownies freeze well too!
Print
Rate
Equipment Needed:
Ingredients
2

ounces

unsweetened chocolate

Note 1

½

cup

Butter Flavored Coconut Oil

Note 2

1

cup

sugar

2

large

egg

1

teaspoon

pure vanilla extract

½

cup

flour

½

teaspoon

baking powder

½

teaspoon

salt

½

cup

chopped nuts
Instructions
Spray an 8-inch pan with non-stick cooking spray. Set aside. Preheat oven to 350 degrees.

In a large bowl, over a pan filled with water, add the unsweetened chocolate and butter flavored coconut oil. Stir to melt.

Blend in the sugar. Stir to combine well. Add in the eggs, one at a time. Blend well, then add vanilla extract. Fold in flour and baking powder to gently mix ingredients. If adding nuts, add now.

Pour into the seasoned baking pan. Place in center rack of the oven and bake for 30 minutes. Toothpick should come out clean. Let cool for about 30 minutes before slicing into squares. Makes 18 brownies.
Notes
Note 1: Chocolate is usually sold in bars with each square being 1 ounce
Note 2: Barlean's Butter Flavored Coconut Oil is used in this recipe.
The brownies can be kept well wrapped with plastic for a few days. Mine have never lasted for more than a day. So the actual number cannot be verified. I have frozen the brownies for about 4 months in smaller serving bags. I do use the food saver to freeze for amazing results. They defrost in the fridge. Feel free to warm them in the oven at 250 degrees for 10 minutes wrapped in foil. 
I am not a registered dietician, I do my best to provide the most accurate nutritional values. Any nutritional data I provide is an approximation. Actual dietary information can vary based on ingredients and portion sizes
 
Nutrition
Serving:
1
brownie
|
Calories:
138
kcal
|
Carbohydrates:
14
g
|
Protein:
1
g
|
Fat:
8
g
|
Saturated Fat:
5
g
|
Cholesterol:
20
mg
|
Sodium:
72
mg
|
Potassium:
36
mg
|
Fiber:
0
g
|
Sugar:
11
g
|
Vitamin A:
30
IU
|
Calcium:
11
mg
|
Iron:
0.4
mg
Pin Coconut Oil Brownies to make anytime here: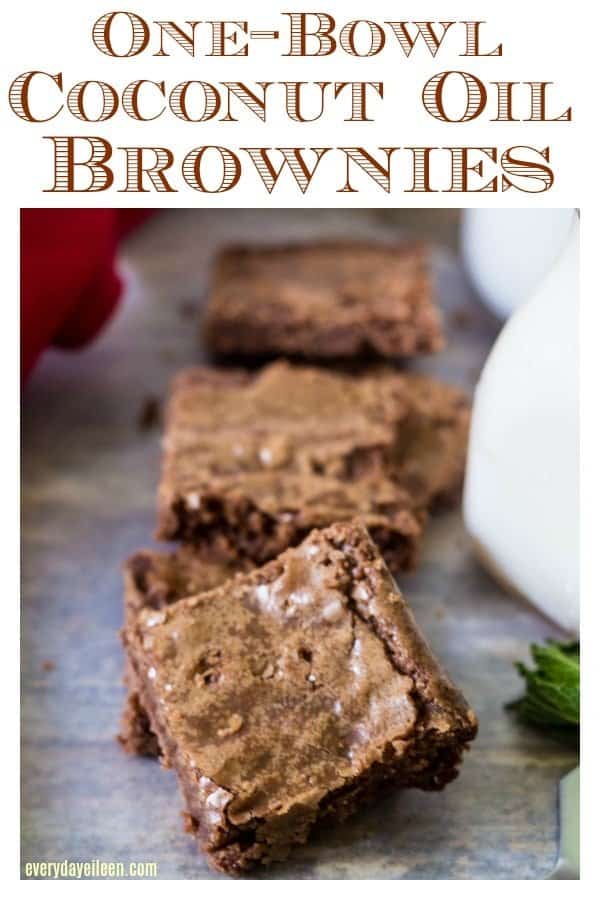 It is #Choctoberfest2018, run by a wonderful group of bloggers at The PinterTest Kitchen!
Check out all the information to enter to win great prizes from our sponsors in my Welcome to #Choctoberfest2018 post!
CHECK OUT ALL OF TODAY'S AMAZING RECIPES:

"