Easy Cheesy Scalloped Potatoes are a fantastic cheesy potato side dish! Cheesy goodness that I always associate with comfort food and family. These potatoes are a favorite Holiday side dish for my family!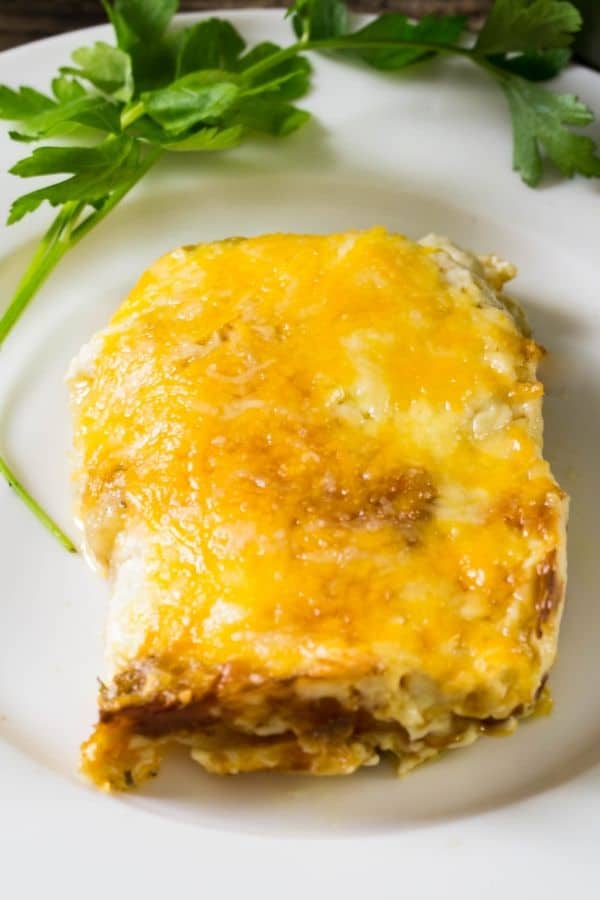 Cheese and potatoes, a match made in heaven! Now some say scalloped potatoes while others say au gratin! Me, I say call these whatever you want as long as you make them, so darn delicious!
These Cheesy Scalloped Potatoes are very easy to put together! Many scalloped and au gratin potato recipes call for making a cream or cheese sauce for the potatoes. Well, my friends, I have spent a lot of time figuring out how to make the prep work for this recipe as easy as possible! You are going to love how easy it is to make these delicious cheesy potatoes.
Thanksgiving is coming up and I'm focusing on side dishes this week! My Scalloped Potatoes Recipe was an obvious no-brainer, must share with you! How could I not, it's about time!
What I love about these potatoes is how easy it is to make and how delicious they taste! The potatoes are layered and then there is the addition of cream, diced onions with spices and herbs, and of course cheddar cheese! Yum!
I could eat the entire bowl of these cheesy potatoes!
When I say eat the whole bowl, while I could, I won't. I do share many healthy side dishes with you like my tasty Brussels Sprouts. Today is a what I call a moderation recipe! Enjoy every bite of these super delicious cheesy scalloped potatoes but don't forget, we walk around the block after dinner! 🙂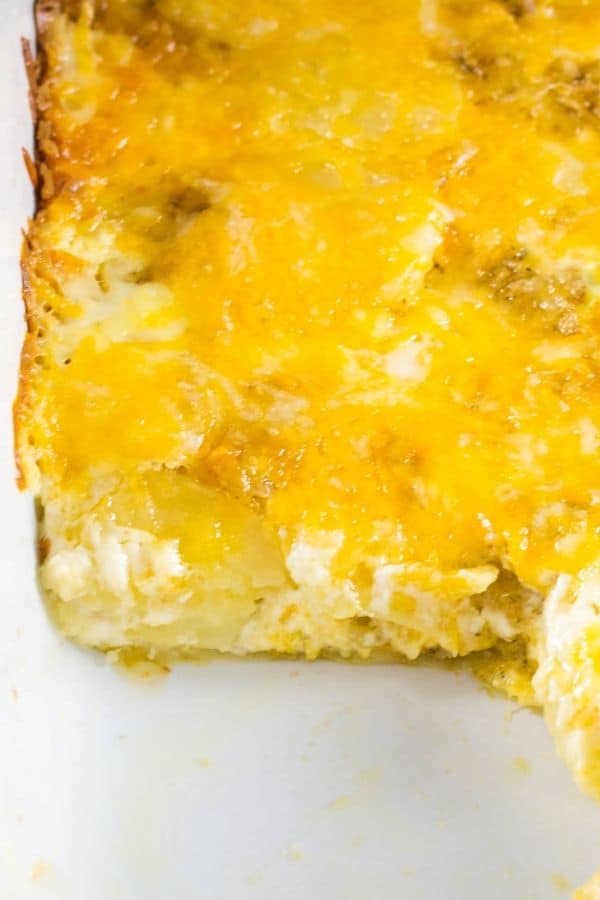 FAQs about Scalloped Potatoes:
Where does the name Scalloped Potatoes originate?
The theory of scalloped potatoes is the potatoes are fanned in the casserole dish and look like a scallop shell, so there ya go Scalloped Potatoes!
Can Cheesy Scalloped Potatoes be made ahead and stored in the freezer?
Unfortunately, any dish with cream usually does not freeze well! Scalloped potatoes would not do well frozen.
What is the difference between scalloped potatoes and au gratin potatoes?
In theory, scalloped potatoes have a creamy sauce with herbs while au gratin potatoes usually sliced thinner and have cheese and breadcrumbs. The lines often cross often as in this recipe. This is my scalloped potato recipe forever and that's that!
Can Cheesy Scalloped Potatoes be made ahead and reheated?
Yes, I have made this recipe a day ahead and baked it for an hour. Let it cool, cover with foil and keep in the fridge. Finish cooking when ready to eat with foil on for about 20 minutes.
What types of potatoes are best to make this potato recipe?
The sauce is creamy for scalloped potatoes and a starchy potato goes best with this recipe. Use either Russet or Yukon or a combo of both for Cheesy Scalloped Potatoes.
Can you vary the cheese to make Cheesy Scalloped Potatoes?
I always tell you, cooking is great because you can use your imagination. I use Parmesan Reggiano and cheddar cheese in this recipe. You can use other cheeses like gruyere and Colby Jack. Use your imagination.
What can you serve Cheesy Potatoes with?
This post contains affiliate links for your convenience (which means if you make a purchase after clicking a link I will earn a small commission which helps keep my blog up and running but it won't cost you a penny more!) We are a participant in the Amazon Services LLC Associates Program, an affiliate advertising program designed to provide a means for us to earn fees by linking to Amazon.com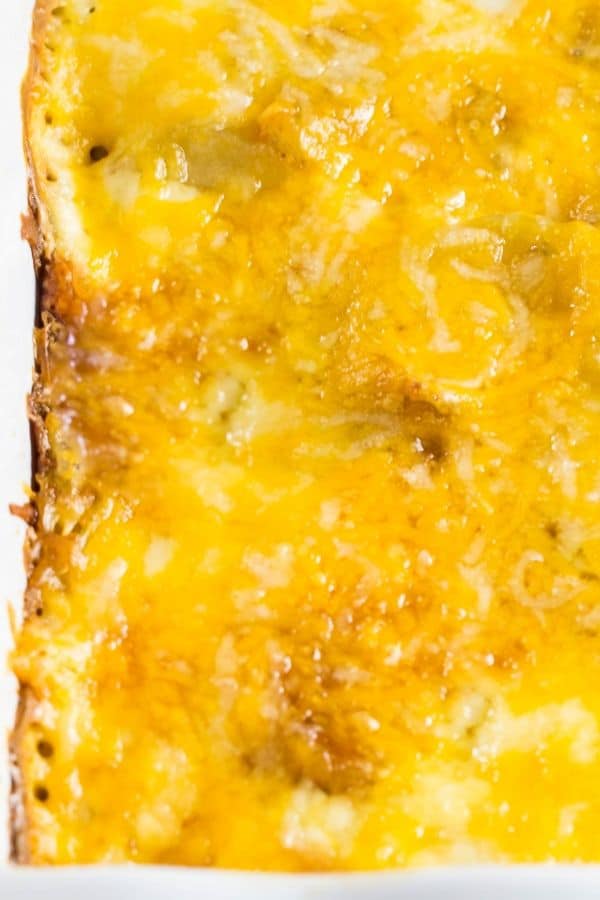 Tools You May need to Make Easy Cheesy Scalloped Potatoes:
Mandolin Slicer: Using a mandolin slicer makes this recipe even easier to make! This is a great mandolin and I use it all the time.
Casserole Dish: This 3 piece set is awesome. Great for this recipe but also for pasta, chicken, various one dish recipes!
I also have a store where I am always updating great finds for not just cooking, I hope you check it out here, Everyday Eileen I will continue to update it regularly!
Tutorial to Make Easy Cheesy Scalloped Potatoes:
In a large bowl, combine chopped onions, Parmesan Reggiano cheese, flour, dried parsley, ground thyme, garlic powder, salt, black pepper, paprika, and dry mustard. Stir to combine. Set aside.
Shred 2 cups cheddar cheese.
Lightly butter a 9x13 casserole dish.
Use a mandolin slicer ( if you have one) to slice the peeled potatoes using the ⅛ inch slice.
Spread half of the sliced potatoes in the bottom of the casserole dish.
Sprinkle half of the onion Parmesan Reggiano cheese mixture over the potatoes.
Add half the shredded cheddar cheese on the potatoes.
Repeat steps 5-7.
Pour the cream over the entire potato mixture.
Cover the dish with foil and bake at 350 degrees for about 1 hour. Remove foil bake another 15 minutes, to cook potatoes through.
Serve and enjoy!
When you make these Cheesy Scalloped Potatoes, take a pic and tag me on Instagram @everyday_eileen or #everydayeileen
I love any comments or questions below!
I HOPE YOU CONTINUE CONNECTING WITH ME:
Easy Cheesy Scalloped Potatoes:
Adding this delicious cheesy potato side dish to your Thanksgiving, Holiday, or family celebration is going to be a crowd pleaser. Feel free to make this a day ahead and reheat when ready to eat!
If you enjoy this recipe, please give it a 5-star rating! Also, any comments are super helpful for me and very much appreciated!
📖 Recipe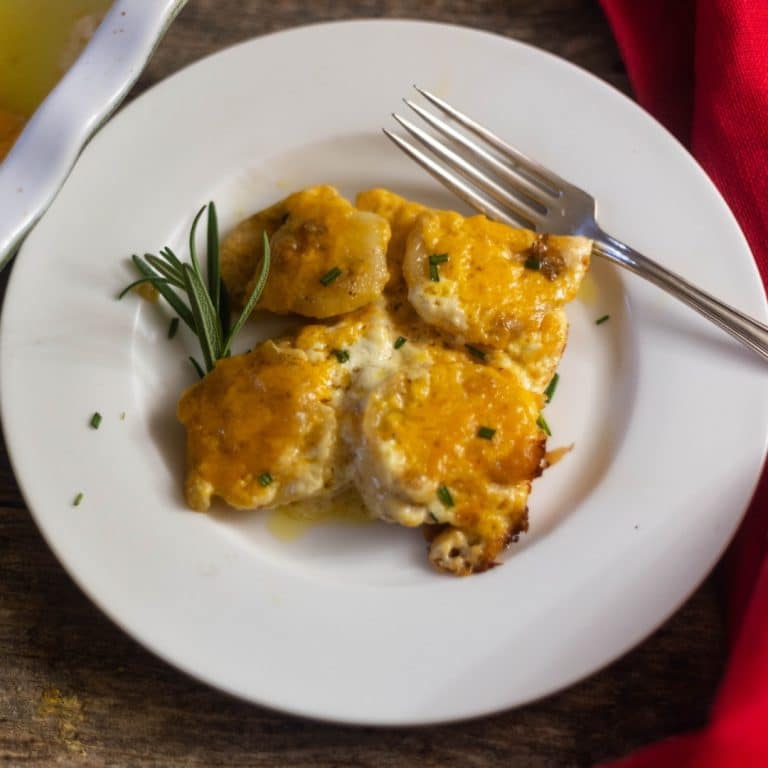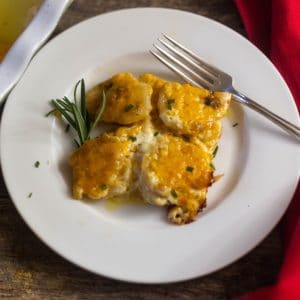 Easy Cheesy Scalloped Potatoes
Delicious thinly sliced potatoes layered with cream, cheddar cheese, and herbs. A great side dish for any Holiday or family gathering!
Print
Rate
Equipment Needed:
Ingredients
4

cups

potatoes, peeled and sliced ⅛ inch thick

Note 1
Onion/Parmesan Cheese Mixture
1

medium

onion, peeled and diced

⅓

cup

Parmesan Reggiano cheese

2

Tablespoons

flour

Note 4

1

teaspoon

dried parsley

1

teaspoon

dried thyme

½

teaspoon

garlic powder

½

teaspoon

Kosher salt

½

teaspoon

black pepper

¼

teaspoon

paprika

¼

teaspoon

dry mustard
Cheddar Cheese and Cream Layers
2

cups

cheddar cheese, shredded

Note 3

1 ½

cups

light cream

Note 2

2

Tablespoons

light butter, cut up into small pieces
Instructions
Preheat oven to 350 degrees. Lightly spray a 9x13 casserole dish with butter spray. Set aside.

In a bowl, combine diced onion, Parmesan Reggiano cheese, flour, parsley, thyme, garlic powder, Kosher salt, black pepper, paprika, and dry mustard. Stir to combine. Set aside.

Place half of the sliced potato mixture into the casserole dish. Sprinkle half the butter pieces over the potatoes, then half the onion Parmesan Reggiano mixture on top of the potato layer. Sprinkle half the shredded cheddar cheese mixture onto the potatoes.

Repeat the layering of potatoes, remaining butter, onion mix, cheddar cheese mixture.

Gently pour the cream over the entire mixture.

Cover with aluminum foil and place in oven to bake for an hour. Remove cover and place back in oven for about 15 minutes. (Note 5)
Notes
Note 1: Use either Russet or Yukon Gold potatoes and slice potatoes ⅛ inch thick. If you do not have a Mandolin slicer, thinly slice potatoes after you peel them. Very important, if potatoes are thicker, you will need to increase baking time for the potatoes.
Note 2: Fat-free half-and-half can be swapped out for the light cream.
Note 3: I use a low-fat cheese when possible.
Note 4: If you prefer a Gluten-Free dish, use almond flour.
Note 5: Depending on how thick you sliced the potatoes, they may need more time. If they are sliced ⅛ inch, they should be cooked through.
Note 6: If you want to make ahead, make the day before and bake for one hour covered with foil. When ready to finish, cook another 20 minutes covered.
I am not a registered dietician, I do my best to provide the most accurate nutritional values. Any nutritional data I provide is an approximation. Actual dietary information can vary based on ingredients and portion sizes
This is a week of celebration of side dishes with some of my favorite food blogger friends! Thank you to Heather, who runs Hezzi-D's Books and Cooks for hosting this weeks event. These sides are happening Monday, Wednesday, Friday, and Sunday! Don't forget to check out all the recipes today and throughout the week:
Take a look at all the fabulous Holiday Dish Recipes:
Check out all the Holiday Side Dish Recipes: