Enjoy a delicious Healthy Black Forest Cherry Chocolate Smoothie that is so full of fresh flavors and tastes amazing! Make with either fresh or frozen cherries that adds great flavor and natural sweeteners and unsweetened chocolate or chocolate protein powder.  All of which are wonderful for your body and full of antioxidants!  A perfect morning smoothie that tastes like a tasty Black Forest Cake without all those calories!  Perfect after work-out snack or a great mid-day snack!  Super kid-friendly too!
Disclaimer: I was not financially compensated for this post. I received a sample for review purposes from Northwest Cherry Growers! The opinions are completely my own.  Thank you for supporting the wonderful folks who keep me cooking! Go get some delicious cherries and make some yummy recipes!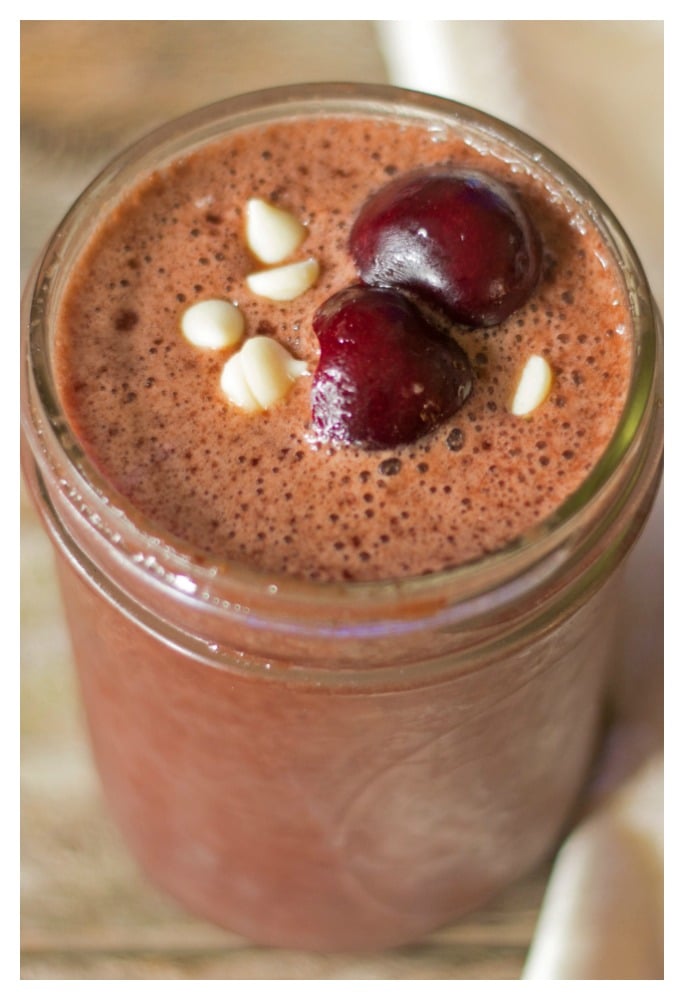 We are in one of my favorite times of year,  cherry season! The grocery stores are full of cherries and it is the time to jump in and buy cherries and make some amazing recipes! While you are at it, freeze some of those cherries to preserve those amazing cherries for delicious recipes! You will want to make this yummy healthy black forest cherry chocolate smoothie to enjoy throughout the year!  This healthy cherry chocolate smoothie tastes like Black Forest Cake without the calories! An amazing way to get your chocolate fix without adding fat into your diet! This is a delicious four ingredient chocolate fix! Don't forget to freeze fresh cherries to use through the winter!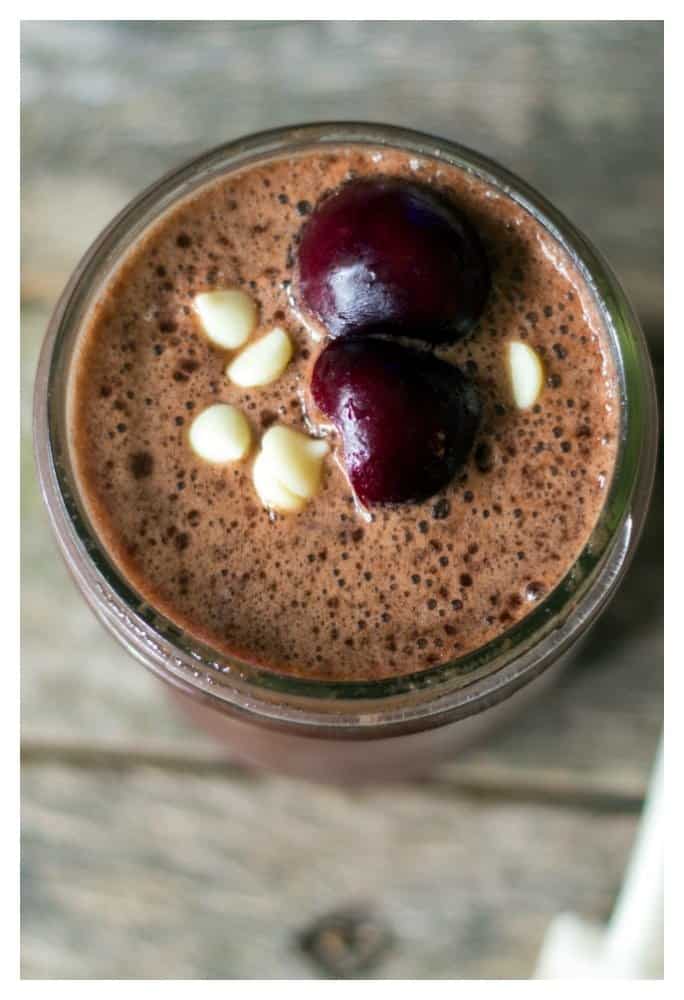 The wonderful folks at the Washington State Fruit Commission sent me some of their beautiful crop of cherries! I have a few wonderful recipes to share, the first being this absolutely delicious Healthy Black Forest Cherry Chocolate Smoothie!  I have made this a few times as we love it so much and the temps are sitting at 100 degrees! This smoothie is just so refreshing! This is a great four ingredient base smoothie too! We add in spinach and kale! A great way to get the kids their veggies and they have no idea they're eating something with spinach! Sssshhh, we won't tell them either! They think it's a cherry chocolate shake!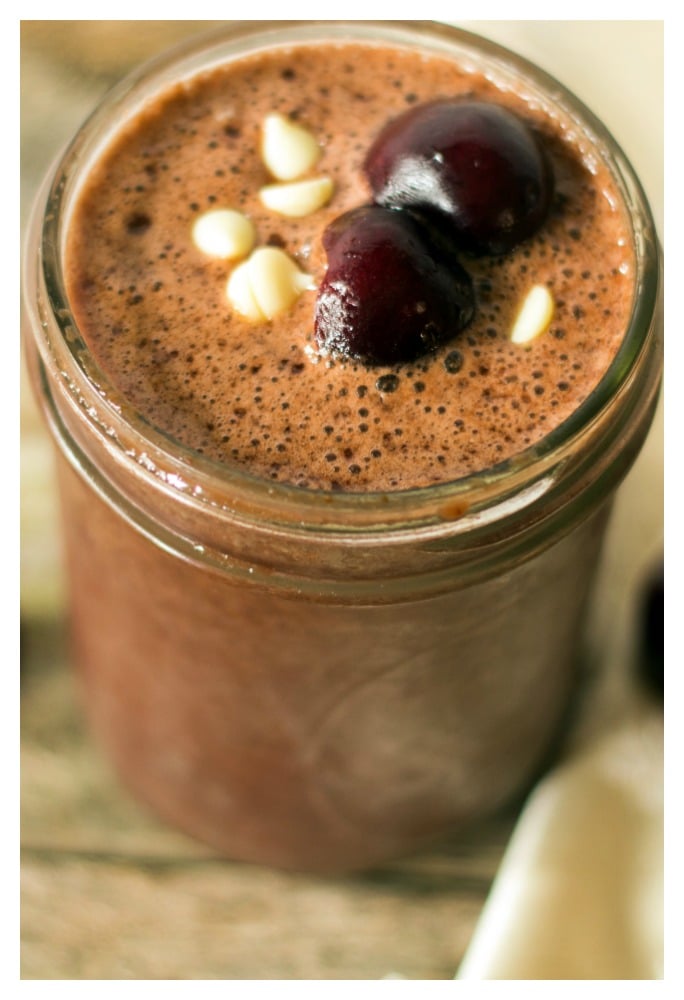 I have been experimenting with these amazing cherries and for this smoothie, either fresh or frozen cherries will work. Also for the chocolate, use either unsweetened cocoa powder or for those looking for more protein into your diet, use chocolate protein powder! I just cannot tell you all how many times we have made this smoothie and the possibilities are endless. Don't forget to try this with healthy cherry chocolate smoothie with some greens ave added greens for added antioxidants and vitamins. This Healthy Black Forest Cherry Chocolate Smoothie is seriously so full of great cherry/chocolate flavors and its so darn delicious!
Cherries are so good for our bodies and they provide many health benefits including:
a great source of potassium that aids in reducing the possibility of strokes.
cherries contain melatonin  which helps with sleep habits.
assist in the reduction of gout and has a powerhouse of antioxidants for a healthy life.
arthritis relief.
bloating relief.
Pure 100% unsweetened cocoa powder is also full of greatness! The cocoa powder contains flavonoids. The aid in blood flow and prevent inflammation! I have read and my Doctor agreed that cocoa powder can be a natural anti-depressant! Yipee! Chocolate and happy = everyone is happy! There is some caffeine in cocoa powder, I will take this smoothie over a soda filled with caffeine any day!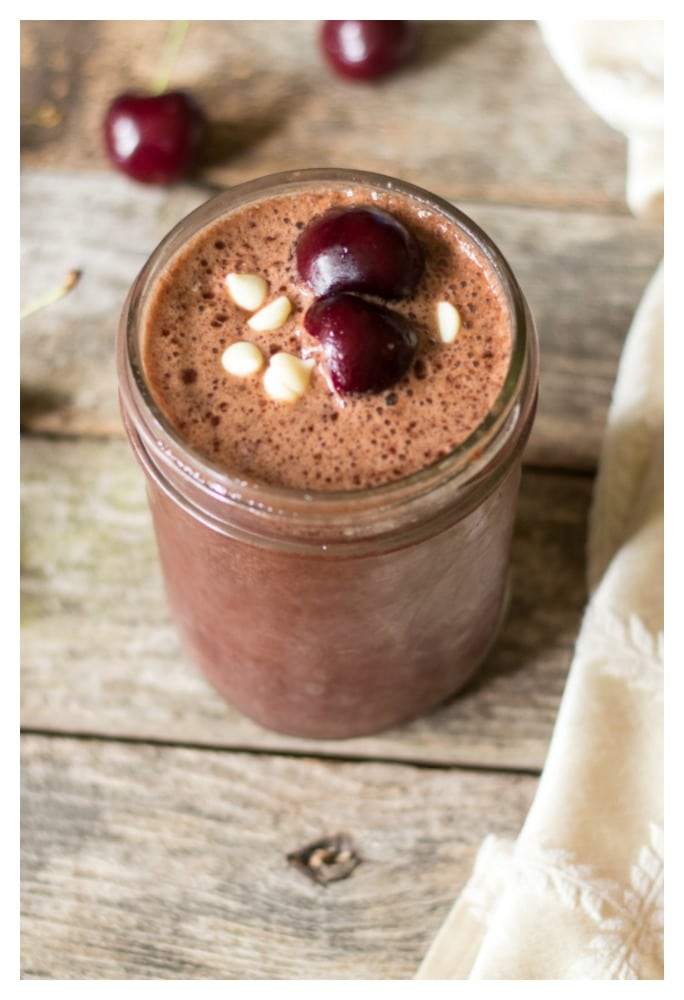 How to freeze cherries for Healthy Black Forest Cherry Chocolate Smoothies and any tasty cherry recipe:
Cherries can be frozen with pits and stems attached, if doing  so, rinse and dry cherries, leave the stem on as it retains oxygen in the cherries so they keep their color and will not break down.
Lay cherries on a cookie sheet, make sure they are not touching and place in freezer for about an hour.
Remove from freezer and place in freezer bags. I generally separate into labeled and dated 1 cup, 1 quart bags for future cooking and smoothies.
My preferred method, is freezing pitted cherries. I use a cherry pitter, well worth a small investment. Rinse and dry cherries, remove stem and pit the cherries, then continue with step 2 and 3.
I have been in a rush and froze the cherries without first placing on the cookie sheet. Some stick together, but the end results were fine!
A few recipes with similar ingredients to Healthy Black Forest Cherry Chocolate Smoothie: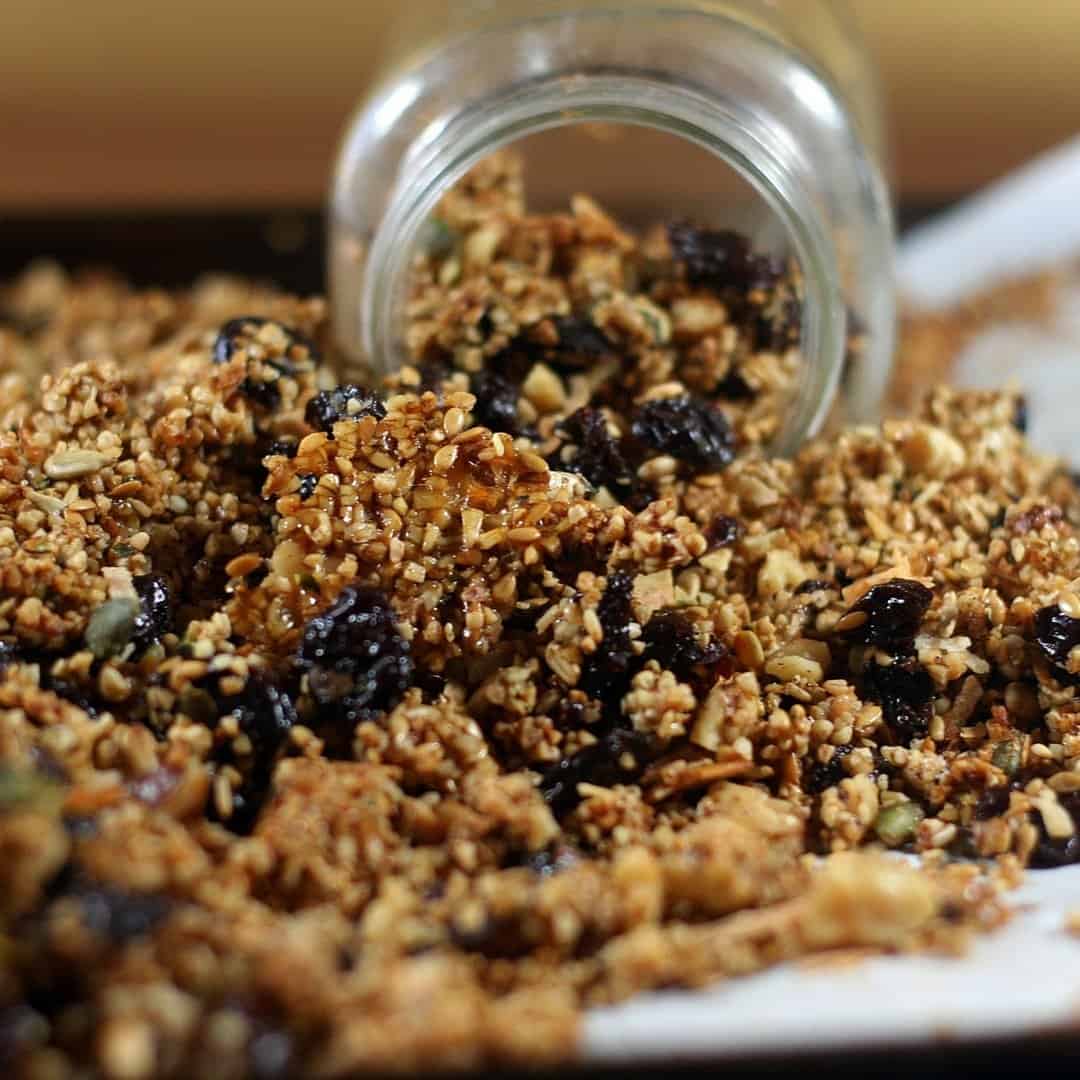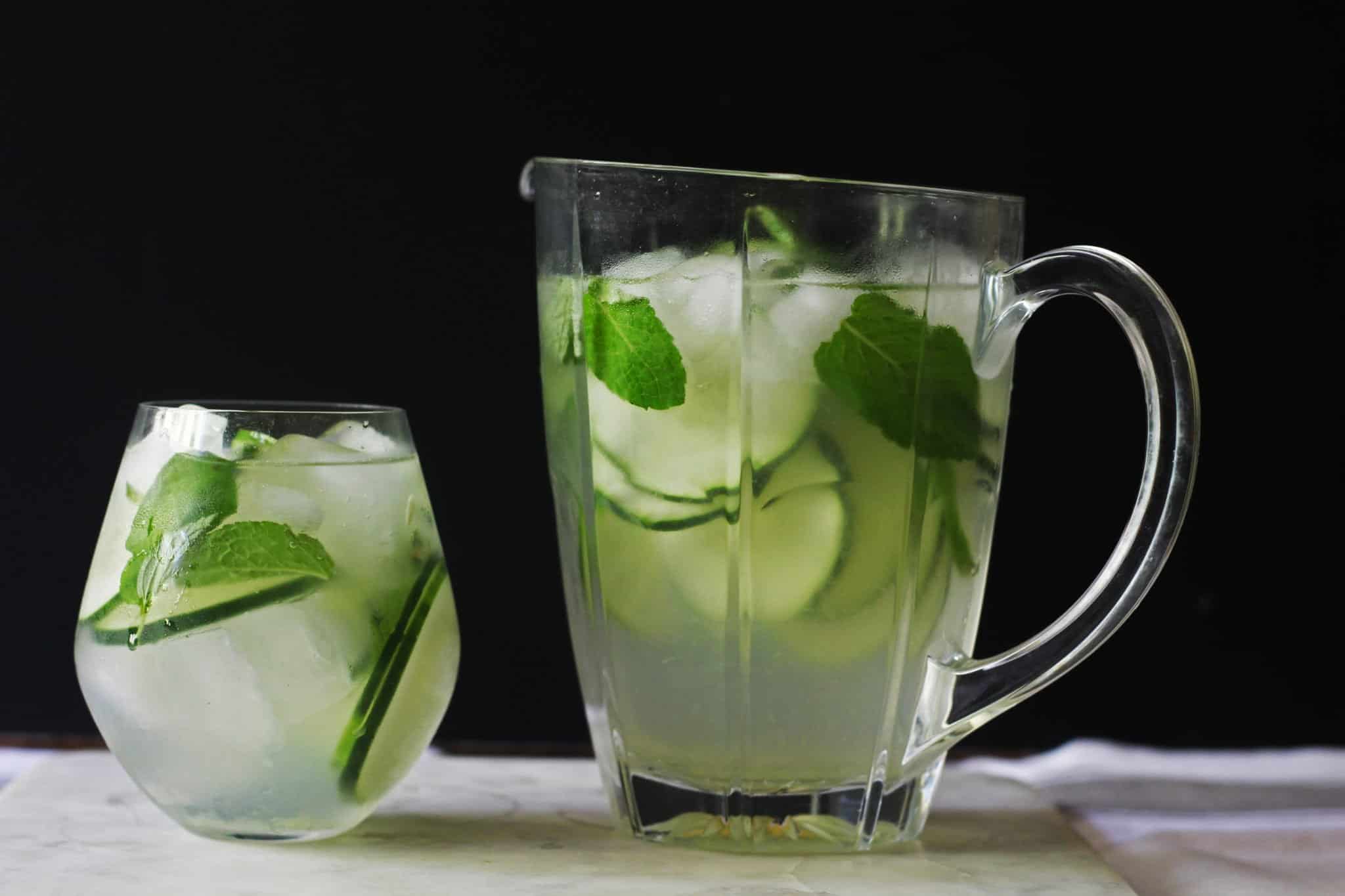 A special thank you to the wonderful people at NW Cherry Growers for sharing their fabulous produce with me! I will be having a few more delish recipes coming up next week! So stay tuned for more yumminess!
SHARE YOUR PICTURES OF ANY OF MY RECIPES ON INSTAGRAM! USE #everydayeileen! I LOVE TO SEE AND SHARE YOUR PHOTOS ON INSTAGRAM!!
SAVE THIS RECIPE TO YOUR  FAVORITE PINTEREST BOARDS! I HOPE YOU FOLLOW ME ON PINTEREST! I'M ALWAYS PINNING FROM TALENTED AND AMAZING BLOGGERS!
SUBSCRIBE TO MY NEWSLETTER TO NEVER MISS A RECIPE!
Thank you for the continued support! I am forever grateful!
Eileen  xo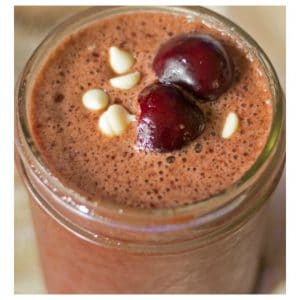 Healthy Cherry Chocolate Smoothie
A healthy and delicious cherry chocolate smoothie that tastes like a Black Forest Cake without all the calories and just 4 ingredients! Super easy and tasty and the kids love it too! Perfect pick me up mid-day snack,morning smoothie or after school snack!
Print
Pin
Rate
Ingredients
2

cups

fresh or frozen pitted cherries

1

cup

coconut water

1

cup

ice

2

Tablespoons

unsweetened cocoa powder

I use Hershey's
Instructions
In a blender combine cherries, coconut water, ice, and unsweetened cocoa powder. Crush/blend to combine all ingredients for about 1 minute. Serve immediately.
Notes
Be sure to use pure unsweetened cocoa powder. Do not use hot cocoa mix. 
I have never added a sweetener to this smoothie as I have always found it sweet enough. Feel free to add a sweetener, bear in mind that will change calorie count.
We make this often. I do add in greens on occasion if I am low in veggies that day. Spinach and kale are both awesome additions.
Nutrition
Serving:
3
serving
|
Calories:
94
kcal
|
Carbohydrates:
24
g
|
Protein:
2
g
|
Sodium:
18
mg
|
Potassium:
402
mg
|
Fiber:
4
g
|
Sugar:
18
g
|
Vitamin A:
3700
IU
|
Vitamin C:
6.6
mg
|
Calcium:
160
mg
|
Iron:
0.4
mg