Double Chocolate Zucchini Bread is a quick and easy recipe to make for any day! At less than 150 calories a slice, this is a low calorie, low-fat bread. It is freezer friendly and kids love it and don't even know they are having veggies!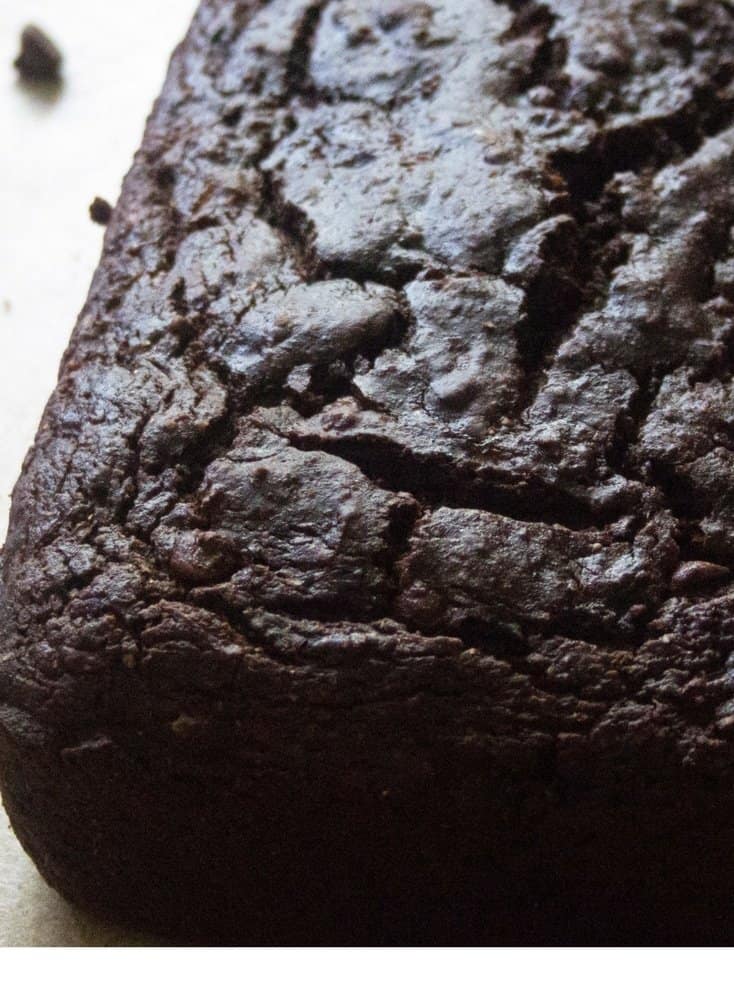 I am excited to re- share this double chocolate zucchini bread with you all! I am sure you are on the edge of your seat wondering why am I more excited about this recipe than some of my other recipes! Well, sit back and relax, I will be sharing this low-fat moist chocolate zucchini bread! In the past, I had way less confidence in my baking skills than I did in my everyday cooking skills! 🙂 Baking is so precise and for years, I rummaged through wonderful cookbooks about baking and followed the recipes, maybe tweaked something but usually followed a recipe very closely. A while ago, I decided to just start experimenting and now I have been creating and baking healthy desserts and treats to share on my blog. Well we have had many interesting things happen... I have learned when baking breads, for the first few times I make the bread, place a cookie sheet underneath the loaf pan because I have had a few volcanos. I have made my share of epic baking fails! I am so glad my family are really good sports, brave or just maybe hungry at the time I ask, " try this for me, please!" and the family has tried them all! I mostly make low-fat desserts, otherwise, I would have to add many extra hours at the gym:) So I am hoping everyone enjoys this recipe and many more of my desserts! I have my fingers and toes crossed!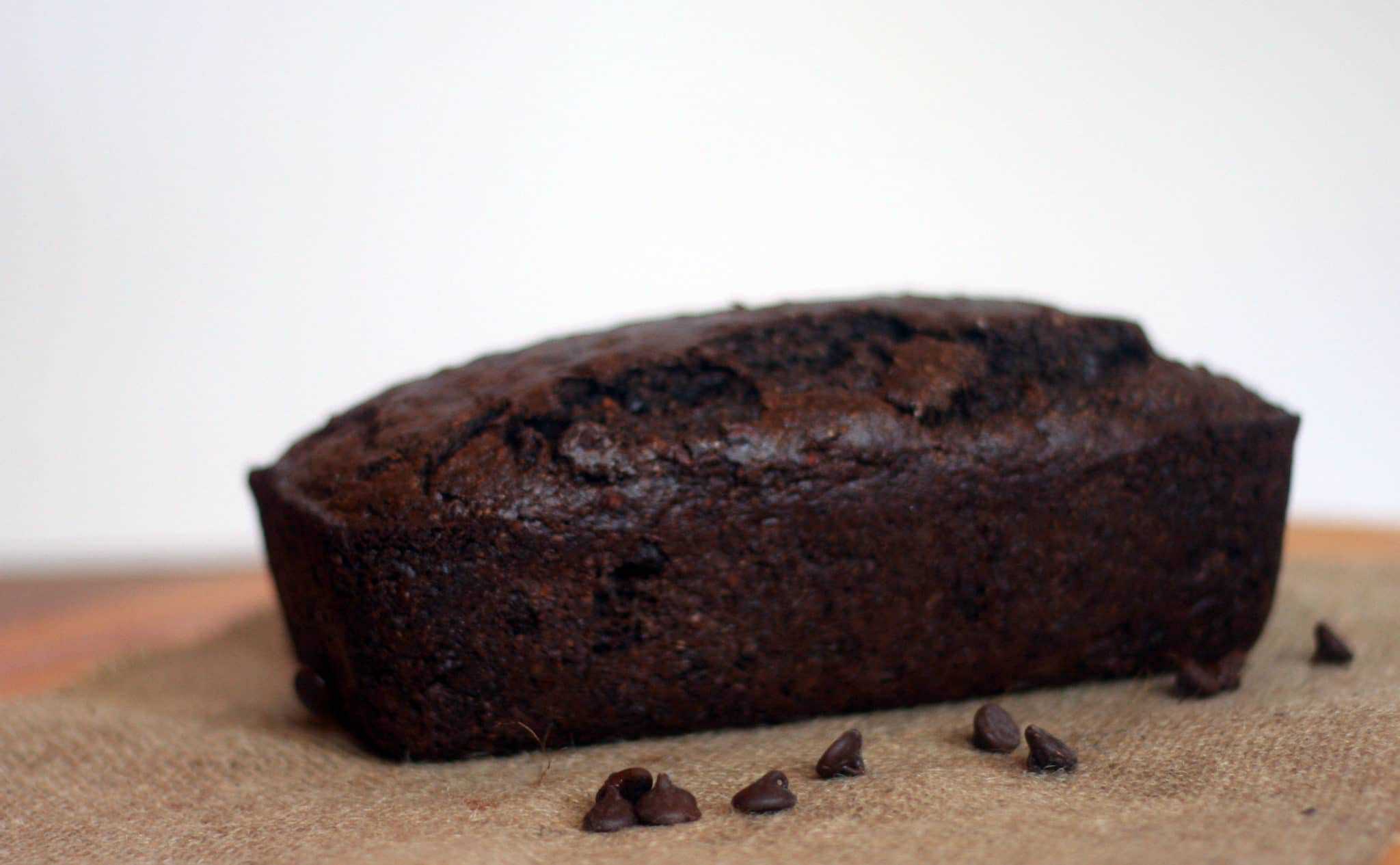 Today, I am sharing my chocolate zucchini bread. My family loves this bread. My daughter, Deirdre said I should make this bread everyday! This is a very tasty bread that gives you the chocolate fix everyone needs, every now and again, yet it remains low-fat! I make this with a combination of whole wheat and white flour for some added fiber, cocoa powder, cinnamon, and a little applesauce, and a wee bit extra chocolate with chocolate chips!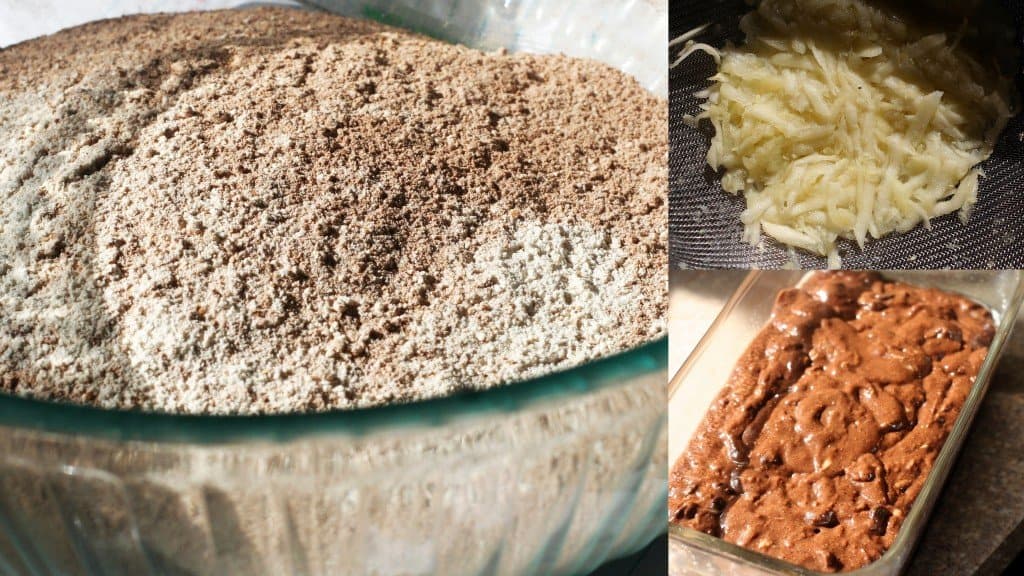 What is even better is the zucchini, one of my most favorite veggies because its so versatile and if your family are veggie haters, do not tell them, they will not guess that the yummy flavor is zucchini! I use turbinado cane sugar instead of white sugar! I have mentioned before that I do not use sugar often, however, for baking, some form of sweeteners are required. I like natural sweeteners that don't have a lot of processing done to them like agave, raw honey, and turbinado raw cane sugar. Turbinado is also vegan and gluten-free and it looks like brown sugar. I find this bread to have a nice almost crispy crunch to the outside and a moist interior texture.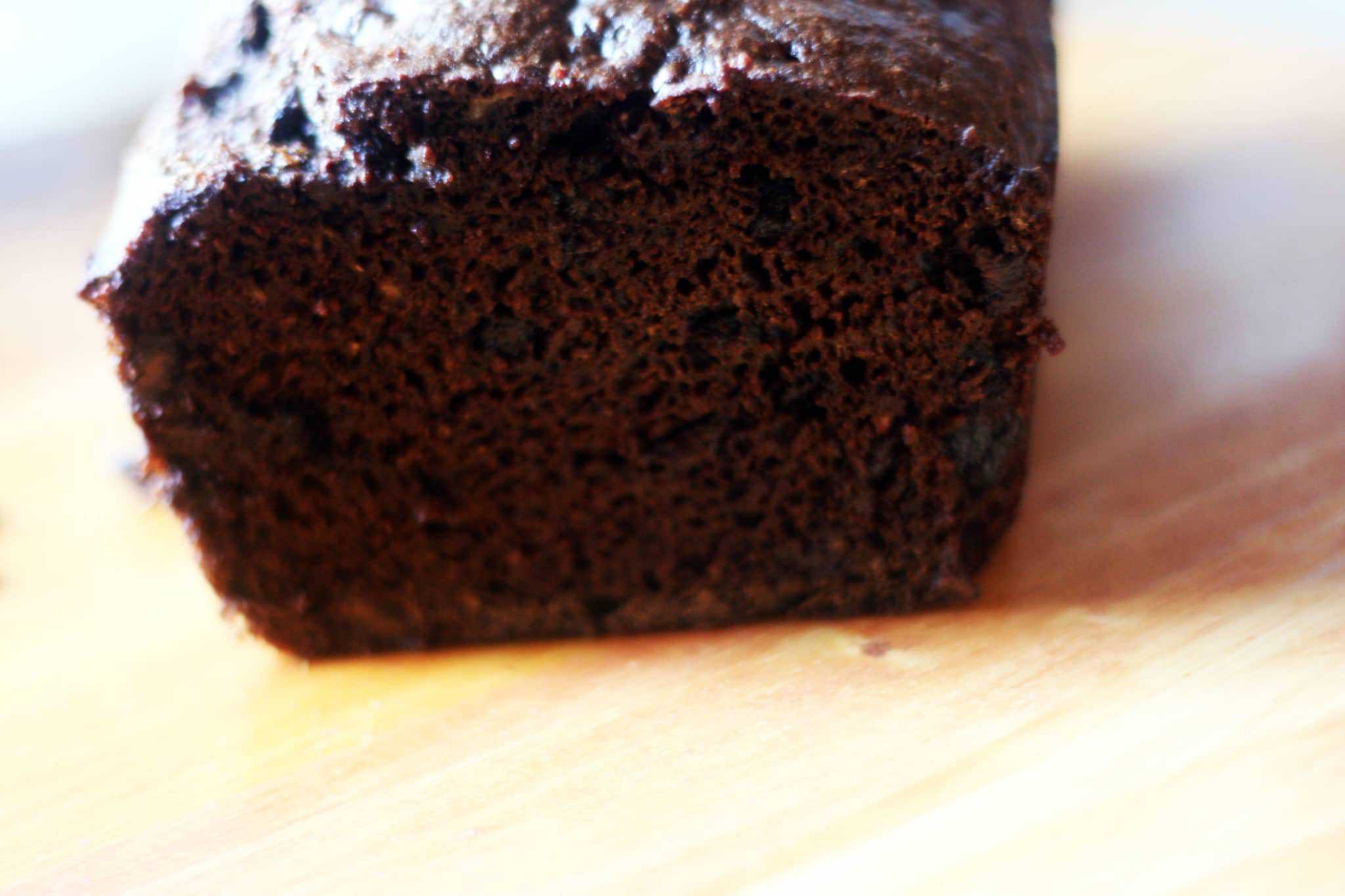 Everyday tips -
Grate the zucchini first and let is sit in a sieve (as in above right photo) to drain fluid then I use the back of a spoon to squeeze the excess water before adding to the other ingedients. This avoids excess moisture in the finished bread. I also wring dry the zucchini in a cotton towel.
This is one of those breads that you can feel free to double or triple the recipe and freeze the extra loaves. I would safely say 3 months in the freezer. However, use your judgement on freezing. I label everything with the date and what is going inside the freezer bag. I wrap the loaves in wax paper and aluminum foil and then place in the freezer bag. When I need the loaf, I take it out and place in the fridge overnight and you have a yummy chocolate zucchini bread ready to eat in the morning!
Save this recipe to your FAVORITE PINTEREST BOARDS! Follow along on PINTEREST! I'm always pinning from talented and amazing bloggers with creative recipe and DIY ideas!
Tag #everydayeileen or @everyday_eileen on Instagram with your recreations of my recipes! Love seeing and sharing what you create!
Connect with me on:
Subscribe to my newsletter to never miss a recipe!
Thank you for the continued support! I am forever grateful!
xo
Eileen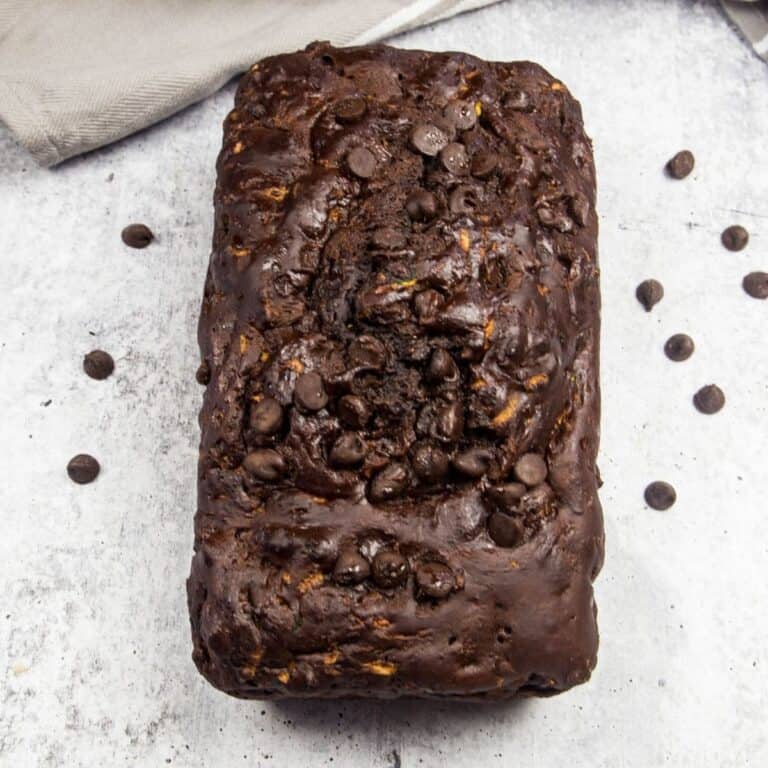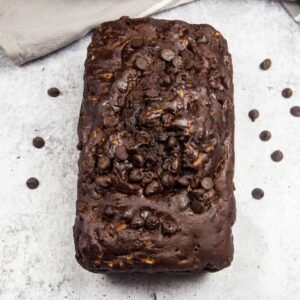 Double Chocolate Zucchini Bread
A chocolate treat that is low-fat and has the added bonus of shredded zucchini. A great way of enjoying a chocolate treat that is low-fat and includes a dose of veggies!
Print
Pin
Rate
Equipment Needed:
Instructions
Preheat oven to 350 degrees. Spray a 9x5 inch loaf pan with non-stick baking spray.

Shred the zucchini and squeeze in either a linen or paper towel to drain excess liquid, set aside.

In a large bowl, beat eggs and sugar until well blended.

Beat in the Greek yogurt and vanilla extract until blended. Set aside.

In a separate small bowl, whisk together the flour, cocoa powder, baking soda, cinnamon, salt, and baking powder.

Stir the wet ingredients into the dry ingredients to blend together. Add in the shredded zucchini and chocolate chips to combine the ingredients.

Spoon the batter into the greased loaf pan. Place in the preheated oven for about an hour. Begin to check it at 50 minutes by sticking the center of the loaf with a toothpick. The toothpick should be almost clean when it comes out of the loaf. Let it set in the loaf pan for about 10 minutes. Then remove from loaf pan and place on wire rack to cool completely!
Notes
Note 1: Squeeze out excess water from zucchini by using a paper towel or linen kitchen towel.
Note 2: You can swap coconut sugar for white sugar.
Freezes really well. Wrapped tightly in plastic wrap and in a freezer bag. Use within 3 months.
Any nutritional data I provide is an approximation and actually dietary information can vary based on ingredients and proportion sizes.
Nutrition
Serving:
1
slice
|
Calories:
158
kcal
|
Carbohydrates:
31
g
|
Protein:
4
g
|
Fat:
3
g
|
Saturated Fat:
2
g
|
Cholesterol:
28
mg
|
Sodium:
303
mg
|
Potassium:
154
mg
|
Fiber:
2
g
|
Sugar:
15
g
|
Vitamin A:
93
IU
|
Vitamin C:
3
mg
|
Calcium:
31
mg
|
Iron:
2
mg