Cider Braised Chicken and Cabbage is a tasty one-pan wonderful meal! Chicken, Cabbage, Potatoes, Fennel, Carrots, and Apple all in one pot! Hard apple cider makes a great addition to braised chicken and cabbage. The cider adds a delicious broth that adds great flavors to warm you on a cold day! #appleweek
This is my first recipe for #appleweek! I am super excited for all of the great recipes and giveaways! The sponsors are amazing and wait until you see the giveaways! They are amazing!
This post is sponsored on behalf of #appleweek. Our generous sponsors, Swiss Diamond, Envy Apples, Imperial Sugar, Nordic Ware, Rodelle Vanilla, Flahavan's Irish Oatmeal, Nairn's and The Spice House have provided us with products for recipe creation and a giveaway for our readers. As always, all opinions are my own.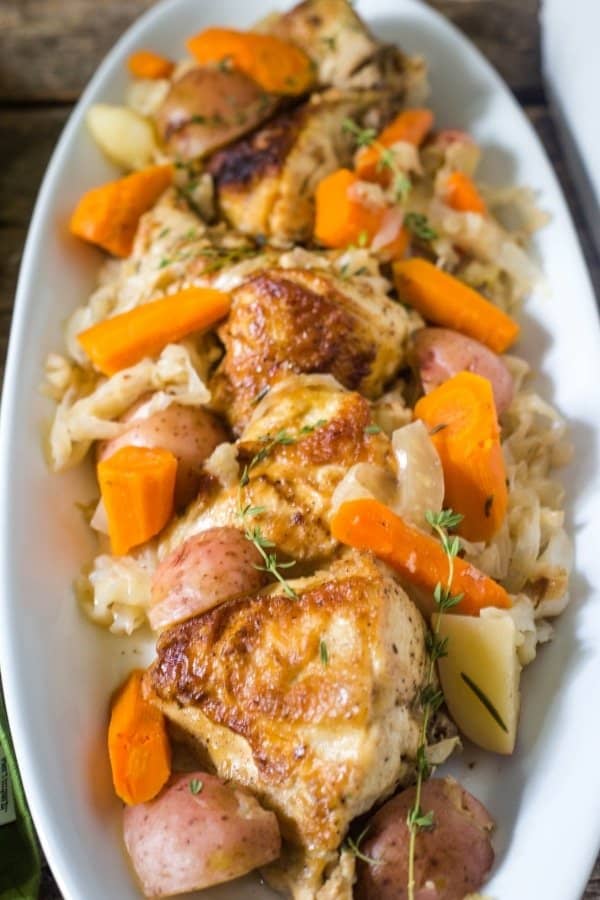 I hope you enjoy this hearty cider braised chicken and cabbage recipe that is a big bowl of comfort and deliciousness!
Those of you who are regulars here know I love an easy recipe! I also love a great chicken recipe filled with veggies! This is it my friends!
I use chicken breasts, cabbage and a few of my favorite fall veggies and apples. They braise together in a fantastic broth of hard cider and herbs.  I use an Irish cider because, well come on now, it's delicious so of course, I use it on my braised chicken.
When I signed up to participate in Apple Week, I started thinking about what recipes I wanted to develop. Then, when I saw our sponsors and received the most amazing oval casserole from Swiss Diamond, BINGO, I knew chicken and cabbage was to be braised in that amazing casserole dish.
The Swiss Diamond Casserole is versatile so I can brown the chicken on the stove. After browning the chicken, the entire pot with all the fixings can go right into the oven, easy peasy!
I am so happy with this tasty Cider Braised Chicken and Cabbage recipe and I hope you love it too!
The family and I have had this quite a few times and of so have our extended family! The chicken and cabbage recipe can be made the night before and reheated when you are ready to eat!
This braised chicken is one of those recipes that works great for any night of the week and is an awesome crowd pleaser recipe. Great for family gatherings and pot-luck dinners. Easily make ahead and reheat when the crowd arrives.
I know we aren't even at Halloween but I am definitely serving this during Saint Patrick's Day too! I know, too soon for you, but food blogger, we have to think ahead, always!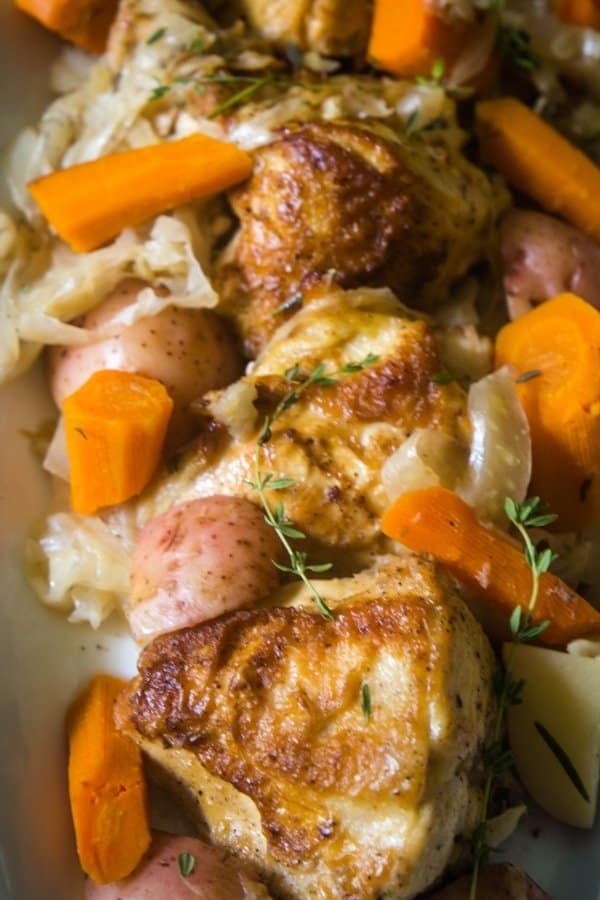 What does it mean to "braise" chicken?
Braising generally means a combination of dry cooking or searing and also wet cooking, as in a broth. I sear the chicken at a high temperature and finish cooking in the oven at a lower temperature.
What oven temperature is generally used to make braised chicken and cabbage?
I generally braise the chicken at a temperature between 275 and 325 degrees. It depends on the recipe.
What should the internal temperature of the braised chicken be when they are cooked?
Use a meat thermometer and the internal temperature of the chicken should be 165 degrees.
Is cabbage a healthy vegetable?
Ah, cabbage! Please embrace and cook with cabbage! It is so good for you! So many benefits, I have to write an entire post to my ode to cabbage. A few examples:
cabbage contains sulforaphane, which is a cancer-fighting compound.
Can aid in regulating the immune system
Aid in weight loss!
Now, before I continue with my recipe for Cider Braised Chicken and Cabbage, let's talk about Apple Week! I have to thank the amazing Carlee, who runs Cooking with Carlee! What a host of this amazing event! Thank you, Carlee! We have a great array of sponsors and  giveaways:
AppleWeek Prize Pack #1 from Swiss Diamond 
Available in select stores only, Swiss Diamond's XD 10 piece set features Swiss Diamond's newest, most advanced diamond-reinforced nonstick coating. The new coating formulation contains 20% more real diamond crystals than the HD coating and was developed in Switzerland. The result is a significantly tougher cooking surface, 40% more durable with 40% better food release properties as compared to the Classic HD nonstick cookware. They are ideal for healthy cooking without oil and feature quick, easy clean-up with hot soapy water. They are PFOA-free and produced in an eco-friendly manner. The tempered glass lids have adjustable steam vents and the ergonomic handles and knobs are oven safe up to 500 F.
Swiss Diamond is a high-end cookware and kitchenware brand established in 2001, with a manufacturing facility in Sierre, Switzerland. The brand name originates from the company's Swiss origin and it's classic cookware line which uses a revolutionary nonstick coating made with diamond crystals for durability, superior heat conduction, and a long-lasting nonstick surface. Swiss Diamond is committed to meeting consumer needs by using safe, high-quality materials, by emphasizing innovative design with traditional European craftsmanship and by adhering to an eco-friendly production process.
AppleWeek Prize Pack #2 from Envy Apples
A $60 Pre-Paid Visa Gift Card and a shipment of Envy Apples!
When you're this good they call you Envy™
It's hard to put into words what makes Envy™ so remarkable. Each satisfyingly sweet crunch redefines what to expect from an apple. Since it was introduced, Envy™ has emerged as the apple with everything: beautiful skin, sweet flavor and a bright, tender flesh that remains white even after being cut. It's a pure and pristine apple that's a genuine work of orchard-growing genius.
Envy™ was born in New Zealand using natural plant-breeding methods, crossing a Braeburn with a Royal Gala apple. From there, a handpicked team of talented growers planted trees in regions perfect for growing Envy, such as New Zealand, Washington state and Chile where they benefit from long,
sun-drenched days and crisp, cool evenings. Enjoy Envy™ just about anywhere—it's nature's passport to a magical moment of indulgent time. For more information visit envyapples.com
The Spice House has been sourcing premium spices since 1957, bringing you the finest selections from all over the globe.  They provide the freshest and most flavorful ingredients possible via small, weekly batch grinding and blending.
A Baker's Dream Come True!
The package will include pure vanilla extract, gourmet dutch-processed baking cocoa, gourmet
vanilla extract, gourmet vanilla beans, organic vanilla extract, organic chocolate extract, almond extract, vanilla paste, and some fun baking supplies to whip of your next batch of goodies with!
8
Rodelle believes ingredients makes all the difference, that's why they are passionate about offering a complete line of superior baking ingredients, vanilla products, and gourmet spice blends. Quality vanilla extract may cost a little bit more, but the flavors are worth it! Rodelle works with a farmer-owned co-op in Madagascar, Sahanala, to craft a farm-to-table vanilla that benefits the vanilla farmers and their families. Learn more about Rodelle's vertical integration here. Or, Find out where to buy great Rodelle ingredients near you here.
A Sweet Tooth's Dream Come True!
The Winner will receive 1 case of 2-lb granulated sugar (20 bags) + 1 case of 2-lb light brown sugar (24 lbs), a silicone baking mat and a custom apron.
For 175 years, Imperial Sugar has been a trusted name in family kitchens across the South.  Sweet things happen when people come together in the kitchen, and that's why Imperial sugar has been at the heart of family traditions and celebrations for generations.  We're the secret ingredient in family-favorite recipes handed down from one generation to the next. Home cooks know that when you bake with love and Imperial sugar, that's when memories are made. Visit ImperialSugar.com for over 100 years of time-tested recipes, kid's crafts, how-to videos, coupons, giveaways and more.
Flahavan's and Nairn's have teamed up to bring out an outstanding prize pack filled with naturally creamy, sustainable Flahavan's Irish Oatmeal and our go-to gluten-free Grahams by Nairn's. We have a good gut feeling that you're going to love it!
Flahavan's Irish Oatmeal is sustainably grown and milled in Co. Waterford, Ireland by the Flahavan's family since 1785. They have sourced the finest oats from the same Irish farming families for generations. Flahavan's oats are milled in small batches and minimally processed according to 230-year-old milling tradition and double kilned. They are non-GMO and naturally gluten-free.
Nairn's Gluten Free Grahams are rather good in more ways than one.  For a start, they're made with only the finest wholegrain oats- naturally energizing and proven to reduce cholesterol.  And at only 45 calories a piece, they're a healthy alternative the usual graham (also 40% less sugar!). But the real feel-good factor comes from knowing every delicious gluten-free bite is batch tested to Elisa standards so they're truly safe to eat.
Perfect for baking all of these AppleWeek treats, Nordic Ware will give one lucky winner an apple cakelet pan and prism baker's bundle with a quarter and half sheet pan!
Nordic Ware is a family owned and operated kitchenware company since 1946 and has steadily built its reputation as an internationally distributed kitchenware brand. As a leading manufacturer and innovator, Nordic Ware produces the vast majority of its products in America, at its Minneapolis headquarters, including bakeware, cookware, grillware, microwave, and kitchen gadgets and accessories.
How to Make Cider Braised Chicken and Cabbage:
Season flour with salt and pepper. Dredge chicken breasts in seasoned flour. 
Over medium heat, add olive oil in a large Dutch oven(casserole dish). Brown the chicken breasts.
To the pot, add some hard cider and use a wooden s pick up any brown bits and bottom of the pot.
Add the potatoes, cabbage, fennel, carrots, apples, parsley, thyme, and rosemary. 
Place the brown chicken breasts on top of the veggies. 
Add the remaining hard cider and chicken broth.
Place lid on top and braise in the oven for about 1 – 1 1/2 hours. 
When ready, serve and enjoy! 
LOVE SEEING AND SHARING YOUR CREATIONS!
When you make Cider Braised Chicken and Cabbage,
Tag @everyday_eileen on Instagram!
I love any comments or questions below!
                                                    I HOPE YOU CONTINUE CONNECTING WITH ME:
                                FACEBOOK  INSTAGRAM, PINTEREST, TWITTER, BLOGLOVIN, GOOGLE 
Enjoying Cider Braised Chicken and Cabbage, giving it a 5-star rating and any comments are super helpful for me and very much appreciated!
Cider Braised Chicken and Cabbage
Chicken breasts, cabbage, potatoes, fennel, carrots, and apples braised in hard cider to make a one-pot amazing meal. perfect for a crowd. Easy preparation.
Print
Pin
Rate
Cook Time:
1
hour
1
minute
Total Time:
1
hour
21
minutes
Ingredients
6

bone-in chicken breasts,about 5-6 ounces each

see Note 1

1-2

Tablespoons

olive oil

1/4

cup

all-purpose flour

can use almond flour for keto

1/2

teaspoon

salt

for dredging

1/2

teaspoon

black pepper

1/2

teaspoon

onion powder

12

ounce

hard cider

see Note 2

2

cups

fennel, thinly sliced

2

cups

green cabbage, thinly sliced

1

pound

carrots, peeled and chopped about 2 inch thick

5-6 carrots

1

pound

red potatoes, cleaned and cut 4-5 pieces each

see Note 3

3

cloves

sliced garlic

4

sprigs

fresh thyme or 1 teaspoon dry

1

sprig

rosemary or 1/2 teaspoon dry

5-6

sprigs

parsley or 1 teaspoon dry

14.5

can

chicken broth or homemade

salt and pepper, to taste
Instructions
Preheat oven to 325 degrees.

In a glass bowl, combine flour, salt, pepper, and onion powder. Dredge the chicken in the flour. Set aside.

Over medium heat, place stove/oven safe Dutch oven and add olive oil to heat. Add the chicken pieces to brown on both sides. Remove when brown. Add 1 cup of the hard cider to the pot and use a wooden spoon to loosen any brown pieces at bottom of the pot.

Add in the fennel, cabbage, carrots, red potatoes, garlic, thyme, rosemary, parsley, and chicken broth. Season with salt and pepper, to your taste. Place lid on the pot. Braise in the oven about 1 hour 15 minutes. The internal temperature of the chicken should be 165 degrees.

Serve chicken and cabbage with veggies and broth and enjoy!
Notes
Note 1: If the chicken breasts are very large, cut them in half for easier serving and braising. Also as far as the skin, I generally remove most or all of the skin and discard before dredging the chicken. A healthier option
Note 2: I use Magners hard cider. You can use a homemade cider or store-bought, non-alcohol cider. 
Note 3: I use small red potatoes. If the potatoes are very large, cut into 2-inch pieces so they cook evenly. You can use another type of potato.  (Yukon or Idaho)
Nutrition
Serving:
1
piece
|
Calories:
293
kcal
|
Carbohydrates:
28
g
|
Protein:
27
g
|
Fat:
5
g
|
Saturated Fat:
1
g
|
Cholesterol:
72
mg
|
Sodium:
422
mg
|
Potassium:
1169
mg
|
Fiber:
5
g
|
Sugar:
6
g
|
Vitamin A:
12725
IU
|
Vitamin C:
24.8
mg
|
Calcium:
64
mg
|
Iron:
1.8
mg
Pin to make Cider Braised Chicken and Cabbage any time: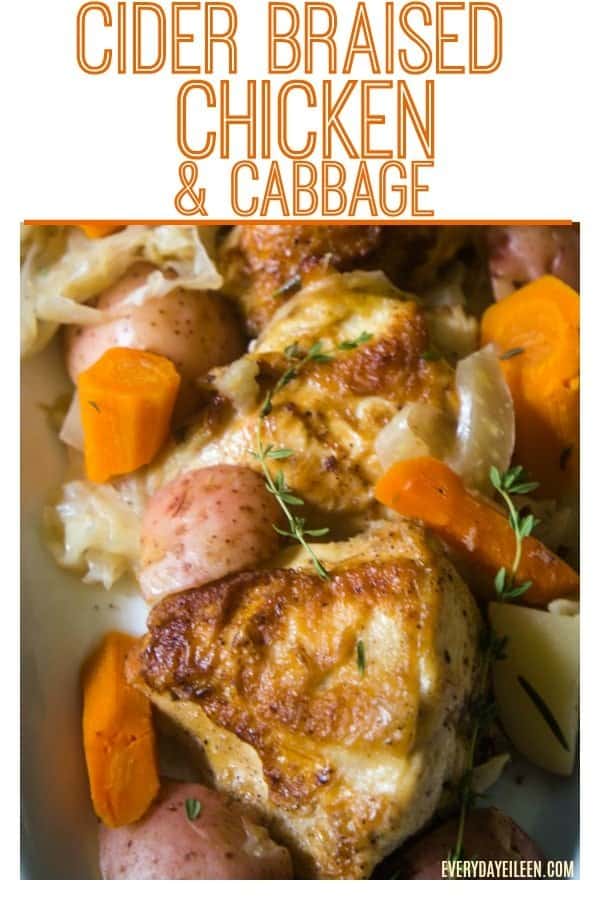 We have amazing recipes all week, here is what's cooking today:
Sunday's Recipes:
Disclaimer: Thank you AppleWeek Sponsors: Swiss Diamond, Nordic Ware, Envy Apples, Imperial Sugar, The Spice House, Rodelle Vanilla, Flahavan's Irish Oats and Nairn's  for providing the prizes free of charge. These companies also provided the bloggers with samples and product to use for AppleWeek recipes. All opinions are my own. The AppleWeek giveaway is open to U.S. residents, age 18 & up. All entries for the winner will be checked and verified. By entering you give the right to use your name and likeness. The number of entries received determines the odds of winning. Seven (7) winners will be selected. The prize packages will be sent directly from the giveaway sponsors. The AppleWeek Bloggers are not responsible for the fulfillment or delivery of the prize packages. Bloggers hosting this giveaway and their immediate family members in their household cannot enter or win the giveaway. No purchase necessary. Void where prohibited by law. This promotion is in no way sponsored, endorsed or administered by, or associated with Facebook, Instagram, Pinterest, Twitter or any other social channel mentioned in the AppleWeek posts or entry.