Soft, chewy cinnamon deliciousness all rolled into one bite of heaven, that my friends are my Easy Snickerdoodle Recipe. I have taken a long time to perfect this harmony of goodness and you won't be disappointed. So get out the butter, cinnamon, and flour and fire up the oven and get baking.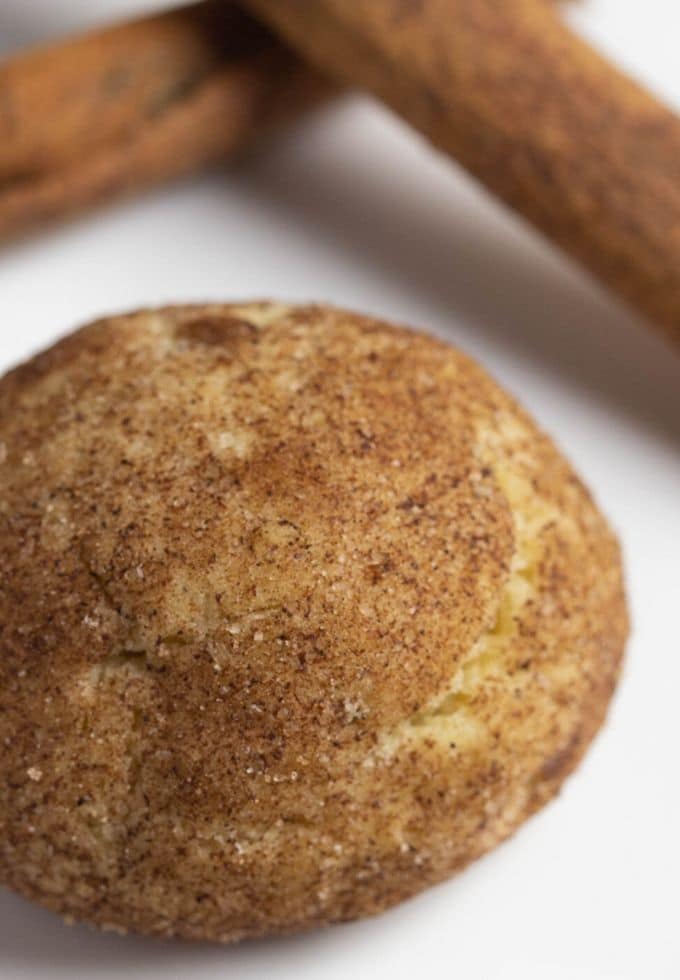 Christmas Cookie week is happening, if you missed my Pecan Sandies, another old standby of mine, check them out. They are divine. We have a giveaway and lots of great Christmas Cookies, boy are they all so good.
Snickerdoodles are a family tradition for us. My Dad loves these cookies and he passed the love to my kids. I have made so many varieties and the one I'm sharing with you today is my favorite. My son Aidan says they have the perfect amount of everything.
There is just something warm and cozy about Snickerdoodles. It is one of those feel-good cookies that everyone loves. Its an obvious must make at the Holidays. However, we make them all year round. Not feeling well, make a batch of these and a cup of detox lemon ginger tea.
Family parties, we make Irish Coffee and either one of my baking kids or I make a batch to these tasty cinnamon treats.

Easy Snickerdoodle Ingredients
shortening - gives height to the cookies
butter- flavor
vanilla extract - use Adams Extract for great flavor
eggs - a binder
flour - binds the cookie
baking soda - helps the cookie rise
cream of tartar - gives a little wow or zest. I've tried the cookies without, and I like them better with it.
cinnamon - also use Adams Extract
Why this Easy Snickerdoodle Recipe works
I use a blend of shortening and butter and the reason is shortening tends to give these cookies a little height and that means a softer and chewy cookie. When I used all butter they were flatter and crispy which is good but you want a nice soft cookies. I also add a dash of extra cinnamon into the batter for extra zing, you get that extra zing of cinnamon that really makes these cookies lip-smacking good. Plus they really are an easy snickerdoodle recipe.
Easy Snickerdoodle FAQs
What are Snickerdoodle cookies?
Snickerdoodle cookies are a sugar type cookie that is rolled in cinnamon sugar prior to baking.
Why is the cream of tartar used to make these cookies?
The cream of tartar is an acid and it helps to give height to the cookies.
What if I don't have cream of tartar?
For any recipe using cream of tartar and you don't have any available, use lemon juice. For every half teaspoon of cream of tartar, use 1 teaspoon of lemon juice.
How long will the cookies keep after they are baked?
Store them in a plastic storage bag or tin for up to 5 days. They can be frozen for up to 3 months.
Can I freeze the dough before baking?
I freeze cookie dough a lot. If I'm already baking, many times I double the batch so there is always dough ready in the freezer. Once you have combined all the ingredients and rolled the dough, place the rolled cookies on a baking tray in the freezer for about an hour. once frozen, store the cookies in a freezer-safe bag until ready to bake, Defrost, roll in the cinnamon sugar and bake as usual.
SHOP THIS RECIPE
This post contains affiliate links for your convenience. As an Amazon Associate, I earn from qualifying purchases.
Cookie and Cake Store and Go - This is a great baked goods transporter. Perfect for carrying your baked treats to parties.
Non-Stick Baking Tray - Love this baking tray, non-stick and easy clean-up.
Check out my store, Everyday Eileen I share all my favorite finds.
Step by step Instructions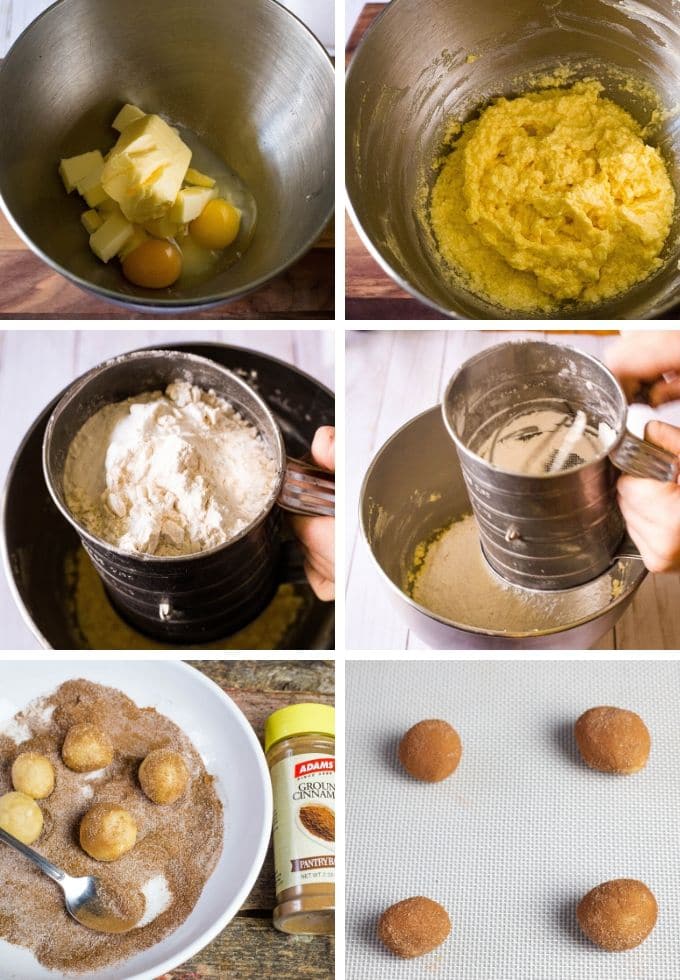 Cream butter, shortening, eggs, and vanilla extract.
Sift flour, cream of tartar, baking soda, and cinnamon.
Stir dry ingredients into the butter/shortening mix.
Roll cookies into small balls
Dredge the cookies in a cinnamon-sugar blend.
Bake, serve, enjoy.
Give us a like on FACEBOOK
For great recipes and tips, follow along on Pinterest.
Thank you for always sharing my passion and love for food and family!
xo! Eileen
Are you loving this recipe, your comment, and a 5-star rating would be awesome!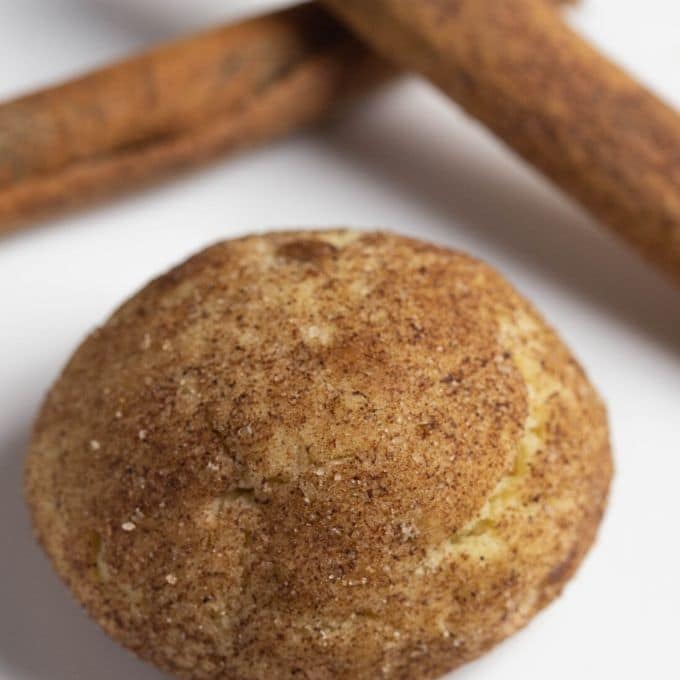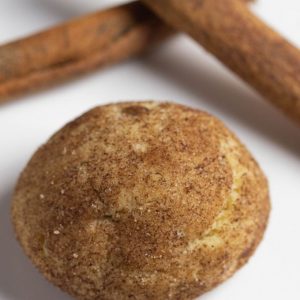 Easy Snickerdoodles
Soft, chewy cinnamon deliciousness all rolled into one bite of heaven, that my friends are my Easy Snickerdoodle Recipe. I have taken a long time to perfect this harmony of goodness and you won't be disappointed.
Print
Pin
Rate
Equipment Needed:
Instructions
Preheat oven to 375 degrees.

In a large bowl of a stand mixer or mixing bowl, cream together white sugar, unsalted butter, shortening, eggs, and vanilla about 2-3 minutes. Scrape down the sides of the bowl when needed.

In a separate bowl, sift flour, cream of tartar, baking soda, cinnamon, and salt.

Blend the dry ingredients into the butter/shortening blend. Do not overmix.

Hand roll the dough into small balls about the size of a walnut.

Roll each cookie ball in the cinnamon-sugar mix and place on an ungreased cookie sheet.

Bake 8-10 minutes. Cookies harden a little once cooled.
How to Make Cinnamon Sugar
In a bowl, blend cinnamon and sugar. Set aside until ready to coat cookie dough.
Notes
Any nutritional data I provide is an approximation and actual dietary information can vary based on ingredients and portion sizes
Nutrition
Serving:
1
cookie
|
Calories:
92
kcal
|
Carbohydrates:
8
g
|
Protein:
1
g
|
Fat:
6
g
|
Saturated Fat:
2
g
|
Cholesterol:
18
mg
|
Sodium:
68
mg
|
Potassium:
44
mg
|
Fiber:
1
g
|
Sugar:
1
g
|
Vitamin A:
96
IU
|
Calcium:
8
mg
|
Iron:
1
mg