Welcome to the third annual#Choctoberfest2017! This is going to be an epic week of recipes from over 70 bloggers with at least 200 recipes featuring, you guessed it Chocolate! This is my first year participating in #Choctoberfest2017 and I am just thrilled! A big thank you to The PinterTest Kitchen for organizing this amazing week filled with recipes and giveaways!
Today is one of my favorite days of the year, because it is the official start of #Choctoberfest. This is the third annual food blogger celebration of all things chocolate, made possible thanks to our gold sponsor Imperial Sugar and the other sponsors listed below.
Over 70 bloggers are participating in #Choctoberfest 2017 and will be posting 200+ chocolate recipes over the next week. Keep your eyes peeled, visit any of the blogs listed below, or use the #Choctoberfest hashtag on
Instagram, Twitter, and Facebook to follow along. You can also check out our #Choctoberfest Pinterest board, where we post chocolate recipes all year long.
You can also enter to win our #Choctoberfest prize pack. Thank to our amazing sponsors who are contributing the following items for the prize: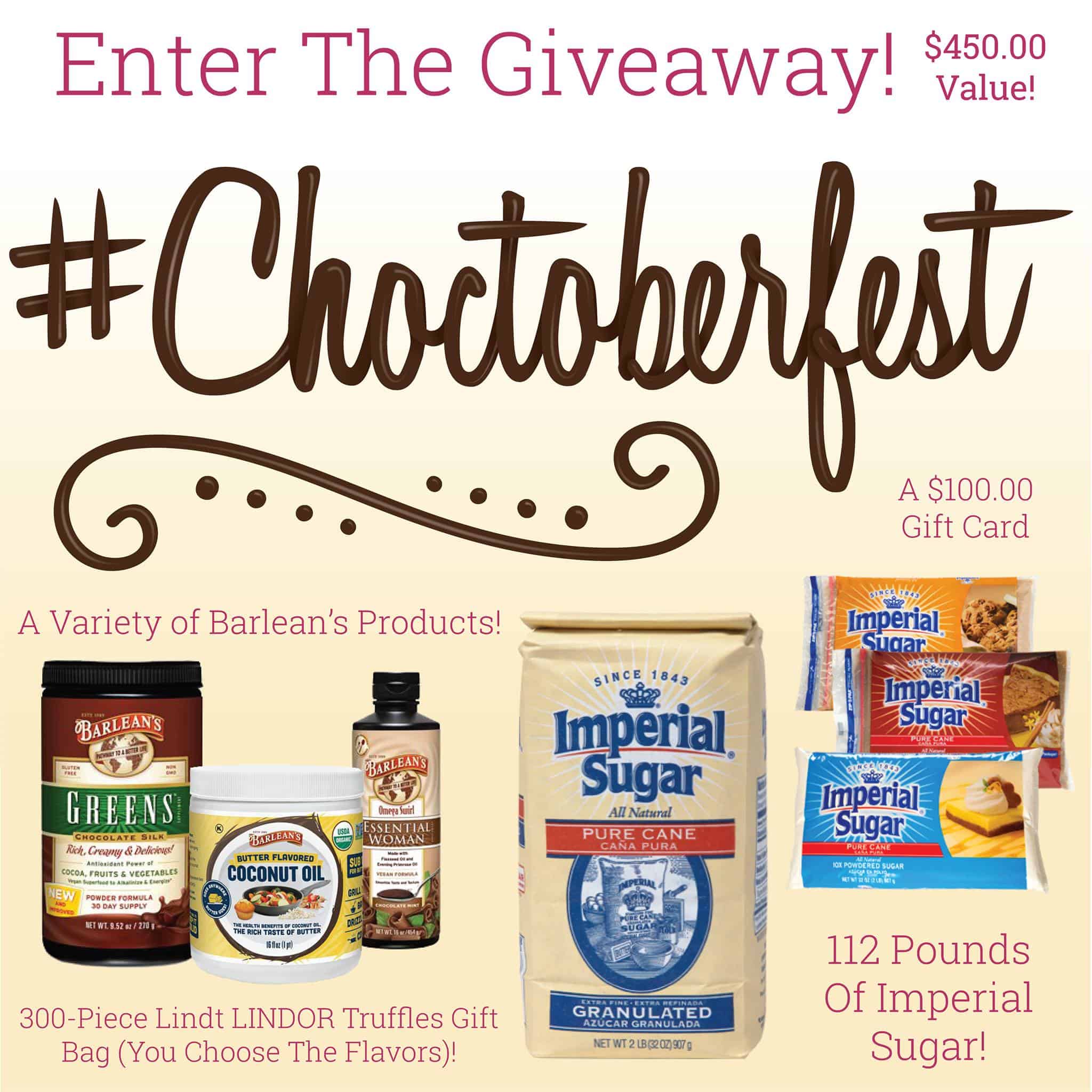 This prize pack is valued at over $450! To enter, simply follow participating sponsors and bloggers using the below giveaway widget.
stuned to see the delicious recipes bloggers have cooked up using Imperial Sugar and Barlean's products. Thank you also to Davis Chocolate and Rodelle for being #Choctoberfest shoutout sponsors! Watch Instagram and Facebook to find out more about about their chocolate products.
Check out my #Choctoberfest2017 including Easy Turkey Pumpkin Chocolate Chili
Don't forget to enter the giveaway and follow along all week for some amazing recipes! I am so excited for this week of chocolate deliciousness!
FOLLOW ME TO GET LOTS OF AMAZING RECIPES AND IDEAS CONNECT ON:
SUBSCRIBE TO MY NEWSLETTER TO NEVER MISS A RECIPE!
Thank you for the continued support! I am forever grateful!
xo
Eileen