Lavender Lemonade, so refreshing and delicious! This is such a thirst-quenching lemonade recipe! Easy to make and always a hit! Perfect for any spring and summer party! Great for Easter, Mother's Day, Showers, and Summer Parties!
Today's #SummerGrilling recipe has been sponsored by Torani and Joy Jolt, however, all opinions are my own. #ad #ToraniFlavor #joyjolt #SummerGrilling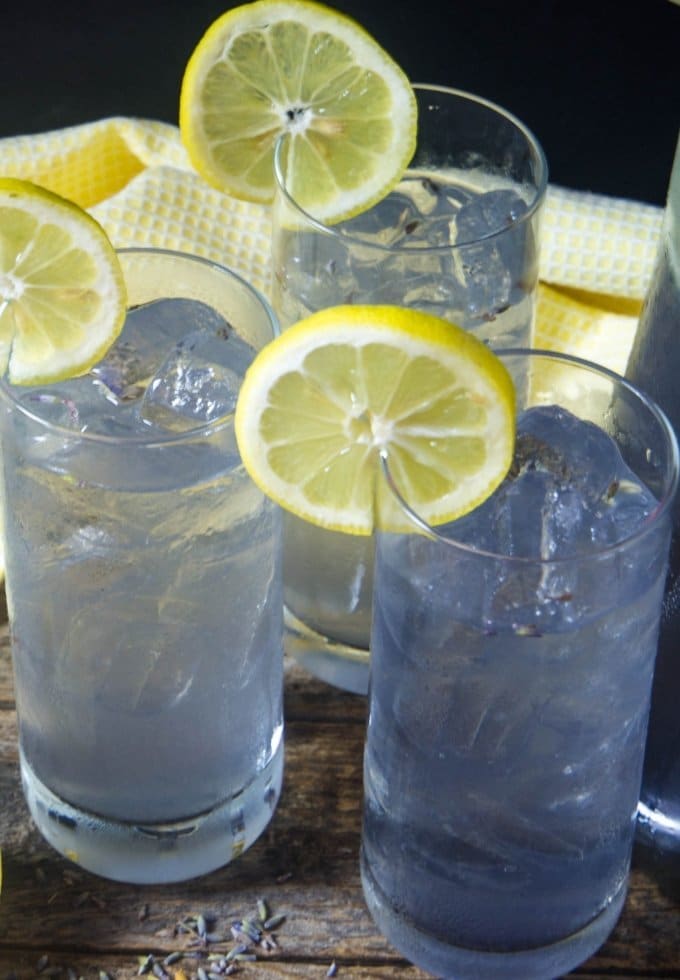 Summer Grilling Week is going strong! All the giveaway and sponsor information is at Summer Grilling Giveaway! My first recipe for grilling week is Grilled Cauliflower Steaks! These veggie steaks are epic! So darn easy and delicious!
Lavender Lemonade
I love a refreshing beverage! One of our amazing sponsors is Torani! They have a fantastic array of syrups! Their lavender syrup is amazing! I knew right away I must share my lavender lemonade!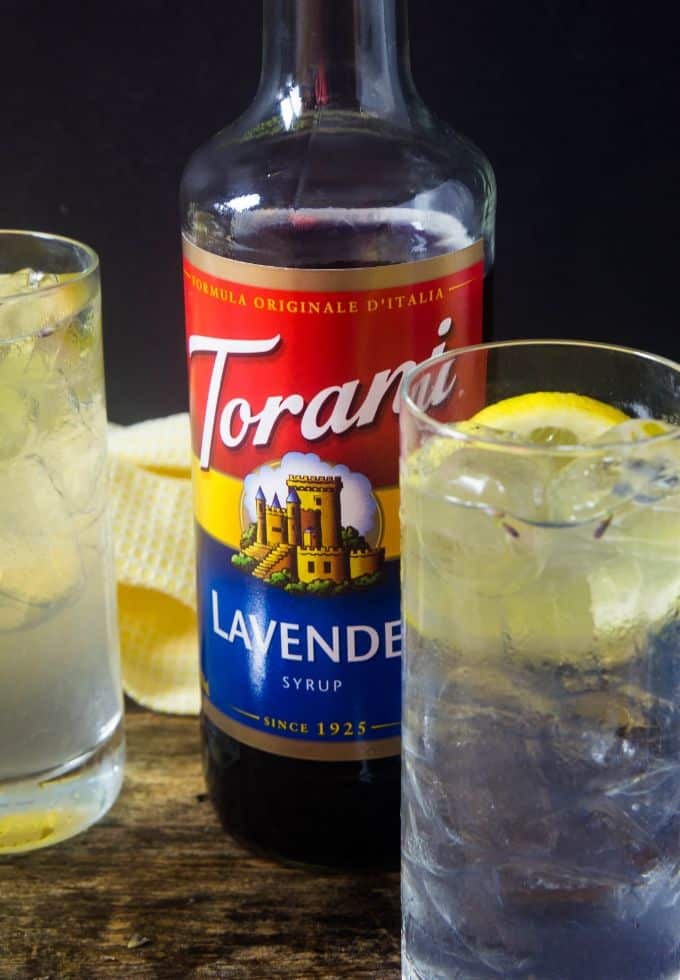 So delicious and easy to make! You are going to love this flavored lemonade!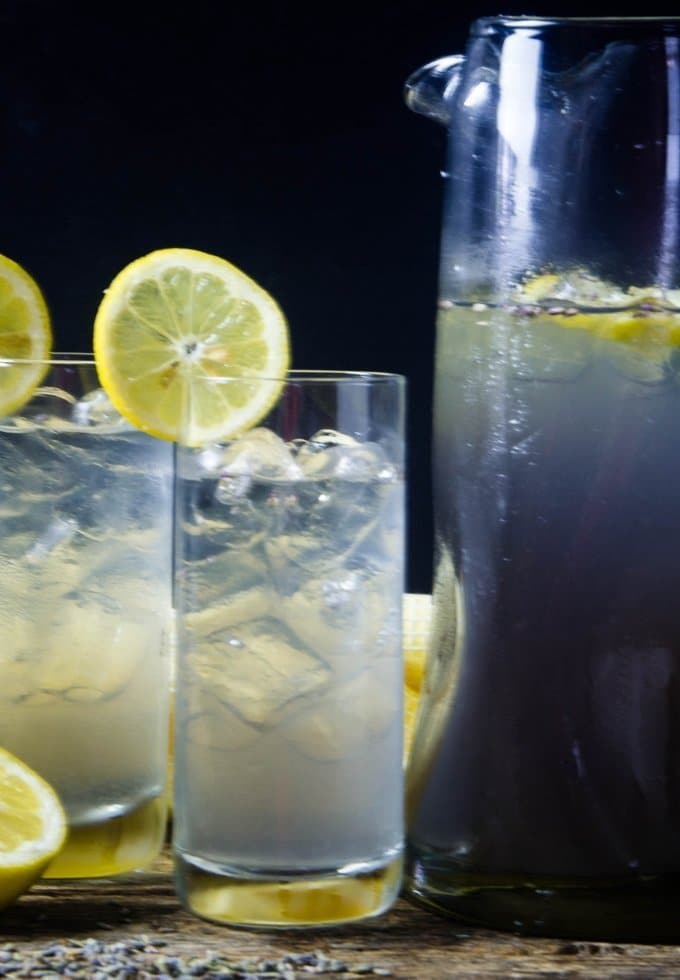 The most delicious and refreshing drink deserves the best glass! Joy Jolt has teamed up with our Summer Grilling Week bloggers as well! Their glasses are absolutely stunning! i was first introduced to their gorgeous stemware for my Eggnog Martini!
Can Lavender lemonade be made ahead of time?
Absolutely! This can be made ahead of time by at least 2 days! Hide it, because it's delicious and it won't make it 2 days. The family will drink it all unless you label, don't touch!
Do I have to use fresh lavender for this recipe?
No. I add dried lavender to the sugar syrup for extra flavor. It is dried lavender and it is not expensive.
Where can I serve with Lavender Lemonade?
Any Baby or Bridal Shower, Mother's Day, Easter, Wedding, Communion, or family party could use a big refreshing pitcher of Lavender Lemonade!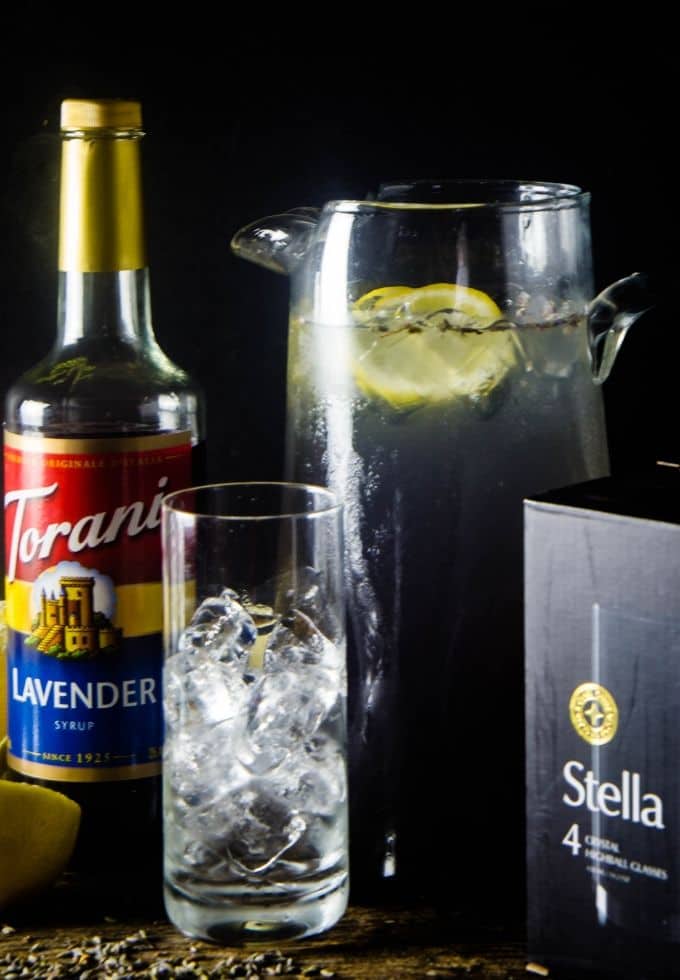 What can I pair with Lavender Lemonade?
Can this Lavender Lemonade be turned into a boozy recipe?
Of course you can. This lemonade works well with Vodka, Bourbon, Tequila, Rum and Gin. Feel free to experiment!
I love a great drink, cocktail, hot or cold! A few other of my favorites are:
Pro Tips for Making Lavender Lemonade
Use fresh lemons and rub the lemon along the cutting board before cutting to help the lemon juice release after slicing.
Use an herb ball to hold the dried lavender. The herb ball can be used over and over again.
Combine the sugar, water, and dried lavender. Let the flavors blend at least 30 minutes after heated on the stove to combine flavors.
Add fresh or dried lavender and lemon slices to the lemonade.
Use a strainer to add the lemon juice into the pitcher to catch excess pulp and any pits.
We are a participant in the Amazon Services LLC Associates Program, an affiliate advertising program designed to provide a means for us to earn fees by linking to Amazon.com
Shop this Recipe:
Dried Lavender:These leave are perfect in lemonade, cocktails, teas, the scent is amazing!
I hope you check it out store, Everyday Eileen I continue to update it regularly!
How to Make Lavender Lemonade:
In a small saucepan combine water, sugar, and dried lavender.
Stir to mix in sugar. Simmer for 5 minutes.
Turn heat off and let lavender combine with sugar water for at least 30 minutes to 1 hour.
While flavors blend, squeeze 1 ½ cups fresh lemon juice.
Pour the lavender sugar mixture, Torani Lavender Syrup, lemon juice, and water. Use a strainer to catch excess pulp and pits. Stir to combine flavors.
Add ice to the pitcher. Garnish with lemon slices and dried lavender.
Serve and enjoy!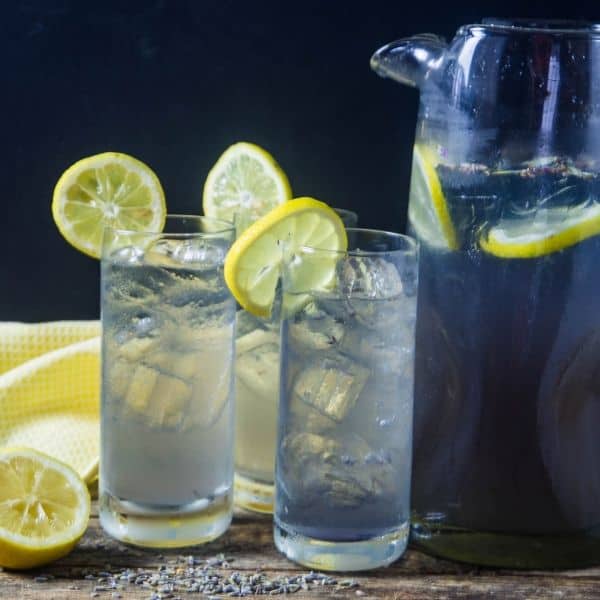 WE HOPE YOU ENJOY THIS REFRESHING LAVENDER LEMONADE! I'D LOVE TO HEAR HOW THEY TURN OUT FOR YOU!
Share your pictures of any of my recipes on Instagram! Use #everydayeileen OR @everyday_eileen, I love to see your photos on Instagram!!
Save this recipe to your FAVORITE PINTEREST BOARDS! Follow me on PINTEREST for amazing recipes ideas, travel, and more!
Feel free to leave me any comments or questions below!
I HOPE YOU CONTINUE CONNECTING WITH ME:
Love this refreshing and tasty Lavender Lemonade, please give them a 5-star rating! It is super helpful for me and very much appreciated!
Thank you for the continued support! I am forever grateful!
Eileen xo
📖 Recipe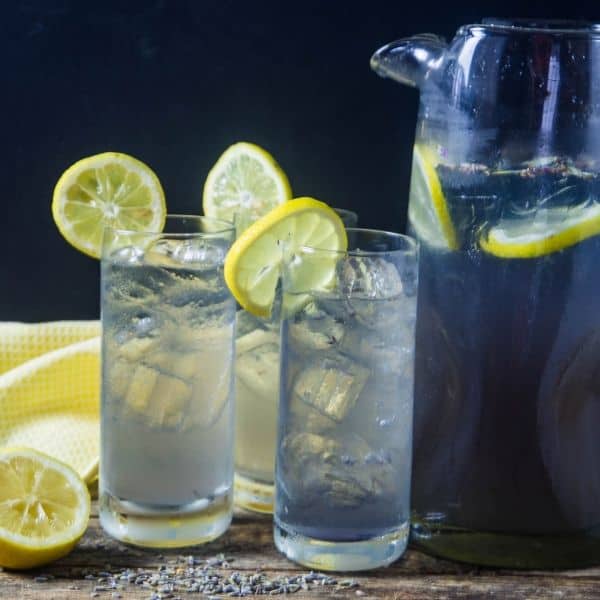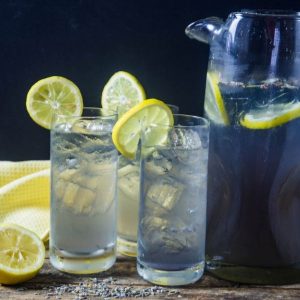 Lavender Lemonade Recipe
A thirst quenching lavender lemonade that is so flavorful and delicious! A perfect summer drink for any night of the week! Great for baby or bridal showers, communions, summer parties, Easter, Mother's Day!
Print
Rate
Equipment Needed:
Ingredients
Lavender Lemon Simple Syrup
Instructions
To Make Lemon Lavender Syrup
In a small saucepan over medium heat, add the sugar, water, and dried lavender. Once the sugar has diluted, set aside.
How To Make Lavender Lemonade
In a large pitcher, stir to combine the fresh lemon juice, water, Torani Lavender Syrup, L

avender Lemon Simple Syrup.

Add in ice cubes, lemon slices (optional), and dried lavender (optional).

Serve and enjoy
Notes
Note 1: Use the lemon rind from one of the lemons used in making lemon juice.
Note 2: Either use an herb ball or drain the lavender after it has infused into the sugar water.
any nutritional data I provide is an approximation and any actual dietary information can vary based on ingredients and proportion sizes.
Nutrition
Serving:
1
cup
|
Calories:
125
kcal
|
Carbohydrates:
31
g
|
Protein:
0
g
|
Fat:
0
g
|
Saturated Fat:
0
g
|
Cholesterol:
0
mg
|
Sodium:
11
mg
|
Potassium:
4
mg
|
Sugar:
27
g
|
Vitamin A:
35
IU
|
Vitamin C:
1.3
mg
|
Calcium:
28
mg
|
Iron:
0.2
mg