Air Fryer Oreos, these sweet treats will rock your world. Chocolate cookies with their creamy vanilla center are wrapped with canned biscuit dough and "fried" in the air fryer. They have a crispy sweet exterior with a warm chocolate interior that is decadently delicious! No messy oil and a fabulous easy delightful dessert.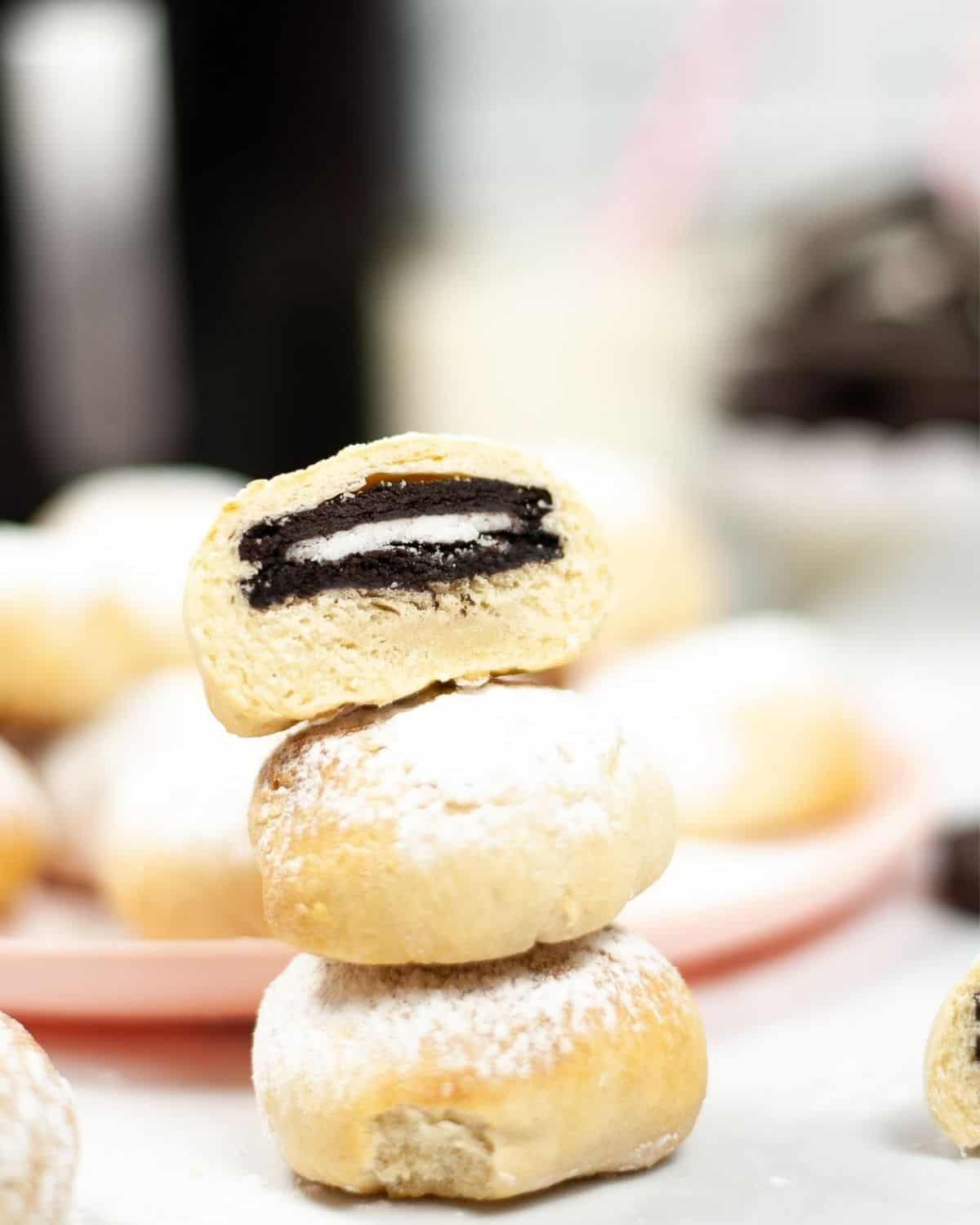 Jump to:
❤️ Why you'll love this recipe
If you have not experienced Fried Oreos, watch out because they are seriously addicting.
Making these chocolatey gems in the air fryer is a great way to enjoy these delicious sweet treats with less mess and added calories of frying.
Enjoy one of the most popular fair foods at home, any time.
An indulgent treat that will become a favorite!
Ingredients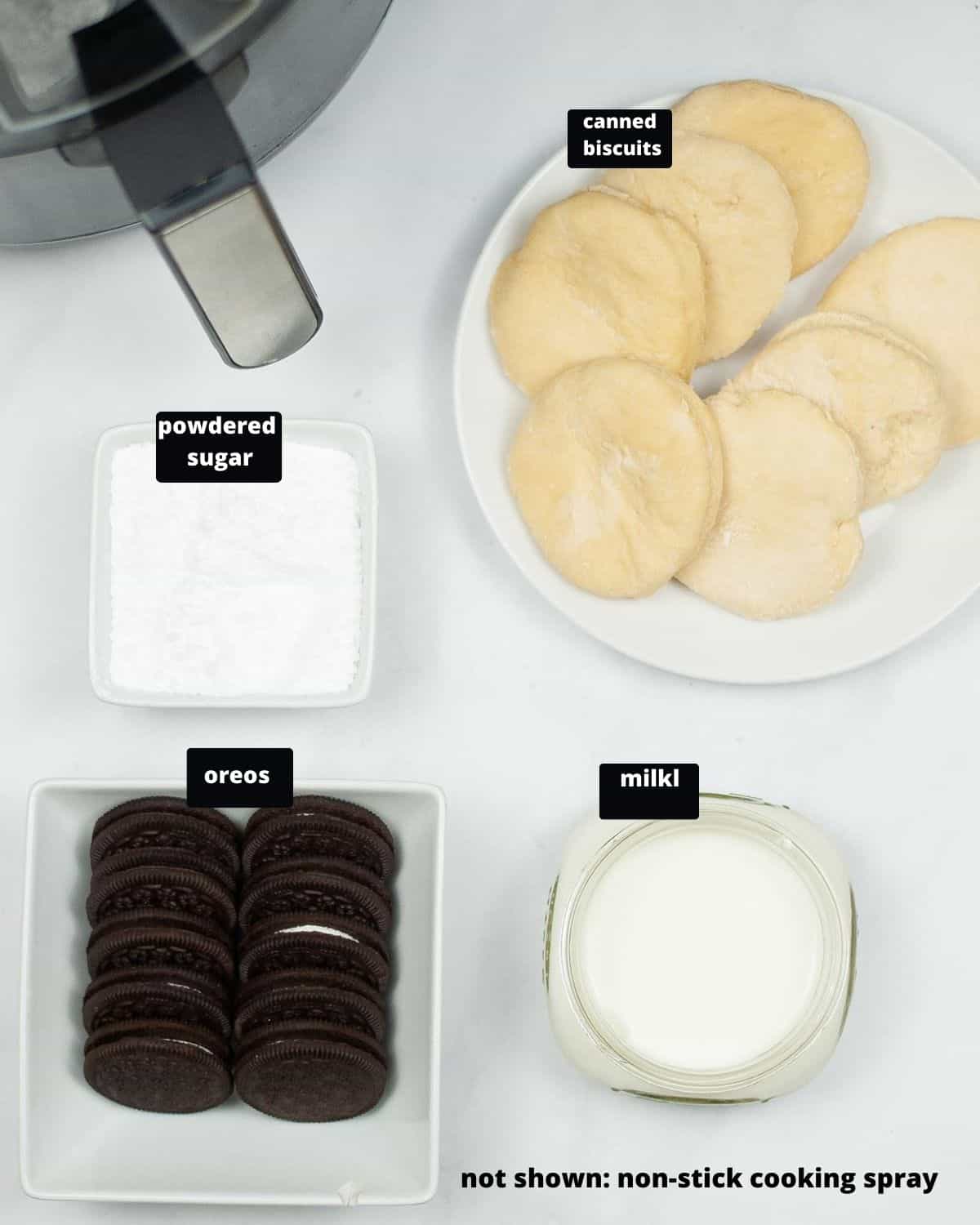 As an Amazon Associate, I earn from qualifying purchases.
Canned biscuit dough works very well with this recipe. You can also used crescent rolls for a slightly different texture. A homemade biscuit recipe is also a great idea.
Whole or 2% milk are my two choices for this recipe.
Confectioners sugar or powdered sugar is a must to complete thes awesome treats.
Oreos, regular or double stuffed Oreos will be awesome.
Non-stick baking spray
Equipment
Instructions
This is an overview of the recipe. The full detailed instructions are below in the recipe card.
Cut the biscuit dough in half and flatten. Dip an Oreo into milk and then place in the center of the dough. Fold the dough around the cookie.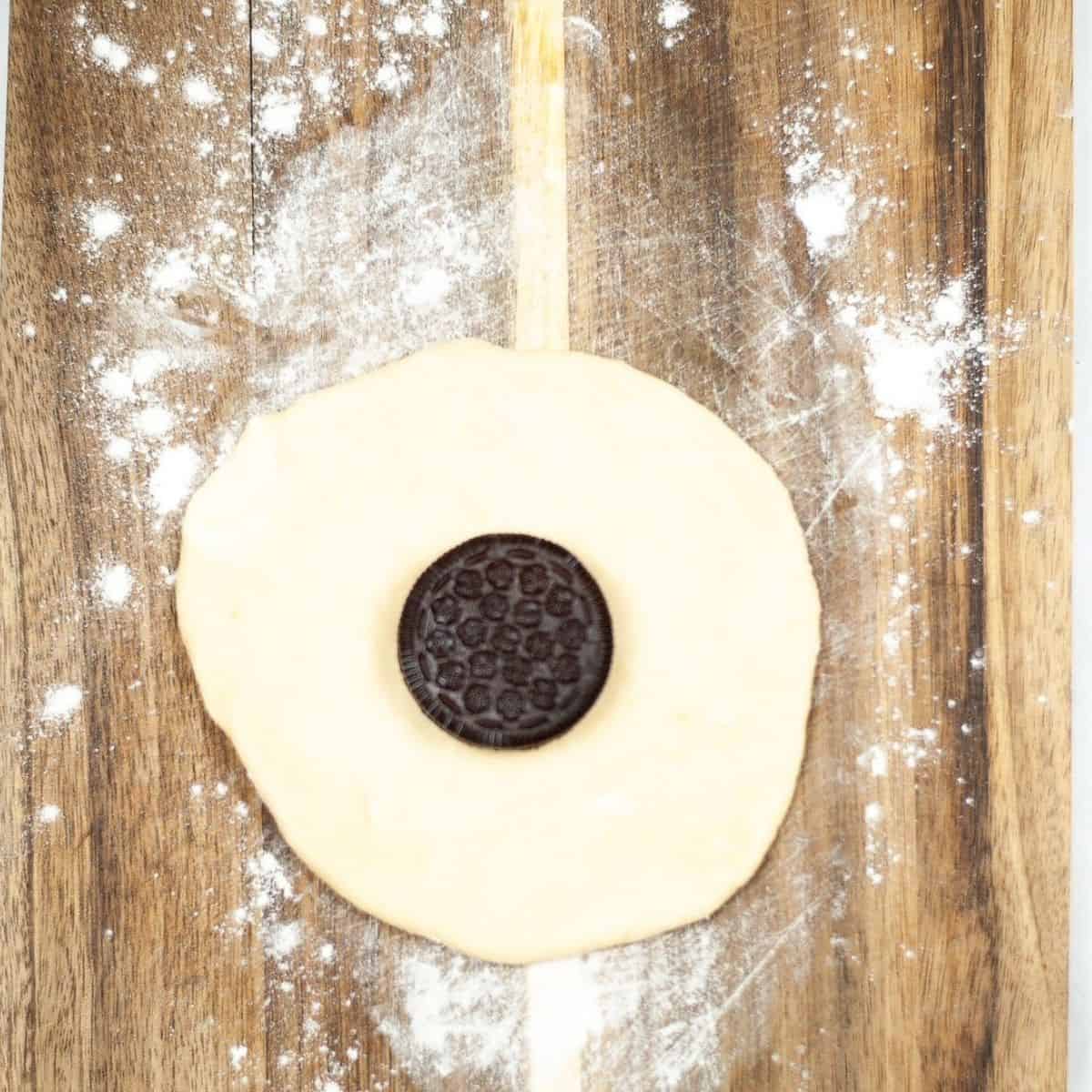 2. Spray the air fryer basket with non-stick cooking spray. Place the biscuit wrapped oreo cookie rounds into the sprayed basket in a single layer and spread apart. Do not let them touch each other. Cook at 370°F for 5 minutes. The fried Oreos will be golden brown.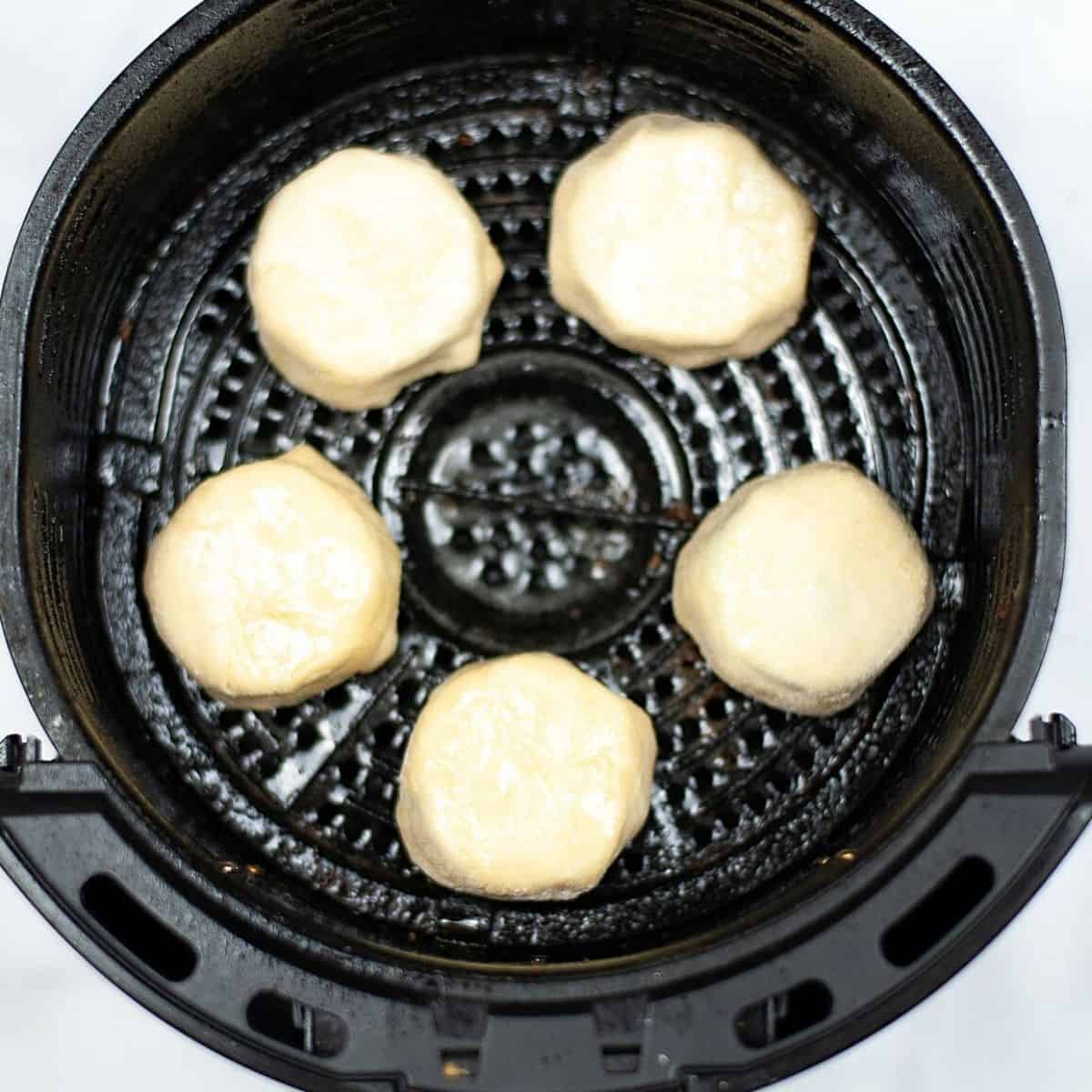 3. Sprinkle with powdered sugar, pour a glass of milk and enjoy!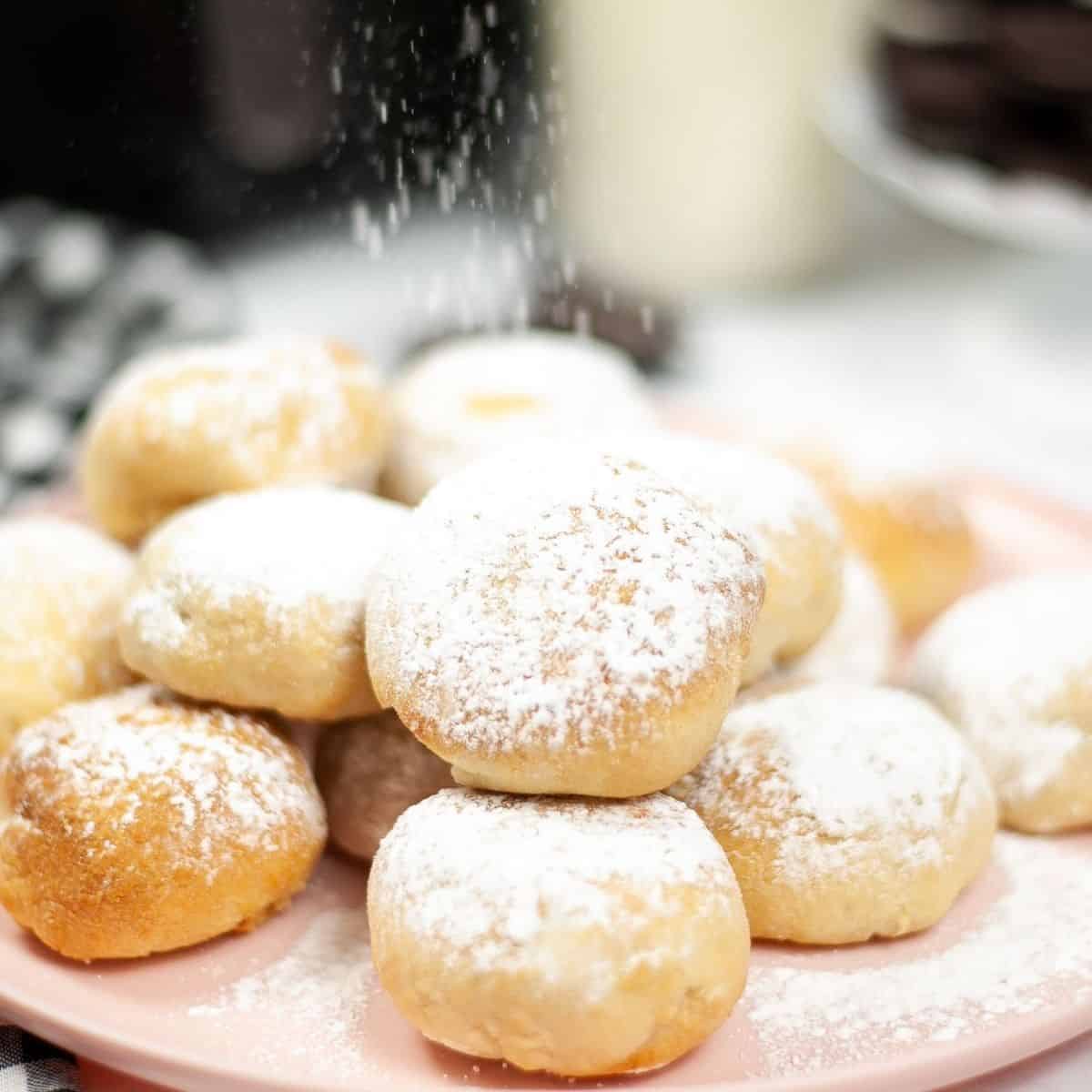 Storage
The fried cookies should be eaten right away as they will be warm, crispy, gooey, and tasty go!
However, if you happen to have leftovers, keep them in an air-tight covered container for up to 3 days.
Expert Tips
Expert Tip: It is easier to roll the cut dough into a ball and then flatten. This gives a round shape and easy to surround the cookie.
Use either canned biscuit dough and be sure to cut in half.
Depending on the type of air fryer you use, you may need to do this in batches.
Keep the biscuit wrapped dough apart on the air fryer tray.
You can preheat the air fryer while you are prepping the cookies.
Give the wrapped oreos plenty of room in the air fryer basket so they do not touch as they cook.
Frequently Asked Questions
How do I reheat leftovers?
Leftovers can be reheated for a few seconds in the air fryer or microwave.
Can I bake the Oreos?
Absolutely. Follow the instructions but bake in a 375°F oven for about 10-12 minutes. The dough will be golden brown
Variations
Why stop with an oreo? Chocolate chips would be awesome to be used with this recipe.
Any type of sandwich cookie can also be used. Great for holiday-themed cookies.
Any flavor or Oreo, including Golden Oreos, mint Oreos, and red velvet will also be an amazing choice in this recipe.
Serving Suggestions
Cooking with the air fryer is fabulous. You should try these recipes:
Our air fryer mozzarella medallions are a game-changer. So cheesy and yummy.
Another favorite is our copycat Chik-fil-A sandwich. My kids request this a few times a week. You won't be disappointed.
A big hit with so many readers is these crispy Air Fryer Pork Chops, delish!
Air Fryer pretzel dogs are another delicious snack you can enjoy any time.
Similar recipes
Homemade Twix Bars are a fabulous sweet treat your family will devour.
Air Fryer Cheez-Its, my kids request these all the time.
Another snack that will make your day better is this recipe for Homemade Hard Pretzels!
Backstory
My love of fried Oreo's began many, many years ago at the Texas Fair. These tasty treats were Heaven sent to me and my skinny little 20 something self. As the years and babies happened, enjoying a fried Oreo became a distant memory. Then the Air Fryer happened! The most decadent Fried Oreo can be recreated in the air fryer with ridiculously delicious results.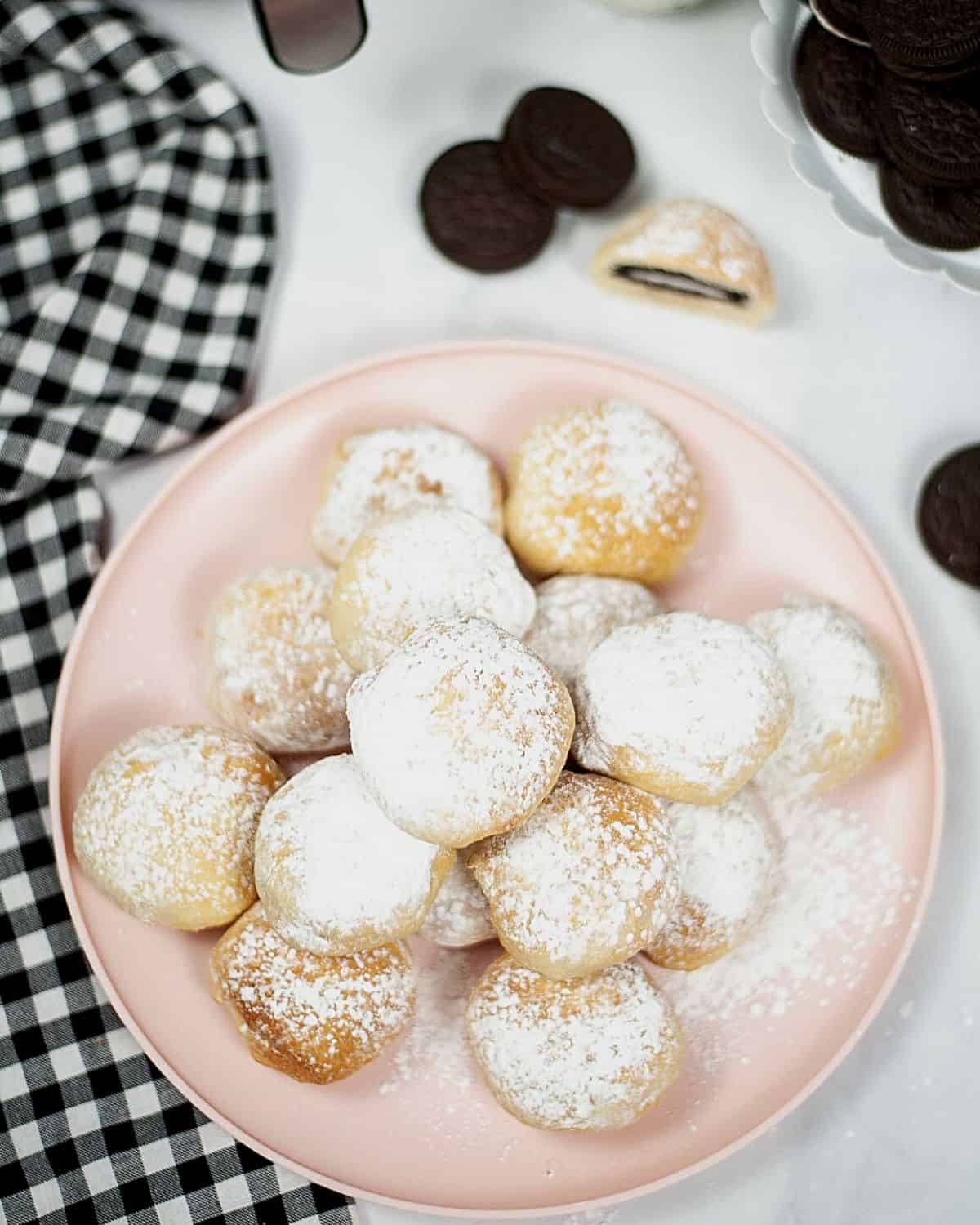 The form you have selected does not exist.
I love any comments or questions, please feel free to leave them below.
Keep up to date with recipes by following me on:
FACEBOOK INSTAGRAM, PINTEREST, TWITTER
Thank you for the continued support. I am forever grateful.
Eileen xo
If you click on the number of servings in the recipe card you can adjust the measurements up or down for the exact number of servings you need.
If you love this recipe please give it 5 stars! ⭐️⭐️⭐️⭐️⭐️
This recipe was originally published on February 9, 2021. Updated January 18, 2022, for user experience.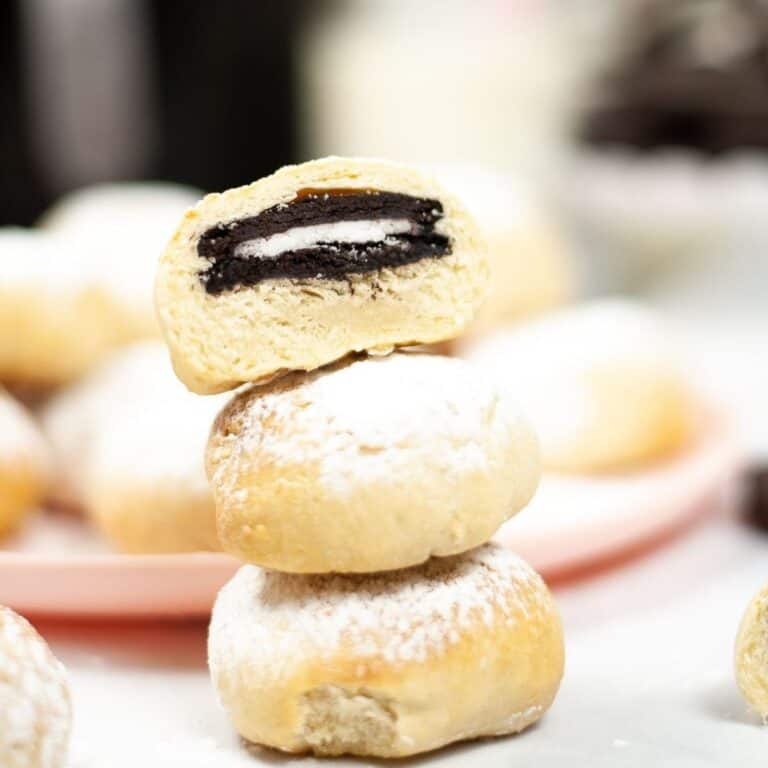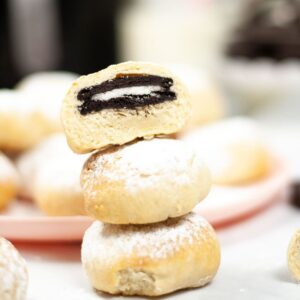 Air Fryer Oreos
Decadently delicious Oreos wrapped in canned biscuit dough and air fried for a festive snack. Bring the State Fair to your kitchen.
Print
Pin
Rate
Equipment Needed:
As an Amazon Associate I earn from qualifying purchases
Instructions
Preheat the air frier to 370°F.

Cut each biscuit dough in half. Flatten the dough.

Quickly dip an Oreo cookie in milk.

Place the cookie in the center of a flattened piece of biscuit dough. Cover the cookie completely with the dough. Form a dough ball in the palm of your hand.

Repeat this process until all Oreos have been wrapped in dough.

Spray air fryer basket with cooking spray. Place wrapped Oreos in air fryer basket leaving room for the dough to expand. Spray cookies with baking spray. Note 1

Cook at 370°F for 5 minutes or until golden the fried Oreos are golden brown.

Repeat until all Oreos have been air fried.

Dust fried Oreos with powdered sugar and serve.
Notes
Be sure to check Expert Tips and FAQs above with important tips and questions that can help make a delicious recipe. 
Note 1: Be sure the cookies are in a single layer in the bottom of the basket. Also,  leave about 2 inches between each wrapped Oreo. The dough will expand as it air fries. 
Storage: Leftovers should be stored in an air-tight covered container for up to 3 days. 
Helpful Tips:
Use either canned biscuit dough and be sure to cut in half,
It is easier to roll the cut dough into a ball and then flatten. This gives a round shape and easy to surround the cookie.
Depending on the type of air fryer you use, you may need to do the cookies in batches.
Keep the Oreo balls apart on the air fryer tray so the cookies don't stick together as they cook. 
I'm not a registered dietician, I do my best to provide the most accurate nutritional values. Any nutritional data I provide is an approximation. Actual dietary information can vary based on ingredients and portion sizes.
Nutrition
Serving:
1
fried Oreo
|
Calories:
186
kcal
|
Carbohydrates:
28
g
|
Protein:
3
g
|
Fat:
8
g
|
Saturated Fat:
2
g
|
Trans Fat:
1
g
|
Cholesterol:
1
mg
|
Sodium:
344
mg
|
Potassium:
105
mg
|
Fiber:
1
g
|
Sugar:
10
g
|
Vitamin A:
9
IU
|
Vitamin C:
1
mg
|
Calcium:
27
mg
|
Iron:
2
mg