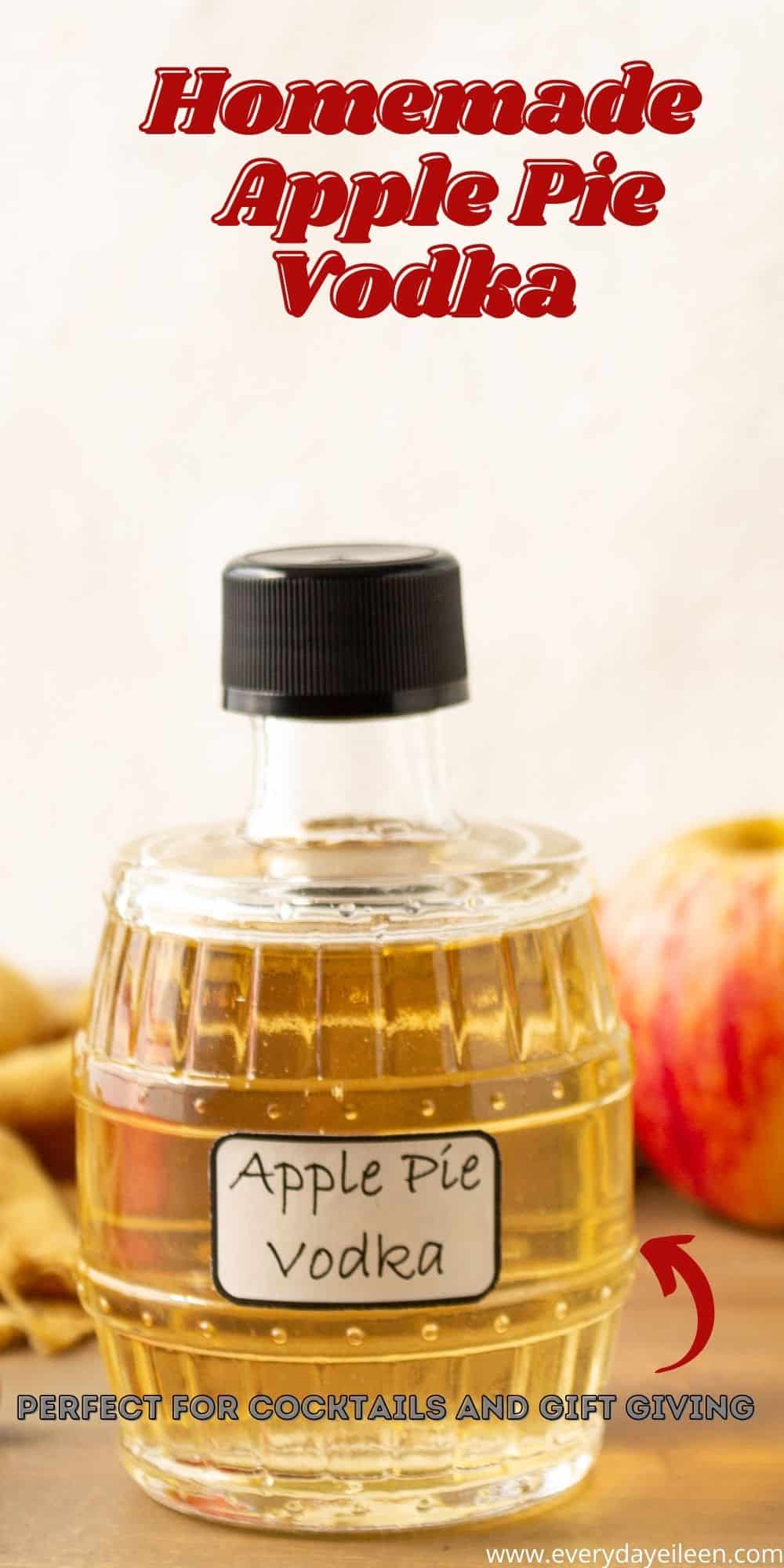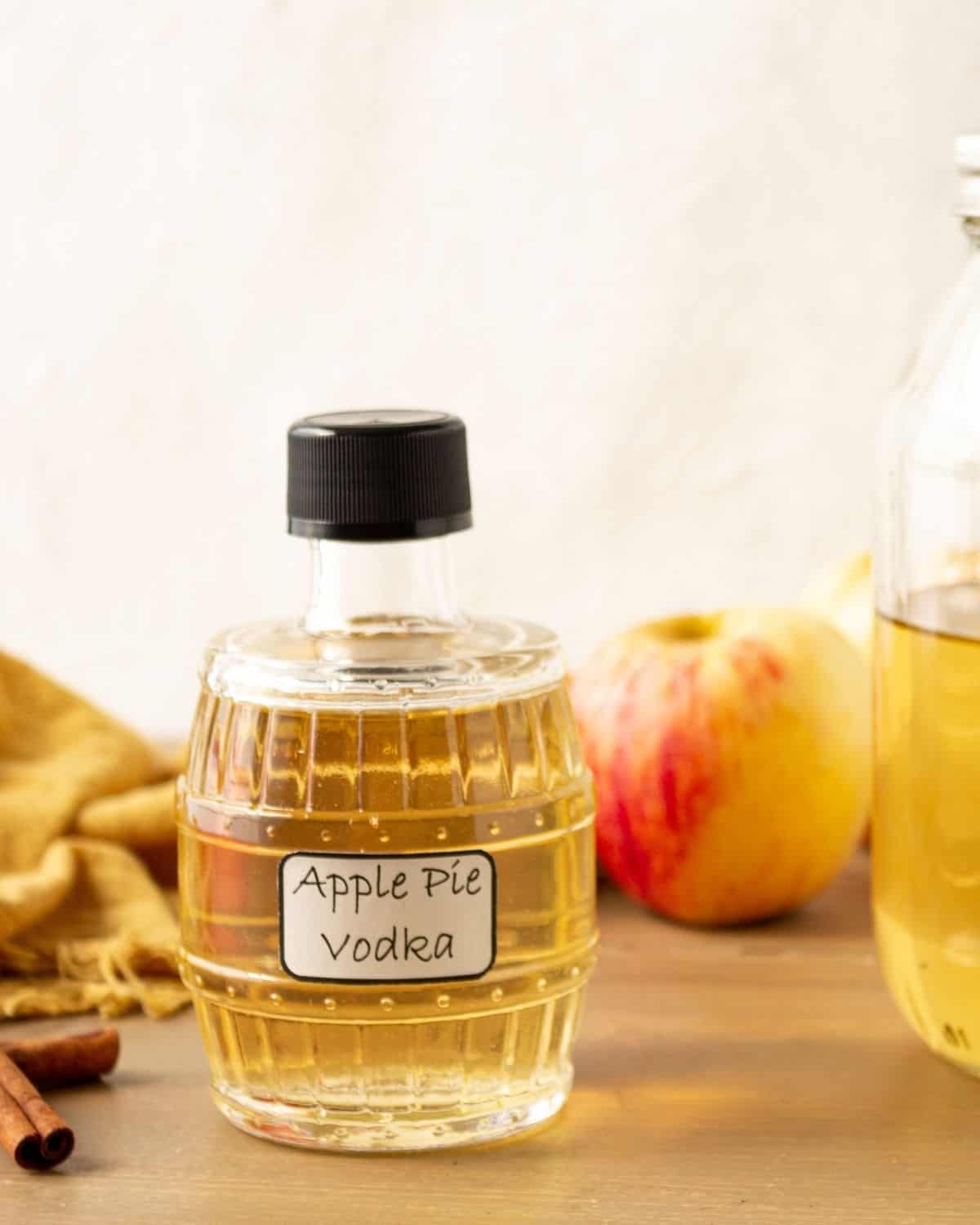 Apple Pie Vodka, warm cinnamon, and spices flavors from a decadent pie are bursting in this homemade infused vodka. Whether you want to jazz up homemade apple cider or make some festive gifts for family and friends, this is your recipe.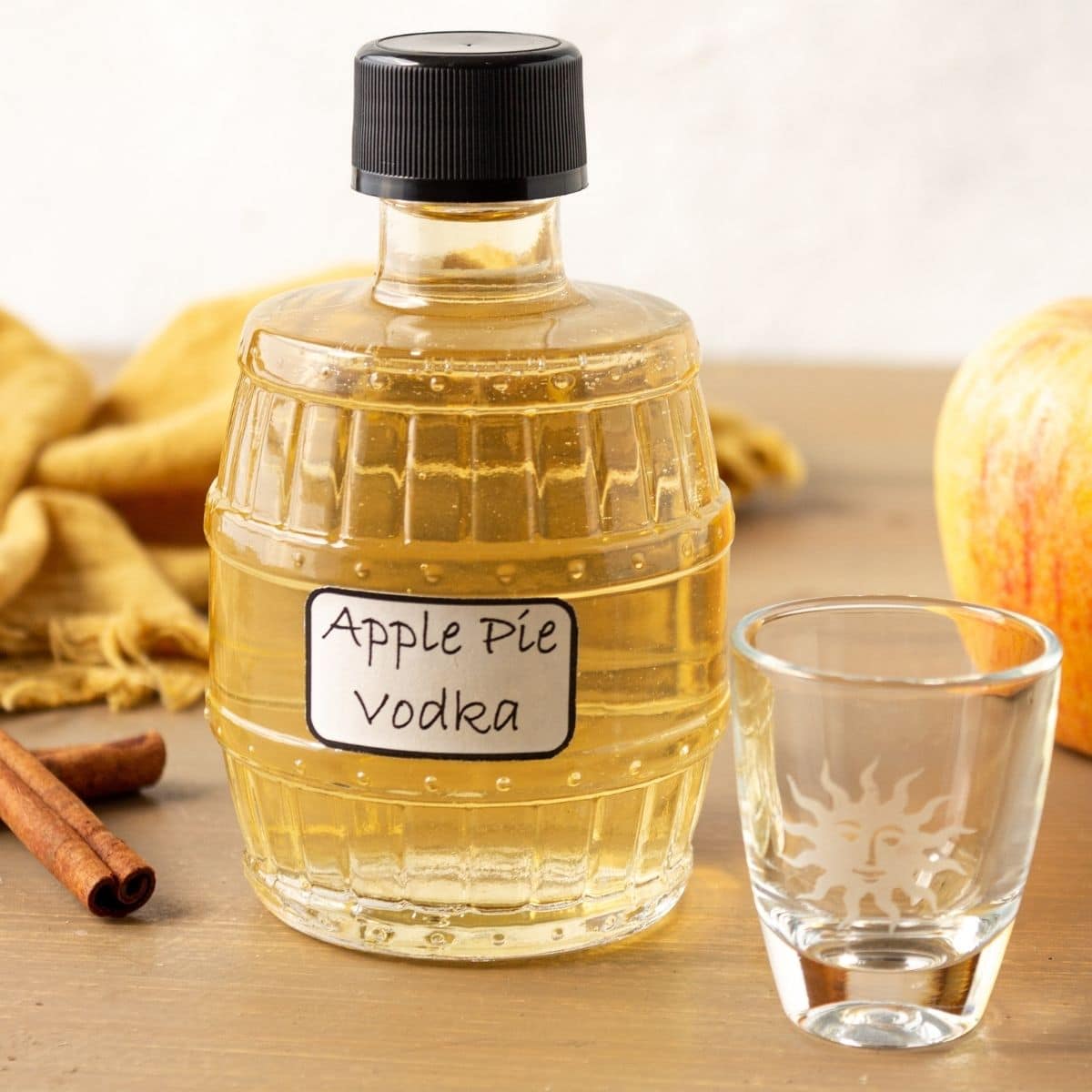 Apple Pie Vodka
Whether you would like to drink this straight up, make a sangria, or an apple toddy, this homemade vodka is going to make your day better. If you want to give a unique and thoughtful gift, this is it.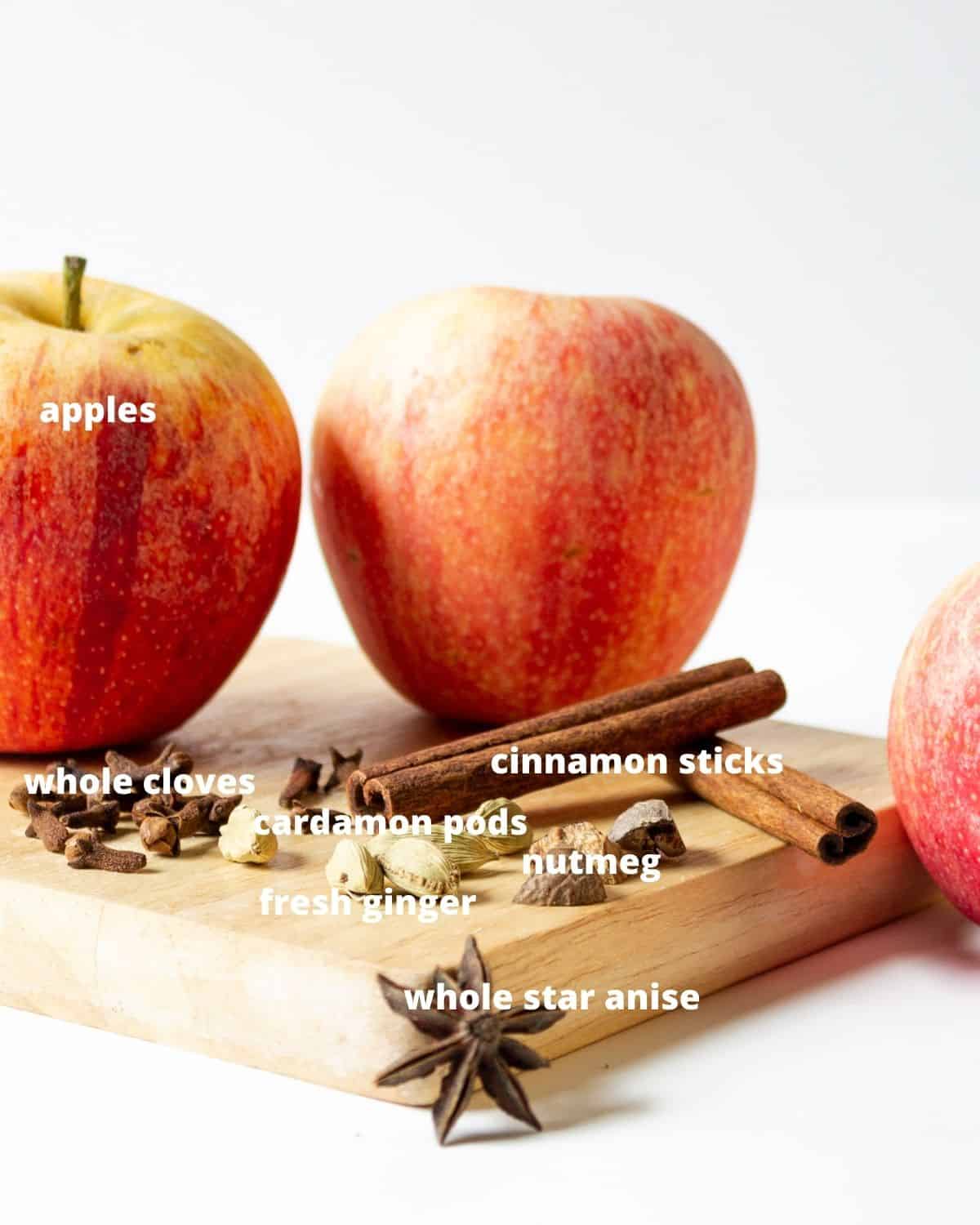 Ingredients:
cinnamon sticks: Essential for adding flavor.
cardamon pods: Do not leave them out of the brine. They add great flavor.
whole star anise: Also a must-add for peak flavor.
nutmeg: Whole nutmeg is another level of flavor.
whole cloves
ginger: Fresh ginger adds a nice zing to the liquor.
vodka: Not shown above. Use your favorite brand of vodka.
vanilla extract: Not shown above
sugar: not shown above. Add your favorite sweetener from white sugar to stevia.
How to make Apple Pie Vodka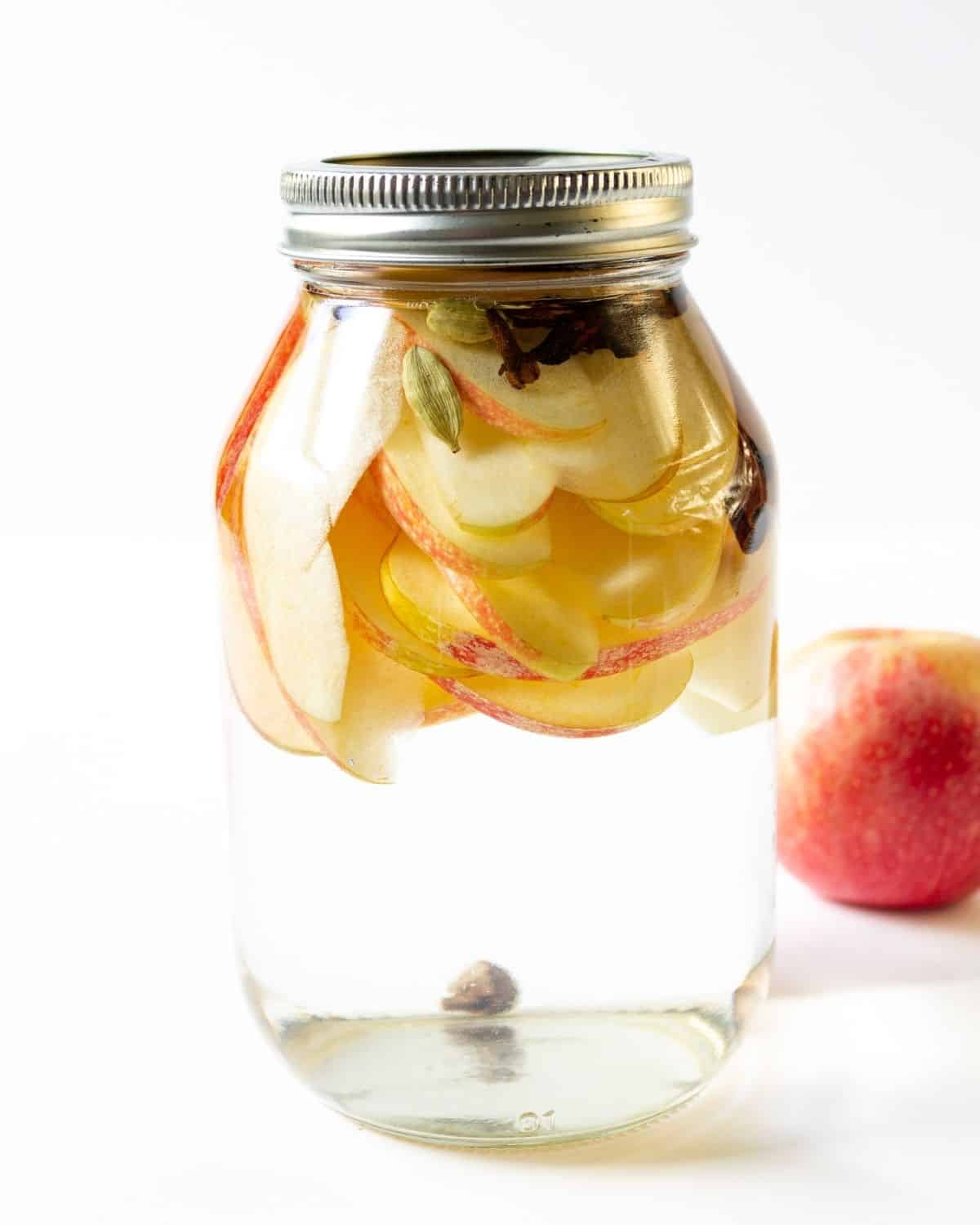 Slice apples very thin and set aside
Add to a large mason jar and add vodka, apple slices, cinnamon sticks, star anise, cardamom pods. cloves. nutmeg, and ginger.
Keep the mason jar in the fridge for 48 hours, shake the jar occasionally during that time.
After 48 hours, the flavors will be infused. Feel free to taste to ensure the vodka has the appropriate apple pie flavoring for your liking. Strain through a fine-mesh sieve into a clean container. You can also use a cheesecloth
Make a simple syrup, in a small saucepan blend ½ cup of sugar and water and bring it to a simmer and cook for 30 seconds. Remove from the heat and let cool.
Add the cooled simple syrup and vanilla extract to the infused vodka, blend to combine.
Store in sealed jars in the fridge for up to 2 weeks.
What type of apples can I use?
Use a sweet apple such as Gala, Fuji, Golden Delicious, Honeycrisp, or Braeburn.
What to make with this recipe
Serving Suggestions:
Serve with appetizers or on a dessert table. Some of my favorite appetizers would be spinach and artichoke stuffed mushrooms, homemade Boursin cheese with crackers, and pecan-crusted chicken tenders.
Some of my favorite desserts to serve along with this flavored liquor would be pumpkin spice cupcakes, snickerdoodles, and homemade chocolate bark.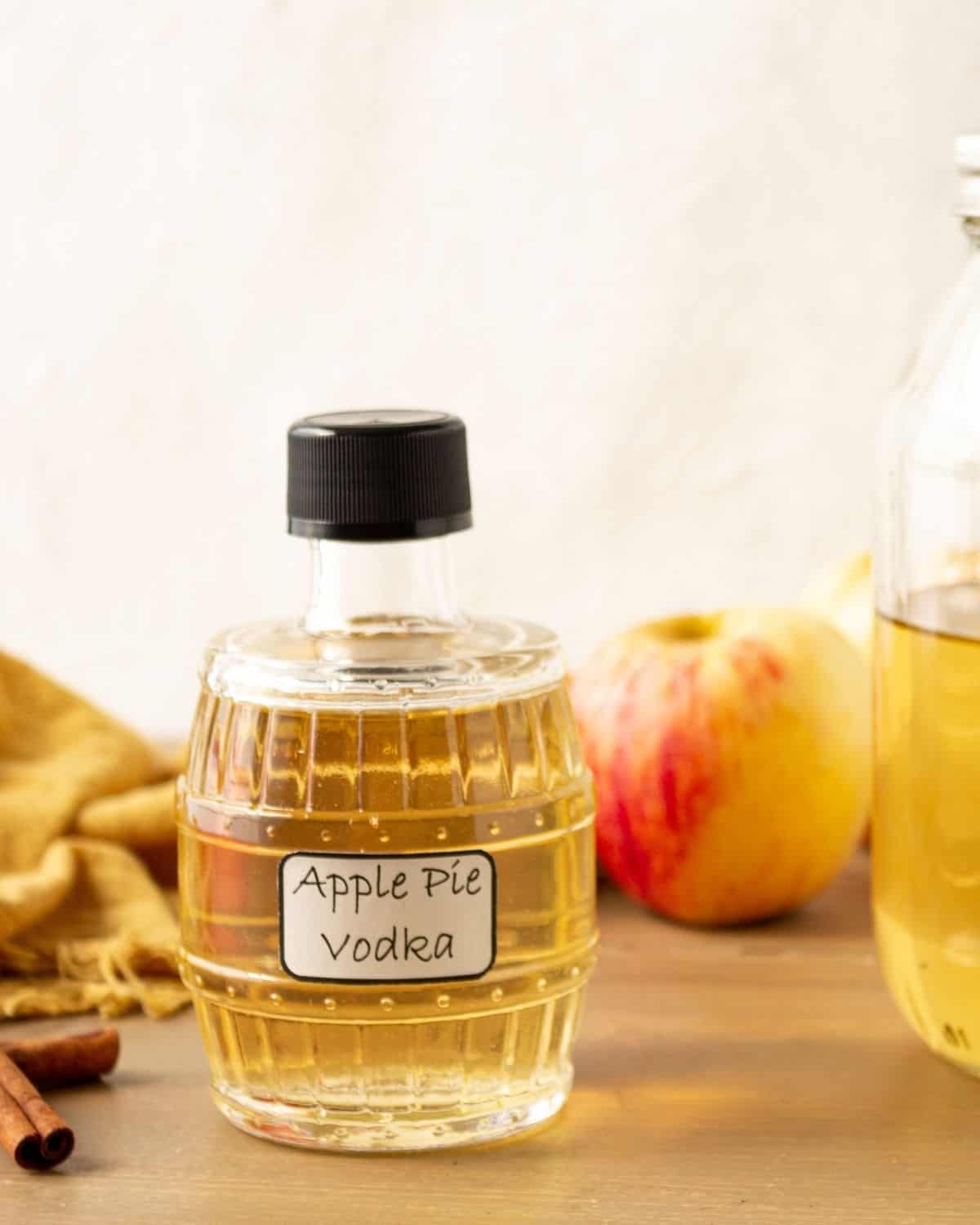 SHOP THIS RECIPE:
This post contains affiliate links for your convenience. We are a participant in the Amazon Services LLC Associates Program, an affiliate advertising program designed to provide a means for us to earn fees by linking to Amazon.com.
Mason Jars: Use your favorite jars and wrap with a ribbon and give for gifts.
Gift Giving Labels: These are a favorite of mine for gift giving.
Check out my store, Everyday Eileen I share all my favorite finds.
When you make this recipe, take a pic and tag me on Instagram @everyday_eileen or #everydayeileen.
I love any comments or questions, please feel free to leave them below.
Keep up to date with recipes and posts by following me on:
FACEBOOK INSTAGRAM, PINTEREST, TWITTER
Love this recipe, it would be awesome if you give it a 5-star rating and share comments below.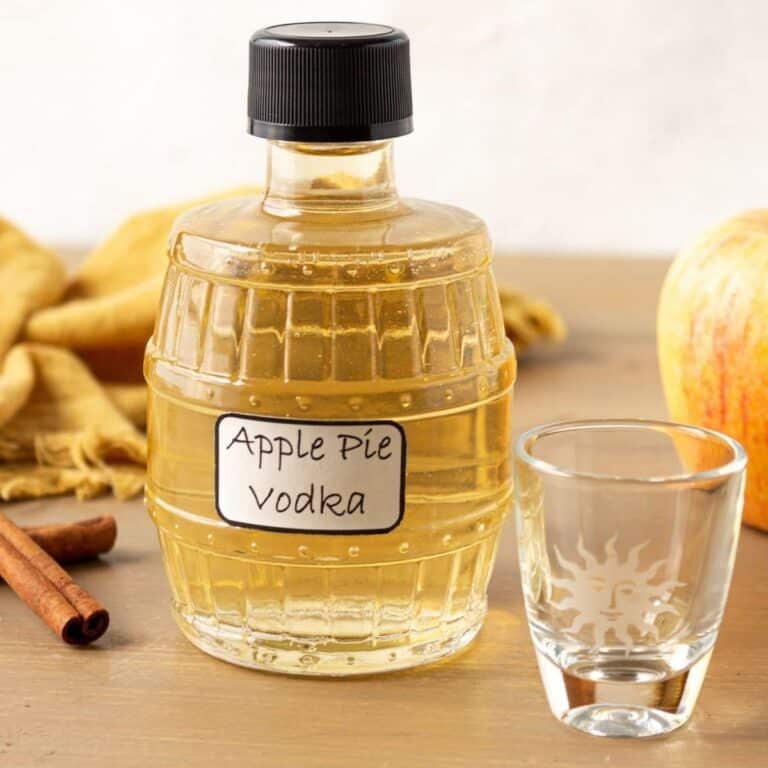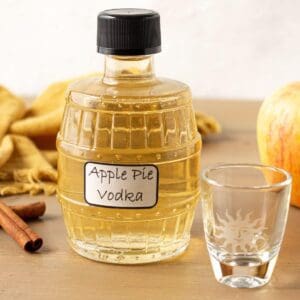 Homemade Apple Pie Vodka
Homemade Apple Pie Vodka, made with fresh apples and spices makes a fragrant and delicious flavored vodka. Perfect added to sangrias, cider, and as a gift for family and friends.
Print
Pin
Rate
Equipment Needed:
Instructions
Slice the apples into thin slivers. Set aside.

In a large glass or plastic container, combine vodka, cinnamon sticks, star anise, cardamom pods, nutmeg, cloves, and ginger.

Set the vodka mixture in the fridge to soak for 48 hours, occasionally shaking the container to mix ingredients.

After the 48 hours and the flavors have been infused, use a fine-mesh sieve to strain into a clean container. Set aside.

Add the simple syrup and vanilla extract into the infused vodka. Stir to blend all ingredients.

Store in sealed glass containers in the fridge for up to 2 weeks.
Notes
Note 1: Use sweet apples such as Fuji, Braeburn, or Golden Delicious.
Note 2: We use 3-inch cinnamon sticks.
Note 3: Stevia can be used in this recipe.
The infused liquor makes a fabulous gift. Please in mason jars with a ribbon. The liquor tastes delicious straight up.
Any nutritional data I provide is an approximation and actual dietary information can vary based on ingredients and proportion sizes. 
Nutrition
Serving:
1
serving
|
Calories:
36
kcal
|
Carbohydrates:
9
g
|
Protein:
1
g
|
Fat:
1
g
|
Saturated Fat:
1
g
|
Sodium:
6
mg
|
Potassium:
32
mg
|
Fiber:
1
g
|
Sugar:
8
g
|
Vitamin A:
10
IU
|
Vitamin C:
1
mg
|
Calcium:
6
mg
|
Iron:
1
mg