This is sure to be the best Hot Toddy Recipe you'll ever try! It's a great classic cocktail for a cold winter night.
A feel better remedy to help get over that feeling of an achy cold or sore throat.
The perfect blend of fresh lemon, spices, and good old-fashioned whiskey. Feeling good and want something with a little libation to take the edge off and relax on a cool night.
Jump to:
❤️ Why you'll love this recipe
This warm drink with sweet honey is going to bring you some serious comfort! This aromatic warm cocktail is ready in no time and the perfect quick fix for much-needed comfort.
Tis the Season for cold symptoms with aches, and pains! That means it's Hot Toddy season!
These are my Mom's cure-all for the common cold or for a great evening dring to warm you up.
Ingredients
Whiskey or Irish Whiskey are my top choices - adds a zip to the body to warm you up.
honey: gives a sweetness and soothes the throat.
lemon juice - adds Vitamin C which is a great addition to the drink.
lemon wedges - more Vitamin C
ground cloves - a warm spice that enhances the toddy.
cinnamon sticks - gives a nice spice to warm flavors.
fresh ginger slices, if unavailable, use ground ginger - ginger is great for the body.
As an Amazon Associate, I earn from qualifying purchases.
Equipment
Instructions
This is an overview of the recipe. The full instructions are below in the recipe card.
Step 1: Add water to a tea kettle or medium saucepan. Bring water to a boil.
Step 2: Pour whiskey, fresh lemon juice, and honey into a mug.
Step 3: Top with hot water.
Step 4: Add a slice of lemon, fresh ginger, cloves, and cinnamon stick.
Step 5: Serve and enjoy.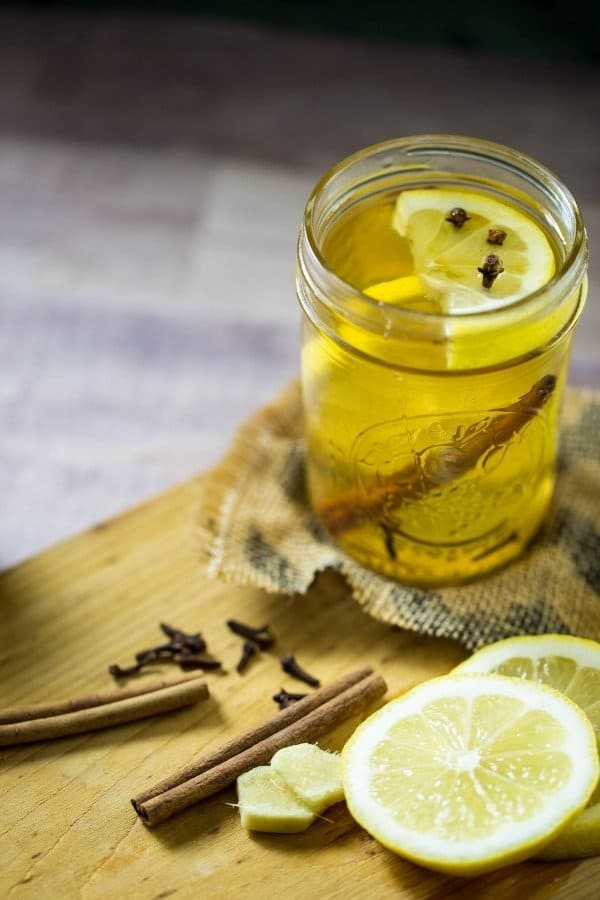 Storage
Best to drink your toddy while it's hot. I've never had leftovers. However, if you made a big batch, keep in the refrigerator in an airtight covered container for up to 5 days. Reheat on the stovetop or microwave.
Expert Tips
Expert Tip: Be sure to heat your water up to just about boiling so the sweetener will dissolve in the liquid.
Frequently Asked Questions
Variations
Looking to cozy up with a night cap on a cold evening but don't have whiskey, here are some suggestions to substitute:
Brandy
Vodka
Light Rum
Dark Rum
Bourbon
Scotch
For the sweetener feel free to try ½ teaspoon of any of these:
white sugar
pure maple syrup
Low-carb sweeteners such as Stevia or monkfruit
Similar recipes
The regulars here know my Mom, the originator of The Best Bloody Mary, has been making Hot Toddies even longer than Bloody Marys! My friends, this is one epic, feel better drink with a kick from whiskey!
Hot drinks and beverages are a favorite. You should give a try to my family's famous Irish Coffees and Pumpkin Lattes, so delicious!
Another favorite is our Boozy Whiskey Cherries made with Fireball! Wow, they are delish.
I love any comments or questions, please feel free to leave them below.
Keep up to date with recipes by following me on:
FACEBOOK INSTAGRAM, PINTEREST, TWITTER
Thank you for the continued support. I am forever grateful.
Eileen xo
If you click on the number of servings in the recipe card you can adjust the measurements up or down for the exact number of servings you need.
If you love this recipe please give it 5 stars! ⭐️⭐️⭐️⭐️⭐️
Recipe originally published December 7, 2019, updated November 11, 2021, for user experience.
The hubs took me on a much-needed getaway for a few days in Montauk, NY.
The hotel is gorgeous and right on the ocean! We enjoyed hot toddies with the best hot whiskey, fresh lemon slices while we sat by the firepit. Very expensive drinks, but what can you do when you are traveling and in need of pure comfort!
I have to share my family's recipe with you because it's so darn good and after seeing the price of them in Montauk, well, please make your own at home.
You will save a lot of money and with just a few ingredients and enjoy them whenever you want one.