This is sure to be the best Hot Toddy Recipe with whiskey you'll ever try! It's a great classic cocktail for a cold winter night.
A feel better remedy to help get over that feeling of an achy cold or sore throat.
The perfect blend of fresh lemon, spices, and good old-fashioned whiskey. Feeling good and want something with a little libation to take the edge off and relax on a cool night.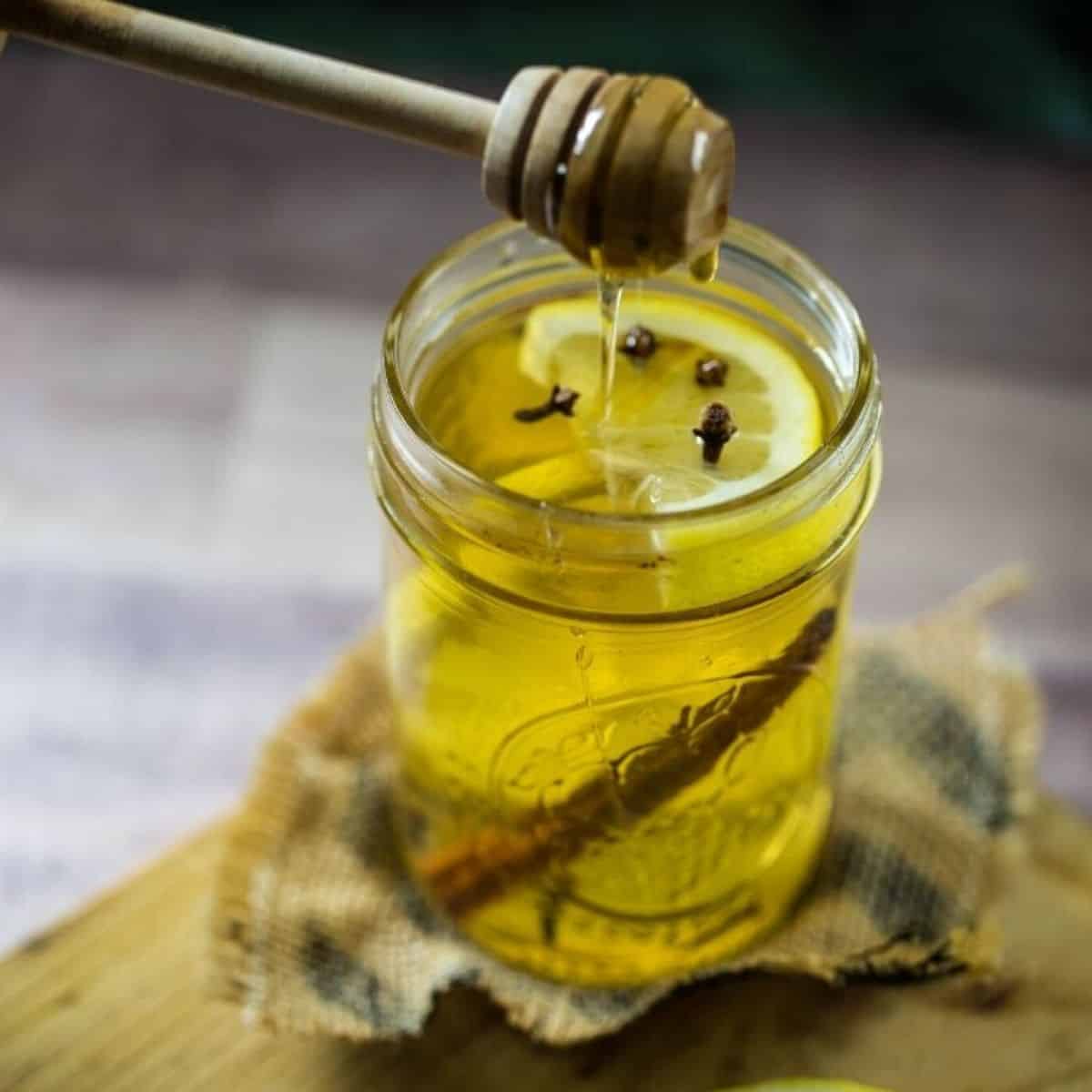 Jump to:
❤️ Why you'll love this recipe
This hot whiskey drink with sweet honey is going to bring you some serious comfort! This aromatic warm cocktail is ready in no time and is the perfect quick fix for much-needed comfort.
Tis the Season for cold symptoms with aches, and pains. That means it's Hot Toddy season and this is a cure-all.
It's so easy to learn how to make a hot toddy at home, any time.
Ingredients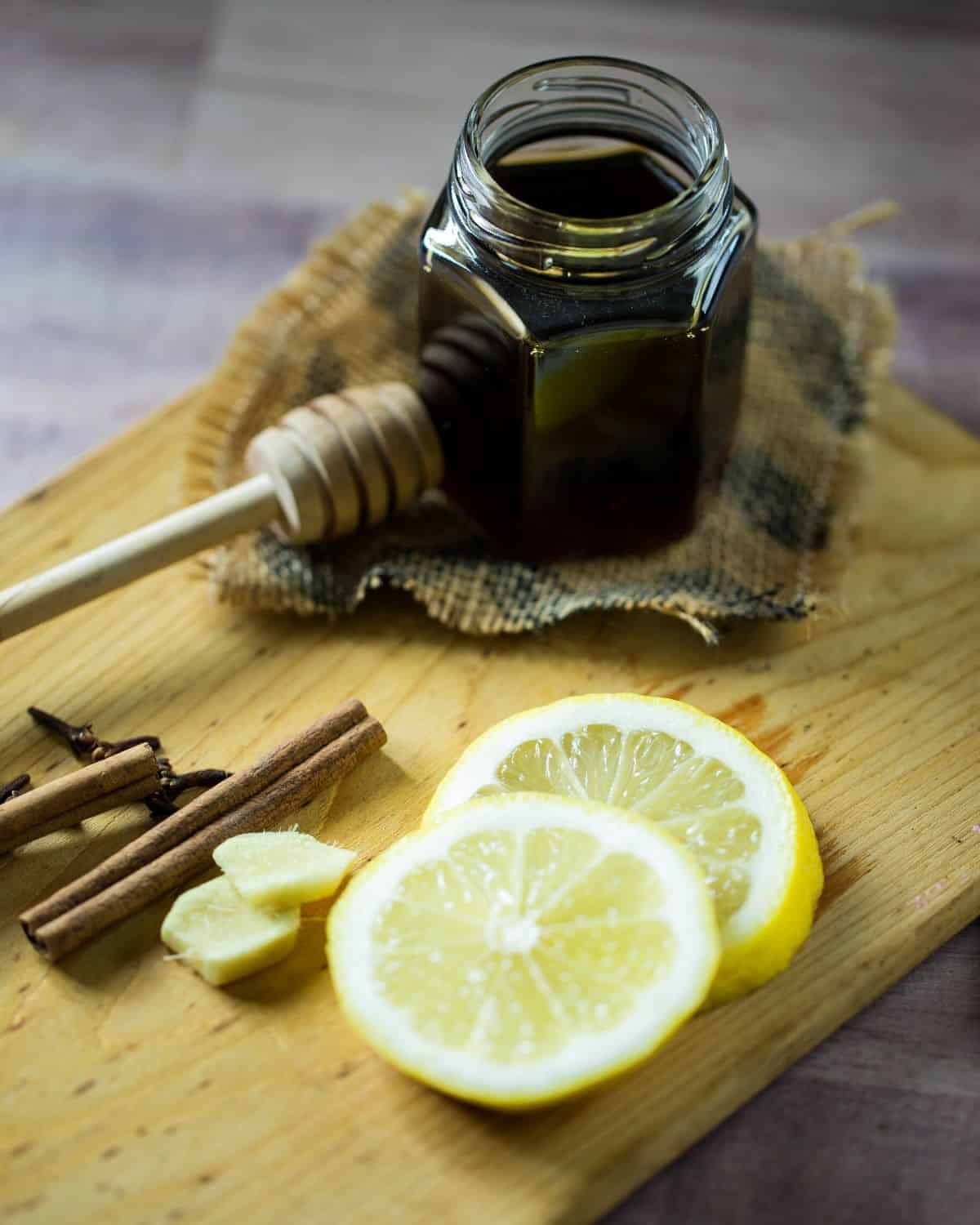 Whiskey or Irish Whiskey are my top choices, it adds a zip to the body to warm you up.
honey: gives a sweetness and soothes the throat.
lemon juice - adds Vitamin C which is a great addition to the drink.
lemon wedges - more Vitamin C
ground cloves - a warm spice that enhances the toddy.
cinnamon stick - gives a nice spice to warm flavors.
fresh ginger slices, if unavailable, use ground ginger - ginger is great for the body.
As an Amazon Associate, I earn from qualifying purchases.
Equipment
Instructions
This is an overview of the recipe. The full instructions are below in the recipe card.
Step 1: In a teapot or medium size saucepan, add water, and bring to a boil.
Step 2: Pour whiskey, fresh lemon juice, and honey into a mug.
Step 3: Top with hot water.
Step 4: Add a slice of lemon, fresh ginger, cloves, and cinnamon stick.
Step 5: Serve and enjoy.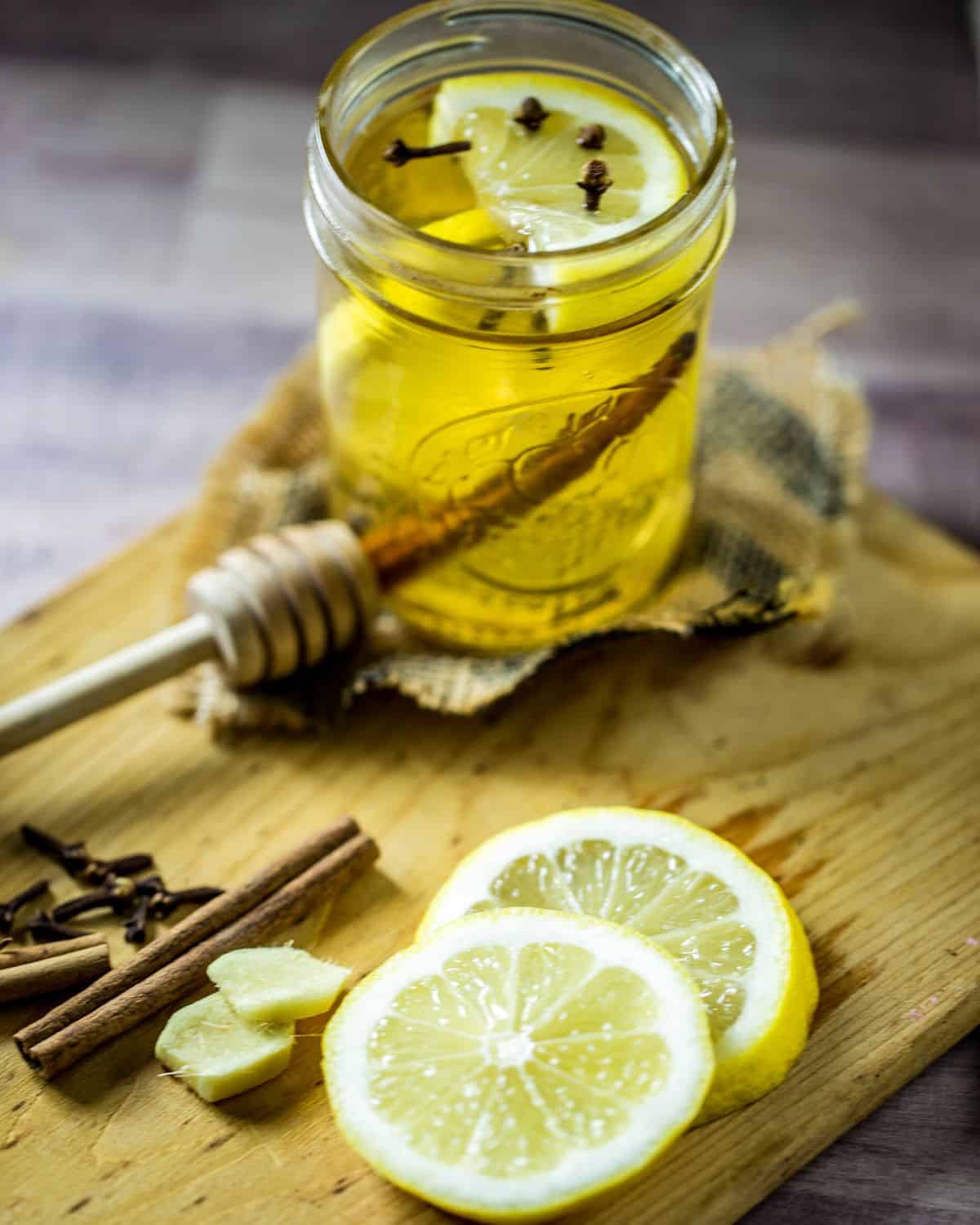 Storage
Best to drink your toddy while it's hot. I've never had leftovers.
However, if you make a big batch, keep it in the refrigerator in a covered airtight container for up to 5 days.
Reheat on the stovetop or microwave.
Expert Tips
Expert Tip: Be sure to heat your water up to just about boiling so the sweetener will dissolve in the liquid.
Frequently Asked Questions
Where did the Hot Toddy recipe originate?
The word Toddy dates back to the British rule of India in the 1600s, which means a beverage made from fermented palm sap.
The term Toddy evolved into a beverage made with liquor, spices, sugar, and hot water in the late 1700s. The rest is history and the hot toddy is a winner.
Does this hot whiskey drink really cure a cough or cold?
Does Chicken Soup cure a cold? Can a great cup of tea make your day better? Maybe not, but they sure can help make you feel a bit better. So why not give it a go and see why my Mom is always right! This toddy is my go-to adult to feel better liquid refreshment.
What type of whiskey is best to use to make a great drink?
Jameson Irish Whiskey
Makers Mark
Canadian Club Rye
Tullamore Dew Whiskey all make great toddy drinks.
Do Hot Toddys really work to make you feel better?
According to Medical News Today, people find having a hot toddy can give a little relief to their symptoms. That said, always check with your doctor when you are on any prescription medication and for making any homemade elixirs.
Variations
I love an extra shot of lemon and ginger which I add to the saucepan when the water is boiling.
For another change, try orange slices, or apple slices in this warm cocktail.
Add some black tea for your cocktail for an extra boost of flavor.
Looking to cozy up with a nightcap on a cold evening but don't have whiskey, here are some suggestions to substitute:
Brandy
Vodka
Light Rum
Dark Rum
Bourbon
Scotch
For the sweetener feel free to try ½ teaspoon of any of these:
white sugar
pure maple syrup
Low-carb sweeteners such as Stevia or monk fruit

Similar recipes
The regulars here know my Mom, the originator of The Best Bloody Mary, has been making Hot Toddies even longer than Bloody Marys! My friends, this is one epic elixir with a kick from the whiskey.
Hot drinks and beverages are a favorite. You should try my family's famous Irish Coffee and Pumpkin Lattes, so delicious!
Another favorite is our Boozy Whiskey Cherries made with Fireball! Wow, they are delish.
Apple Pie Vodka is another treat you will enjoy.
I love any comments or questions, please feel free to leave them below.
Keep up to date with recipes by following me on:
FACEBOOK INSTAGRAM, PINTEREST, TWITTER
Thank you for your continued support. I am forever grateful.
Eileen xo
If you click on the number of servings in the recipe card you can adjust the measurements up or down for the exact number of servings you need.
If you love this recipe please give it 5 stars! ⭐️⭐️⭐️⭐️⭐️
.
📖 Recipe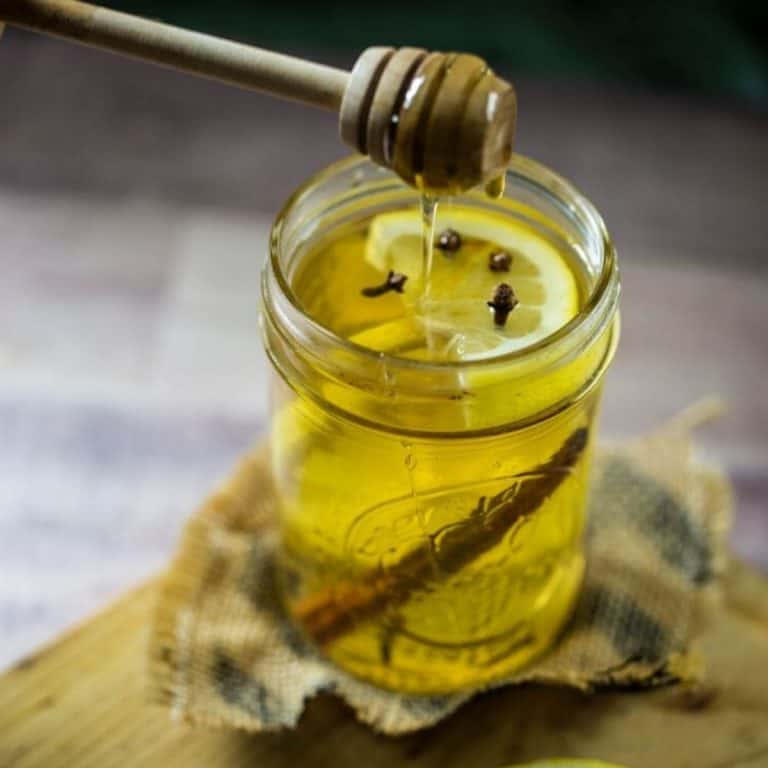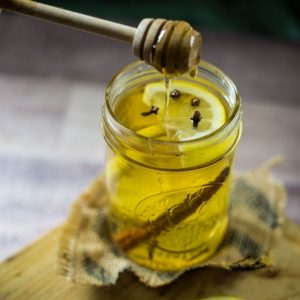 Hot Toddy Recipe
A delicious and comforting Hot Toddy! This is a is make you feel better with a little whiskey, lemons, ginger, and some spices. For our over 21 friends!
Print
Pin
Rate
Equipment Needed:
As an Amazon Associate I earn from qualifying purchases
Ingredients
8

ounces

water

1

ounce

whiskey

Note 1

1-2

teaspoons

lemon juice

1

teaspoon

honey

1

slice

fresh ginger

Note 2

½

teaspoon

ground cloves

Note 3

1

cinnamon sticks

Note 4

1

slice

lemon

optional garnish
Instructions
In a tea kettle or saucepan, over medium-high heat, add water. and bring water to a boil.

Bring water to a boil. Then remove the pan from the heat.

Pour the hot water into a large mug. Add the whiskey, lemon juice, honey, ginger, cloves, cinnamon stick, and lemon wedge. Give the mixture a good stir.
Notes
Be sure to check Expert Tips and FAQs above with important tips and questions that can help make a delicious recipe.
Note 1: Whiskey or Irish whiskey make a classic Hot Toddy. Bourbon, Rum, Brandy, or Scotch can be used as well.
Note 2: Ginger is a favorite addition to the toddy. A slice of fresh ginger is awesome or add ¼ teaspoon ground ginger.
Note 3: A nice option is to add 3-4 whole cloves to the drink.
Note 4: If you do not have cinnamon sticks use ground cinnamon, ¼ teaspoon, if you prefer more cinnamon.
Any nutritional data I provide is an approximation. Actual dietary information can vary based on ingredients and portion sizes.
Nutrition
Serving:
1
cup
|
Calories:
106
kcal
|
Carbohydrates:
9
g
|
Protein:
0
g
|
Fat:
0
g
|
Saturated Fat:
0
g
|
Cholesterol:
0
mg
|
Sodium:
15
mg
|
Fiber:
2
g
|
Sugar:
6
g
|
Vitamin C:
2
mg
|
Calcium:
35
mg
|
Iron:
0.3
mg