This grilled pineapple recipe is absolutely delicious! The pineapple slices are marinated in dark rum and a coconut sugar combination for about 30 minutes.
When the pineapple slices are grilled, the rum-sugar combination caramelizes on the pineapple.
The results are the most tender and delicious pineapple you will ever taste. You are going to love the flavor.
Serve with the coconut rum sauce and fresh vanilla ice cream, mouthwatering! This tasty grilled pineapple recipe is one of my most requested by family and friends. It soon will be a favorite of yours as well!
First Published: May 25,2018... Last Updated: June 14, 2019
This post is sponsored in conjunction with #BBQWeek. I received product samples from sponsors to use in creating recipes. However, all opinions are mine alone.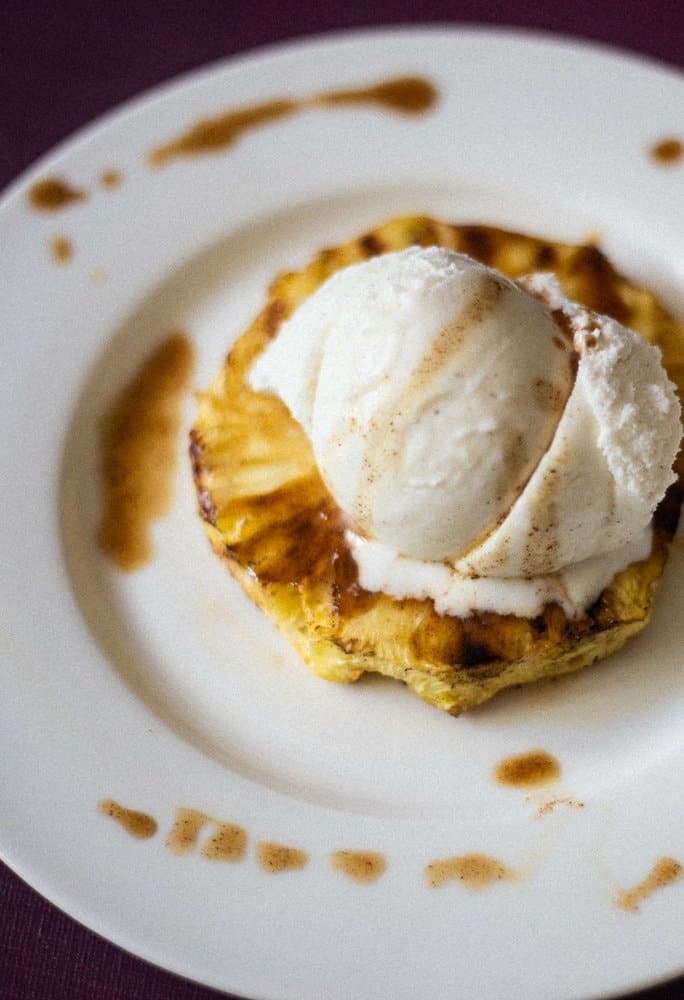 Boozy grilled pineapple recipe is an unbelievable flavorful dessert I have been making for a few years. Grilled pineapple has always been a part of our grilling menu.
The hubs is not a dessert guy. I made this for him years ago and he went wild for this grilled pineapple recipe! I have been making it ever since and he requests it often. It is light and refreshing!
The rest of the family loves dessert and sometimes a good old fashioned piece of pie is needed. Other times, a flavorful low-fat and delicious dessert like this boozy pineapple recipe hits the spot!
If you are really watching the calories, skip the ice cream topping and just have the boozy grilled pineapple! A low-fat sweet treat.
My family is all about summer because that means beach days, relaxing by the pool, and grilling. Adding fresh fruit to salads, BBQ sauces, and of course desserts is a big part of our summer meals.
Personally, I have to be more diligent about what I eat in the warmer months because despite exercising and moderately enjoying one or two Skinny Pineapple Mango Frozen Margarita, I can gain a pound, two, or three pretty easily.
It's important to me to make low-fat and desserts, thus my Boozy Grilled Pineapple Recipe!
FAQs about this Grilled Pineapple Recipe:
Can you eat the core of a pineapple?
Absolutely, however, it is a little harder to eat than the rest of the pineapple. Place the core in a freezer bag and keep in the freezer to use later in smoothies.
How many calories are in a serving of this Grilled Pineapple Recipe?
A serving of grilled pineapple slices which is about 3.5 ounces only has about 50 calories, so enjoy! In their natural state, grilled pineapple is also cholesterol-free and low-fat. Thus the reason I keep the additional ingredients to a minimum.
How do I know my pineapple is ripe?
Once a pineapple is picked, it will no longer ripen so it's important to pick a good one. I look for green leaves on top. I smell the bottom of the pineapple and it should have a sweet smell. Also, the skin of the pineapple should be able to soft when you push it. The more yellow the skin, the riper the pineapple.
Can I make this grilled pineapple recipe without the coconut rum?
For my kids under 21, I just sprinkle some coconut sugar and coconut extract on their pineapples and grill them, everyone gets to enjoy this grilled pineapple dessert!
How do you cut a pineapple?
We eat a lot of pineapple. I was surprised a while back when a friend said she had never cut a pineapple. It is really easy.
Cut the top off, then the bottom of the pineapple.
Place the pineapple straight up and cut the skin off. Take care not to take too much flesh. I hate waste. 🙂
The little brown eyes that remain on the pineapple, use a paring knife to remove and discard.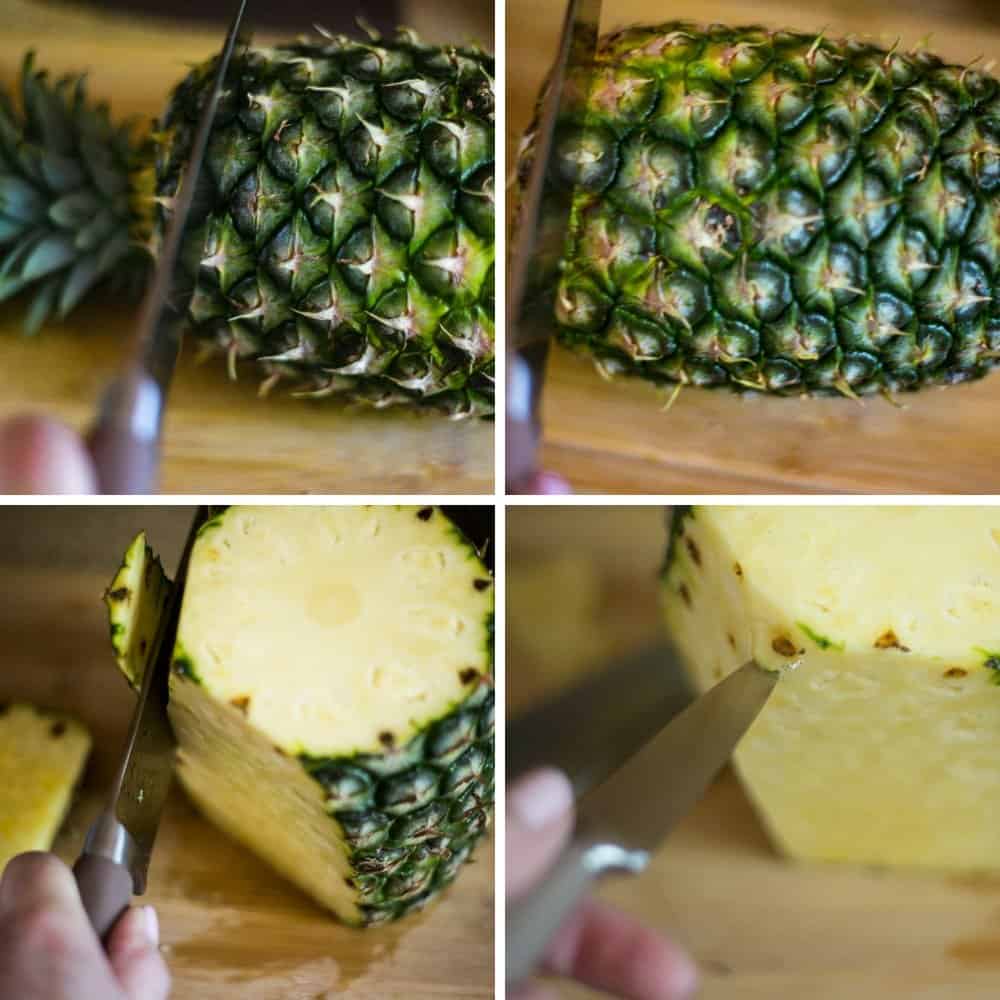 Some of my other fruit desserts you can enjoy:
This post contains affiliate links. We are a participant in the Amazon Services LLC Associates Program, an affiliate advertising program designed to provide a means for us to earn fees by linking to Amazon.com.
Shop the recipe:
Lodge Grill Pan: I love this grill pan. Grills evenly and easy to clean.

Stainless Steel Mixing Bowls: Great bowls, I use them every day.

Checkout my Amazon store, Everyday Eileen we update it regularly.
See what other bloggers served for #BBQWeek
Brisket Baked Beans by Palatable Pastime
Smoky Chipotle Baked Beans by Simple and Savory
Grilled Greek Asparagus by Hezzi-D's Books and Cooks
Spring Vegetable Pasta Salad with Creamy Lemon Dressing by Family Around the Table
Grilled Lemon Parmesan Asparagus by Cookaholic Wife
Asparagus and Shrimp Kabobs with Bang Bang Sauce by A Kitchen Hoor's Adventures
Grilled Summer Vegetable Pasta Salad by Soulfully Made
Honey Rum Grilled Banana Split by Jolene's Recipe Journal
No-Bake Raspberry Jello Pie with Graham Cracker Crust by Jonesin' For Taste
Grilled Peach Tea by 4 Sons 'R' Us
Pin to make any time:

How to make Grilled Pineapple:
See above instructions to learn "How to Cut a Pineapple"
Make the rum marinade for the pineapple.
Cover the pineapple slices in the marinade for at least 30 minutes.
Grill the pineapple slices. Heat the rum marinade to reduce by half to serve as the coconut rum sauce.
The pineapple takes about 10 minutes total, turning halfway. The rum sauce, reduce by half.
Serve the grilled pineapple with a dollop of vanilla ice cream on top and drizzle with the rum sauce, yummy!
When you make this Boozy Grilled Pineapple Recipe, take a pic and tag me on Instagram @everyday_eileen or #everydayeileen
I love any comments or questions below!
I HOPE YOU CONTINUE CONNECTING WITH ME:
Love this recipe, please give them a 5-star rating! It is very much appreciated!
Thank you for the continued support! I am forever grateful!
Eileen xo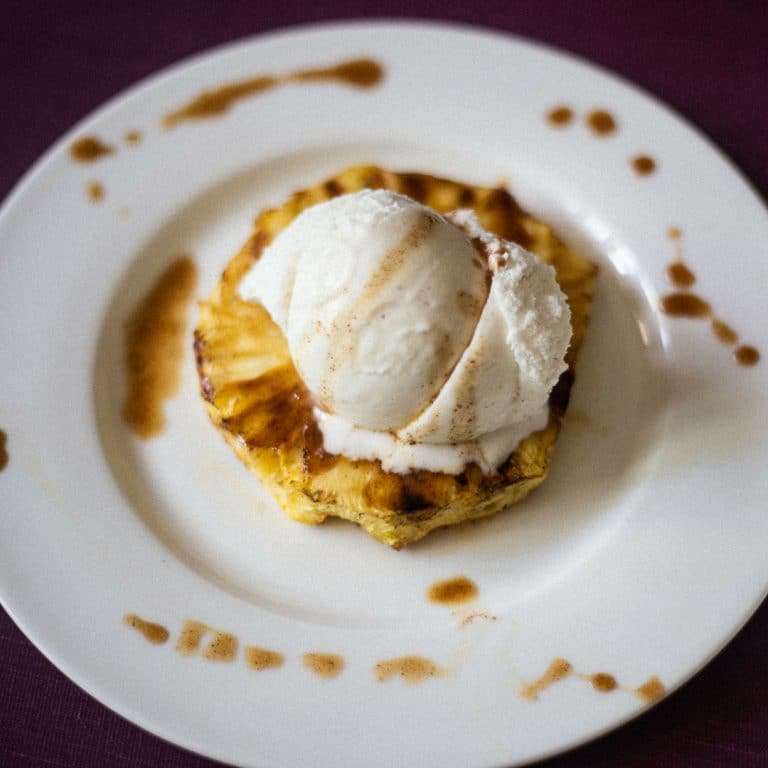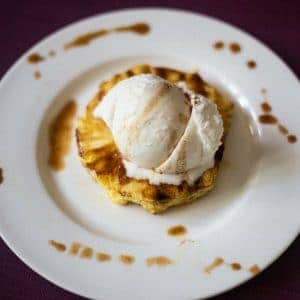 Boozy Grilled Pineapple Recipe
Delicious grilled pineapple marinated in a rum marinade and topped with vanilla ice cream makes a show stopping dessert for any summer BBQ. Perfect for Memorial Day, 4th of July, family picnic, or beach day!
Print
Pin
Rate
Equipment Needed:
Ingredients
½

cup

dark rum

⅓

cup

coconut rum

2

Tablespoons

coconut sugar

1

teaspoon

coconut extract

1

teaspoon

ground cinnamon

1

pineapple. peeled and sliced 1 inch slices, center removed

2

cups

vanilla ice cream
Instructions
Marinating Pineapple Slices
Add to a medium mixing bowl the dark rum, coconut rum, coconut sugar, coconut extract, and ground cinnamon. Set rum sauce aside.

Place the pineapple slices in a large baking dish and cover with the rum sauce.

Marinate at least 30 minutes up to 4 hours. Keep in the fridge while marinating.
How to Grill Pineapple Slices
Clean grill grates and coat grates with olive oil or non-stick cooking spray.

Preheat grill to high heat, around 500 degrees.

Remove pineapple from the baking dish and place on grill. Do not discard the marinade.

Grill pineapple about 10 minutes, turn half way. One cooked, remove pineapple and set aside.
How to Make the Rum Sauce
Place the marinade in a small saucepan over medium heat. Reduce liquid to half and set aside and use as a sauce for the grilled pineapple.

To serve, place the grilled pineapple slice on a plate. Top with vanilla ice cream and sprinkle the rum sauce on the ice cream.
Notes
4 Smart Points - Weight Watchers
Any nutritional data I provide is an approximation and actual dietary information can vary based on ingredients and proportion sizes.
Nutrition
Serving:
1
serving
|
Calories:
143
kcal
|
Carbohydrates:
15
g
|
Protein:
2
g
|
Fat:
2
g
|
Saturated Fat:
1
g
|
Cholesterol:
10
mg
|
Sodium:
35
mg
|
Potassium:
88
mg
|
Fiber:
1
g
|
Sugar:
12
g
|
Vitamin A:
170
IU
|
Vitamin C:
1.2
mg
|
Calcium:
64
mg
|
Iron:
0.1
mg