This post is sponsored in conjunction with #BBQWeek. I received product samples from sponsors to use in creating #BBQWeek recipes. However, all opinions are mine alone.
This is seriously The Best Boozy Grilled Pineapple Recipe ever! Marinated your pineapple slices in a rum and coconut sugar combination. The longer the better! Grill the pineapple slices and serve with some of the coconut rum sauce and fresh vanilla ice cream. Hello, my little sweet grilled pineapple! #BBQWeek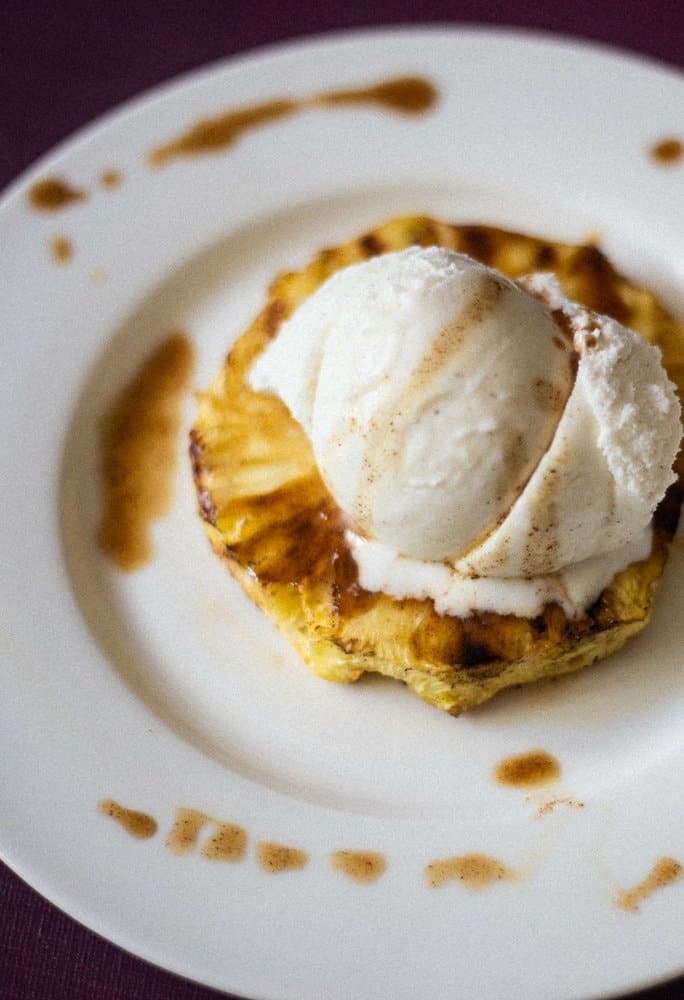 We are finishing up BBQ week and I thought of nothing better to end the week with a delicious spiked fruit dessert! Grilling pineapple slices is a super easy dessert that is always a hit. Marinating the pineapple slices in a yummy rum mixture of rum, coconut sugar, coconut extract and you have a sort of a Pina Colada pineapple dessert. The hubs, not a dessert guy, went wild for this grilled pineapple recipe! It is light and refreshing!
I am all about spring and summer because that means more time hanging out with my family, relaxing by the pool, and grilling.  Oddly enough, I am one of those freaks of nature and I have to be more diligent in the warmer months because despite exercising and moderately enjoying one or two  Skinny Pineapple Mango Frozen Margarita with Chili Salt Rim  I can gain a pound or two. It's important to me to make low-fat or vegan ice creams and desserts, thus my Boozy Grilled Pineapple Recipe! We love it and for my kids under 21, I just sprinkle some coconut sugar and coconut extract on their pineapples and grill them, everyone gets to enjoy this grilled pineapple dessert!
Faqs about making Grilled Pineapple Recipes:
Can you eat the core of a pineapple?
Absolutely, however, it is a little harder to eat than the rest of the pineapple. I hate to waste. I take the core out and use in smoothies and juices.  I place in freezer bags to use later in smoothies.No waste and everyone is happy.
How many calories are in a serving of this Grilled Pineapple Recipe?
A serving of grilled pineapple slices which is about 3.5 ounces only has about 50 calories, so enjoy! In their natural state, grilled pineapple is also cholesterol-free and low-fat. Thus the reason I keep the additional ingredients to a minimum.
How do I know my pineapple is ripe?
Once a pineapple is picked, it will no longer ripen so it's important to pick a good one. I look for green leaves on top. I smell the bottom of the pineapple and it should have a sweet smell. Also, the skin of the pineapple should be able to soft when you push it.  The more yellow the skin, the riper the pineapple.
How do you cut a pineapple?
I eat so much pineapple, I was surprised a while back when a friend said she had never cut a pineapple. It is really easy.
Cut the top off, then the bottom of the pineapple.
Place the pineapple straight up and cut the skin off. Take care not to take too much flesh. I hate waste. 🙂
The little brown eyes that remain on the pineapple, use a paring knife to remove and discard.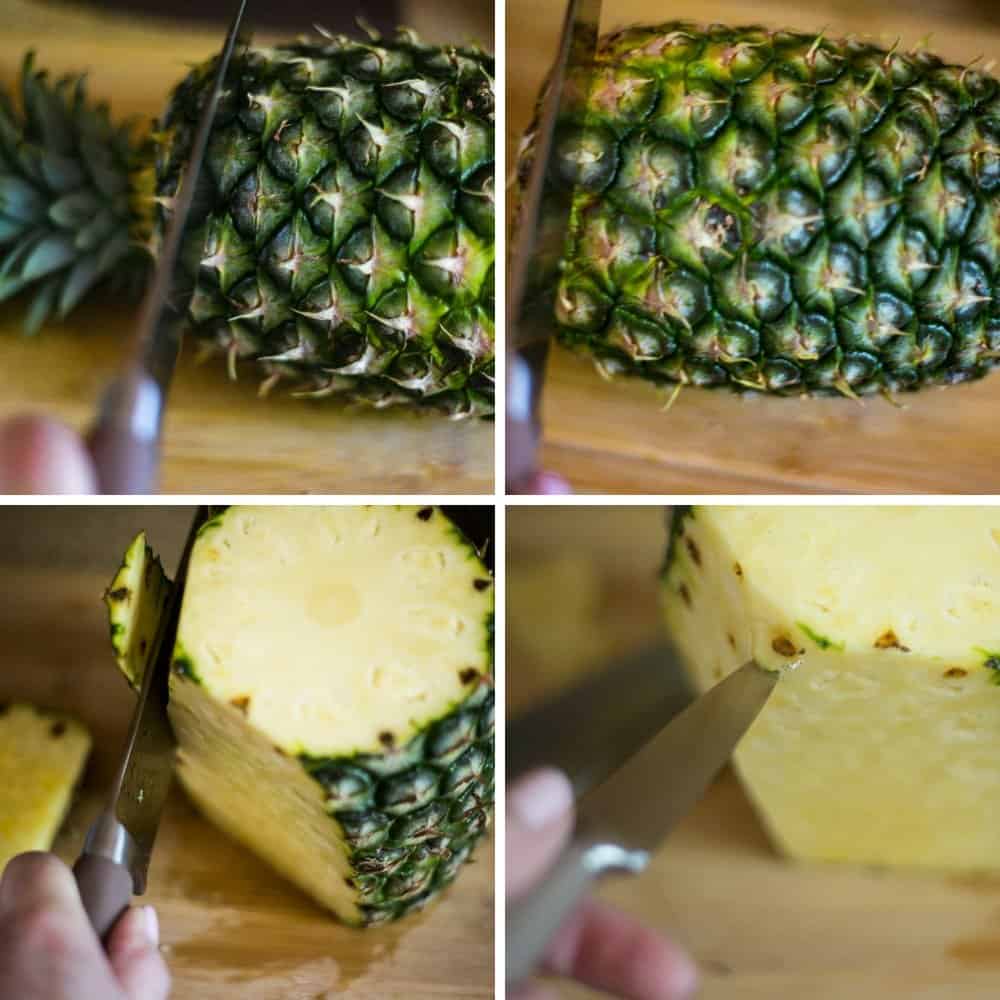 We are finishing up BBQ week! It has been a great week and I hope you have enjoyed the recipes. This week we enjoyed more than 70 recipes from more than 20 bloggers. There is also the opportunity to win one of three great prizes from our sponsors. Thank you to Michigan Asparagus for providing bloggers with freshly harvested asparagus, to Adams Extract & Spice for wonderful rubs and spices for grilling and Not Ketchup for bloggers choice of sauce.
Prize Number 1: $100 Gift Card Courtesy of Michigan Asparagus (Value $100)
Michigan Asparagus is known for its hand snapped fresh asparagus. It is available May – June and grown mostly in Oceana County along the shores of Lake Michigan. Michigan Asparagus has excellent flavor and a long shelf life. It is a nutrient-dense, low-calorie vegetable with no fat, no cholesterol, and very little sodium. Approximately 120 local Michigan farmers produce approximately 20 million pounds of Michigan Asparagus during the state's 6-7 week harvest. Remember to buy U.S. for the freshest of the fresh.
Prize Number 2: Not Ketchup Sampler 5-Pack (Value $40)
Not Ketchup is a line of fruit gourmet grilling and dipping sauces with no added sugar, no corn syrup, and no artificial sweeteners. They are gluten-free, dairy-free, soy-free, paleo, vegan, low-carb and Whole30 friendly.
Flavors in the sampler pack:
Tangerine Hatch Chile Not Ketchup blends sweet-tart California tangerines with a touch of heat from authentic Hatch chiles from New Mexico. Favorite pairings: fish, chicken, turkey
Cherry Chipotle Not Ketchup combines ripe cherries with the subtle, smoky heat of chipotle pepper. Favorite pairings: burgers, steak, salmon, ribs, meatballs
Blueberry White Pepper Not Ketchup takes blueberries to the savory side with a touch of mustard and a little kick of white pepper. Favorite pairings: lamb chops, shrimp, scallops, pork tenderloin, goat cheese
Smoky Date Not Ketchup mixes the natural sweetness of sun-ripened California dates with aromatic smoked paprika. Favorite pairings: pork chops, roast turkey, rotisserie chicken, ham, sausages
Spiced Fig Not Ketchup blends rich California Mission figs with warm spices like cinnamon, anise and black pepper. Favorite pairings: Leg of lamb, steak, roast chicken, cheddar cheese

Prize Number 3: A bottle of vanilla and a selection of rubs from Adams Extract & Flavors (Value $30)
From humble beginnings in Battle Creek, Michigan, to a rooted history in Texas, one thing has stayed the same: a commitment and passion to provide only the highest quality and innovative products and services. For over 125 years it's really been that simple…make great food taste even better! Today, Adams proudly manufactures and markets under several Adams Brand banners, including Adams Best®, Adams Extract®, Adams® Seasoning & Spice, Adams Reserve®, Flavor King™, Pantry Basics™, Sear-n-Crust®, ClearVan™, Carniceria®, Cocina del Rey®, Naturals™, and Urban Canner™ along with the Adams Frozen Skillet Desserts and Adams Premium Ice Cream lines.
a Rafflecopter giveaway

See what the bloggers served up Friday for #BBQWeek
See what the bloggers served up Friday for #BBQWeek:
See what the bloggers served up Friday for #BBQWeek
Boozy Grilled Pineapples by Everyday Eileen
Brisket Baked Beans by Palatable Pastime
No-Bake Raspberry Jello Pie with Graham Cracker Crust by Jonesin' For Taste
Grilled Greek Asparagus by Hezzi-D's Books and Cooks
Grilled Lemon Parmesan Asparagus by Cookaholic Wife
Grilled Peach Tea by 4 Sons 'R' Us
Asparagus and Shrimp Kabobs with Bang Bang Sauce by A Kitchen Hoor's Adventures
Grilled Summer Vegetable Pasta Salad by Soulfully Made
Honey Rum Grilled Banana Split by Jolene's Recipe Journal
Smoky Chipotle Baked Beans by Simple and Savory
Spring Vegetable Pasta Salad with Creamy Lemon Dressing by Family Around the Table
How To Make Boozy Grilled Pineapples:
See above instructions to learn "How to Cut a Pineapple"
Make the rum marinade for the pineapples.
Cover the pineapple slices in the marinade for at least 30 minutes. The longer the better.
Grill the pineapple slices and heat the rum marinade. The pineapple takes about 10 minutes total, turning halfway. The rum sauce, I reduce by half.
I place the grilled pineapple slice with a dollop of vanilla ice cream on top and drizzle the rum sauce yummy!
When you make this yummy Boozy Grilled Pineapple Recipe, take a pic and tag me on Instagram @everyday_eileen or #everydayeileen
I love any comments or questions below!
I HOPE YOU CONTINUE CONNECTING WITH ME:
Are you loving this tasty Boozy Grilled Pineapple Recipe, giving it a 5-star rating and any comments are super helpful for me and very much appreciated!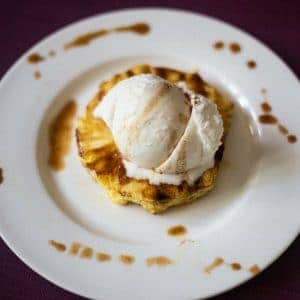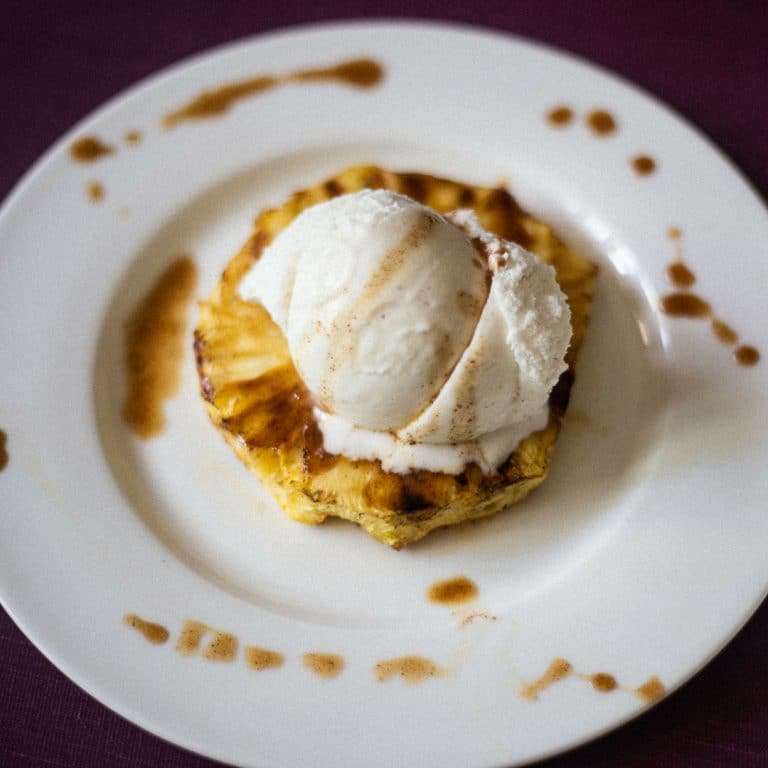 Boozy Grilled Pineapple Recipe
Super tasty grilled pineapple marinated in a rum marinade and topped with vanilla ice cream makes a delicious dessert for any summer BBQ. Perfect for Memorial Day, 4th of July or any family picnic or beach day!
Print
Pin
Rate
Ingredients
1/2

cup

Dark Rum

1/3

cup

Coconut Rum

2

Tablespoons

coconut sugar

1

teaspoon

coconut extract

1

teaspoon

ground cinnamon

1

pineapple. peeled and sliced 1 inch slices, center removed
Instructions
In a mixing bowl, combine dark rum, coconut rum, coconut sugar, coconut extract, and ground cinnamon.

In a large Pyrex, place the pineapple slices and cover with the rum sauce. Marinate at least 30 minutes up to 4 hours.

Clean grill and coat grates with olive oil or non-stick cooking spray. Preheat grill to high heat, around 500 degrees. Remove pineapple from pyrex and place on grill. Reduce heat to medium around 400 degrees. Pineapple cooks in about 10 minutes. Remove from heat.

Place the marinade in a small saucepan and place over medium heat. Reduce liquid to half and set aside and use as a sauce for the grilled pineapple.

One a plate, place the grilled pineapple slice top with vanilla ice cream and sprinkle the rum sauce on top.
Notes
4 Smart Points - Weight Watchers
Any nutritional data I provide is an approximation and actual dietary information can vary based on ingredients and proportion sizes.
Nutrition
Serving:
1
slice
|
Calories:
74
kcal
|
Carbohydrates:
4
g
|
Protein:
0
g
|
Fat:
0
g
|
Saturated Fat:
0
g
|
Cholesterol:
0
mg
|
Sodium:
6
mg
|
Potassium:
8
mg
|
Fiber:
0
g
|
Sugar:
3
g
|
Vitamin C:
0.8
%
|
Calcium:
0.3
%
Pin To Make Boozy Grilled Pineapple later: