Grilled Cauliflower Steaks uses just a few ingredients for a hearty vegetarian recipe. Just a sprinkling of seasonings and a few minutes on the grill for the most amazing Cauliflower!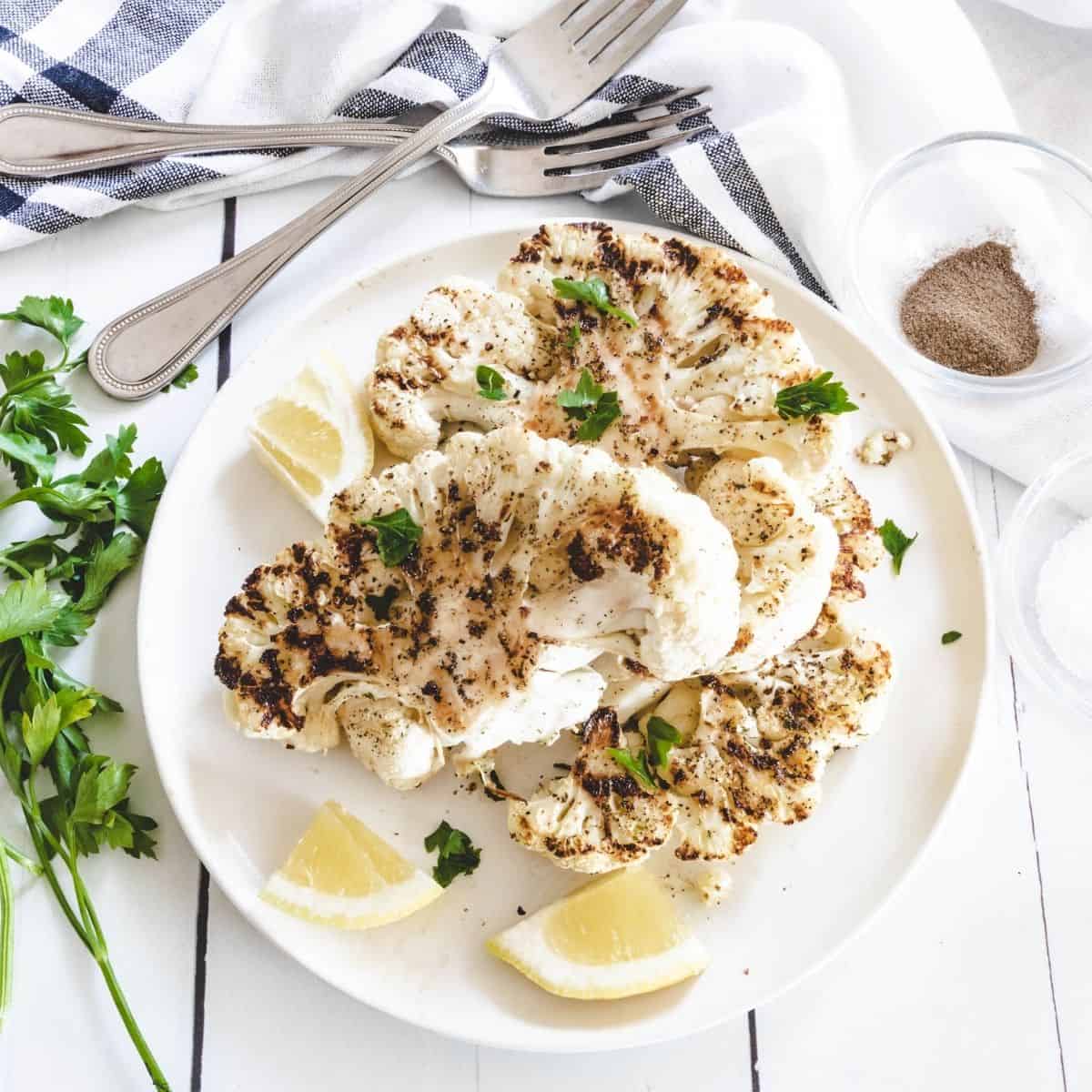 Jump to:
❤️ Why you'll love this recipe
These grilled cauliflower steaks are great for the main course or a hearty side dish.
The recipe is quite versatile and any type of seasoning can be used to make this yummy treat.
A grill pan, cast iron pan, or outdoor grill can be used with amazing delectable results.
Ingredients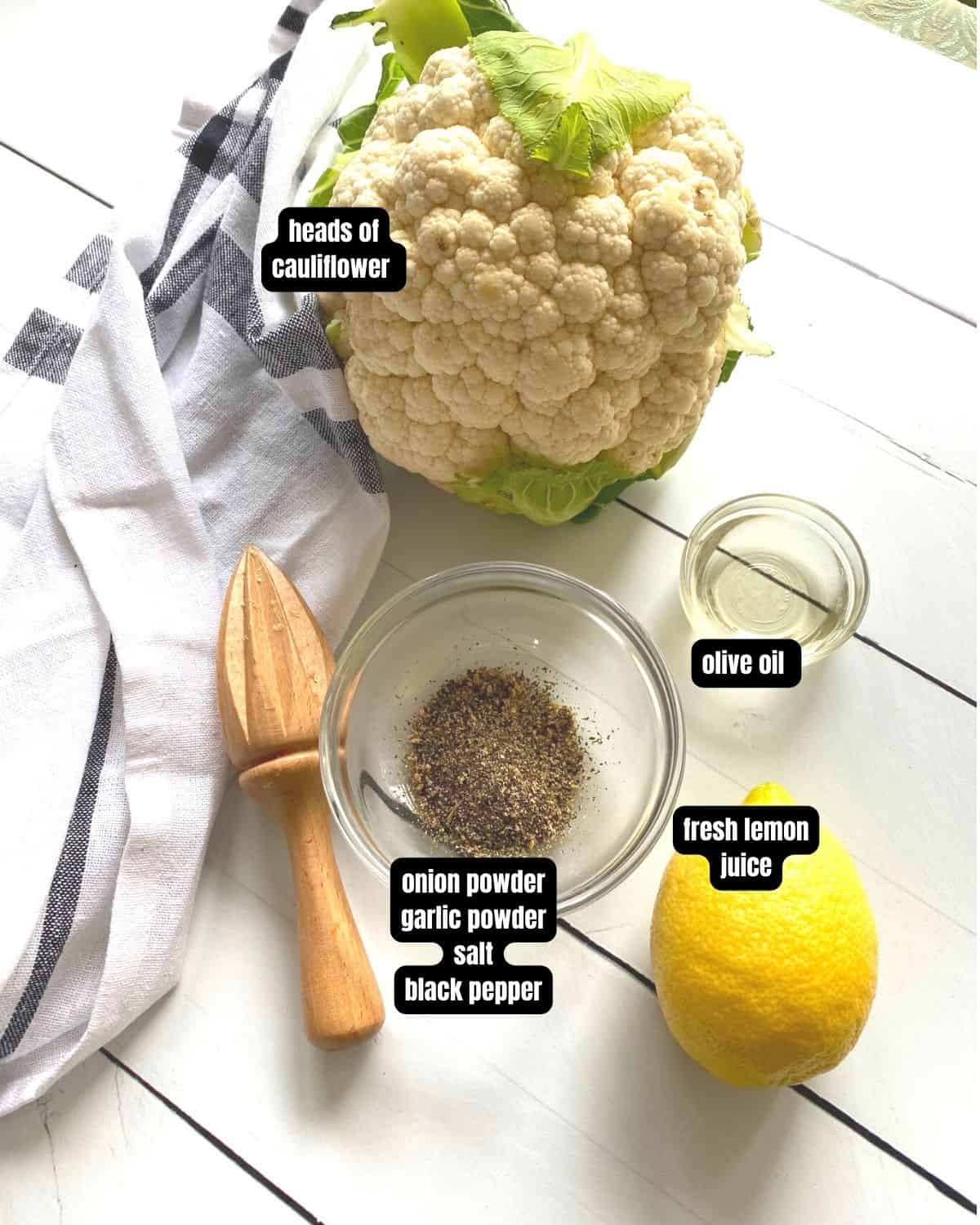 2 whole cauliflower heads
olive oil
Kosher salt
Black pepper
Garlic powder
Onion powder
Fresh lemon juice
As an Amazon Associate, I earn from qualifying purchases.
Equipment
Instructions
This is an overview of the recipe. The full instructions are below in the recipe card.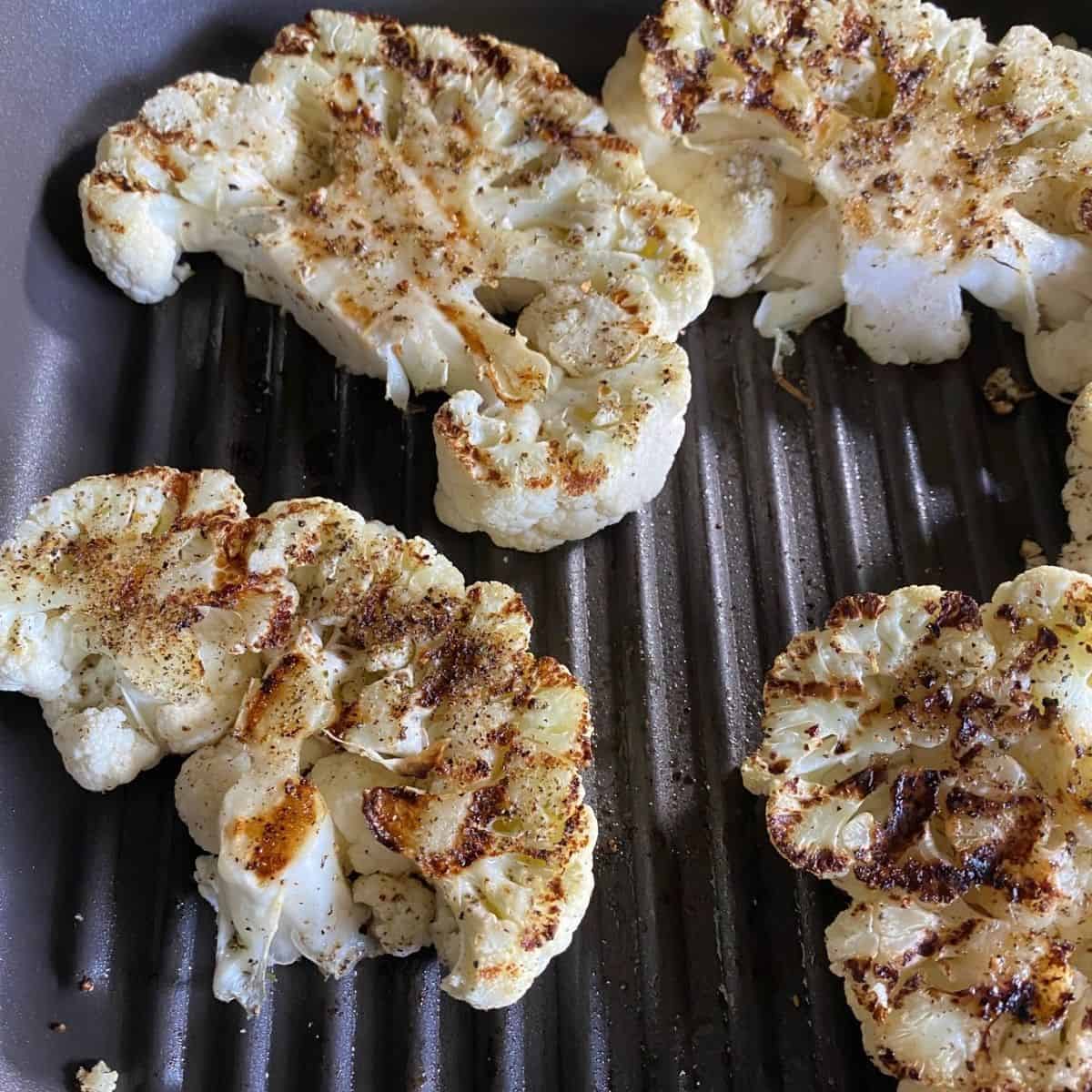 Preheat grill to medium-high heat.
In a small bowl, mix the seasonings together.
Season cauliflower with olive oil, lemon juice, and.
Reduce heat on the grill to medium and let cook 4-6 minutes, flip, grill another 5 minutes.
The cauliflower will be fork tender.
Serve and enjoy.
Storage
Leftovers should be kept in a covered airtight container in the refrigerator for about 3-4 days.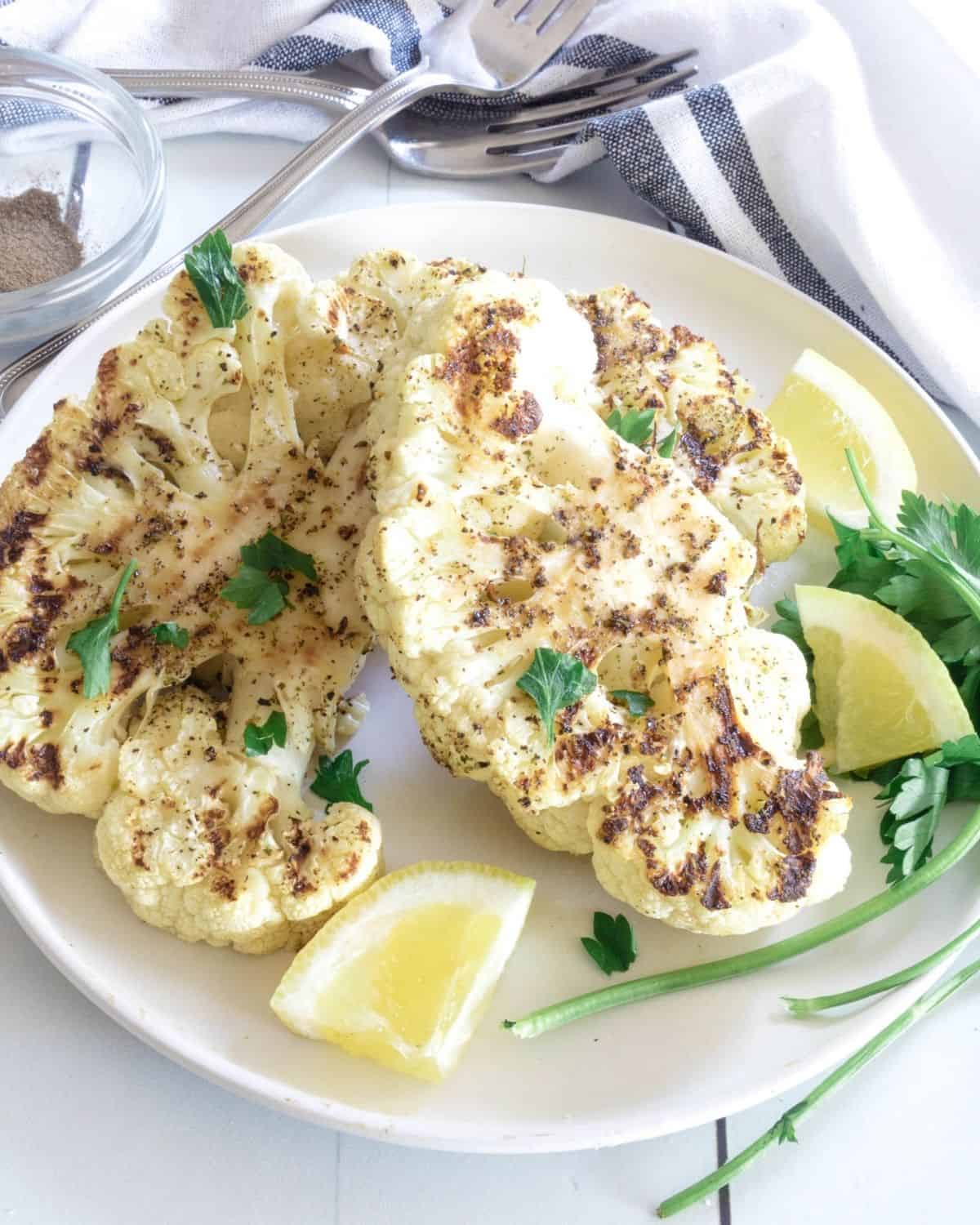 Expert Tips
Expert Tip: Use a sharp knife to cut the cauliflower head on a cutting board.
Frequently Asked Questions
What is the best way to cut cauliflower steaks?
Remove and discard the green leaves from the bottom of the cauliflower. Slice the cauliflower into 1 ½ inch thick steaks. There will be some crumbs that fall off. I use those in my Veggie Stock. Keep a freezer bag full of your veggie scraps to make stock.
Why are they called cauliflower steaks?
The cauliflower is cut into thick pieces that resemble steaks. They can also be seasoned with almost any seasoning just like a steak.
What do cauliflower steaks taste like?
Absolutely delicious. Cauliflower is mild and adapts well to homemade seasonings, pestos, and spice rubs.
Variations
Explore other spices for a variety in making cauliflower steaks. A few favorites are Cajun Seasoning Blend and Homemade Seasoning Salt!
Kale Pesto or Nut-Free Basil Pesto would be delicious on the "steaks".
The cauliflower can also be roasted at 425°F/218°C for about 30-40 minutes until fork tender.
Serving Suggestions
Greek Marinated Chicken would be perfectly paired with this cauliflower steak recipe
Apricot Glazed Grilled Chicken is a great grilled chicken that would be perfect with cauliflower.
Mexican Grilled Pork Chops is another delicious recipe to pair with the veggies.
Tequila Marinated Steak would be a great recipe to make with grilled veggies.
Grilled Dijon Lime Chicken a favorite of mine is so tasty and a great combo with cauliflower.
Instant Pot Quinoa would be delicious paired with the grilled cauliflower steaks.
Similar recipes
Air Fryer Bang Bang Cauliflower is delicious and the sauce is amazing!
Cauliflower Tabbouleh is easy, no cooking needed tasty vegetarian salad that's
always a hit.
Love Greek flavors, try our Greek Orzo Salad, easy, light, and yummy.
Roasted Broccoli with Garlic is a tasty quick, easy side dish everyone will love.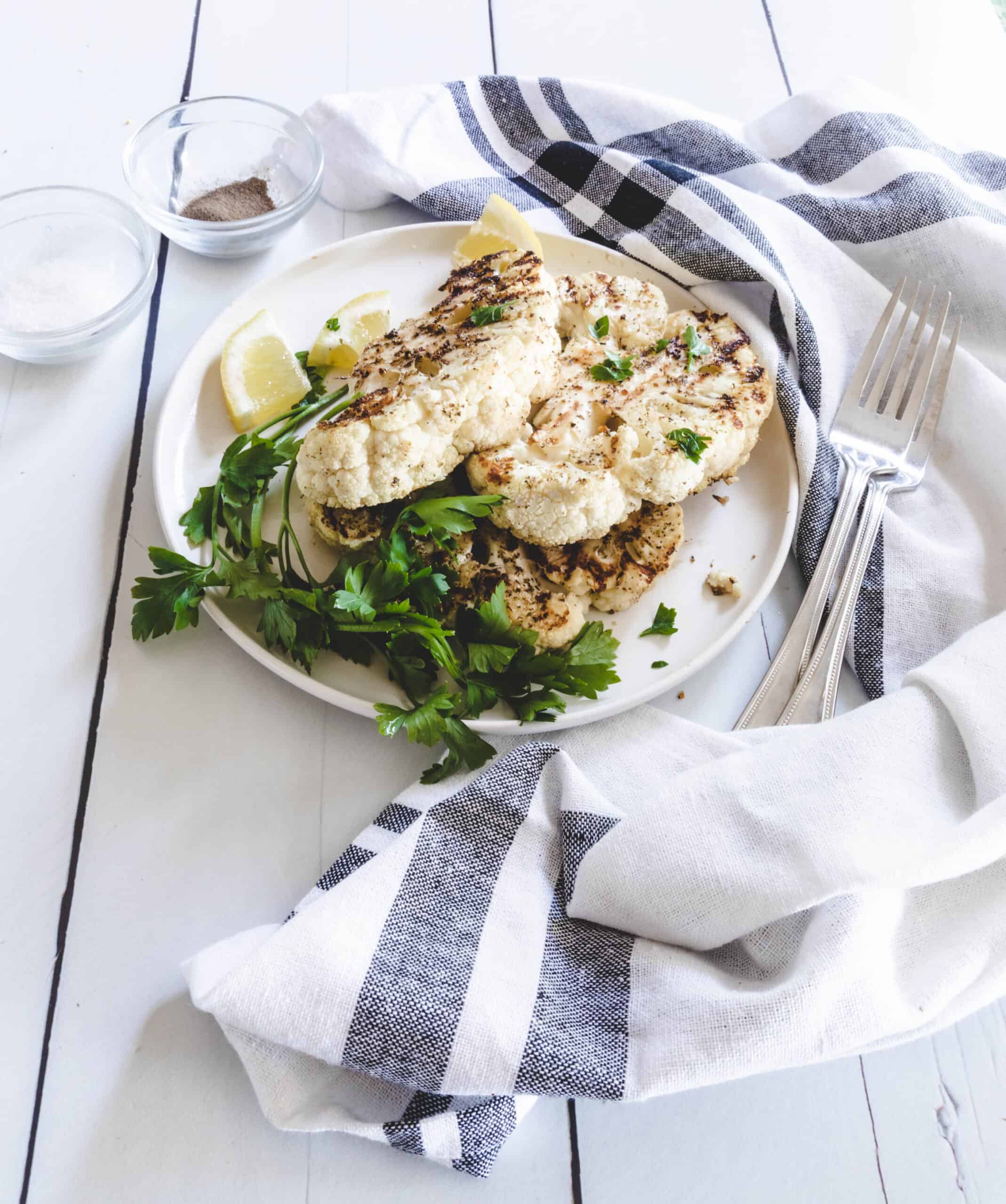 I love any comments or questions, please feel free to leave them below.
Keep up to date with recipes by following me on:
FACEBOOK INSTAGRAM, PINTEREST, TWITTER
Thank you for the continued support. I am forever grateful.
Eileen xo
If you click on the number of servings in the recipe card you can adjust the measurements up or down for the exact number of servings you need.
If you love this recipe please give it 5 stars! ⭐️⭐️⭐️⭐️⭐️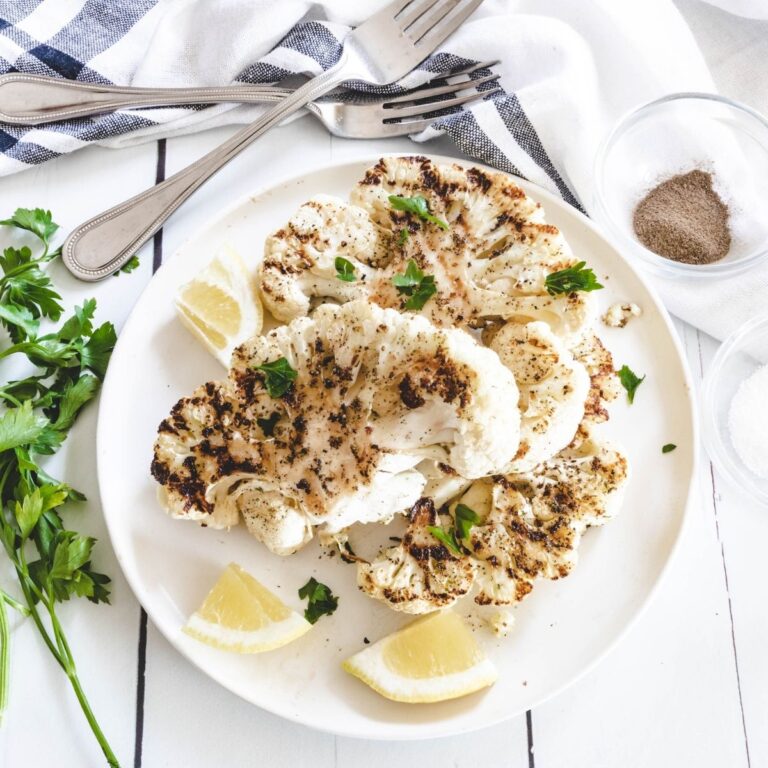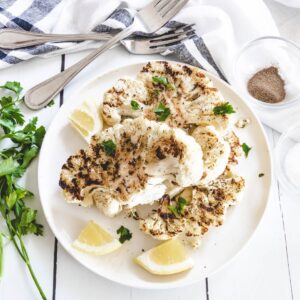 How to Make Cauliflower Steaks
Make Cauliflower Steaks on the grill in just a few minutes. They are a delicious vegetable side dish with endless possibilities. Season the cauliflower with any of your favorite seasonings and in about 12 minutes you have a tasty side dish for everyone to enjoy!
Print
Rate
Equipment Needed:
As an Amazon Associate I earn from qualifying purchases
Instructions
Preheat grill or grill pan to medium-high heat. Season grates with non-stick cooking spray.

In a small bowl, make a seasoning blend. Stir together Kosher salt, black pepper, and garlic powder. Set aside. Note 1

Remove green leaves from the cauliflower. Cut the end piece of the cauliflower and use in soups or vegetable stock. cauliflower into 1 ½-inch thick steaks.

Rub olive oil over the cauliflower steaks. Sprinkle the seasoning blend all over the cauliflower steaks. Feel free to rub the seasoning into the steaks.

Lower grill temperature to medium. Place cauliflower on the seasoned grill. Cover and cook about 4-6 minutes. Move counter clockwise after 4 minutes if you like criss-cross grill marks.

Turn cauliflower over and grill another 4-5 minutes. Squeeze lemon juice over the cauliflower steaks.
Notes
Be sure to check Expert Tips and FAQs above with important tips and questions that can help make a delicious recipe.
Note 1: This is a very flexible base recipe. Use any of you favorite seasonings, pesto, or spice rubs on the cauliflower. Start with 2 Tablespoons, depending how much cauliflower you are grilling or roasting.
I'm not a registered dietician, I do my best to provide the most accurate nutritional values. Any nutritional data I provide is an approximation. Actual dietary information can vary based on ingredients and portion sizes.
Nutrition
Serving:
1
serving
|
Calories:
90
kcal
|
Carbohydrates:
9
g
|
Protein:
3
g
|
Fat:
5
g
|
Saturated Fat:
0
g
|
Cholesterol:
0
mg
|
Sodium:
57
mg
|
Potassium:
573
mg
|
Fiber:
3
g
|
Sugar:
3
g
|
Vitamin C:
94.3
mg
|
Calcium:
42
mg
|
Iron:
0.8
mg