Grilled Cauliflower Steaks, the ultimate in deliciousness and with just a few ingredients you will have be enjoying the tastiest veggies! Just a sprinkling of seasonings and a few minutes on the grill for the most amazing Cauliflower!
Today's #SummerGrilling recipe has been sponsored by The Spice House, however, all opinions are my own. #ad #TheSpiceHouse #SummerGrilling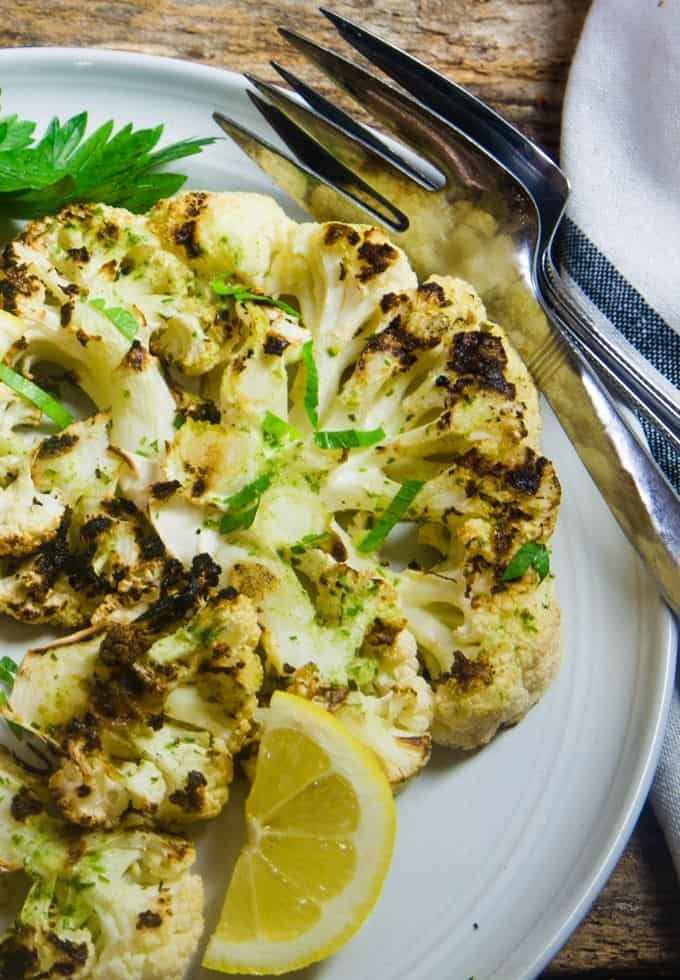 Grilled Cauliflower Steaks seasoned with The Spice House Lake Shore Drive Seasoning
Summer Grilling is a favorite for me! Enjoying the beach, sand, and sun! Love it all!
The Spice House is an awesome company and their seasoning spices are great. They taste great on beef, poultry, and veggies.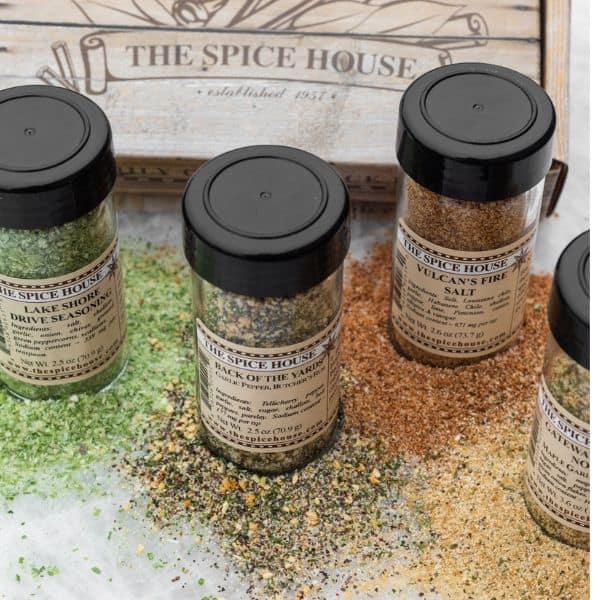 To make my Grilled Cauliflower Steaks, I used their Lake Shore Drive Seasoning! Wow was this an amazing seasoning. The blend combines chives, scallions, and green pepper! Simple and delicious! Wait until you smell the seasoning, it is incredible!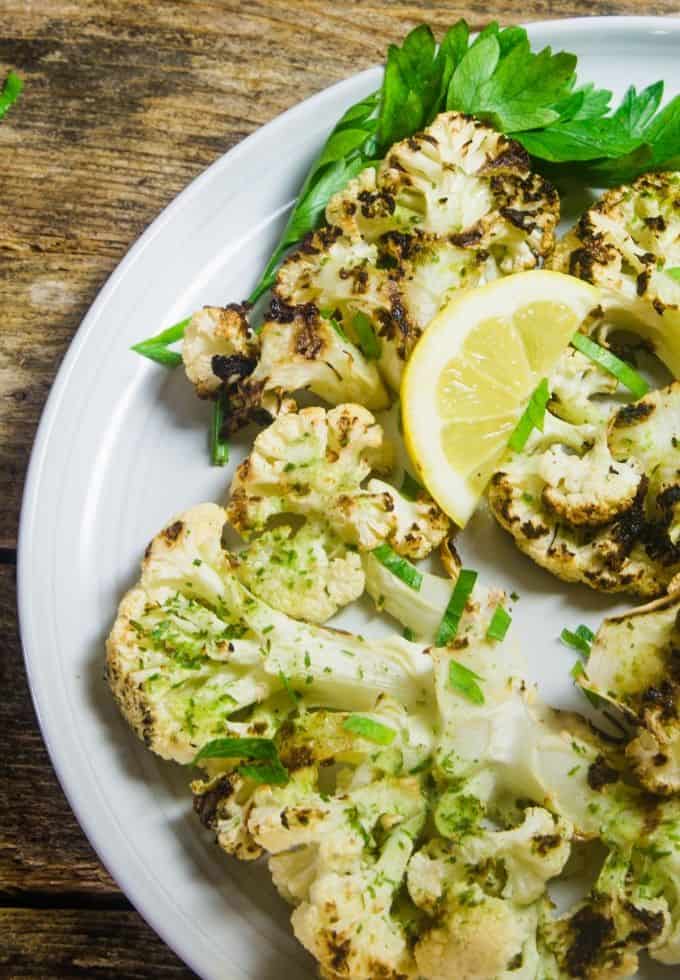 Grilled Cauliflower Steaks
As much as my family loves to eat meat, they love a great veggie! After I made my first whole roasted cauliflower and the family loved it, I started cooking a lot of cauliflower!
We live in an area where veggie creativity runs crazy! We've been enjoying cauliflower pizza and rice for a long time! Cauliflower steaks are a regular in our meal rotation!
When I received my spices for The Spice House I knew right away I needed to share my love of cauliflower steaks with you and use their fabulous Lake Shore Drive Seasonings on the cauliflower
How do I cut the cauliflower to make steaks?
The cauliflower takes little prep time! Simply remove the green leaves and discard. Slice the steaks about 1 ½ inches wide. There will be some crumbs that fall off. I use those in my Veggie Stock. keep a freezer bag full of your veggie scraps to make stock.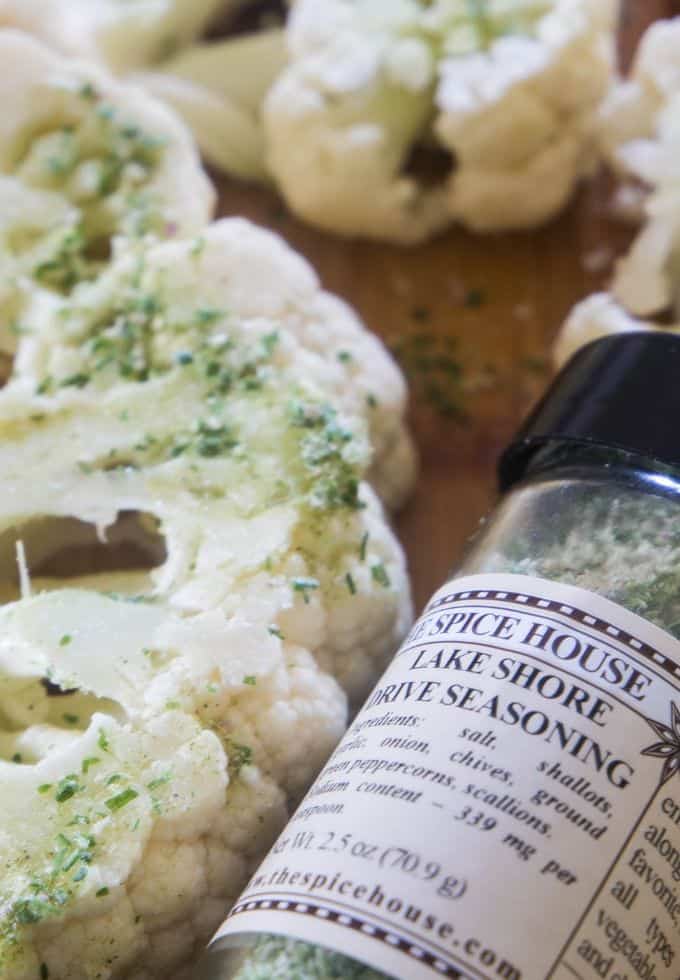 Can other seasonings be used on the cauliflower?
While I highly recommend using The Spice Houses spices for cauliflower steaks! Explore other spices for a variety in making the steaks. A few favorites are my Skinny Basil Pesto, Cajun Seasoning Blend, and my Homemade Seasoning Salt!
What can I serve with Grilled Cauliflower?
How long do I grill cauliflower steaks?
Cauliflower cooks in a grill in about 10 minutes. 5 minutes per side should do the trick for perfect grilled cauliflower.
What can I do with the extra cauliflower that falls off when cutting my cauliflower steaks?
The small riced cauliflower goes into a freezer bag for future cauliflower rice or addition to vegetable stock. The smaller florets I use a grill pan to add seasoning and grill with the steaks.
This post contains affiliate links for your convenience. We are a participant in the Amazon Services LLC Associates Program, an affiliate advertising program designed to provide a means for us to earn fees by linking to Amazon.com
I also have a store where I am always updating great finds for not just cooking, I hope you check it out here, Everyday Eileen I will continue to update it regularly!
How to grill cauliflower steaks:
Share your pictures of any of my recipes on Instagram! Use #everydayeileen OR @everyday_eileen, I love to see your photos on Instagram!!
Save this recipe to your FAVORITE PINTEREST BOARDS! Follow me on PINTEREST for amazing recipes ideas, travel, and more!
Feel free to leave me any comments or questions below!
I HOPE YOU CONTINUE CONNECTING WITH ME:
Love the recipe, please give them a 5-star rating! It is super helpful for me and very much appreciated!
Thank you for the continued support! I am forever grateful!
Eileen xo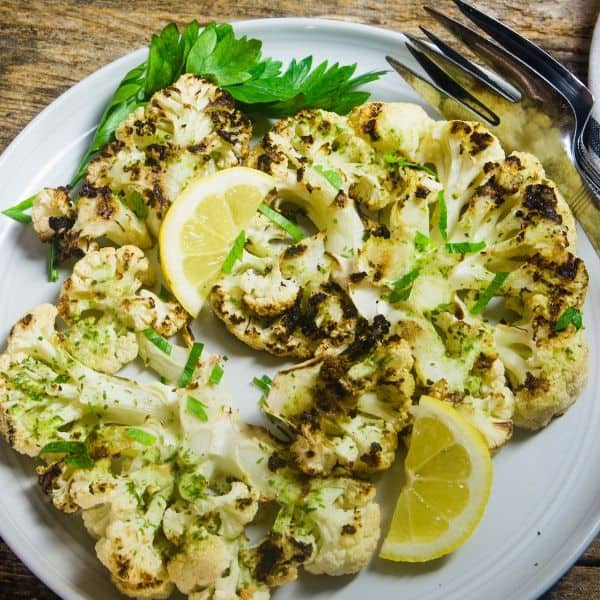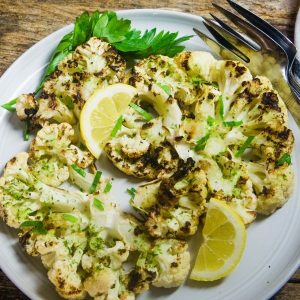 How to Make Grilled Cauliflower Steaks
Grilled Cauliflower Steaks are a delicious vegetable side dish that are very easy to make! Season your cauliflower with your favorite seasonings and in about 10 minutes you have a tasty side dish for everyone to enjoy!
Print
Rate
Equipment Needed:
Instructions
Preheat grill to 425 degrees. Season grates with non-stick cooking spray.

Remove stems from cauliflower and cut into 1 ½ inch steaks.

Rub the olive oil over the cauliflower steaks, both sides. Then sprinkle Lake Shore Drive Seasonings into the steaks.

Lower grill temperature to medium. Place cauliflower on the grill. Cover and cook about 4-6 minutes. Move counter clockwise after 4 minutes if you like criss-cross grill marks.

Turn cauliflower over and grill another 4-5 minutes. Serve with your favorite foods!
Notes
Note 1: Lake Shore Drive Seasoning from the Spice House is my favorite. Another of your favorite spice blend can be also be used.
https://www.thespicehouse.com/lake-shore-drive-seasoning
Nutrition
Serving:
1
serving
|
Calories:
90
kcal
|
Carbohydrates:
9
g
|
Protein:
3
g
|
Fat:
5
g
|
Saturated Fat:
0
g
|
Cholesterol:
0
mg
|
Sodium:
57
mg
|
Potassium:
573
mg
|
Fiber:
3
g
|
Sugar:
3
g
|
Vitamin C:
94.3
mg
|
Calcium:
42
mg
|
Iron:
0.8
mg