Jalapeno Popper Dip Recipe is an absolutely delicious dip that is full of flavor from jalapeno and Colby jack cheese. This is a family favorite dip that is always requested to be on the menu for our parties.
Today's #SummerGrilling recipe has been sponsored by Farmer's Pantry and Hamilton Beach, however, all opinions are my own.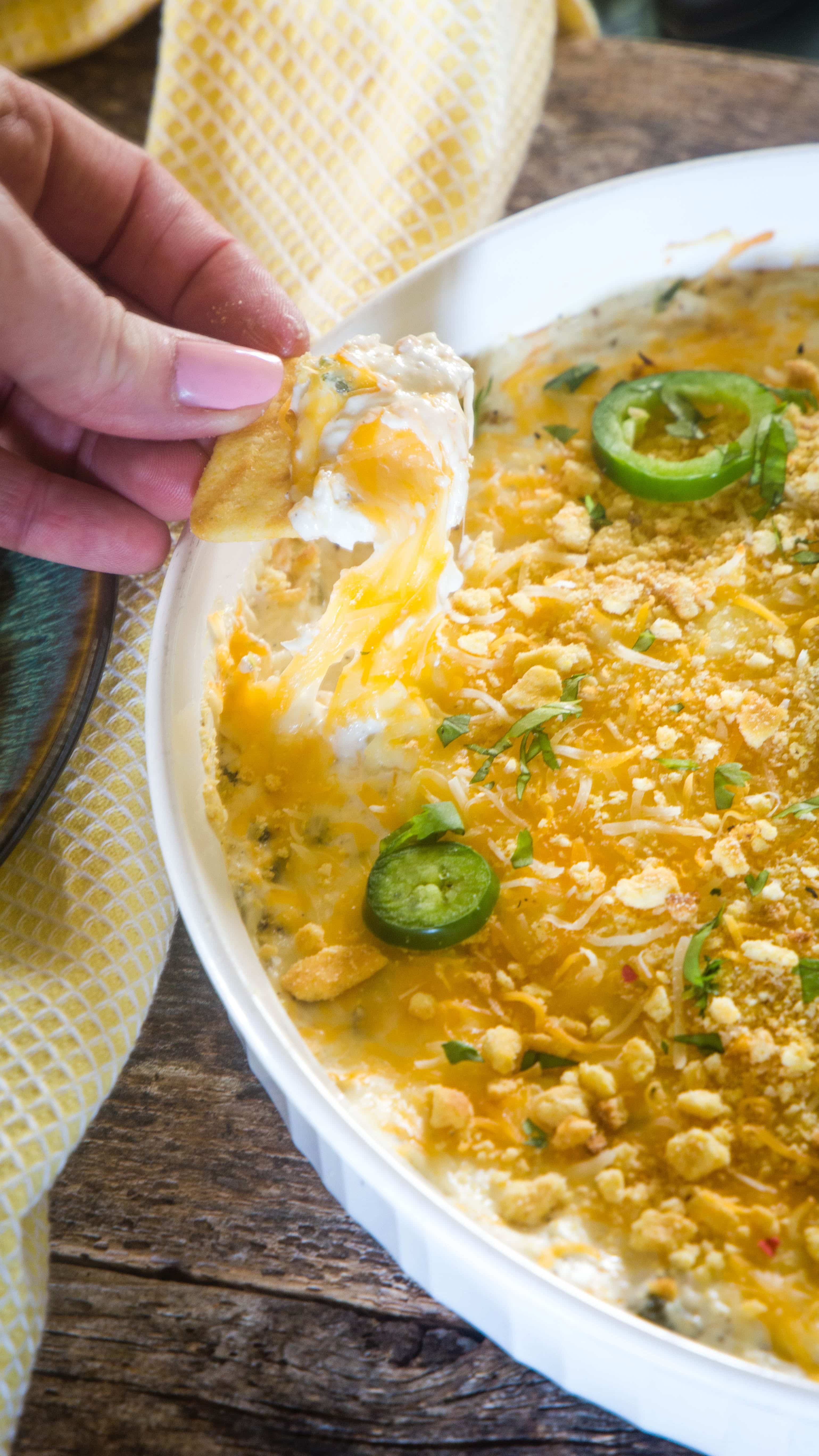 I am enjoying this week with so many great recipes for Summer Grilling! Don't forget to check out all the sponsors and prizes here!
Thank you to so many of you that have been sending me so many messages and comments on the recipes from this week! My Grilled Cauliflower Steaks have been a big hit, so glad you like them!
Then we have Lavender Lemonade and Grilled Pesto Chicken! If you have not noticed, all these recipes are ready in less than 30 minutes. Easy and delicious recipes so you can quickly cook, enjoy, and relax!
Jalapeno Popper Dip Recipe
I have been making various versions of jalapeno popper dip for years! When Farmer's Pantry sent me some of their awesome cornbread chips for Summer Grilling, I knew a jalapeno dip needed to be shared with you!
Farmer's Pantry chips are baked and they are crispy and so good! I sprinkled their Cornbread Honey Butter Chips on the popper dip! We enjoyed Jalapeno flavored chips with the dip for a double kick of jalapeno! Loved the combo!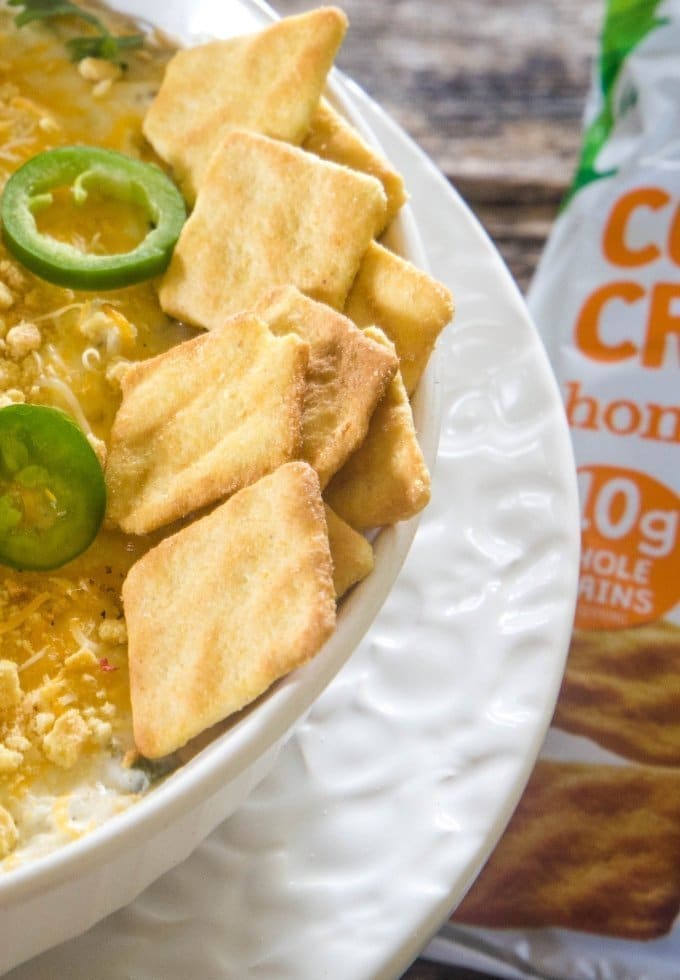 The Hamilton Beach® Indoor Searing Grill is an awesome grill! I seared the jalapenos on the grill! I love using the indoor grill. It's easy to use and the end results are awesome!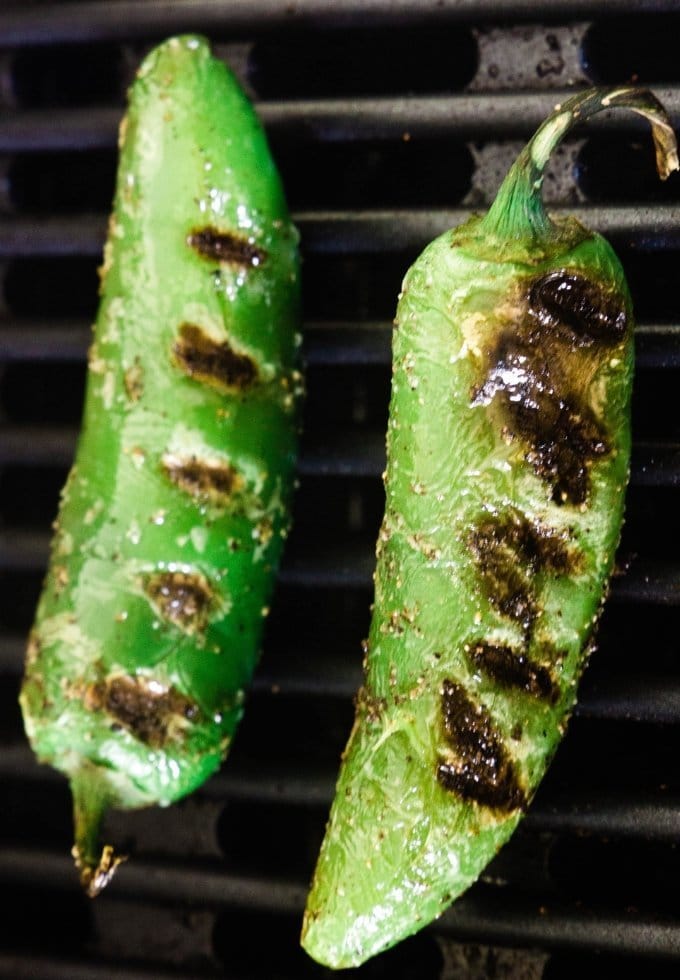 Can Jalapeno Popper Dip be made ahead of time?
Absolutely! I have made this dip a day or two ahead of time and just heated in the oven when ready to eat.
Could I freeze Jalapeno Popper Dip?
Sure! Cooking for a big party, make your batch of popper dip and freeze until ready to heat! Place the dip it in the fridge the night before you want to heat it up! It gives the dip plenty of time to defrost. Quick 10 minutes in the oven when ready to eat!
Can I vary on the ingredients to make this Jalapeno Dip?
Of course! Feel free to vary your cheese. The recipe calls for Colby Jack! Try Cheddar, Smoked Gouda, Havarti, mix it up! This dip tastes great with so many flavor combos!
The recipe uses low-fat cream cheese and sour cream, can full-fat ingredients be used?
Sure. The dip is super flavorful with the low-fat ingredients so I prefer using them but full-fat ingredients work fine too!
What other recipes can be paired with Jalapeno Popper Dip?
Mix up your dips, appetizers, and snacks! These are a few of my favorites
The following are affiliate links. We are a participant in the Amazon Services LLC Associates Program, an affiliate advertising program designed to provide a means for us to earn fees by linking to Amazon.com and affiliated sites.
Hamilton Beach® Indoor Searing Grill: A great indoor grill! I use it quite often.

Farmer's Pantry Cornbread Chips: This chips are delicious! Baked not fried and so good!
Check out store, Everyday Eileen we continue to update it regularly with my favorite products!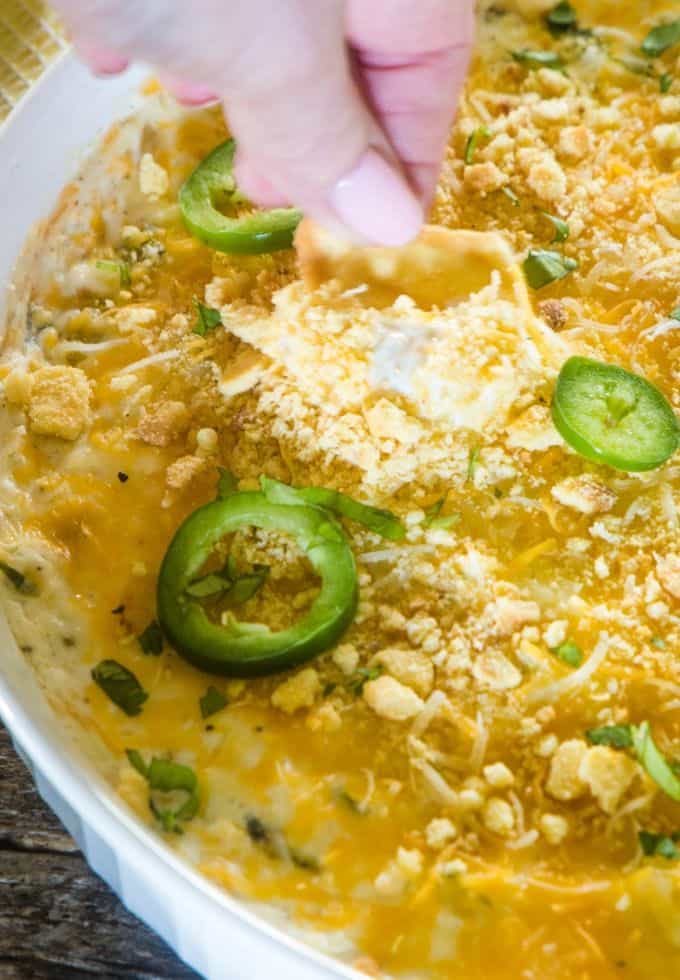 How Do You Make a Great Jalapeno Popper Dip Recipe:
Let the cream cheese soften a bit.
Season the jalapenos with a little olive oil and garlic salt. Sear on the grill over medium heat for about 10 minutes.
Remove the jalapenos from the grill. Let cool slightly.
Remove the seeds and dice the jalapeno. Set aside.
In a medium bowl mix cream cheese, sour cream, green chiles, diced jalapenos, cumin, garlic powder, onion powder, black pepper, and salt.
Mix in shredded cheese.
Spoon the jalapeno popper dip into an oven safe baking dish.
Top with crushed chips. I use Farmer's Pantry Honey Butter Chips.and shredded cheese.
Bake at 350 for about 10 minute. Serve with chips and enjoy!
WE HOPE YOU ENJOY THIS CHEESY JALAPENO POPPER DIP! I'D LOVE TO HEAR HOW THE RECIPE TURNS OUT FOR YOU!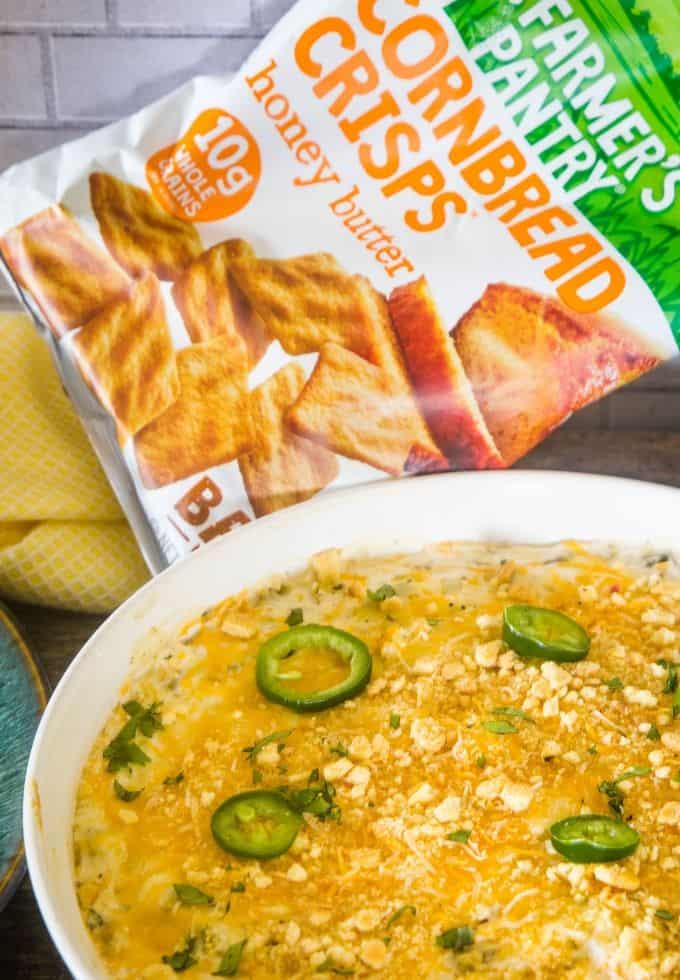 Share your pictures of any of my recipes on Instagram! Use #everydayeileen OR @everyday_eileen, I love to see your photos on Instagram!!
Save this recipe to your FAVORITE PINTEREST BOARDS! Follow me on PINTEREST for amazing recipes ideas, travel, and more!
Feel free to leave me any comments or questions below!
I HOPE YOU CONTINUE CONNECTING WITH ME:
Love this refreshing and tasty Lavender Lemonade, please give them a 5-star rating! It is super helpful for me and very much appreciated!
Thank you for the continued support! I am forever grateful!
Eileen xo
📖 Recipe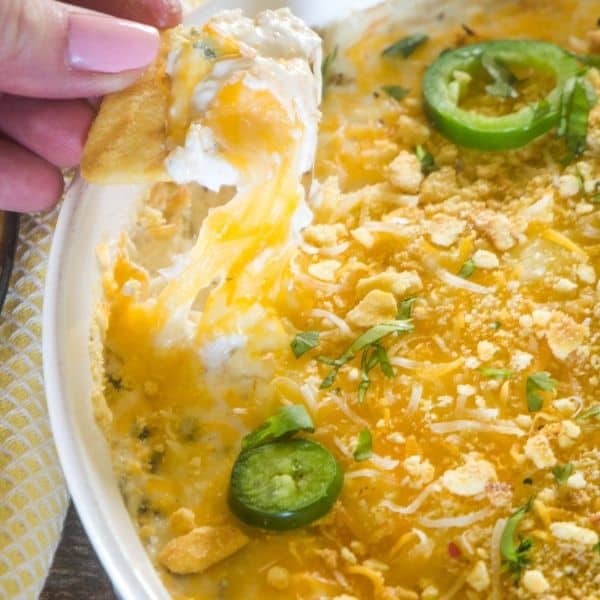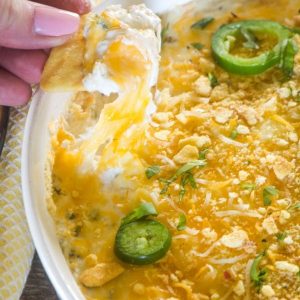 Jalapeno Popper Dip Recipe
Cheesy goodness with a kick from jalapeno is what you will be enjoying with this fantastic dip! Serve warm with chips or veggies for the most amazing dip!
Print
Pin
Rate
Equipment Needed:
Ingredients
Jalapeno Popper Dip
8

ounces

Neufchatel cheese

Note 1

1

cup

low-fat sour cream

Note 2

4

ounces

diced green chilies

½

teaspoon

garlic powder

½

teaspoon

onion powder

½

teaspoon

black pepper

salt, to taste

12

ounces

Colby Jack cheese, shredded and divided

1

cup

Farmer's Pantry Crackers, crushed

Note 3
Instructions
Grill the Jalapenos
Rub jalapenos with olive oil and season with garlic salt and pepper.

Reduce heat on the grill pan to medium. Place the jalapenos on the grill to sear on all sides, around 5 minutes.

Remove jalapenos from the grill. Let cool for a few minutes. Remove seeds and dice jalapeno. Set aside.
Jalapeno Popper Dip
Preheat oven to 350 degrees. Have an oven-safe small baking dish ready.

In a medium bowl, add Neufchatel cheese, sour cream, garlic powder, onion powder, black pepper, and salt. Use a hand mixer to combine the ingredients.

Add in the green chilies, diced jalapenos, and 6 ounces of the shredded Colby Jack cheese.

Place the jalapeno cheese mixture into a 9-inch round oven-safe baking dish.

Top mixture with remaining Colby Jack cheese and crushed Farmer's Pantry crackers.

Bake in the oven for about 10 minutes.

Serve with tortilla chips, crackers, or veggies.
Notes
Note 1: Regular cream cheese or low-fat cheese works well too!
Note 2: Again regular sour cream can be used. I prefer using low-fat ingredients when I can.
Note 3: I use Farmer's Pantry Honey Butter Cornbread Crisps for the topping.
any nutritional data I provide is an approximation and actual dietary information can vary based on ingredients and proportion sizes.
Nutrition
Serving:
1
serving
|
Calories:
170
kcal
|
Carbohydrates:
6
g
|
Protein:
7
g
|
Fat:
13
g
|
Saturated Fat:
7
g
|
Cholesterol:
38
mg
|
Sodium:
327
mg
|
Potassium:
124
mg
|
Fiber:
0
g
|
Sugar:
1
g
|
Vitamin A:
445
IU
|
Vitamin C:
4.4
mg
|
Calcium:
182
mg
|
Iron:
0.5
mg
A special thank you to Ang, Juggling Act Mama for organizing this week! We have amazing food bloggers and prizes to offer!
#SummerGrilling Week
This week, we're sharing the best grill recipes and celebrating the start of summer with an amazing giveaway, sponsored by BBQGuys, Farmer's Pantry, Joy Jolt, The Spice House, and Torani. Learn more about our sponsors HERE.