Today you are in for a treat, my favorite Grilled Asparagus Recipe! This is what I call a silly easy, no-brainer delicious recipe! I am not sure if this is even a recipe but my friends, stay with me and make this asparagus! You will not only love it but I think a virtual hug will be coming my way!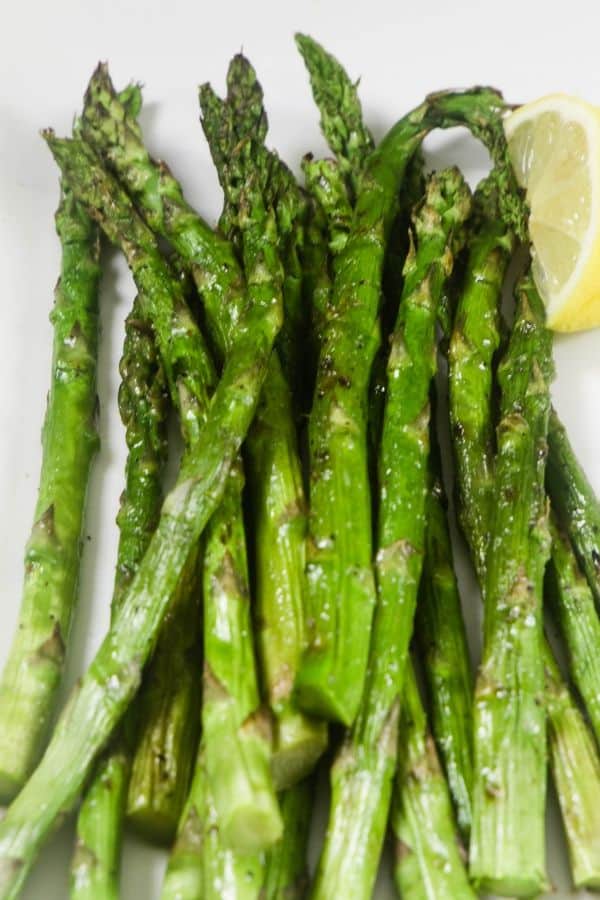 Grilled Asparagus Recipe
Asparagus is a versatile veggie that is so quick and easy to prepare. I've got the tips you need to store, cook, and freeze it.
Ingredients:
asparagus
olive oil
garlic salt
black pepper
Expert Tips/FAQs
Should I cut the ends off of the asparagus before cooking?
Yes. Trim up the very bottom of the stems, about the length of a thumbnail. The bottom is a bit woody and it does not taste great. Trim the ends. Add the ends to your discarded veggie stock to make homemade veggie stock or add to your compost heap.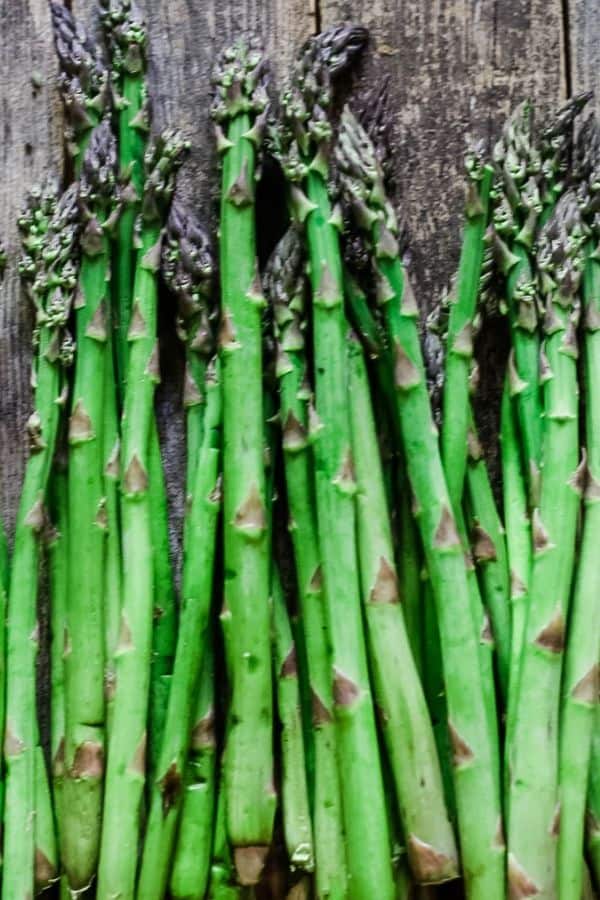 Do I peel the asparagus before cooking?
When making this grilled asparagus recipe, if the asparagus is thin, they will be tender. Very thick asparagus can be trimmed to give a more tender flavor to the asparagus. Discard the trimmings, add to the compost heap, or add to your veggie trimmings to make homemade veggie stock.
What other seasonings can be added to the grilled asparagus?
My method of cooking is clear. I prefer for you to use your favorite ingredients. This is my easiest seasoning for asparagus! You can add any spices to these! Important to always season your food to add flavor! The olive oil will also prevent the asparagus from sticking to the grill. Add fresh Parmesan Cheese to finished asparagus for added flavor!
How do I store fresh asparagus if I am not making it right away?
Place the fresh asparagus upright in a container with fresh water at the bottom of the container. Keep them in the fridge until ready to grill.
Can make this grilled asparagus recipe ahead of time and reheat?
If grilling asparagus ahead of time, wrap the grilled asparagus in foil and reheat for a few minutes to warm up. We also love to munch on room temperature asparagus!
The following are affiliate links. We are a participant in the Amazon Services LLC Associates Program, an affiliate advertising program designed to provide a means for us to earn fees by linking to Amazon.com and affiliated sites.
Thank you so very much for being apart of Everyday Eileen!
Shop To Make this Recipe:
Vegetable Grill Pan: I have this grill pan! It works great for grilling veggies and no losing any veggies through the grill grates. ;
Stovetop Grill: No grill or living in an area where grills are a no-no, no worries! This is one of my favorite stovetop grills!
Don't forget to shop Everyday Eileen store on Amazon.
What can I serve with this delicious fresh grilled asparagus recipe?
My family loves asparagus! Two of our favorites are Grilled Asparagus Chicken Salad and Roasted Asparagus with Lemon and Garlic!
How Do You Make this Grilled Asparagus Recipe?
Preheat grill to 425 degrees.
Trim the ends from the asparagus.
Season the asparagus with olive oil, garlic salt, and black pepper.
Reduce heat on the grill to medium, about 375 -400 degrees.
Place the asparagus on the grill, diagonally so they do not go through the grate.
Cook about 3-4 minutes. Moving the asparagus occasionally so they do not burn.
Serve and enjoy!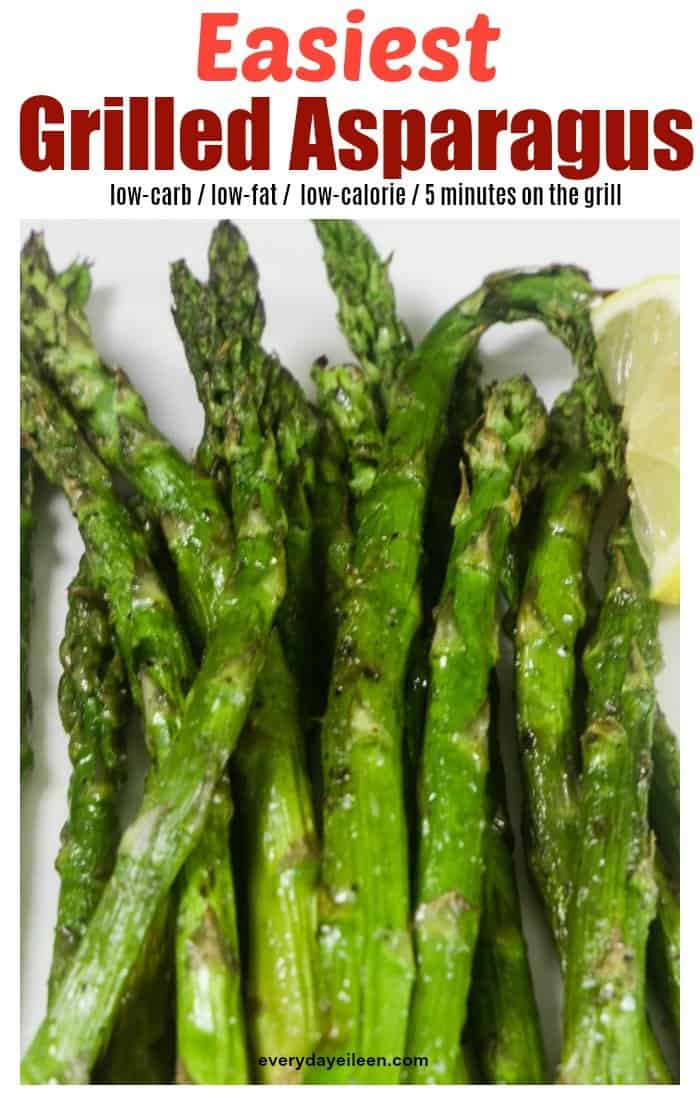 Feel free to leave me any comments or questions below!
I HOPE YOU CONTINUE CONNECTING WITH ME:
Love this easy Grilled Asparagus Recipe, please give it a 5-star rating is super helpful for me and very much appreciated!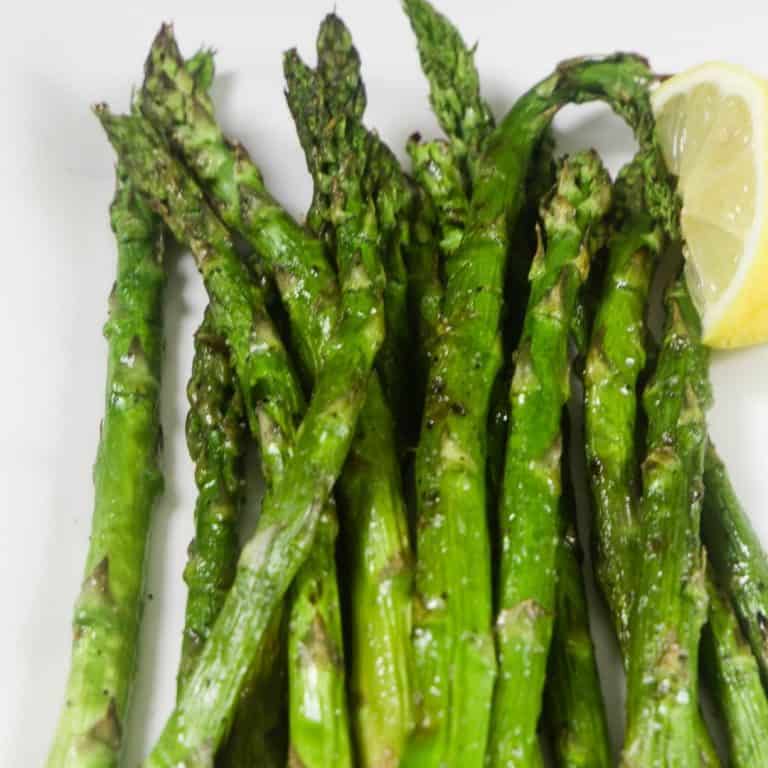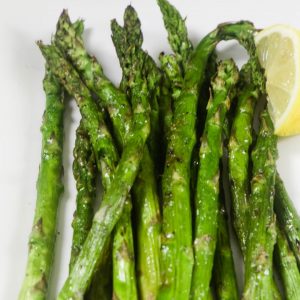 Grilled Asparagus Recipe
An easy recipe for a delicious Grilled Asparagus Recipe. Just a few ingredients and add amazing flavor to asparagus. Grill for about 3-4 minutes and you have the most delicious side dish.
Print
Pin
Rate
Equipment Needed:
Ingredients
1

pound

asparagus, ends trimmed or snapped off

Note 1

1-2

Tablespoons

olive oil

½

teaspoon

black pepper

½

teaspoon

garlic salt

¼

teaspoon

onion powder

1

teaspoon

Parmesan cheese, shredded

optional Note 3
Instructions
Preheat the grill to 450 degrees.

Season asparagus with olive oil, black pepper, garlic salt, and onion powder.

Reduce heat on the grill to about 375 degrees. Lay your asparagus diagonally on the grill. (Asparagus will not fall through the grates). You can also use a vegetable grill pan.

Close the lid on grill for about 1-2 minutes. Open the lid, move around the asparagus to let the stalks finish cooking to your desired tenderness. Feel free to sprinkle fresh Parmesan cheese on the asparagus after they are removed from the grill!
Notes
Note 1: As for peeling asparagus, if the stalks are very thick, I peel the stalks to help the asparagus be more tender. If the asparagus is thin, I do not peel them. Note 2: Save your ends and store them in a veggie scraps bag in the freezer. Use your veggie scraps to make Homemade Vegetable Stock. Note 3: If you are not Vegan and love cheese, feel free to sprinkle some fresh Parmesan cheese on top of the asparagus after they are grilled. Yummy!
Nutrition
Serving:
0.25
pound
|
Calories:
54
kcal
|
Carbohydrates:
4
g
|
Protein:
2
g
|
Fat:
3
g
|
Saturated Fat:
0
g
|
Cholesterol:
0
mg
|
Sodium:
293
mg
|
Potassium:
229
mg
|
Fiber:
2
g
|
Sugar:
2
g
|
Vitamin A:
855
IU
|
Vitamin C:
6.4
mg
|
Calcium:
27
mg
|
Iron:
2.4
mg