Pantry staple recipes are very important, especially right now. Keeping the cupboards stocked with nutritious items is key to being able to prepare meals for yourself and family. Being able to make a great meal quickly with easy to locate ingredients is a now a neccesity. I've got valuable tips on how to store your canned goods as well as mouthwatering recipes made with all those pantry staples.
I've noted recipes to make it easier to identify dairy-free, gluten, vegan recipes.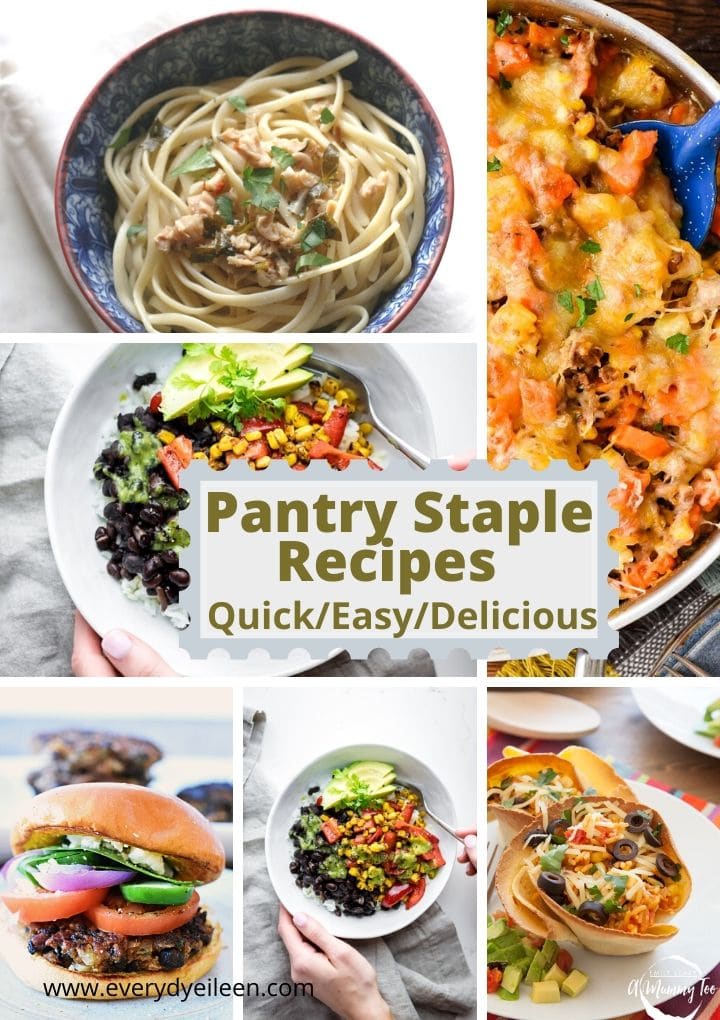 Whether you're a seasoned cook or new to the kitchen, we've got recipes for everyone. In addition, this is your guide to on how to store cans of tuna, beans, tomatoes, all your canned goods. Using canned goods doesn't mean sacrificing flavor or nutrition. The recipes I have compiled are a variety of vegetarian, vegan, dairy-free, and meals with meat.
Where do I keep pantry staples?
A pantry closet or basement is a great place to store canned goods. Use old bookshelves or buy yourself a bookcase to store your canned goods. Keep the cans in a cool, dark place. Canned goods keep for a long time but they do expire. Be sure to move your cans to keep the oldest in the front so you use them first.
Canned Foods and Storage
Can canned food be kept in the can after opening?
As per the USDA, foods can be kept in their original packaging in the refrigerator. However, to obtain optimum quality place the product in a glass or plastic container.
Will canned foods lose their nutritional value the longer they sit on a shelf?
When food is canned, flavors get locked in and the nutritional value does not deplete.
Does rinsing beans really help to reduce sodium?
According to Old Ways Nutritional Exchange, draining beans reduce sodium by 31% and rinsing decreases sodium by 41%. Rinse those beans or use salt-free.
Rice Storage:
Purchasing food and having it go bad is never a goal. Be sure to store rice in a cool dar place. Once a box of rice is opened, to lengthen shelf life, transfer the rice to a well-sealed container in a cool dark location.
Large bags of rice can be divided into small sseealble bags. Use a food saver to store rice in small sealed bags.
Can rice go bad?
Yes. Over a long period of time and if moisture developes in rice, it can actually develop bugs. That rice needs to be discarded.
We are a participant in the Amazon Services LLC Associates Program, an affiliate advertising program designed to provide a means for us to earn fees by linking to Amazon.com and affiliated sites.
Basic Pantry Staples
Canned Tuna and Fish Recipes
Tuna fish can go a long way when trying to feed yourself and your family. We have a great collection of recipe ideas to feed your family using canned tuna.
Avocado tuna salad, a mayo-free, no-cook low-fat lunch or light dinner with a zesty kick from the lime. dairy-free, gluten-free

Tuna Cakes

from our new website, Meals by the Minute are super easy and budget-friendly made with canned tuna in 20 minutes.
You'll love this 5-ingredient curried egg salad with tuna from Savor with Soul. The kick from curry puts this tasty salad over the top yum. gluten-free
No need to order out at the local diner, make a fabulous homemade tuna melt from Spend with Pennies, anytime in less than 30 minutes and there are also a few variations for dinner ideas.
A hearty meal full of fiber and loaded with flavor is this tasty tuna bulgar salad with chickpeas from Hint of Healthy. Only 5 ingredients and a very affordable meal. dairy-free
Tuna Casserole from Unsophisticook to the next level of deliciousness is this easy meal that uses pantry staple food. A great way to feed your family quickly with amazing flavors.
Canned Mackerel Fish Cakes from Krumpli is a hearty easy to prepare lunch or dinner choice.
A delightful twist on tacos is Tostada de Atun from In Mama Maggies Kitchen, budget-friendly and so easy to make. Diry-free with an optionl cheese topping.

Tuna Pasta Bake

from Super Golden Bakes is a delectable pasta bake the entire family will enjoy.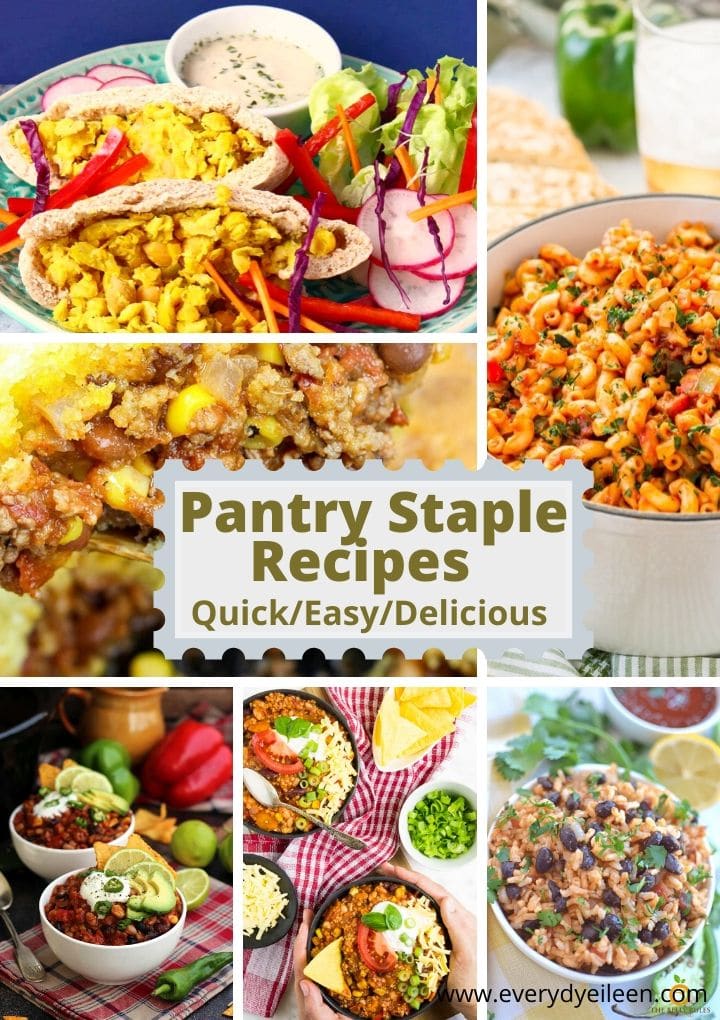 Easy Rice Recipes
Rice is affordable and easy to keep in the pantry. Make any of these budget-friendly meals for your family. From the slow cooker to the Instant Pot, these rice recipes are delicious and easy to prepare.
Texas Hash, a mouthwatering skillet meal made with pantry staples for a budget-friendly dinner to please everyone.
Instant Pot Beans and Rice, from Belly Rules the Mind, a hearty vegetarian lunch or side dish. A fabulous tutorial to make the most delicious rice and beans include freezer instructions. gluten-free, vegetarian, dairy-free ( optional toppings include cheese)
A wonderful recipe for perfect rice everything is this Instant Pot Garlic Rice from Mrishtanna. gluten-free, vegan
The flavors in this 30 minute Turkey Taco Rice Skillet from Key to My Lime are rich and robust.
Black Bean and Rice Open-Faced Tacos from

A Mummy Too

are a great choice for lunch or dinner. vegetarian
15 Minute Vegan Burrito Bowl from A Healthy Palate is billowing with flavor and so easy to prepare. vegan
Delicious Bean Recipes
Whether you love dried or canned beans, we have a variety of recipes to feed the family with delicious recipes from the pantry. Easy recipes using beans for pleasing meals everyone will enjoy.
Chipotle Chili

,

hearty and robust chili to make your day better. Don't forget to top with some shredded cheese. This chili freezes really well. gluten-free

Slow Cooker Baked Beans

, one of my favorite recipes with the most delicious results. You will make this often, trust me!

Tuscan Bean Salad

is my go-to for a quick tasty lunch that is filling and ready in minutes. dairy-free, gluten-free, vegan
Enjoy Southern Pinto Beans with Ham Hocks from Grand Baby Cakes. The beans slowly simmer in a meaty broth for classic comfort food. dairy-free, gluten-free
I love this Tuna White Bean Puttanesca from Garlic and Zest, a fresh and delicious salad with zesty flavors. dairy-free
Caribbean Curried Butter Beans from That Girl Cooks Healthy, a slow cooker creamy bean dinner with wholesome flavors. dairy-free, gluten-free, vegan

Tamale Pie Recipe

is

a Texas classic recipe from Restless Chipotle, loaded with robust flavors for a hearty dinner. glue-free
Enjoy a meatless dinner with this scrumptious Vegan Chili with Beans and Millet from my Pure Plants. dairy-free, gluten-free, vegan
I just want to bite into this ridiculously delicious Black Bean Burger from Elke Living. dairy-free, vegetarian
Spanish Beans with Tomatoes from Veggie Desserts is a full-bodied dish overflowing with flavor and ready in 20 minutes. dairy-free, gluten-free, vegan
A wholesome Slow Cooker Vegan Chili from Happy Kitchen made with a variety of grains and beans will blow you away with great flavor. dairy-free, vegan
You cannot go wrong with these lightly sauteed Lazy Falafels from Rhian's Recipes ready in less than 30 minutes. They are vegan, gluten-free, and delish! dairy-free, gluten-free, vegan

Quick Soup Recipes
Tasty soups made with your favorite pantry items. This collection are easy to prepare and all flavor-filled fantastic recipes made from pantry staples.
Slow Cooker Manhattan Clam Chowder, never order out again, make your own delicious chowder at home. dairy-free, gluten-free
A family favorite is a robust Slow Cooker Chicken Enchilada Soup, the ingredients go right into the slow cooker and dinner is ready in a few hours.

Creamy Tuscan White Bean Soup

from Dishes Delish is a going ton deliver one comforting meal. dairy-free
Potatoes can be stored for a while in a cool, dark location. Enjoy this Potato Soup from Bowl Me Over with simple ingredients to make a hearty soup for a great dinner and the leftovers reheat well. vegetarian
You will love this pot of comfort with this hearty

Cabbage Roll Soup

with a rich broth and beef chunks from Rising Spoons. Such a versatile soup that can also be made in the slow cooker. There is also the option of making this low-carb. gluten-free
5 Soup Pasta is a delightful dinner made with 5 different types of soup, egg noodles, and ground beef. A much better hamburger helper homemade bowl of yum.
The instant pot is a favorite vessel of mine and this rich

Tomato Soup

from Peas and Crayons is a great soup to make using canned tomatoes and broth. dairy-free, gluten-free
Taco Soup from Downshifology is a great choice using canned beans and corn for a wonderful soup. gluten-free.
A spicy and zesty Black Bean and Sweet Potato Soup from Girl Heart Food will warm you right up with its rich flavors. gluten-free
Easy Pasta Recipes
Pasta, one of the most popular pantry staples and budget-friendly items in any kitchen cabinet. Enjoy this succelent recipes which are all simple, quick, and delectable.
Linguine with White Clam Sauce

,

a favorite meal made with canned clams and ready in 20 minutes. dairy-free
Canned Tuna Pasta from Salt and Lavender is ready in 15 minutes and packs a punch of flavor. dairy-free
This rustic Spaghetti Peperonata with Tuna and Olives from The View from Great Island is a winner dinner with a little kick of spice. A budget-friendly meal that delivers amazing flavor.
Vegan Red Pepper Pasta from Lavender and Macarons, a quick sweet sauce that makes a mouthwatering diner. dairy-free

American Chop Suey

from Sugar and Soul with a base of ground beef and macaroni is one big bowl of comfort. dairy-free

Pasta e Ceci

from Pina Bresciani is a tasty combo of pasta and chickpeas in a tasty broth. An easy dinner recipe.
Enjoy a hearty vegetarian Taco Pasta with options for adding meat from Spice Cravings.
Everyone is going to love this hearty Sloppy Joe Pasta made with tender ground beef and pasta. dairy-free

Chili Mac Recipe

from The Good Hearted Woman is an American classic with bold flavors made with simple pantry ingredients. dairy-free with an optional Parmesan cheese topping
One-Pot Spaghetti with Meat Sauce from Swirls of Flavor is a crowd pleaser and ready in less than 30 minutes, yum!
A big hit will be this Vegetarian Creamy Penne Pasta with Artichoke and Peas from Jersey Girl Cooks is a winner dinner. vegetarian
A tasty Cornbread Chili Casserole from Dancing Through the Rain is packed with tasty ingredients for a flavorful meal.

Easy Lentil Recipes
Lentils are nutritious and keep for a long period of time in your cupboard. They are loaded with nutrition and the recipe ideas are endless. Enjoy these recipes made from both dried or canned lentils.
More Dinner Ideas
It doesn't have to be all beans and legumes when we cook from the pantry. These recipes use canned tomatoed or other pantry staples to make fabulous meals.
Morrocan Shakshuka

from Urban Farmie is a delightful recipe with a spicy tomato sauce topped with an egg for a great meal. gluten-free, vegetarian
Hearty Ground Beef and Potatoes from Neighbor Food Blog, a one-pot skillet dinner to satisfy the whole family.
For a tasty meat curry recipe with bold Indian flavors, indulge in mouthwatering Beef Keema Curry from My Indian Stove, use your favorite ground meat.
Another Meditteranean favorite is this Moroccan Beef Pie from Scotch and Scones, enjoy a comfort filled savory pie. dairy-free, vegetarian option
Yummy Lentil Quinoa Sloppy Joes are a wonderful slow cooker recipe for a vegan twist to a sloppy joe. dairy-free, gluten-free, vegan
Desserts and Snacks
Never fear, desserts and snacks can be made very quickly with pantry staples. Enjoy these delicious treats.
Looking for more ideas for delicious recipes from the pantry, check out these recipes from That Skinny Chick Can Bake. Not only delicious desserts, fantastic main dishes as well.
I love any comments or questions, please feel free to leave them below!
Be sure to follow me for recipes and tips:
FACEBOOK INSTAGRAM, PINTEREST, TWITTER
Love this recipe, it would be awesome if you give it a 5-star rating and share comments below!