Looking for a delicious recipe for chicken wings that's healthier version of Easy Crispy Baked Buffalo Chicken Wings! They deliver amazing flavor and are baked, not fried! The delicious flavor of crispy buffalo chicken but using a healthier baked method which gives such a crispy coating to the chicken! Perfect for tailgating, Super Bowl, game day snacks. A great treat for Fathers Day too!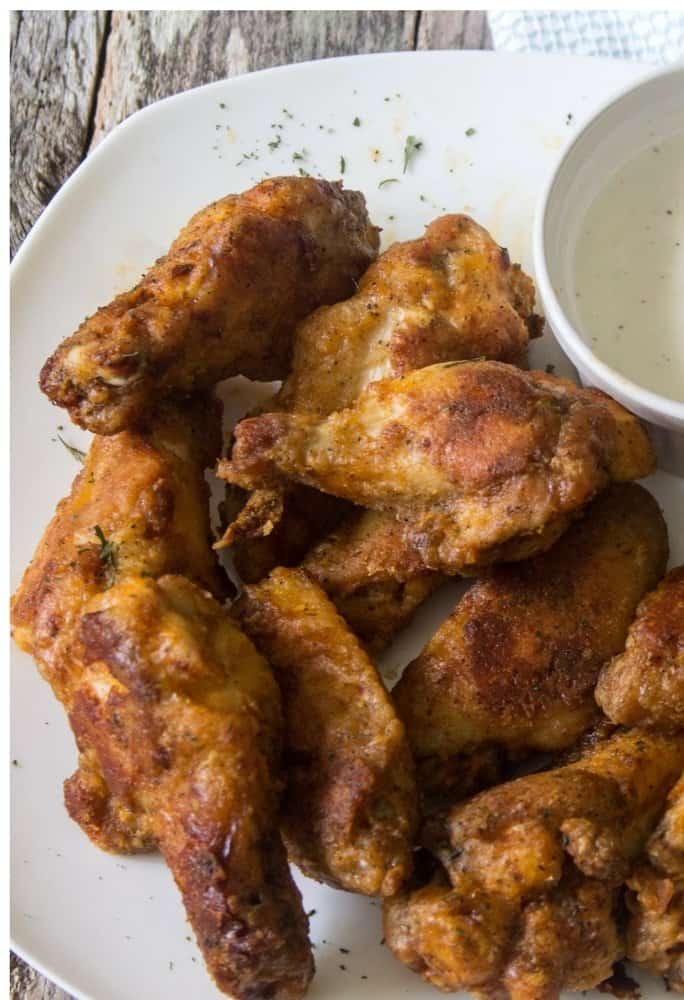 As many of you know, I have made it my mission to keep enjoying the foods I have always loved, making it healthier, and taste even better than ever! My family absolutely loves Crispy Buffalo Easy Chicken Wings. Actually, the just love chicken wings but one of their favorites is wings in Buffalo Sauce. The hubs loves them very well done, extra crispy!
Years ago, I used to fry the wings, yes, I know not the greatest things for anyone's arteries! While we do not eat wings every day, my motto will always be, everything in moderation! So y friends,if I can have something that's even better than the original way I made it and much healthier, go for it!! I honestly would never fry a wing again!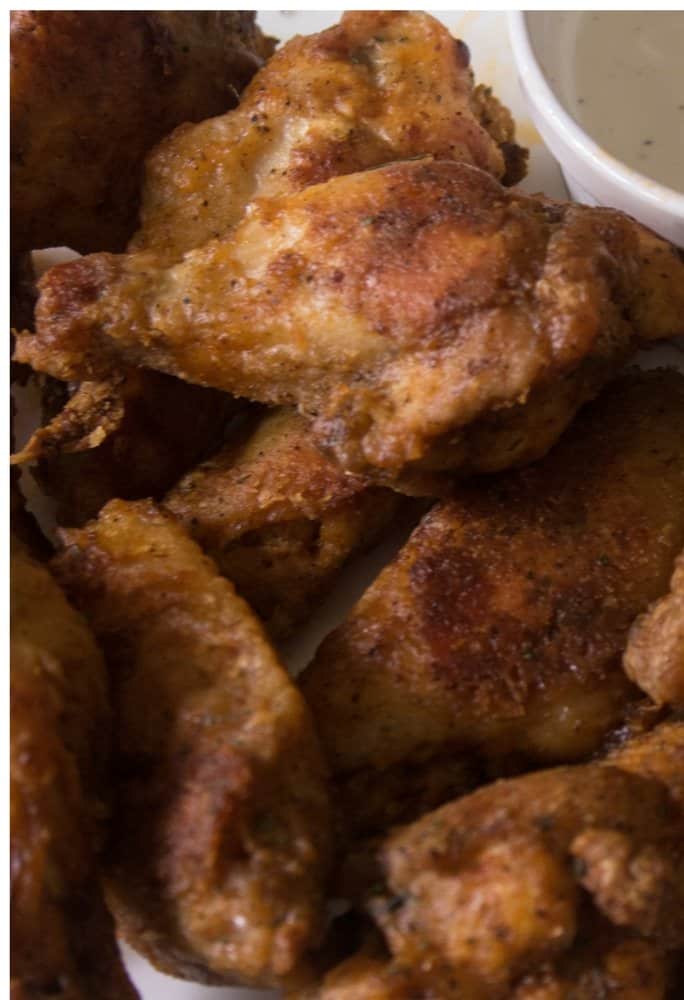 I played around for a long time with many different options for my crispy ! By far my friends, these are truly Easy Crispy Baked Buffalo Chicken Wings! I wouldn't steer you wrong, These wings are amazing!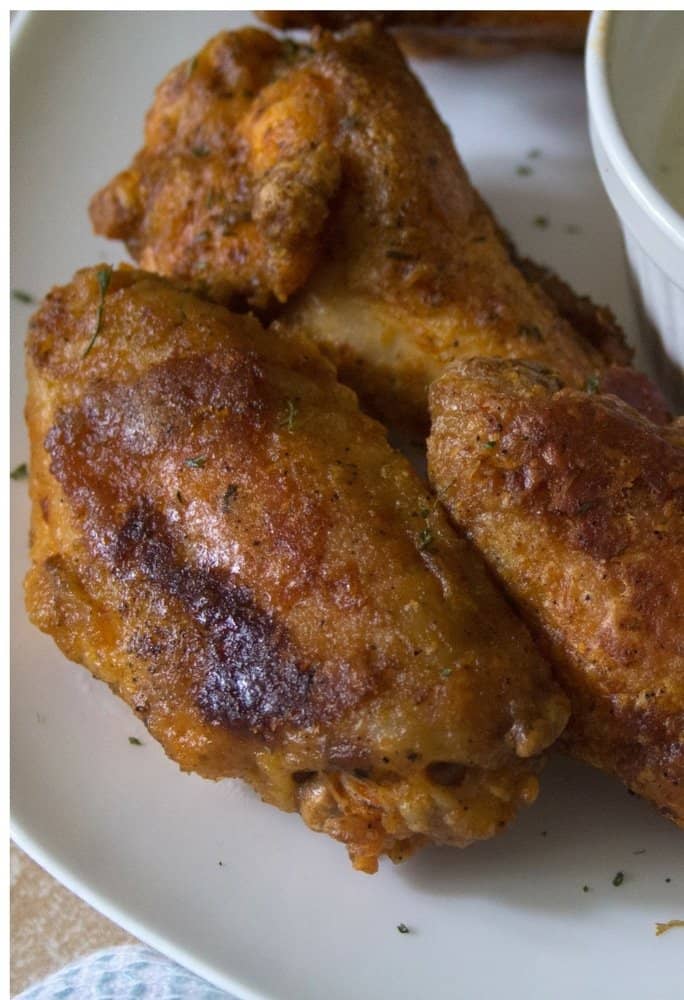 How to make these Easy Crispy Baked Buffalo Chicken Wings:
Be certain to have the wings absolutely dry before dreading in the seasoned flour (this will assure a crispy wing). You can use a paper towel to pat the wings dry.
Season your flour with the yummy spices I have added in the recipe. I am generous with the spice. If you want them milder, play with the spices.
After coating the wings I let them sit in the fridge for about an hour on a baking sheet that has been sprayed with nonstick cooking spray ( This gives a chance for the seasoned flour to really adhere to the wing) Okay, I have been in a pinch in the past and to for time sake, by-pass the sitting in the fridge. The wings were great but super crispy of they are allowed to sit in the fridge. Just an hour, make your buffalo sauce, blue cheese dressing, cut up some carrots and celery, put on some music and enjoy a cocktail of choice! Then relax and think about noshing on the extra crispy wings while you while wait, well worth it!
Preheat the oven to 425 degrees!
I give a quick spritz of non-stick spray to the tops of the wings before baking. I bake for about 25 minutes. remove the wings from the oven and dredge in the buffalo sauce. Back into the oven flip side up for about 15 -20 minutes. Then we devour these wings.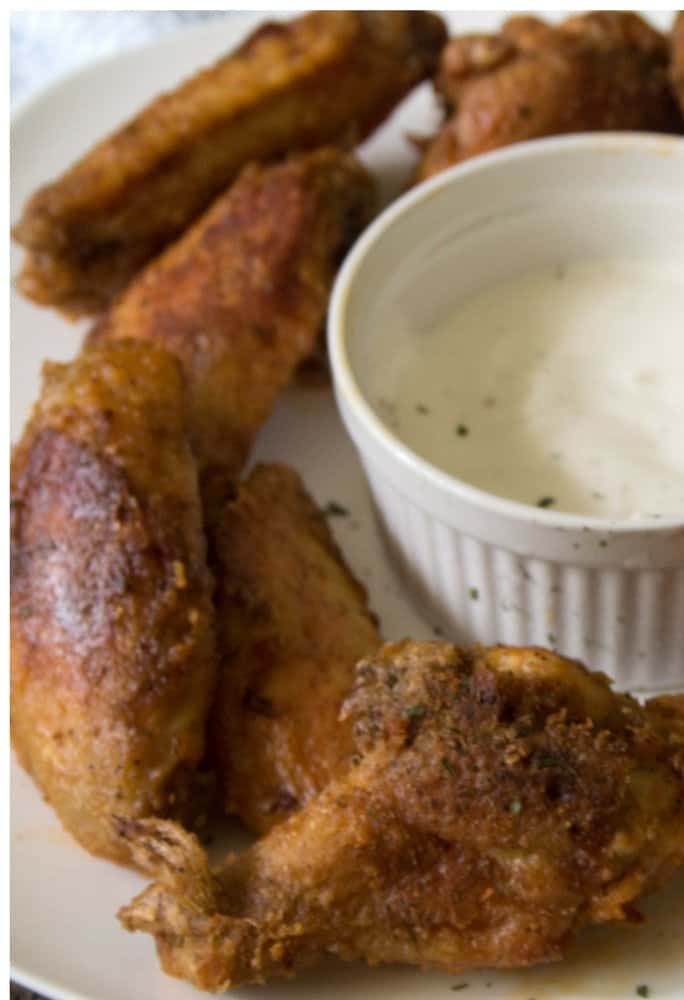 I pair these Easy Crispy Baked Buffalo Chicken Wings with a Blue Cheese Dressing, Ranch works well too! Don't forget the celery and carrot sticks! A few other favorite chicken recipes you should check out our Grilled Spicy Chicken Wings , Easy Grilled Buffalo Chicken Lettuce Wraps,
or our tasty Air Fryer Lemon Pepper Chicken Wings
Need some suggestions to have along with these crispy wings, try Lighter Homemade Macaroni Salad, Slow Cooker Baked Beans, or Tuscan Bean Salad!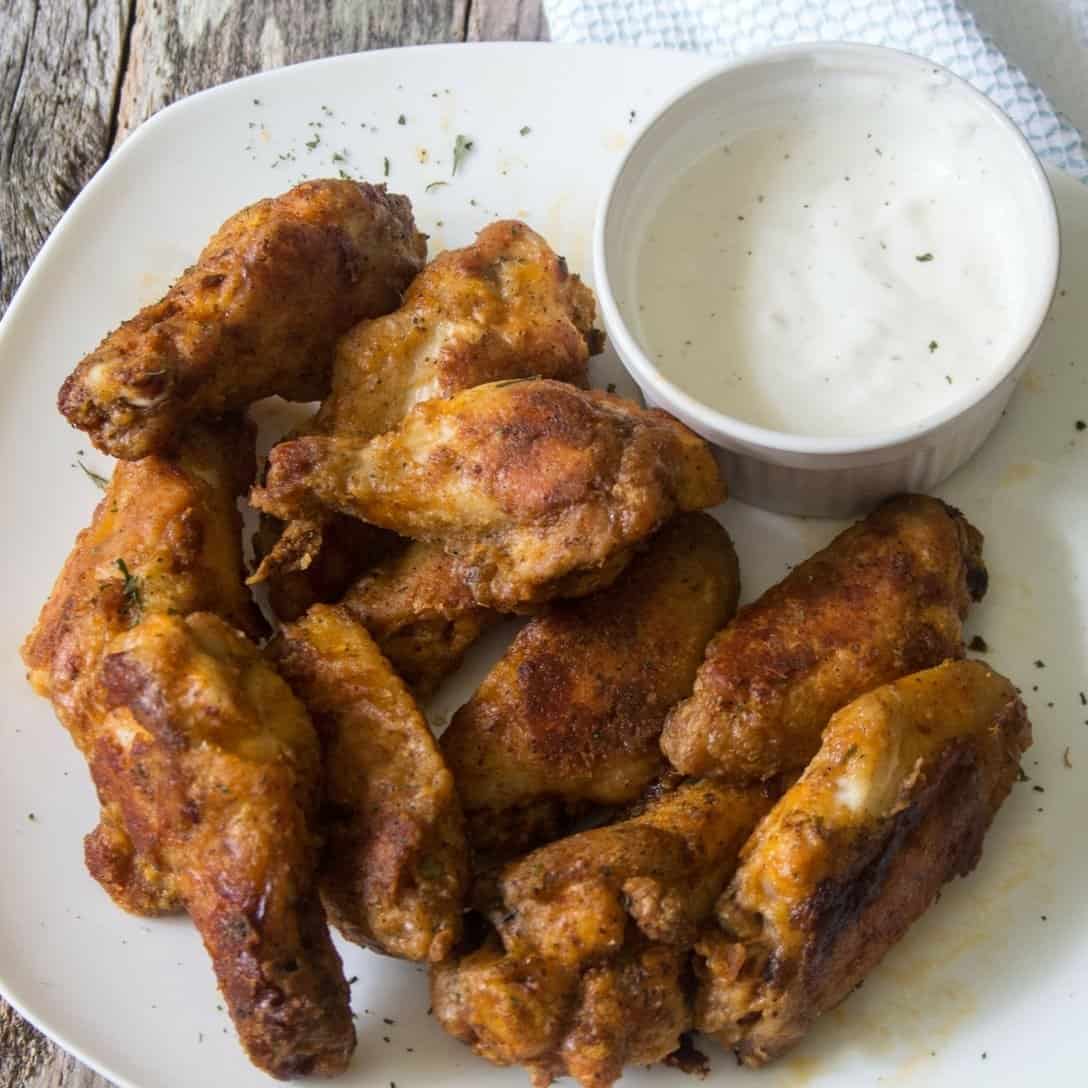 SHARE YOUR PICTURES OF ANY OF MY RECIPES ON INSTAGRAM! USE #everydayeileen! I LOVE TO SEE AND SHARE YOUR PHOTOS ON INSTAGRAM!!
SAVE THIS RECIPE TO YOUR FAVORITE PINTEREST BOARDS! I HOPE YOU FOLLOW ME ON PINTEREST! I'M ALWAYS PINNING FROM TALENTED AND AMAZING BLOGGERS!
SUBSCRIBE TO MY NEWSLETTER TO NEVER MISS A RECIPE!
Thank you for the continued support! I am forever grateful!
Eileen xo
Easy Crispy Baked Buffalo Chicken Wings
The crispiest baked buffalo chicken wings. Using a spicy flour coating before baking makes these wings extra crispy. Baking makes these tasty wings so easy and healthier! You can also adjust the spice and heat from the hot sauce as needed.
Print
Pin
Rate
Equipment Needed:
Ingredients
2

pounds

chicken wings or wingettes

see note

½

cup

all-purpose flour

1

teaspoon

salt

1

teaspoon

black pepper

1

teaspoon

garlic powder

1

teaspoon

onion powder

½

teaspoon

chili powder

½

teaspoon

paprika

½

teaspoon

ground cumin

½

teaspoon

dried thyme

½

teaspoon

dried parsley

carrots, peeled and cut

celery stalks, sliced

blue cheese dressing
Buffalo Wing Sauce
½-3/4

cup

Hot Sauce

I use Franks Red Hot Sauce

1

teaspoon

white vinegar

1

teaspoon

unsalted butter
Instructions
Ensure the chicken wings are completely dry before placing them into the flour. Pat them dry with a paper towel.

In a large storage bag, add and combine the flour, salt, black pepper, garlic powder, onion powder, chili powder, paprika, cumin, thyme, and parsley.

Add the chicken wings to the storage bag and coat completely with the seasoned flour

Spray a large baking sheet with non-stick cooking spray.

Place the floured wings on the baking sheet and refrigerate for about an hour.

Preheat the oven to 425 degrees.

Remove baking sheet from refrigerator, give wings a quick spray with the non-stick cooking spray. bake for 25 minutes.

While wings are baking, make the sauce. In a small saucepan over medium heat add the hot sauce, white vinegar, and unsalted butter until the butter is melted. (you can use a microwave for this step). Set aside until ready to use.

After the 25 minutes of baking, remove the baking sheet from the oven. Coat the chicken wings in the Buffalo sauce and place back on a baking sheet. Turn wings over when placing back onto the cookie sheet.

Bake for another 15 -20 minutes until cooked through.

Serve with Blue Cheese Dip, carrots, celery.
Notes
It is extremely important for the wings to be dry before dredging in the flour. This ensures a crispy wing
If I am making these a head of time, I cook them for the first 25 minutes, dredge in the Buffalo Sauce and finish the cooing right before I am ready to serve. Prevents overcooking the wings.
Nutritional information is strictly for the chicken wings. Does not include veggies and blue cheese dressing.
Any nutritional data I provide is an approximation and actual dietary information can vary based on ingredients and portion sizes.
Nutrition
Serving:
1
wingette
|
Calories:
182
kcal
|
Carbohydrates:
24
g
|
Protein:
11
g
|
Fat:
5
g
|
Saturated Fat:
2
g
|
Polyunsaturated Fat:
0
g
|
Monounsaturated Fat:
0
g
|
Trans Fat:
0
g
|
Cholesterol:
20
mg
|
Sodium:
509
mg
|
Potassium:
349
mg
|
Fiber:
3
g
|
Sugar:
1
g
|
Vitamin A:
250
IU
|
Vitamin C:
0.8
mg
|
Calcium:
30
mg
|
Iron:
1.8
mg