Italian Sausage and Peppers is one of the easiest and most delicious recipes! Sausages and Peppers are one of those perfect make-ahead recipes too! When I am cooking for a crowd or buffet style, these Italian sausages are always on the menu!
They are also delicious as a Sausage and Pepper Sandwich made with Italian bread!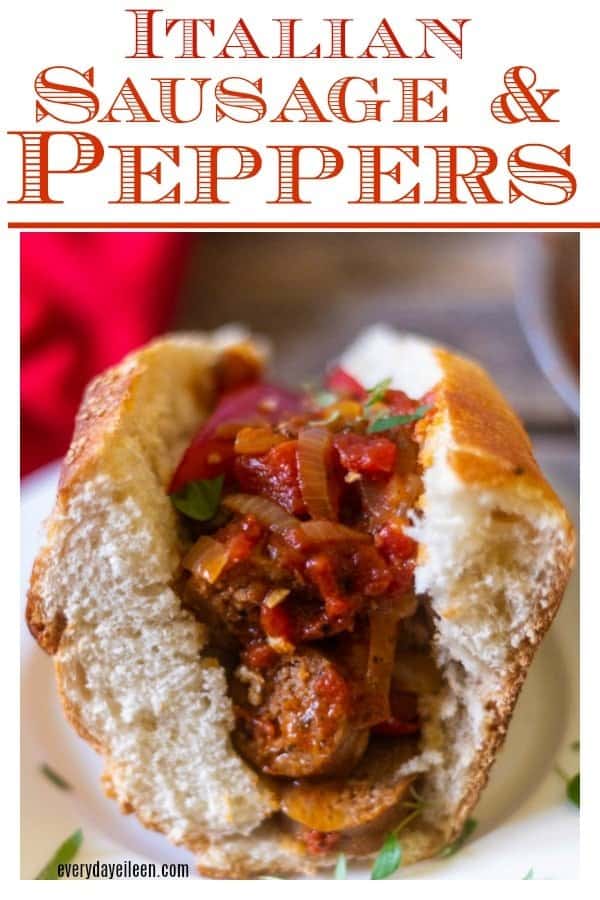 I have been making Italian Sausage and Peppers since I was a young girl! Most of you know my love of cooking started young. This was one of the first recipes I made for my family! This is an easy Italian sausage recipe that is ready in about 30 minutes!
What is even better about sausage and peppers is the versatility of the recipe! The hubs and my boys love it on a hero! Speaking of hero, is it hero, hoagie, or sandwich? We call it a hero in the Northeast, but I know so many who call it a hoagie and then the sandwich! Call it whatever you want, just eat and enjoy!
The girls and I love it over zoodles or pasta when we are upping our carbs!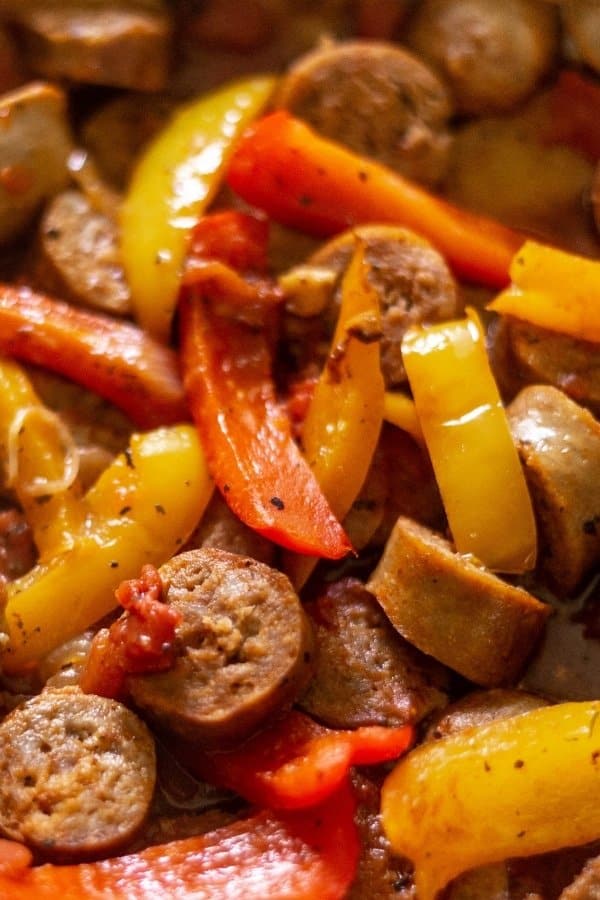 How do you make Sausage and Peppers for a crowd?
Italian Sausage and Pepper always makes an appearance at every Baptism, Communion Party, tailgate party I host. It is so easy and I can make it ahead of time and keep it in a throwaway tin until ready to serve. Reheat at 325 degrees for about 20 minutes and serve!
Are Italian Sausage and Peppers healthy?
Here's the scoop, you can have these sausages in a few different ways. Use either Turkey, Chicken or Pork Sausage. There is more fat in pork sausage. I make this recipe with any of these types of sausage, all delicious! Obviously, the healthiest choice would be turkey or chicken. I do love a good pork sausage, everything in moderation.
Can Sausage and Peppers be frozen?
Absolutely! You know me when there is a sale on sausage or peppers, I always make a large batch of these sausages and freeze in gallon bags! I use my food saver.to ensure the sausage are well sealed to freeze. You can use freezer bags as well!
How long can Sausage and Peppers be kept in the freezer?
When using the food saver, I can keep these sausages in the freezer for about 5 months. In freezer bags, about 3 months. I do make ahead this recipe for parties. I freeze them and defrost the evening before the party!
Is Sausage and Pepper Gluten-Free?
You must check the package of sausage to ensure they are gluten-free if you are on a gluten-free diet! Al Fresco and many Premio sausage are gluten-free!
What can be served with Sausage and Peppers?
Serve the Sausage and Pepper on Italian bread, as in the first photo.
Can this Sausage and Pepper Recipe be made in a slow cooker?
Yes! I will add those instructions in the recipe section.
How to Make Sausage and Peppers in the Slow Cooker:
Saute the sausages in a saute pan over medium heat until brown on all sides. Remove and set aside.
Add white wine to the pan and use a wooden spoon to get up any brown bits.
To a slow cooker, add the sausages, wine, and all ingredients. Stir and cook on low for 5 hours.
Serve, and enjoy.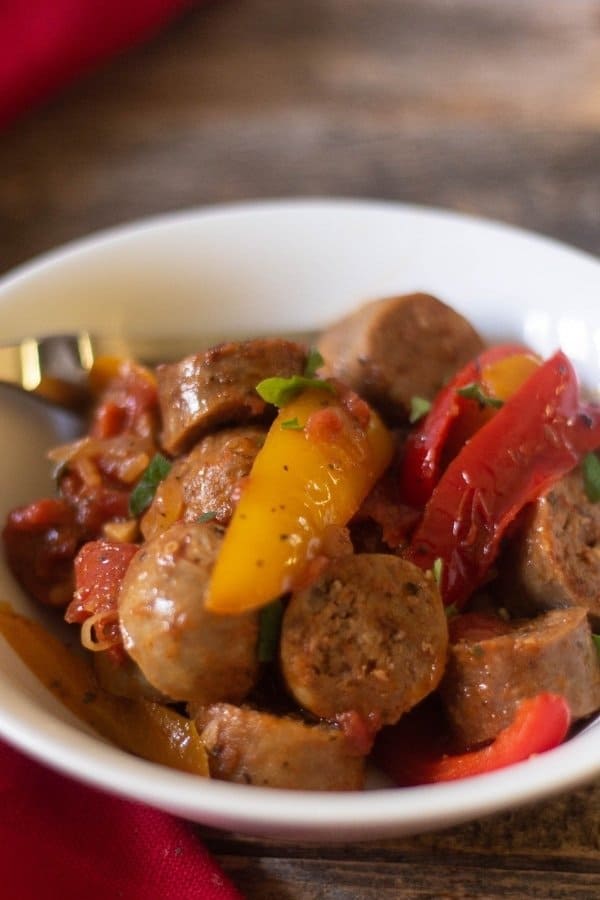 This post contains affiliate links for your convenience (which means if you make a purchase after clicking a link I will earn a small commission which helps keep my blog up and running but it won't cost you a penny more!) Click here to read my full disclosure policy.
Thank you so very much for being apart of Everyday Eileen!
How to Make Sausage and Pepper:
Remove sausage when browned. Cut sausages into 1-inch pieces.
Saute for a few minutes to sweat onions. Add in garlic. Saute another minute or two.
Add in white wine and use a wooden spoon to bring up any brown bits at bottom of the pan.
Add the browned sausages back in the pan.
Check the sauce, reseason if needed.
For a low-carb alternative, serve with roasted spaghetti squash or cauliflower rice.
This is a great meat sauce to serve over pasta
How to Make Sausage and Pepper Sandwich:
Serve as a sandwich on Italian Bread. Great for parties, tailgates, family parties, and easy dinner.
Follow step 1 – 9 above.
Slice Italian bread in half. Toast bread in the oven is optional.
Pile the sausage and pepper into the bread and serve the sandwich.
If I am serving at a buffet, I cut the bread and place it in a tray next to the sausage and pepper for everyone to make their own sandwich.
When you make Sausage and Peppers, take a pic and tag me on Instagram tag @everyday_eileen or #everydayeileen
I love any comments or questions below!
I HOPE YOU CONTINUE CONNECTING WITH ME:
Italian Sausage and Pepper:
Easy and delicious sausage and peppers! Add this to your family easy dinner recipes as well as a must serve crowd-pleasing recipe! Great for tailgate and gameday too!
If you enjoy this recipe, please give it a 5-star rating! Also, any comments are super helpful for me and very much appreciated!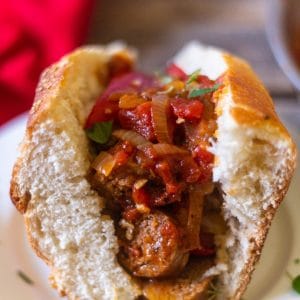 Italian Sausage and Peppers
Delicious Italian Sausage sauteed with fresh red and yellow peppers along with onions and spices make a delicious meal! They make a great sandwich! A great weeknight meal, addition to a buffet.
Print
Pin
Rate
Ingredients
1 -2

Tablespoon

olive oil

5

Italian Sausage Links

Note 1

2

medium

red peppers, seeded and sliced

2

medium

yellow peppers, seeded and sliced

1

large

onion, peeled and sliced thin

3

cloves

garlic, peeled and minced

1

cup

white wine

1

teaspoon

tomato paste

14.8

ounce

can diced tomatoes

1

teaspoon

dried oregano

1

teaspoon

dried basil

1

teaspoon

ground black pepper

salt, to taste
Instructions
How to Make Skillet Sausage and Peppers
In a large saute pan over medium heat, add 1 Tablespoon olive oil and warm olive oil. Add in the sausages to brown on all sides, about 10 minutes. Remove sausages and set aside.

To the saute pan, if needed add 2nd Tablespoon of olive oil. Add in peppers and onions. Saute about 5 minutes to sweat onions and soften the peppers. Add in garlic and saute another minute.

To the pan, add white wine and use a wooden spoon to loosen any brown bits at bottom of the pan.

Stir in the tomato paste, diced tomatoes, oregano, basil, black pepper, and salt. Add back in the sausages and let simmer for about 20 minutes. Sausages should be at 165 degrees and check the flavoring in the sauce. Adjust seasoning if needed. Serve your favorite way, on an Italian Bread hero, pasta, zoodles enjoy!
How to Make Slow Cooker Sausage and Pepper
Follow Steps 1-3. Once complete, transfer the ingredients to the slow cooker. Then add remaining ingredients to the slow cooker. Stir and cook low for 5-6 hours or high 3 hours.
Notes
Note 1: Your choice of sausage! Pork, Turkey or Chicken as well as hot or sweet. Results will be the same with any of this sausage. The calorie count will differ.  I love a pork sausage when I am indulging! Chicken and turkey sausage are just as delicious!  Note 2: I am using Pork sausage in the calorie count. Please adjust to either turkey or chicken sausage as they are much lower in calories if using them in your recipe. Note 3: The nutritional count is only calculating the Italian Sausage and Pepper    
Nutrition
Serving:
1
serving
|
Calories:
473
kcal
|
Carbohydrates:
12
g
|
Protein:
17
g
|
Fat:
35
g
|
Saturated Fat:
12
g
|
Cholesterol:
85
mg
|
Sodium:
949
mg
|
Potassium:
632
mg
|
Fiber:
2
g
|
Sugar:
5
g
|
Vitamin A:
32.1
%
|
Vitamin C:
90
%
|
Calcium:
7.4
%
|
Iron:
15.9
%